Introduction
Alright folks once more here at Honey's Anime are bringing you another what is article aimed at boosting your knowledge of the gaming world. Today we're looking at TCG or trading card games. These are video games that mirror the real world aspect of trading cards with friends and or others to then use them in either duels and or to increase your library of cards for a specific series. Many don't realize that there are quite a few TCG titles out there in the gaming world that mirror the things we love so much about their real life counterparts. Thus today we're going to examine some of the video game TCG titles and make sure you fully understand what the definition means.
Now as always with our "what is" articles we want to ensure you're not going to be confused or lost as you read. We have broken down the definition by using three different games so you can fully understand what TCG means and looks like on the video game scene. We know that by the end of the article you'll be not only well versed in yet another gaming terminology but you may find some cool games to play if you're like us here at Honey's Anime. Now then let us begin our What is TCG article properly now.
Trading Cards

Let's face it, if you couldn't trade cards in a TCG title then it would already lose the ability to be called a trading card game. Trading cards are a staple and necessity of the TCG genre. With our one example below we're going to prove that with one of the most popular TCG titles to ever exist both in the real world and on the virtual plane. What's great about the game below is that you can trade cards gained online and give them to other players or friends. Now let's look at the game we're talking so much about in the form of Pokemon TCG Online. We told you it was a pretty popular title after all.
1. Pokemon TCG Online
System/Platform: PC, OS X, iPad, Android
Publisher: The Pokemon Company
Developer: The Pokemon Company
Release Date: Mar 24, 2011
Fans of the real world trading card game rejoice, Pokemon TCG Online gives you the means of playing the popular game now online. Players can either play against AI opponents using set decks or fight against other players online with their own created decks. Several modes are playable in Pokemon TCG Online such as Versus, Tournament and Trainer Challenge Mode. Players can buy or earn booster packs and even trade cards with others via online services. Pokemon TCG Online aims to recreate the real life feel of playing with Pokemon cards all from either your PC or tablet.
Pokemon TCG Online really is the best way for us to show you the definition of what TCG means. Obviously the core component of any trading card game is the ability to trade cards you don't like or need with others for better cards. While there are several other Pokemon TCG titles out there—one even realized on the GBA ages ago—Pokemon TCG Online is the first title to allow real world trading and buying of cards on a virtual setting. Pokemon TCG Online feels like the real deal even if it's not physical cards being used. With so many gameplay options that mirror the things loved about Pokemon TCG we know for a fact that if you love the world of Pokemon cards and want to play online with others across the world, your best bet is Pokemon TCG Online.
Pokemon Trading Card Game-iPad Trailer (Official Trailer)
---
Booster Packs

Another important aspect of TCG titles is the ever random booster packs. Any fan of TCG either online or in the real world will say that there is no better experience than opening up a booster pack. Contained within are several random cards that either can contain a rare few cards or cards you own already. That random aspect is what TCG players love including us here at Honey's Anime. With our last two examples below we looked for other games with the booster pack theme. Pokemon TCG Online also has booster packs but we used that to explain the trading card aspect so you wouldn't get too confused. Now then let us look at two other insanely popular TCG titles in the form of Hearthstone and Magic: The Gathering Online.
2. Hearthstone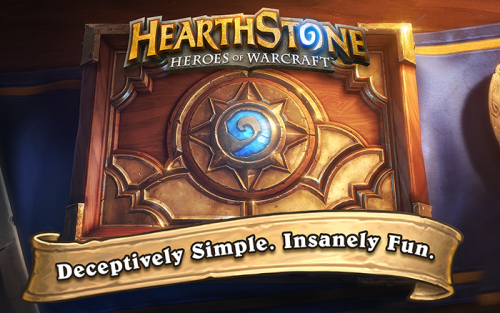 System/Platform: PC, macOS, iOS, Android
Publisher: Blizzard Entertainment
Developer: Blizzard Entertainment
Release Date: Mar 11, 2014
Hearthstone is an online collectible card game that has players taking battle using cards that contain various themes of the Warcraft world. Players will go head to head online using their created decks to fight for victory. Players can win cards via winning matches and in game gold or use real life currency to buy booster packs containing several random cards. Hearthstone is free to play meaning anyone can download it and jump right into a game. With hundreds of cards and great turn based card gameplay, Hearthstone is aimed at both fans of Warcraft and or those who love collectible card games.
It's easy to see why fans of World of Warcraft love Hearthstone. Not only did Blizzard Entertainment reenact the cool heroes and villains seen from the lore of Warcraft as cards but it's free to play on several platforms. The battles themselves play out like most other TCG titles but with the nice visuals and simple gameplay design almost anyone can learn Hearthstone pretty fast. As we said earlier it also encompasses the ability to not only earn in game booster packs via winning matches or using in game currency—which is represented by gold in Hearthstone—but you can also use real life money to buy booster packs mirroring the idea seen in most popular TCG titles. Honestly folks, Hearthstone gets a lot of praise from gamers everywhere and we here at Honey's Anime understand why fully. We definitely recommend downloading Hearthstone today seeing as you have nothing to lose—its free after all—and it's a great way to feel the idea of getting booster packs on a digital medium.
Hearthstone: Heroes of Warcraft Cinematic (Official Trailer)
---
3. Magic: The Gathering Online
System/Platform: PC
Publisher: Wizards of the Coast
Developer: Wizards of the Coast
Release Date: Jun, 2002
Wizards of the Coast presents their famous card game series to the online world. Magic: The Gathering Online contains all the elements fan of the real world card game love in a virtual playground. Players can enjoy relaxing duels, create their own small tournaments or even play on scheduled tournaments hosted by Wizards of the Coast. With constant updates, Magic: The Gathering Online mirrors the real life rules and updates seen to add not only new restrictions but new types of cards to be played and collected. Magic: The Gathering Online is for those who not only love the Magic: The Gathering game but want a way to play on their PCs from the comforts of their homes.
Another game that has a prime example of obtaining booster packs in game is Magic: The Gathering Online. While us here at Honey's Anime love getting new Magic cards when they release after a while it can be pretty expensive and with how many cards exists in the Magic: The Gathering World it can lead to a lot of areas in your home or apartment dedicated to cards. That's why we love Magic: The Gathering Online as it has all the cards we love from the series but in a virtual space so we don't have too much clutter in our own real life abodes. While Magic: The Gathering isn't free—there is a month subscription fee of $9.99—for fans of the real life counterpart it's worth the price of admission. With so many different ways to play that harken to the same ideals we love in the real game, Magic: The Gathering Online is just a perfect example of a solid TCG title.
---
Final Thoughts
Trading card games can be tons of fun both online and off. As we mentioned with our examples, the idea of TCG titles in the video game world is to allow players another outlet to play their favorite card based games. Real life cards are great to own but sometimes can be a lot of hassle to find ways of storing them or carrying them around in real life. That's what makes these titles above so much fun is that it removes a lot of those issues and gives you a means to play from home on the PC or various other devices. Now with that folks our What is TCG article comes to a close but we know that now you're gaming knowledge has leveled up once more. Comment down below if you have any ideas for future what is articles and be sure to keep coming back to Honey's Anime so we can give you new content to read and enjoy.
---