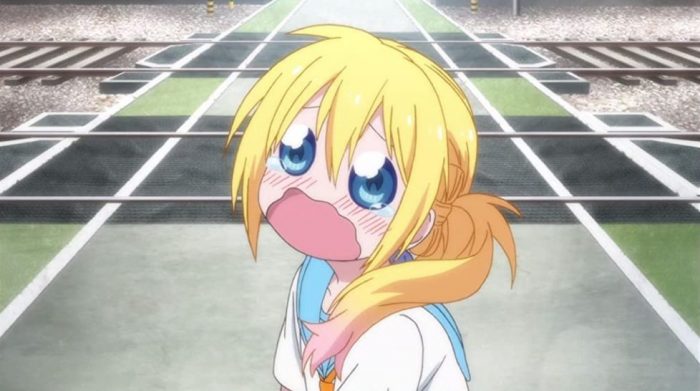 Anime fans from the simpler days of the 90s-early 2000s were gifted with some amazing anime series such as Gundam Wing, Dragon Ball Z, Cowboy Bebop, and Death Note to name just a few. However, what anime fans really got was a plethora of ecchi harems like Tenchi Muyo!, Rosario Vampire, Love Hina, Heaven's Lost Property, and Girls Bravo. Honestly, naming all the great old school ecchi harems would take us hours to do here at Honey's Anime but the point we're trying to make is, the older days had some truly spectacular ecchi series. Newer shows like Date A Live, Arifureta, and High School DxD all have that nosebleed-inducing content us otaku love but let's be real...don't you guys miss the classic panty shot moments and random ecchi of the olden days?
The Classics Are In Another Ecchi Harem

Old school ecchi/harem series weren't particularly diverse in their way of doing things. Oppai filled the screens due to a random/accidental bathroom invasion and panties showered our eyes when a strange gust of wind hit a schoolgirl walking to class. The classic tropes of yesteryear can still be found in shows like Negima! and ORESUKI but is it just us or do they lack that old ecchi flair we remember so well from the classics? Harem/ecchi anime of modern times are well animated and provide so much in terms of fan service but the feeling is just not the same as before…
Where Are the Violent Slaps and Punches!?!

Love Hina fans probably remember one of the biggest harem tropes of the older anime years. When a character would walk in on a girl changing or randomly grab her oppai like pillows—we envy you Keitarou—the girl who was fondled would attack and that would be the humor element behind that ecchi scene. Think about this for a moment, when was the last time we saw this in a modern ecchi harem anime? Sure some shows will have our main lead get slapped for being a pervert like Maken-ki!'s Takeru but most shows just have the girl blushing or calling the guy a baka. WHERE ARE THE VIOLENT OUTBURSTS AND ANGER!?
Fan Service Censored
Ecchi has always been fan service-focused but as of late, fan service has definitely been muted. A common form of censorship seen as of late are random sunlight glares covering beautiful/glorious oppai or other naughty bits we otaku dream of constantly. Shows like Shuffle and High School DxD weren't afraid to show the occasional oppai nip slip but series like Monster Musume and To Love Ru are so censored you might as well constantly have fog, clouds, and sun blocking your own monitor while watching them.
Why Do We Need the Classics?

You might be asking why we need classic harem/ecchi themes in the modern day of anime. The simple reason is, it was just more fun. Those days of silly perverse actions and nosebleed-inducing comedy just made us laugh. As unrealistic as it is to run into a girl while going to school, grab her oppai, and then lay there on her for minutes was, it still made us otaku laugh and pray we could only be that lucky. Classic harems/ecchi series were simple dreamscapes where we could dream of being a lucky nerdy/geeky guy and getting all the girls we could dream of. That is the beauty of anime, after all, the idea of reality being shattered by fictional constructs!
---
Final Thoughts

Watching a plain dude like Raku Ichijou and/or Junichi Hashiba—Nisekoi and My First Girlfriend is a Gal—get a harem and enjoy ecchi-themed situations is something that won't go away anytime soon. However, as time passes and the world leaves behind the more… outdated tropes of anime, we can only feel a bit sad seeing classic harem ecchi series disappear. Do you think older tropes for ecchi/harems should return to anime or should they be left in the past? Comment below with your thoughts and for more ecchi articles keep stuck to our "not perverted" hive here at Honey's Anime!
---