También puedes leer este artículo en:Español
From girls to boys, anime has always had plenty of harems in it - and of course, that includes movies, too! And when you add in ecchi, well, things start to really steam up and get more interesting. Surprisingly, there are not as many ecchi harem anime movies out there as one may think, especially considering how popular the genre is for regular anime series and manga. But fear not anime movie fans! You can still find your harem ecchi fix if you know where to look; and lucky for you, we have made our list of the Top 6 Ecchi/Harem Anime Movies to make your job a little easier!
A lot of the films on this list are spin-offs or sequels to existing anime series, but those series are also ecchi harem stories as well. So if you haven't watched these series yet but are an ecchi harem fan, we suggest you watch them first to avoid spoilers and make sure you understand the whole story! And then you can remember that you have a great film to enjoy as well as a reward for your hard work. But if you're already a fan of these series from your past ecchi harem adventures well, buckle up! Make sure you don't skip these great movies, too!
6. Meiji Tokyo Renka Movie: Yumihara no Serenade

Meiji Tokyo Renka Movie: Yumihara no Serenade is based on an otome game series called Meiji Tokyo Renka. It follows the story of high schooler Mei Ayazuki, who is living an ordinary life until she meets a magician named Charlie. When Charlie transports Mei to the Meiji Era of Japan's history, her life will never be ordinary again! Her travels bring her into the path of many historical figures from the Meiji Era, and of course, the story wouldn't be complete without her falling in love with them. Thus begins a magical, historical reverse harem romance story!
As we just stated, Meiji Tokyo Renka Movie: Yumihara no Serenade is not a typical harem but a reverse harem, so it's many men and one woman instead of the other way around. And you can bet since the original story of Meiji Tokyo Renka was an otome game, all of the men in the movie are very attractive ones. Plus they are all based on real historical figures, making this movie especially appealing to fans of Japanese history. We guarantee this version of these figures will be even more interesting than their real-life inspirations. While Meiji Tokyo Renka Movie: Yumihara no Serenade may not be a hot and steamy ecchi, it still has its share of fanservice for fans of bishounen boys and shoujo romance. And there are plenty of young men for Mei (and the viewer) to choose from in this reverse harem! Meiji Tokyo Renka Movie: Yumihara no Serenade is only an hour long, so if you're looking for a quick fix, check it out!
---
5. Hayate no Gotoku! Heaven is a Place on Earth (Hayate the Combat Butler! Movie)

Hayate no Gotoku! Heaven is a Place on Earth is a movie based on the popular anime series Hayate no Gotoku!. It follows Hayate, a skilled but incredibly unlucky young man who serves as a butler to a girl named Nagi Sanzenin who belongs to one of the wealthiest families in Japan. Hayate always tries his best to serve Nagi faithfully and well, but with his unfortunate history of bad luck, he's always struck trying to solve lots of problems and misfortunes. And of course, always devotedly protecting Nagi along the way! In Heaven is a Place on Earth, Hayate and Nagi travel to a beautiful home in the countryside for the end of summer break. But what is meant to be a relaxing vacation takes a turn for the worse (as usual) when a spirit tries to separate Hayate from Nagi! What will the unlucky butler do this time??
Just like the original anime, Hayate no Gotoku! Heaven is a Place on Earth is a harem comedy with light ecchi fanservice as well. Despite being unlucky, Hayate always manages to steal the hearts of the women around him and the movie is no different. There's no shortage of beautiful girls in this story for the viewer to enjoy and fall for themselves as they watch Hayate interact with all of them. In fact, there are hardly any other male characters at all! Hayate and his harem of girls led by his mistress Nagi have a hilarious adventure together for summer vacation, and we all get to enjoy the laughs and light ecchi that come along with that.
---
4. Date a Live the Movie: Mayuri Judgement

Date a Live the Movie: Mayuri Judgement is an original story supervised by the light novel author of Date a Live. The Datewar was supposed to be over and Shidou Itsuka's life was meant to return to normal. No more dating the spirits that threatened to destroy the world by neutralising them with love. No more vicious attacks on society. And then a mysterious sphere appeared, and another strange girl. What is this sphere and what will it mean to society as if emits a powerful spiritual wave from it? And who is this girl that has thrust herself headfirst into Shidou's life? Looks like he's going to have to go back to making spirits fall in love with him - the world isn't safe just yet!
Date a Live the Movie: Mayuri Judgement is a romance harem with added fanservice similar to its parent anime series. Considering the plot line is that Shidou has to make spirits fall in love with him, and these spirits are conveniently in the form sexy girls, you can guess where the light ecchi comes into play! Plus, as always, there are more than just one spirit at a time (plus Shidou's little sister; if you're into that kind of fanservice, too, it's there) that make up his harem! So if you like sci-fi and action, with some fighting alongside your light and fun ecchi harem action, don't miss Date a Live the Movie!
---
3. Heart no Kuni no Alice: Wonderful Wonder World (Alice in the Country of Hearts)

Most people know the story of Alice in Wonderland - but we are sure you haven't seen this retelling of it! Instead of the blissfully naive, young Alice of the original story, the heroine of this one is smart and confident. But the story begins when Alice is kidnapped by a young man with rabbit ears! She is thus swept unwillingly into Wonderland and everything that awaits her there in a story that had added romance, added blood, and a lot more beautiful boys. Plus, there's the mafia, knights, and more to the story in this Wonderland, leading to a lot of intrigue and adventure for Alice - and just what kinds of romance might she find along the way!
Heart no Kuni no Alice is a reverse harem film, meaning that instead of the traditional take of one boy with a lot of girls, it features one main lady with a lot of men. And following an otome style, they're all beautiful young men and each with his own quirky or interesting tidbit. Whatever kind of bishounen boy you like, chances are he is represented somewhere in Wonderland. And Alice finds plenty of romance along the way, from boys with bunny ears to dangerous mafia leaders and everything in between. Heart no Kuni no Alice may not be the sexiest entry on our list, but it does uniquely hold the position of being one of only two reverse harems on the list! And don't worry, there's still plenty of fan service in the form of sexy, beautiful, flirtatious men to satisfy otome fans.
---
2. Sora no Otoshimono: Tokeijikake no Angeloid (Heaven's Lost Property the Movie: The Angeloid of Clockwork)

Sora no Otoshimono: Tokeijikake no Angeloid is another story in the Sora no Otoshimono anime series, following Tomoki and the New World Discovery Club on yet another adventure. Unlike the anime series, though, the movie follows a heroine named Hiyori Kazane and her tale of how she fell in love with Tomoki and was involved in the anime series even though she had never appeared on the screen. Eventually, Hiyori also joins the New World Discovery Club to get closer to Tomoki, sparking a lot of controversy and jealousy from other females, but her feelings for him never change. But when Hiyori suddenly disappears and no one but Tomoki can even remember her, what does that mean? What will become of Hiyori?
Sora no Otoshimono: Tokeijikake no Angeloid may have a main female lead character but it's a harem film true to its parent series. Hiyori is the main girl but she's far from the only one, and all those pretty girls spend quite a lot of time-fighting over Tomoki and who is dating whom and who did what with whom. And you can bet there are some great ecchi in the film as well, with everything from Tomoki's embarrassing initiation tasks for Hiyori to other more typical romantic scenes. And of course, there's science fiction action and intrigue to keep the story extra interesting! Sora no Otoshimono: Tokeijikake no Angeloid is a great choice for ecchi harem anime fans looking for a movie because it has plenty of girls and plenty of ecchi elements to enjoy alongside a good story and decent action, too. You're not likely to be disappointed!
---
1. Trinity Seven Movie: Eternity Library to Alchemic Girl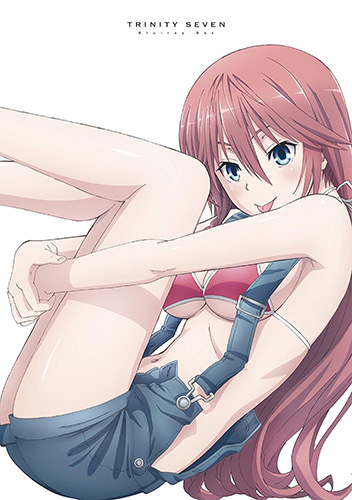 Trinity Seven Movie: Eternity Library to Alchemic Girl is based on the anime Trinity Seven but with an all new storyline. In the movie, Arata accidentally touches Lilith's magical grimoire, unleashing a mysterious girl named Lilim who treats Lilith and Arata as her parents. Meanwhile, the Eternity Library which is home to the White Demon Lord also has opened! Wanting to control the world, the White Demon Lord plans to kill Arata and the Trinity Seven. Can Arata and the girls discover who Lilim is, defeat the White Demon Lord, and save the world from sure destruction once more?
The original Trinity Seven is already known for being a great ecchi harem series full of comedy and adventure, and the movie has brought those elements back, too! Arata spends his time being surrounded by loads of sexy, powerful girls - both fighting alongside them, and getting involved in some hot ecchi situations as well. Of course, you can expect some great fanservice right alongside the action and laughs from Arata and all the girls. The Trinity Seven Movie has a great balance of action, ecchi, and comedy as well as a good storyline which makes it not only fun to watch for harem ecchi fans, but a good movie all around, too!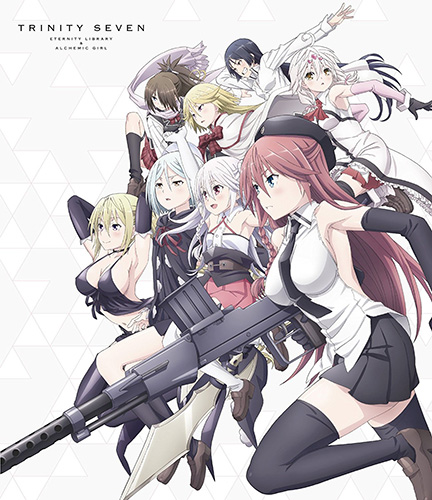 ---
Final Thoughts
From spin-offs to original stories, harems to reverse harems, light ecchi to in-your-face fanservice, ecchi harem anime films deliver to all fans! They may not be extremely popular or easy to find, but hopefully, the next time you are craving one our list of the Top Six Ecchi Harem Anime Movies will be there to help you. And maybe it can even help you find some new harem ecchi anime series to enjoy before you check out the extra movie, too! Whatever your favourite style, we hope at least one of these movies will fill your lust for some ecchi harem action in movie form!
What's your favourite ecchi harem movie? Have you seen the ones on this list? Did we forget the one you thought should be here? Why do you think this genre isn't so popular as a movie despite being incredibly popular for anime and manga? Let us know all your thoughts in the comments below!
---