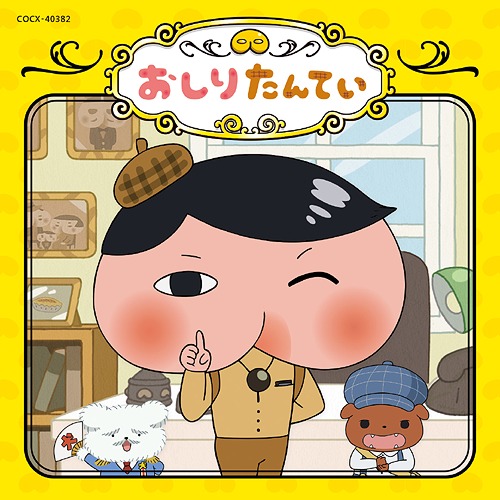 Do you think you know everything about anime? Follow all the biggest shows that get Japanese fans abuzz with excitement? Consider yourself an expert on the subject?
As it turns out, there's an entire culture of anime that people in the Western world never see. There are several critical or commercial hits that just never find their way overseas. Or, if they do, then it's long after the fact. These are shows that have a Japanese audience in mind, and only a Japanese audience in mind. Let's take a look at 5 of the biggest hits that you might not know anything about!
1. Sazae-san (Mrs. Sazae)

Episodes: 7500+ (including shorts; no exact number known)
Aired: October 1969 - ongoing
Japan has no shortage of absurdly long running anime with episode counts over 1000, but nothing even comes close to Sazae-San's absolutely insane 7500+ run… that's still going today and still tops Japan's equivalent of the Nielsen rating charts! It stars the titular Sazae-san and her adventures as a newlywed (yes, for the past 40 years) to find the simple pleasures in life while living in the hustle and bustle of the big city. Most episodes rely heavily on nostalgia for the simplicity of the traditional Edo era lifestyle.
However, Sazae-san is fairly unique in regards to its position in Japanese pop culture, as it's one of the few relics of the pre-Osamu Tezuka manga that still remains in the public consciousness due to the anime. This is why its art style looks closer to 1940's newspaper comics like Peanuts with its more simplistic, less detailed designs. However, the anime itself really does not resemble the original manga beyond its art design, and the influence of Sazae-san in Japan largely comes from the anime.
---
2. Sore Ike! Anpanman

Episodes: 1300+ (total number unknown)
Aired: October 1988 - ongoing
If you've ever taken a vacation to Japan, you've probably seen a man with a perfectly circular head and big rosy cheeks on anything geared toward young children alongside Pikachu and Doraemon. This friendly fellow is Anpanman and he is Japan's ultimate icon of pre-school entertainment like Dora the Explorer is in America. He and all his friends are made of different kinds of bread and they fight against different kinds of bacteria. Not only is Anpanman still running on TV, but it also sees a new movie release in July every year like clockwork.
---
3. Oshiri Tantei (Butt Detective)

Episodes: 26+
Aired: May 2018 - ongoing
Speaking of kids' series, Oshiri Tantei is the newest hot trend among 5 to 8-year-olds these days. If you first look at the main character, you might think you're just seeing something wrong and assume the artists didn't intend to make the character look like a boy with a butt for a head. Yet, the literal translation of the title is "Butt Detective", and a recurring plot is his tracking down a fabulous Lupin-esque thief who is, no joke, made of poop.
If you think that all sounds a little crude… you'd be right. Oshiri Tantei is Japan's own display of the proud global tradition of gross-out comedy stories for kids. Don't judge. Remember that the Western World allowed superheroes like "Captain Underpants" and "Boogerman" to get popular.
---
4. Omoide Poroporo (Only Yesterday)

Episodes: Movie
Aired: July 1991
It's odd to say that a movie from such a massive studio like Ghibli that has the international backing of an even bigger international juggernaut like Disney could have failed to draw attention from people outside Japan, but there's a reason for that. Only Yesterday didn't even see a release outside of Japan until 2016, which was 25 years after the fact. This is most likely because when Disney began its distribution deal with Ghibli, they were mostly interested in Ghibli's more fantastical or whimsical works like Castle in the Sky or My Neighbor Totoro. They couldn't ignore something like Grave of the Fireflies forever due to its sheer gravitas, but Only Yesterday is unique even now: It's an extremely down-to-Earth, realistic animated movie about an ordinary woman and her everyday problems. It didn't exactly fit with the image Disney wanted to push for Ghibli. Even now, it's still rarely discussed as a part of the Ghibli canon outside of the most hardcore fans
---
5. Flanders no Inu (Dog of Flanders)

Episodes: 52
Aired: January 1975 - December 1975
Anime didn't hit the mainstream outside of Japan until the 90s. Anything that was made before the advent of home video is something of a mystery for anyone in the West. However, Dog of Flanders was a massive success in the World Masterpiece Theater animation block in 1974, which was dedicated to adapting popular novels directed at elementary school kids from all around the world. Outside of Moomin, Dog of Flanders is probably the most iconic of this now forgotten anime trend, and references have been working their way into anime as recently as Re:Zero!
---
Final Thoughts
Of course, there are still tons more anime out there that fly under the radar. These are just some of the unfortunate series that, either due to cultural differences or unfortunate release timing, just never caught on outside of their homeland.
Anything else people should keep an eye on? Please let us know in the comments below!
---