También puedes leer este artículo en:Español
Boku Dake ga Inai Machi, also known as Erased. The series started in the Winter season of 2016 and is currently airing, therefore, I will base my selections using the first six episodes as a guideline. Erased is the highlight of this Winter season, becoming an instant hit because of its unique genre mix of mystery, suspense and thriller. Although the series counts with some science fiction elements such as time travel, it has more dark and gritty themes like child abuse, kidnapping and death. If you are weak for these subjects, I advise you to turn back now.
If you're still here it's because you loved this show, and like many others, you still crave more episodes. Erased catches the attention of viewers in many ways like Satoru's ability to go back into the past, the mystery behind Kayo but most of all the elaborated story of a killer who seems to always be one step ahead. While you wait for new episodes, here are six similar stories that you could check out.
Enjoy!
Similar Anime to Boku Dake Ga Inai Machi
1. Colorful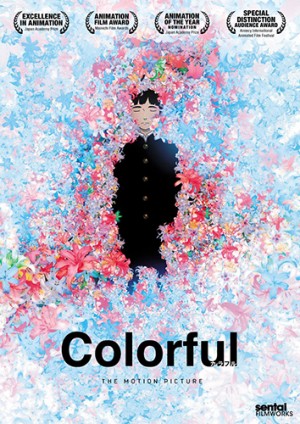 Episodes: Movie
Aired: August 2010
A soul that committed a great crime has been given a second chance to live. Against its will, this soul has to take over the body of a Japanese boy named Makoto, who at 14 years old, committed suicide. Guided by an entity named Purapura, he must now deal with his new life in the body of a boy who used to be a depressed lone wolf. Driven by extreme curiosity on who "Makoto" was before his suicide, the new Makoto sets out to unravel the mystery behind this death. "To put oneself in another's shoes" is what this story is about, and what Makoto is about to discover will really leave you thinking about it for days.
Like Erased, Colorful is about a second chance of fixing past mistakes to build a present worth living. We also have the death of a child and an insatiable desire to unravel the truth behind it. The atmosphere of this movie feels as unsettling as in Erased, but the most significant similarity is the way Makoto builds up the puzzle, leading to the resolution of his own past mistake, being able to fix it, and finally obtaining his own peace of mind.
Colorful Movie Trailer 02 中文字幕
---
2. Another

Episodes: 12
Aired: January 2012 to March 2012
The series, Another, starts off as an anime version of the Hollywood movie Final Destination, with a galore of "there is no way this can actually happen" types of deaths. Sadly, these death scenes are reduced to only unveil a small town superstition that gets way out of hand. Our protagonist, Koichi Sakakibara, sets out to find the truth behind this mystery and how it links back to his friend Mei, a girl who has been "erased" from existence in the eyes of others.
The life of a young boy changes because of a socially deprived girl with a gloomy attitude. Mei and Kayo's personalities are stunningly similar. Both girls have a dark family burden and they both act calm, like they don't want to be saved, but once they open up to the boys in their perspective series, it's really all they want, a salve. So far, Another is more graphic than Erased, but we can see a bit of the same violent exposure in Sachiko's murder. On a side note, Another's music is very similar to Erased, which is cool if you dig creepy OSTs.
Another leading PV promotion video ver, 1
---
3. Shinsekai yori [From the New World]

Episodes: 25
Aired: September 2012 to March 2013
A millennium from now, Japan is a utopia. Our main characters possess psychokinesis powers called Cantus, known to be the power of Gods. Mysterious abductions / disappearances of children from the school and town create a murky atmosphere that raise many questions about what is really going on in this place. The series is slow but it pays off by building a complex story about humanity's darkness, tension, violence and even homosexuality.
Like Erased, Shinsekai Yori is filled with themes of indirect violence and the disappearance of children. The story focuses on children making decisions to change their lives, just as in Erased with Satoru (even though he still has the mind of an adult). Shinsekai Yori uses flashbacks to narrate events in the story instead of time travel, but these scenes feel as if you're traveling through time. They are both stories told from the "future" about a memoir, which is strongly linked to the past, and we are watching the "present" of the story. Definitely two excellent series to compare when you want to see how messed up up and twisted society is.
From The New World Trailer
---
Any Anime Like Boku Dake Ga Inai Machi?
4. Denpa Teki na Kanojo

Episodes: 2 OVA
Aired: February 2009 to December 2009
This two episode OVA is hard to explain without any spoilers, but as confusing and idiotic as it may sound, I assure you it does not disappoint when you watch it.
Denpa Teki na Kanojo is a hidden treasure among all the school thriller shows, it follows the story of Juu, a school yankee who can't shake off the sudden over attachment of a crazy girl named Ame. She proclaims herself as "the loyal knight of Juu, the great King…" from another reincarnated life. The show really takes off when signs of a psychotic killer begin to unravel a very terrible story. The nutcase girl Ame, starts to sound more and more intelligent and extremely mysterious when she decides to help Juu catch the killer, as she gives him bits of riddles that point out the identity of the real murderer. Is this girl a detective genius or can she really remember past life events?
I must admit, I selected this anime out of a hunch, while it has no direct relation to Erased other than student murders, something about this OVA screams Boku Dake ga Inai Machi. In Denpa Teki, an unknown killer is meticulous on not being caught so easily, often directs evidence to point at other people, just like in Erased. The character Ame reminds me greatly of Erased's character Airi, and her role in the story. Airi, just like Ame, is randomly motivated to help the protagonist find the killer. Why? Who is she really? Will she be the key to expose the actual killer, just like Ame was for Juu? Hopefully yes, so I can confirm my theory and my reason for selecting this show.
Radio specific girlfriend PV
---
5. Ano Hi Mita Hana no Namae wo Bokutachi wa Mada Shiranai [anohana: Flower We Saw That Day]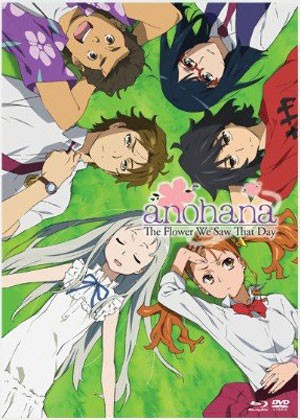 Episodes: 11
Aired: april 2011 to june 2011
The ghost of a little girl called Menma comes back to haunt Jinta, a teenage boy who just wants to forget and let go of a scarring past. To help his former friend's soul find eternal rest, he must first figure out why she appeared in the first place. Could it be connected to their old group of childhood friends from the Super Peace Buster club? This series is a mix of drama, tragedy and anxiety, with a pinch of tender moments that result in an emotionally tearing series that will make you suffer from dehydration after all the crying.
Since we're not boarding that emotional train - yet - in Boku Dake ga Inai Machi, here's why it's similar:
AnoHana's plot occurs all in the present but they have to deal with a problem they've been dragging along from the past, related to a girl and her death. Much like Erased, the death of Menma changes the future of the characters and solving the mystery behind her death changes the outcome of their lives. Jinta and Satoru share many affinities, they both grow up to have a life that sucks, purposely stranded away from social relations to hide a childhood tragedy. Both characters are very analytical, rational, eager to solve convoluted puzzles and devoted to save the girl.
Anohana ~ The Flower We Saw That Day PV
---
6. Steins;Gate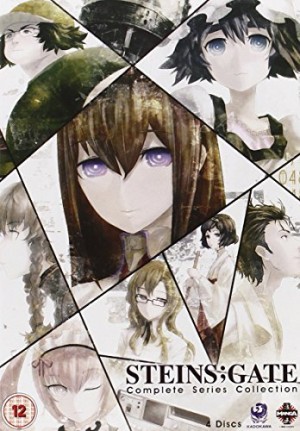 Episodes: 24
Aired: April 2011 to September 2011
This series is a sci-fi thriller with a complex story about a self proclaimed mad scientist named Okabe, who's hobby is creating "future devices" in his Future Gadget Lab together with his "colleagues". Their most developed project is called Phone Microwave, which seems like a stupid invention until they discover it can send emails to the past. This gives them the power to change history, save the life of a friend and even go against an evil organization named SERN.
By popular demand, Steins;Gate is the most "similar" to Erased but in my personal opinion, this comparison doesn't feel quite right. The series do share some points like changing history multiple times to save someone. In Steins;Gate, everytime they change anything someone different dies. But, so far in Erased, something like this hasn't happened but it does have a high possibility of doing so. Unlike Erased, Steins has humor, pretty girls, a slow start, and it has a more scientific approach of time travel theories. They do share at one point the theory of "The Butterfly effect", which is evident in Steins;Gate but only lightly covered in Erased episode 6 (aside from the theory being suggested by the obvious blue butterfly). As I said before, these events might change and the series MIGHT end up a complicated but world famous story like Steins;Gate.
Steins Gate The Complete Series Trailer
---
Conclusion
In conclusion, Boku Dake ga Inai Machi is the Frankenstein of all the best mystery thrillers in anime, together. Hopefully the series doesn't disappoint the hype of the moment and continues to be a great show. Other slightly similar shows may include Zetsuen no Tempest (a rebel aggressively pursues the truth behind his sister's death), Welcome to the NHK (a paranoid guy that overanalyzes everything) and The Girl Who Leapt Through Time (time travel and manipulation of history).
There are still more questions than answers in the development of the series so far; like for example: who is this girl sitting in the frontmost part of the cover image, is it Airi or a grown up version of Kayo? Why is Satoru being shot in the intro song? What are the roles of Satoru's childhood friends? WHO ARE THESE UNKNOWN CHARACTERS APPEARING IN THE ENDING SONG!? I could go on forever, but only good things come for those who wait.
Like everything on the internet, for one person that agrees there are two that disagree and for that reason, I invite everyone to comment below about what series you think are comparable to Erased. Let's start a discussion!
---