A lot of us feel nostalgia when we think about Naruto. A series so long and so full of adventures transforms, its protagonist and his friends all memorable companions in our lives. We so did not want Naruto to end!... Maybe that's why the author decided to narrate the adventures of Naruto's son. Boruto: Naruto Next Generations takes us back to the Ninja world to find out how our beloved gang is dealing with adult life and their offspring. However, this is not the only anime that centers in heroes in training. Let's see how many anime like Boruto: Naruto Next Generations we can find!
Similar Anime to Boruto: Naruto Next Generations
1. Toaru Kagaku no Railgun

Episodes: 24
Aired: Oct 3, 2009 to Mar 20, 2010
Naruto here, Boruto there. Perhaps you like these series, but keep asking whether there is nothing action packed with girls? We girls wanna have fun, too! Well, do not worry, because we have Toaru Kagaku no Railgun. In Academy City, we follow the life of the Level 5 espers, a group of seven girls with special powers. Even fighting crime is a funny adventure with these Toaru Kagaku no Railgun girls!
If what you like about Boruto is how mischievous and upbeat he is, wait until you meet Mikoto Misaka, an electricity manipulator and one of the protagonists of Toaru Kagaku no Railgun. She is a tomboyish adventure seeker who also happens to have a friendly rivalry with a certain Touma. While the espers learn to use their powers, they also fight for justice, although it does not always look like that at first sight. They get entangled in serious stuff as the story advances (pretty much in Boruto's fashion). The main difference is the contemporary, technologically oriented and vaguely futuristic feeling Toaru Kagaku no Railgun has, in contrast with the more Japanese traditional and nature driven Boruto universe.
---
2. Katanagatari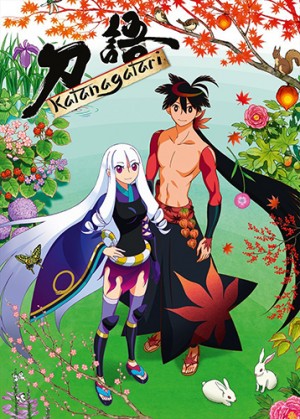 Episodes: 12
Aired: Jan 26, 2010 to Dec 11, 2010
Let's go back to Edo, shall we? We can find all sorts of legends in ancient Japan, but among them, there is an old saying about 12 swords. The shogunate has confided the mission of collecting all of them to the strategist Togame. This intrepid girl asks the help of Shichika Yasuri, a guy who possesses a unique technique of samurai fighting but now lives in a remote island. Will she be able to convince him to join the cause? You will have to watch Katanagatari to find out 😉
If what you like about Boruto is its deep links with Japanese culture, Katanagatari might be the option for you. Shichika also has peculiar powers that make of his battles an entertaining watch. We get interesting rivals who get stronger every time! Besides that, Shichika and Togame have something romantic between them going along, although their main objective is to become the best team. This pretty much reminds us of Boruto and Sarada 🙂 The main difference between the anime is the style, which is rather conventional in Boruto, while in Katanagatari, it has a heavy influence of traditional Japanese culture. Also, Katanagatari is rather short and convenient if you don't have much time to spend in long series.
---
3. Samurai Flamenco

Episodes: 22
Aired: Oct 11, 2013 to Mar 28, 2014
If you are an otaku who has always dreamed of becoming a superhero, you should meet Masayoshi Hazama. This guy decides to takes matters in his own hands one day and becomes Samurai Flamenco. Living a normal life working as a model by day, Masayoshi fights crime by night… regardless of its size and shape. However, he becomes so famous that Masayoshi even has the police tracking him. Will this guy be able to continue his mission as hero? Nope, we are not telling you this one 😉 You will have to watch Samurai Flamenco to find out!
Let's imagine that Boruto decides to become a mysterious hero to win his father's attention. This is pretty much what happens in Samurai Flamenco, although Masayoshi and the policeman Hidenori are not related by blood. There is also lots of comedy in both shows. The main difference is that Samurai Flamenco has all the Super Sentai vibes, located in modern day Japan while Boruto has a more traditional environment. Also, Masayoshi and his gang are adults, while Boruto and his friends are youngsters.
---
Any Anime Like Boruto: Naruto Next Generations ?
4. Hunter x Hunter

Episodes: 148
Aired: Oct 2, 2011 to Sep 24, 2014
Gon Freecss has one dream in his life: to become a Hunter so that eventually, he can encounter his father, who is also a Hunter. The enthusiastic Gon will meet several other Hunter applicants who will become his friends. However, the exam is not easy and there is a real risk that they die. There will also be serious threats that go beyond the fighting arena. Will Gon and his gang be able to achieve their dreams while they keep their friendship bonds? Once more, we can not tell you. Please watch the show to find out 😉
There are several similarities between Boruto and Hunter x Hunter. Again, these anime are about people with special powers aiming to fight and do adventurous works. Gon longs to have a relationship with his father like Boruto, although he does not retort to mischief to get his attention. We also get several battles with diverse rivals who get more and more powerful. The main difference is that Hunter x Hunter is more male centered than Boruto, who has a more diverse cast of strong female characters.
---
5. Boku no Hero Academia

Episodes: 13
Aired: Apr 3, 2016 to Jun 26, 2016
Imagine a world where most of the members of humanity have special powers. These people are called "quirks", who are easy material to become heroes. Izuku Midoriya has always dreamt of becoming one of them, but without special powers of his own, he will have it hard… until Izuku meets his number one superhero, All Might. With his aid, the young dreamer trains until he is accepted in the elite school UA High, aiming to pursue his objectives alongside the "quirks". Here, he will face all sorts of enemies who might become his enemies or his foes.
Izuku and Boruto have a lot in common, by being single outed although for different reasons. However, they do not shy away from hard work and rigorous training in order to get what they want. Slowly but relentlessly, Izuku and Boruto build up their confidence. Have we also mentioned that they end up saving the day? Plus, we get to follow the life of young students in academies on both animes! The main difference is the American comic influence in Boku no Hero no Academia, while Boruto has a Japanese atmosphere.
---
6. Little Witch Academia

Episodes: 25
Aired: Jan 9, 2017 to present
Ok, so maybe Harry Potter or The Worst Witch are what make your heart jump. That does not mean you are indifferent to Boruto. So, how about an anime that combines the best of both? Little Witch Academia has had several incarnations in the anime world, so we can expect some quality storytelling from it! Here we present you Atsuko Kagari, an enthusiastic girl who wishes to become a witch since she watched a magic show when she was a little girl. Once enrolled in the Luna Nova Academy, she will have to fight to win her magic and keep her good scores.
Atsuko goes on similar lines with Mikoto from Toaru Kagaku no Railgun and Boruto, of course. Her personality is determined, bubbly, and prompt to comedy. Atsuko also has to face challenges that not all magic students have to pass through. The main difference between the academies is the subjects: magic and ninjutsu. Also, Luna Nova Academy is a school for girls, while the Academy in Konoha Village is open to all sexes. So, if you like anime like Boruto but are partial about magic and would not mind a softer and more feminine story, you might like to catch a glimpse of Little Witch Academia.
---
Final words
The path of the Shinobi is long and full of perils. What remains after can be a legend if we were successful, or forgetfulness if we didn't. Many heroes will train and aim to the top, but only some will enter the hall of fame. That is why Boruto: Naruto Next Generations and other similar anime leave us wondering who will make it. What do you think? Which anime like Boruto have the potential to become legendary? Don't forget that we are open to all your comments and suggestions. See you soon!
---