También puedes leer este artículo en:Español
It looks like the world of the greatest ninja from Konoha Village refuses to leave us, otakus. It has been a little over a year since the publication of Boruto: Naruto Next Generations started from the hand of the legendary magazine Shounen Jump. Although the writer and illustrator are different from the original creator of Naruto (Masashi Kishimoto), the hokage's son Boruto is already conquering hearts with his adventures. With a movie and a recently released anime version, we can expect more adventures with our dear characters from Konoha Village, both old and new. However, while we are waiting for more chapters, we can read other manga similar to Boruto. So, what are we waiting for? Let's grab our ninja plaques and go into a quest for more manga like Boruto: Naruto Next Generations!
Similar Manga to Boruto: Naruto Next Generations
1. Nabari no Ou

Authors: Yuhki Kamatani
Genres: Action, Drama, Fantasy, Martial Arts, School, Shounen, Supernatural
Volumes: 14
Published: May 18, 2004 to Aug 18, 2010
Yuhki Kamatani has some experience in the shounen realm, particularly in protagonists that go out of the norms or that are social outcasts. Naruto marked a whole generation of otakus. Thus, it is not surprising that Kamatani holds this manga as one of his favorites. It also was the inspiration behind Nabari no Ou.
Let's imagine for a while that Boruto is more angsty. Well everyone, meet Miharu Rokujou, a student in Middle School. He would be a common person, if not for his special ninja powers. With such power, Miharu is fit to become the king of the secret world of Nabari, but how will that play with his friends and foes? Miharu resembles Boruto in his plays and tricks to get what he wants, while he trains his ninja powers. The cast is varied and we have several powerful ladies among them, just like in the Ninja School of Konoha Village. Even the ancient Japanese traditions are reflected in the cast's powers! As we said before, the difference is that Nabari no Ou is a bit more dramatic.
---
2. Izayakaku

Authors: Yukisato Sakamaki
Genres: Adventure, Fantasy, Josei
Volumes: 4
Published: Sep 27, 2008 to Nov 27, 2010
Yukisato Sakamaki has just a few manga in his portfolio, relying heavily on historical topics. So, let's go back to ancient Japan, when two clans were locked in a life or death war! When the Minamoto clan was defeated by the Taira, one of the few survivors was forgiven and exiled to a remote island. The name of this survivor was Yoritomo. One day, he gets the visit of a rebellious monk called Mongaku, who wonders if Yoritomo might like to take revenge… but well, you will have to find out what happens next. For a hint, just search for Minamoto no Yoritomo's name 😉
Perhaps what you like about Boruto is the Japanese vibes. How about going deeper into Japan's history with Izayakaku then? In Boruto, there are deep family and honor ties that point to a troubled past. Just look at Sasuke. Izayakaku also has these vibes. The main difference is the historical references and the graphic style. Izayakaku makes a complex usage of screentones and is rather dark, while Boruto uses plain, inked shadows.
---
3. Metallica Metalluca

Authors: Teruaki Mizuno
Genres: Action, Adventure, Comedy, Fantasy, Shounen
Volumes: 3
Published: May 17, 2010 to Sep 13, 2010
Teruaki Mizuno has authored and illustrated a few mangas that play with well known props of Japanese and American comics. In the case of Metallica Metalluca, he offers us the adventures of an enthusiastic boy called Luca. This guy's dream is to become a Minea, in order to follow the footsteps of his father. Luca will meet friends and foes, and in helping a declining village, he might fulfill his objective of becoming a Minea.
So, where have we heard of a guy who wants to follow his father? 😉 Luca and Boruto also have special powers that help them to get notoriety. Despite that he can be a bit rude and disconsiderate sometimes, Luca will do what is needed to help his friends, just like Boruto. The main difference is the nature of their powers (Ninjitsu and Mining Powers), and the mangas graphic styles, although this last one is not as marked as in Izayakaku, for example. Metallica Metalluca is also a quick read, in case that you got tired of long manga.
---
Any Manga Like Boruto: Naruto Next Generations ?
4. Blazer Drive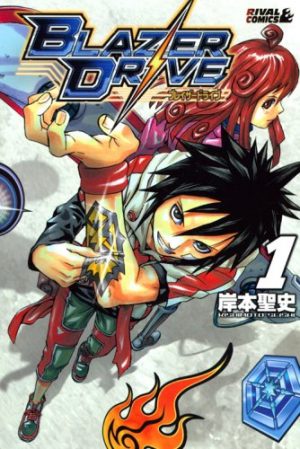 Authors: Seishi Kishimoto
Genres: Action, Shounen, Super Power
Volumes: 9
Published: Apr 4, 2008 to Dec 29, 2010
Wait, we have read that surname before… Could it be that?… yes, Seishi Kishimoto is Naruto's original creator little brother. It looks like manga runs thick in the blood of this family 🙂 Anyway, Kishimoto is also into creating shounen manga full of adventure, in a range that can be light or dark and mature. In Blazer Drive, he tells us the story of Daichi in Neo Tokyo (nope, it's not the one from Akira). Wondering why his brother Ginga is getting distant, he discovers the evil organization called Qilin Realm, and… down the rabbit hole we go!
Curiously, Blazer Drive might be the manga with more differences from Boruto in this list. However, we get the following similarities: a hero with deep family bonds, with an impulsive and mischievous personality, and his quest to understand his super abilities better. The graphical styles are also not so distant from each other, maybe because manga brothers obviously would grow up drawing together. However, instead of Ninjitsu, we get Mystickers. In Boruto, we have a traditional Japanese culture vibe, while Blazer Drive flirts with a not so distant future.
---
5. Gamaran

Authors: Yousuke Nakamaru
Genres: Action, Historical, Martial Arts, Shounen
Volumes: 22
Published: May 13, 2009 to Jun 26, 2013
Yousuke Nakamaru is a relatively new face in the manga world who has written a few shounen works centered in action and horror. Gamaran is his most developed manga by far. Let's imagine that we are in an alternative Edo period in ancient Japan. There is a state called Ubara where powerful warriors fight to win control over all others. Naoshi Wazhitsu has the dream of becoming the ruler of Ubara, but he will need the most powerful ally he can find. Thus he journeys to the dojo of Daigame Ryuu, where a legendary swordsman is thought to teach and live… only that when Naoshi arrives, he finds the son of the warrior instead.
Gamaran is the opposite case of Blazer Drive, and will give you strong Boruto vibes as soon as you begin reading it. The protagonist, Gama, is a highly skilled warrior who has a conflicted relationship with his father. The many fighting styles and rivals follow dynamics that also remind us of Boruto. The main difference is the graphical style, that combines simple panels a-la-Boruto with more shaded and detailed fighting scenes. If you like long manga, Gamaran might be the best recommendation for you.
---
6. Hinomaru Zumou

Authors: Kawada
Genres: Martial Arts, Shounen, Sports
Volumes: 14
Published: May 26, 2014 to present
Hinomaru Zumou is Kawada's debut, and it has delivered magnificently. With the talent Japanese have to draw sports related manga, it is not surprising that Kawada transformed one of their most beloved national sports in a, well… manga. The protagonist is Hinomaru Ushio, who is the newest member of the Zumou club in Oodachi High School. With his never ending enthusiasm, he is willing to conquer any obstacles to rise to the top!
If Ninjutsu has gotten you a bit tired, how about other traditional techniques directly from Japan? Hinomaru will remind you of Boruto if you imagine Boruto being enrolled in a High School in modern Japan. His rivals are many and more powerful every time he has a showdown! However, teamwork will always save the day, just like in Boruto. The main difference is, once again, the artwork style. In Hinomaru Zumou, every action panel makes you feel the strength and effort of the club members, while in Boruto, the style tends to be simpler.
---
Final thoughts
If you notice, the authors we featured on this article are relatively new. We have released several other articles on Naruto and Boruto, so you can find manga and anime that are more widely known there. This time we opted for fresher options 😉 Have you noticed that ninjas and adventure are a thing in the world of Japanese manga on recent years? Looks like Boruto will stay long, so he will be in good company with other manga similar to Boruto: Naruto Next Generations. Do tell us, which manga like Boruto do you like? Don't forget that we are open to all your comments and suggestions. See you soon!
---