También puedes leer este artículo en:Español
A Reverse Harem is popularly known as a group of male characters that display a strong romantic interest in the main female character. Sometimes, this gal is your average young woman, who may reciprocate these feelings to the flock of handsome young men chasing after her. In Brothers Conflict, Ema Hinata is no stranger to this scenario. In this exciting Romantic Comedy, we journey through Ema's life, watching how she approaches all these guys who want her. How and why is Ema's milkshake bringing all the boys to the yard? Lol! And so, here are Honey's updated recommendations for 6 Anime Like Brothers Conflict.
Similar Anime to Brothers Conflict
1. Dance with Devils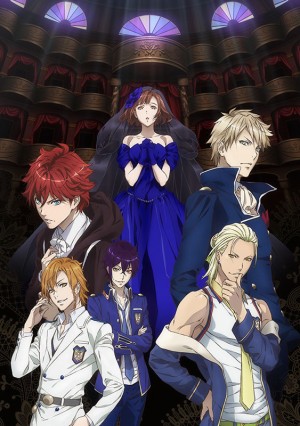 Episodes: 12
Aired: October 2015 – December 2015
Ritsuka Tachibana is your average, hard working student. To her surprise, she is called into a meeting by the student council, composed of a group of fine young men. Later on, Ritsuka finds out that her mother has been abducted. Additionally, various crimes and incidents follow this news, resulting in Ritsuka's knowledge of the world of vampires and devils. Furthermore, the student council members are devils themselves and believe that Ritsuka has information as to the location of the forbidden "Grimoire," an object coveted by both vampires and devils. Each side is fighting to obtain the Grimoire in order to rule the world.
Dance with Devils and Brothers Conflict are similar because the female lead is targeted and desired by a group of males. The story and setting of each anime is vastly different, where Dance with Devils has a musical component in addition to a dark theme, and Brothers Conflict is more 'Slice-of-Life' and perhaps relatable. However, both offer a fantastic story development that leaves viewers guessing what will happen next.
Dance with Devils – Broadcast Dub Preview
---
2. Kamigami no Asobi

Episodes: 12
Aired: April 2014 – June 2014
Kamigami no Asobi is filled with tons of magic and fighting. It begins with a girl name Yui Kusanagi, who is at a shrine and is suddenly transported into another realm. In this alternate world, various young and handsome gods must learn the significance and value of humanity. As Yui is designated this difficult assignment to aid the gods, she must complete this mission within a year's time. Otherwise they will all be stranded in that realm forever.
In these reverse harems, Yui from Kamigami no Asobi and Ema from Brothers Conflict are propelled into unique and distinct situations that they aren't accustomed to, but must quickly adjust due to unlikely forces. In both anime, there is a lot of romantic conflict and obstacles between the characters.
---
3. Diabolik Lovers

Episodes: 12
Aired: September 2013 – December 2013
Diabolik Lovers is about Yui Komori. At her father's request, Yui ends up living in a house that is full of vampires. Unaware of why she is sent there in the first place, Yui and the Sakamaki brothers all find out that she is meant to be their sacrificial bride. At the Sakamaki home, Shuu, Reiji, Ayato, Kanato, Laito, and Subaru each fulfill their love lust and blood thirst, while Yui remains a captive in their home. Yui is conflicted as to why her father would allow her to be treated as such. Now, Yui struggles with a new sensation pumping through her veins combined with the sorrow of being subjected to this type of treatment.
In comparison, both anime involve a tender, kind hearted girl surrounded by a number of guys, who want her for their own personal gains. Ema Hinata from Brothers Conflict and Yui from Diabolik Lovers are roped into their situations by their fathers, thrusting them into completely different environments. Although the boys in Brothers Conflict seek Ema more romantically and passionately, the boys in Diabolik Lovers have a more malicious and dark way of acquiring Yui.
Diabolik Lovers
---
Any Anime Like Brothers Conflict ?
4. Amnesia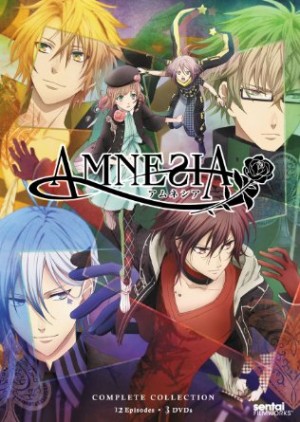 Episodes: 12
Aired: January 2013 – March 2013
Amnesia is the story of a girl who loses her memories. Not only does the main character have no recollection of her past, she is plagued by a spirit named Orion, who was the reason why she lost her memories in the first place. Fortunately for our heroine, Orion helps her recover what she's lost by helping her piece together people - a majority of them being handsome males -, places, and other various triggers. With many of her encounters, she slowly comes to find out who she is.
The heroine from Amnesia and Ema Hinata from Brothers Conflict share similar timid personalities. They are both reverse harem based, where the female lead is surrounded by a swarm of males. Additionally, the heroine and Ema develop deep and personal relationships with each male they experience, providing a supportive quality and unique experience between each pair and for the main female protagonist.
Amnesia PV
---
5. Hanayaka Nari, Waga Ichizoku: Kinetograph

Episodes: 2
Aired: December 2012 – March 2013
Based on an otome game, Hanayaka Nari, Waga Ichizoku: Kinetograph is about Haru Asagi, who works as a maid for the Miyanomori household, one of the most powerful families of the early 1900s. Father Miyanomori decides it is time to retire as head of the family and wants to choose one of his six sons to take his place. Father Miyanomori does not tell his sons how he will go about this process, but suggests to his sons to prepare themselves and to stay on his good side. In this OVA, Hanayaka Nari, Waga Ichizoku: Kinetograph, highlights the former conflict in addition to the interactions between the Miyanomori brothers and Haru.
Hanayaka Nari, Waga Ichizoku: Kinetograph and Brothers Conflict include one female lead with varied relations between a number of brothers. These anime, targeted towards a female audience, seek to make them wonder whom the female protagonist will choose in the end. Furthermore, Hanayaka Nari, Waga Ichizoku: Kinetograph and Brothers Conflict have comedy, romance, and dramatic themes.
---
6. Uta no Prince-sama♪ Maji Love 1000%

Episodes: 13
Aired: July 2011 – September 2011
Uta no Prince Sama is the story of various young talents enrolled at Saotome Academy, in hopes of reaching stardom through music. Surrounded by musical brilliance and artistry, the protagonist, Haruka Nanami attempts to make her way to the top of the industry, gaining six companions along the way. The progress through each episode demonstrates the journey of students training to become future idols.
In comparing Uta no Prince-sama♪ Maji Love 1000% with Brothers Conflict, both have a female main character surrounded by a group of young men fighting for their attention. UtaPri and Brothers Conflict have vibrant characters, who all cast various personalities. Haruka Nanami from UtaPri and Ema Hinata from Brothers Conflict are both timid and introverted young ladies, but nonetheless talented and diligent, whether it is for studies or music composition. Haruka and Ema are also likeable girls with handsome men in their midst.
---
Final Thoughts
"La-La La-La-La, the boys are waiting!" So there you have it. These are Honey's Updated Recommendations for 6 Anime Like Brothers Conflict. Being the center and envy in a mass of men can have both its perks and downfalls. Furthermore, we know there are tons more out there. Let us know what we've missed! What other reverse harem identical to Brothers Conflict can you suggest to us and other readers? Leave your comments below!
---
---
A story which could seem simple, Brothers Conflict was a great anime because of the relationships between all the boys and Ema. The different issues between the brothers was a part of why this anime was famous in the Reverse-Harem genre.
Whether you watched this anime only for the boys, or for the story, the list of recommendations below should help you find your happiness with similar anime to Brothers Conflict.
Enjoy!
Similar Anime to Brothers Conflict
1. Starry☆Sky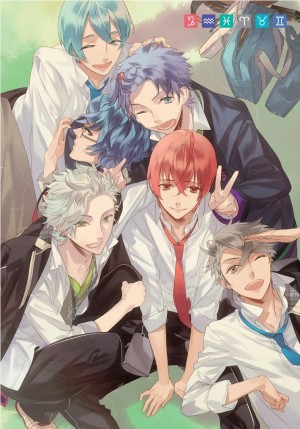 Episodes: 26
Aired: Dec 2010 – Jun 2011
The heroine, Tsukiko, enters her new high school. This school was originally a boys-only school, which recently opened for girls. Actually, Tsukiko is the only girl who is attending the school. Involved in the student council as well as other clubs in the school, Tsukiko is surrounded daily by 13 boys who are all representing a zodiac constellation (12 constellations + 1 invented).
First of all, the number of boys is the same as in Brothers Conflict, so there would be similarities in the way the heroine is involved with all of them. As the story is about zodiac constellations and astronomy in general, people who like this kind of thing should enjoy this anime. In terms of Reverse-Harem anime, this is a show you should watch!
---
2. Kamigami no Asobi

Episodes: 12
Aired: Apr 2014 – Jun 2014
Kusanagi Yui is a high school girl who lives in a temple with her family. One day, she is being summoned by the God Zeus, in the world he had created. He then asks Yui to stay in this world, in order to teach human feelings to some other young Gods. If she wants to get out of this world, Yui will have to teach the other gods about human feelings to strengthen the link between the human world and the God world.
As there are less boys in this one than in Brothers Conflict, the story is able to focus on each of them deeper, which is why this one is interesting. Every God has some issues with humans for their own reasons and Yui is in someway healing them one by one.
---
3. Uta no☆Prince-sama♪ Maji Love 1000%

Episodes: 13
Aired: Jul 2011 – Sept 2011
The dream of Nanami Haruka is to become a composer to write a song for her favorite idol. In order to accomplish her goal, she enters the Saotome Academy, a performing arts school, where all students aim to become idols or composers. If she successfully graduates, she will be working at the Shining Agency and will compose songs for a lot of idols. But first, she has to pair with an aspiring idol.
The fans of music and idols will love this one for sure. Even if the story seems a little exaggerating sometimes, the characters are moving and cute in their own way. Around Haruka, 6 boys are craving to be her partner with one other boy, more mysterious, approaches her. There are some cute scenes like in Brothers Conflict, so the atmosphere seems similar.
---
Any Animes Like Brothers Conflict
4. Amnesia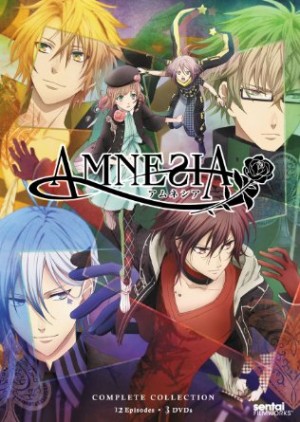 Episodes: 12
Aired: Jan 2013 – Mar 2013
This is the story of a girl who, one day, suddenly, realises she lost all her memories and doesn't even remember her name. As she wonders what happened, she meets Orion, a young boy who is actually responsible for her amnesia. In order to recover her memories, she will travel between many dimensions.
The heroine has no name and tries to recover her memories while traveling with Orion. Surrounded daily by 4 boys, she has a particular relationship with one of them in each dimension. Like in Brothers Conflict, the boys are sweet around her in their own way and there are sometimes conflicts between them.
---
5. Bonjour♪ Koiaji Pâtisserie (Bonjour♪Sweet Love Patisserie)

Episodes: 24
Aired: Oct 2014 – Mar 2015
Haruno Sayuri dreams of becoming a pastry chef. In order to achieve her goal, she enters the prestigious, Fleurir Confectionary Academy, with a scholarship. Judged by some other students and watched by the head teacher, who keeps saying love between student and teacher is forbidden, Sayuri will try to reach her dream.
The heroine is surrounded by 4 boys. Three of them are teachers and the last one is her schoolmate. Each episode is pretty short but the story is cute and moving, and if you don't melt for the boys, you will at least melt for the pastries they make. If you liked Brothers Conflict, you will like this one as well, as the heroine is pretty similar and the ambiance of the two anime also has similarities.
---
6. Harukanaru Toki no naka de: Hachiyou Shou (Haruka: Beyond the Stream of Time – A Tale of the Eight Guardians)

Episodes: 26
Aired: Oct 2004 – Mar 2005
By the doing of a demon, Motomiya Akane and two of her friends, suddenly found themselves sent into another world. In this unknown world, Akane is asked to become the Priestess of the Dragon God, the person who owns the power of the Gods. In charge of protecting this world against the Oni Clan, Akane is now surrounded by the boys responsible for her own protection.
With a little less scenes of romance than in Brothers Conflict, this show has more actions and fighting scenes in order to compensate. Because of this, the story is catching and you can empathize with the heroine. Plus, there are a lot of boys which makes it hard to choose who you want to be with!
---
There is a lot of Reverse-Harem anime adapted from Otome Games and all of them should be worth seeing. As for the anime similar to Brothers Conflict, except for the ones in the list above, other anime like Hiiro no Kakera or La Corda D'Oro are also really interesting so don't hesitate to check them out!
---