Arguably more than any other genre, sports anime know how to get our blood pumping! Regardless of whether the story focuses on boxing or basketball, a great series expertly introduces newcomers to the rules of the game while focusing squarely on the cast. Even if someone finds soccer or cycling to be rather dull, the passion exhibited by the characters can be infectious. Suddenly, a viewer might find themselves itching to go for a jog or buy a road racer!
While Ashita no Joe is the granddaddy of sports anime, Captain Tsubasa's influence should not be denied. When it comes to soccer, everything else stands in the shadow of Yoichi Takahashi's shounen manga about an 11-year-old elementary school student who dreams of playing at the World Cup. Tsubasa's impact transcends the medium; many footballers, including the likes of Lionel Messi and Fernando Torres, have shared memories of their time watching the anime.
What makes Captain Tsubasa so enjoyable to watch? At its heart, the anime is a coming-of-age story about a passionate teenager who refuses to give up on his dream. As he travels across the world, Tsubasa meets a slew of rivals and life-long friends, but he never loses sight of his goal! While relatively grounded in reality, Captain Tsubasa's shounen roots mean certain moves are otherworldly.
For those who love Captain Tsubasa's tense matches and 'never say die' attitude, here are six similar anime worth watching.
Similar Anime to Captain Tsubasa (2018)
1. Diamond No Ace (Ace of Diamond)

Episodes: 75
Aired: Oct 6, 2013 to Mar 29, 2015
Trading a soccer pitch for a baseball stadium, Diamond no Ace centers around Eijun Sawamura, a first-year high school student obsessed with pitching. Angered by his lackluster contribution during middle school, the loud-mouthed youngster joins the ranks of Tokyo's highly respected Seidou High School. While Eijun's strange pitching style earns him a spot on the bench, the student is surrounded by experienced and talented players who are hardly going to give up their spot without a fight.
Similarly to Tsubasa, Eijun has been practicing baseball from a young age. His entire life revolves around the sport and he is willing to push himself to the limit to realize his dreams. With three other pitchers on the same team, Eijun is surrounded by friends and rivals, many of which are better equipped to lead Seidou High School to victory. While Captain Tsubasa prioritizes the eponymous character above the rest of the cast, both anime focus on a sport that requires teamwork to achieve success.
Diamond no Ace's matches are strategic and overflowing with emotion. Unlike Tsubasa, Production I.G.'s anime incorporates a substantial amount of comedic moments into the story. While somewhat of an idiot and genuinely hilarious, Eijun is a sympathetic lead character in an uphill battle to achieve his goal!
Diamond no Ace Trailer
---
2. All Out!!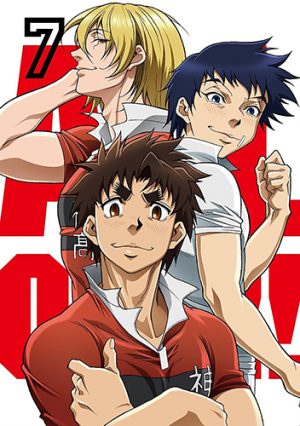 Episodes: 25
Aired: Oct 7, 2016 to Mar 31, 2017
The name "Madhouse" means a lot in the anime world, so that is more than enough reason to give All Out!! a spin. Adapted from Shiori Amase's seinen manga, this time, rugby takes center stage. A prestigious sports school, Kanagawa High School hardly lacks for capable players, but that is not going to discourage newbie Kenji Gion from signing up to the team!
Regularly mocked for his height, Gion seems to always be on the verge of a fight. Obnoxious and bubbling with latent energy, the high school student joins the rugby club after witnessing a practice match. Accompanied by the massive but timid Iwashimizu, who has a love/hate relationship with the sport, Gion yearns to earn a place alongside Captain Sekizan and sub-captain Hachiouji.
All Out!! is a seinen sports anime, so there is quite a bit of focus on the budding relationships between the players. Gion and Iwashimizu are polar opposites but, as the series progresses, it is fascinating to see how rugby alters their personalities. While Tsubasa is aiming for the World Cup, Gion and company dream of attending a large tournament pitting many different high schools against each other called Hanazono.
All Out!! Teaser
---
3. Haikyuu!! (Haikyu!!)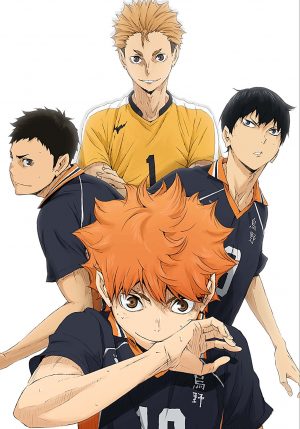 Episodes: 25
Aired: Apr 6, 2014 to Sep 21, 2014
If pushed to pick the definitive sports anime of the last couple of years, Haikyuu!! would have to be it. Created by Production I.G. and based on a manga by Haruichi Furudate, Haikyuu!! is an underdog story for the ages. Obsessed with volleyball, Shouyou Hinata's limited size puts him at a considerable disadvantage while on the court. Refusing to accept that he was just not made for the sport, Hinata spent all of middle school practicing by himself. On the final day, a couple of his classmates show up for a match but are quickly destroyed by Tobio Kageyama's team. Flash forward to the beginning of high school, where Hinata and Kageyama join Karasuno High School volleyball team.
Initially, Hinata and Kageyama cannot stand each other, but they quickly form a partnership that brings the best out of both of them. Over the course of three seasons, Haikyuu!! follows Karasuno's volleyball club as they attempt to earn the title of Japan's best high school team. The road might be long and hard, but nobody is going to stand in Hinata or Kageyama's way!
As both series are shounen anime, Haikyuu!! and Captain Tsubasa include some truly flashy moments that are a sight to behold. The former's spectacular animation is further enhanced by its great soundtrack and comedic timing.
Haikyuu!! Trailer
---
Any Anime Like Captain Tsubasa (2018) ?
4. Kuroko no Basket (Kuroko's Basketball)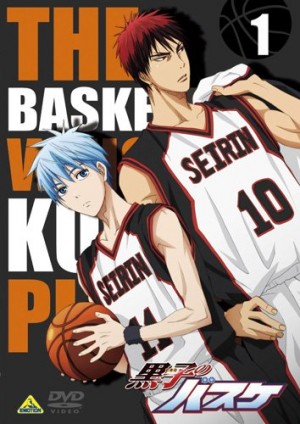 Episodes: 25
Aired: Apr 8, 2012 to Sep 22, 2012
Captain Tsubasa's shounen roots show themselves during random scenes featuring exaggerated animation. While spectacular and unbelievable, in the anime's world, the characters are perfectly ordinary human beings. They do not possess special powers or anything of the sort. Kuroko no Basket opts for something different.
Nicknamed the Generation of Miracles, Teikou Junior High School's basketball team spawned five outstanding and unique players who were lightyears ahead of the rest of Japan's middle school students. Going their separate ways for high school, the team's forgotten sixth player, Tetsuya Kuroko, joins Seirin's team in the hope of taking down his former teammates.
Outlandish and over-the-top, Kuroko no Basket's charm lies in the overwhelming odds Kuroko and his team face. Seirin is not just going up against great players, the students are practically facing basketball gods. For those who enjoy watching Tsubasa pull off incredible skills, Kuroko no Basket is the perfect recommendation!
Kuroko no Basket Trailer
---
5. Yowamushi Pedal

Episodes: 38
Aired: Oct 8, 2013 to Jul 1, 2014
Admittedly, cycling sounds like a bit of a hard sell. On paper; basketball, volleyball, and soccer matches seem to be a lot more dynamic and explosive than road racing. Like the very best sports anime, an interest in cycling is not needed to enjoy Yowamushi Pedal. After watching a couple of episodes, you might find yourself yearning to hit the road on a bicycle!
Since the fourth grade, Sakamichi Onoda has cycled to Akihabara on his bicycle to avoid wasting money on a train ticket. Now a high school student, Onoda hopes to make a couple of new friends by forming an anime club. Unfortunately, nobody signs up and he ends up getting challenged to a road race by Shunsuke Imaizumi. Before he can finish singing Love Hime's theme song, Onoda joins the cycling club and sets out on the road to the Inter-high tournament!
Technically, when it comes to road racing, Onoda is a complete amatuer; thankfully, his background as a cheap otaku has more than prepared him for the sport. Initially, he joins Souhoku's bicycle club just to make friends, but he quickly becomes addicted to the thrill of the race! While the matches can be quite long, Yowamushi Pedal does a fantastic job of establishing rivalries between the different racers. Blending comedy and drama, TMS Entertainment's anime is a must watch for sports fans!
Yowamushi Pedal Trailer
---
6. Days

Episodes: 24
Aired: Jul 2, 2016 to Dec 18, 2016
In a recommendation list for fans of Captain Tsubasa, we could hardly avoid mentioning another soccer anime! Created by MAPPA, Days distinguishes itself from Yoichi Takahashi's influential anime by establishing a protagonist who is a complete newbie. While Tsubasa has been training since he was a young lad, Tsukushi Tsukamoto has never touched a soccer ball and only joins the sports club after enjoying a friendly match alongside Jin Kazama.
In certain ways, Days is the stereotypical sports anime. The protagonist starts off completely clueless about soccer but proves his worth by working his socks off. Unlike Captain Tsubasa's title character, Tsukamoto is not a soccer genius destined for greatness, but an average high school student who simply enjoys playing with the team. As the season progresses, Tsukamoto starts to improve and eventually becomes a vital member of the club.
Obviously, viewers who are a big fan of soccer should definitely give MAPPA's anime a try. Whether part of the same team or not, Days dedicates a fair amount of time to developing Tsukamoto's rivals and companions. As for the matches, they are nearly identical to Captain Tsubasa, just with less exaggerated stunts.
Days PV
---
Final Thoughts
Sports anime are all about pushing beyond your limits to reach even greater heights! Even when faced with seemingly insurmountable odds, hard work and determination can make a world of difference. These six recommended anime deliver the same style of heart-racing entertainment seen in Captain Tsubasa!
Is there any other anime that you would recommend for fans of Captain Tsubasa? If yes, please leave us a comment below with your recommendations.
---