También puedes leer este artículo en:Español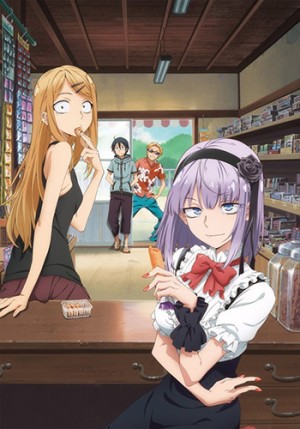 Anime revolving around Japanese culture aren't rare and at this point we all know about samurais, ninjas and Co. But now, studio Feel brings you an anime that highlights a special part of Japanese culture that some of you might not be too familiar with: rural candy stores.
Dagashi Kashi is part of the Winter 2016 season and revolves around - you guessed it - a small candy shop in the Japanese countryside. It is run by the eccentric You Shikada who wants his son Kokonotsu (or Coconuts as his friends call him) to take over the business. He, however, dreams of becoming a manga artist. It doesn't help that snack-obsessed Shidare Hotaru shows up and tries to recruit his dad who will only accept the offer if Kokonotsu gives up on his dream.
In honor of this new show we have compiled a list of six anime that are either similar in style, story or the main cast. Especially those of you that are still deciding whether to give Dagashi Kashi a try should be able to enjoy it. Here we go!
Similar Anime to Dagashi Kashi
1. Non Non Biyori

Episodes: 12
Aired: October 2013 - December 2013
First up on our list is Non Non Biyori, an adorable Slice of Life show set in the idyllic countryside of Japan.
Here, you will meet a group of elementary school students who make up the entire class of a small town. Hotaru Ichijou joins the local community after her family moves away from Tokyo and now the girl has to figure out how to live in the countryside.
The most obvious similarity between Non Non Biyori and Dagashi Kashi is the setting: both stories depict rural life outside of bigger cities. However, it's not the setting alone that makes this show our first recommendation. The design, pace and soundtrack of Non Non Biyori create an atmosphere similar to the easy flow of Dagashi Kashi. A must watch for fans of Slice of Life!
Non Non Biyori Official Trailer
---
2. Hanasaku Iroha (Hanasaku Iroha ~Blossoms for Tomorrow~)

Episodes: 26
Aired: April 2011 - September 2011
Next up on our list is a Slice of Life show with hot springs, family drama and lots of girl power.
After being abandoned by her mother, optimistic high school girl Ohana moves to the countryside to help out at a traditional inn owned by her grandmother. She is motivated to make the best out of her new life, but soon she has to realize that there is a lot more she needs to learn. Together with the other girls working at the inn Ohana embarks on a journey to find out what she wants to do with her life.
I would recommend Hanasaku Iroha to everyone who likes the setup of Dagashi Kashi, but also enjoys drama and conflict. Just like Dagashi Kashi, this anime features a rural setting and a story centered around one location (a Japanese inn in this case), but on top of that you will get a lot of character development and the never-ending search for your purpose in life. Definitely check this little gem out!
Hanasaku Iroha Official Trailer
---
3. Shokugeki no Souma (Food Wars! Shokugeki no Soma)

Episodes: 24
Aired: April 2015 - September 2015
Slice of Life? Check. Bizarre characters? Check. Images of food that will make your mouth water? Double check. It's time for Shokugeki no Souma!
For those of you that don't know, Shokugeki no Souma was one of the hit shows of the Spring season 2015. It is named after its main hero, Souma Yukihira, who has one goal on his mind: to become the best chef there is and take over his family's restaurant. His path takes him to Tootsuki Culinary Academy, an elite cooking school where the best of the best compete in making the most delicious meals possible. How can Souma compare to his classmates?
The reason I simply had to include Shokugeki no Souma on this list might be obvious: the food aspect. But it's not simply the fact that both shows feature food; rather, it's about the appreciation for eating and creating delicious meals that can be seen in both anime. Dagashi Kashi might "only" feature snacks, but the way the main characters enjoy eating them is similar to the passion Souma shows while cooking. Be warned though, you shouldn't watch this show on an empty stomach!
---
Any Animes Like Dagashi Kashi ?
4. Gekkan Shoujo Nozaki-kun (Monthly Girls' Nozaki-kun)

Episodes: 12
Aired: July 2014 - September 2014
You like Slice of Life shows and cooking, but are more interested in the romance aspect of Dagashi Kashi? Don't worry, we also have a recommendation for you.
Our next choice is Gekkan Shoujo Nozaki-kun, a show that will definitely convince you with its comedy. The story starts with high school girl Chiyo Sakura trying to confess her feelings to her crush Umetarou Nozaki. He, however, is as oblivious as a guy can be and thinks she is a fan of his shoujo mangas. Chiyo is frustrated, but decides not to give up: she becomes his assistant and is trying her best to make him realize her feelings.
Some of you might think now that this storyline sounds nothing like Dagashi Kashi. And you are right, but there are actually a lot of other similarities between the two stories. First of all, both protagonists want to become manga artists. Secondly, they are both blind to the fact that there are girls who are in love with them, trying their hardest to make them see it. And last but not least both shows have great comedy, so if you are looking for a quick pick-me-up, this is the show for you.
Gekkan Shoujo Nozaki-kun Official Trailer
---
5. Working!! (Wagnaria!!)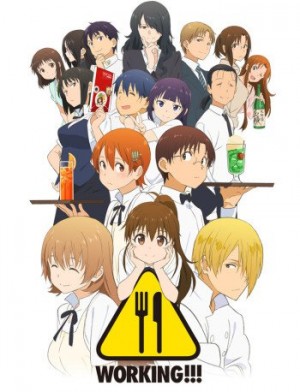 Episodes: 13
Aired: April 2010 - June 2010
Time to get back to delicious food, but now we want to focus more on the people serving it than the chefs behind it. Get ready for workplace comedy Working!!.
Not only fans of Slice of Life will have heard of this popular anime. Over the course of three seasons you will meet the staff of Wagnaria, a family restaurant located in Hokkaido. But these aren't your average employees: between writing down orders and handling busy work shifts you can see lots of chaos, conflict and overflowing emotions. Welcome to Wagnaria, your restaurant of a special kind!
Working!! and Dagashi Kashi both revolve around workplaces, so we get to see the main cast interacting in both a private and professional setting. This also means that the dynamics of the shows are fairly similar. Most of their storylines as well as their jokes rely on the strong personalities of the different characters and how they interact with each other. So if you like the quirky main cast of Working!!, chances are high you can also enjoy Dagashi Kashi.
---
6. Barakamon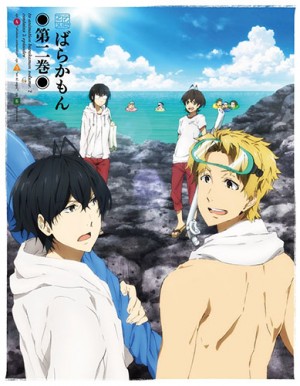 Episodes: 12
Aired: July 2014 - September 2014
Last but not least we have a beautiful show that will guide you into the world of Southern Japan.
Professional calligrapher Seishuu Handa is forced to relax on a Japanese island after he lost his temper and punched a critic in the face. Now, the stern and apathetic guy from Tokyo has to face the laid-back attitude of country life. Slowly but surely he grows closer to the community and has to reflect on his dreams and goals in life.
Barakamon combines all strengths and similarities of the last recommendations into one beautiful show. We have the Slice of Life aspect, a conflicted main hero following his passion, the unique community of a rural town and most importantly great humor. Just like in Dagashi Kashi, you get to meet weird personalities and laugh at their jokes and special quirks. Barakamon is a strong recommendation regardless of which genres you like, so definitely give it a try if you haven't already.
---
So what is the hype around Dagashi Kashi all about?
Usually, anime can be equally enjoyed by people around the world, but there is a nostalgia factor to Dagashi Kashi that only people who grew up in Japan will understand. Dagashi shops are more than simple corner stores: they are magical places for kids filled with sweets, snacks and toys. Unfortunately, many of them have been replaced by chain stores and supermarkets. That is why Dagashi Kashi is so popular in Japan: it brings back sweet childhood memories that many people had forgotten about.
What do you think of the first episodes of Dagashi Kashi and which other shows did we miss out on? Share your thoughts and ideas in the comment section down below.
---