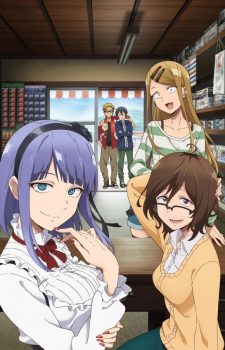 Some series prefer to focus on cooking rather than eating, while others do the exact opposite. Gourmet Girl Graffiti follows a couple of middle schoolers as they discover the joy of eating the finest home-cooked meals, while their friendships are fueled by their mutual love for food. Shaft's slice of life series turns eating into an art form, as the cast audibly and visually express their delight after every bite or gulp. Koufuku Graffiti never tries to deliver a particularly deep or inspirational storyline, but the comedy series is perfect for food lovers. The characters are likable and sweet, but they mostly serve as a backdrop for the main course. Animated ramen and omurice never looked this good.
Our two featured anime in this article are Dagashi Kashi 2 and Ramen Daisuki Koizumi-san. Both ongoing series are directly linked to the food industry, although they offer a slightly more specialized experience than Gourmet Girl. While they do not hit all the same beats as Shaft's series, there is more than enough content for fans to sink their teeth into. Time to have a bit of fun while wishing we were eating at the finest Japanese restaurant.
About Koufuku Graffiti (Gourmet Girl Graffiti)

Episodes: 12
Aired: Jan 9, 2015 – Mar 27, 2015
Episodes: 12
Aired: Jan 9, 2015 – Mar 27, 2015
Based on Makoto Kawai's manga of the same name, Koufuku Graffiti follows Ryou Machiko, a middle schooler who loves to cook but has struggled to get the taste right since her grandmother passed away. Fearing that these diminishing skills in the kitchen might ruin her chance of developing into a good wife, Ryou disappointingly starts to accept that she might be in for a lonely life. Just as she is about to give up, Ryou's second cousin, Kirin Morino, arrives to stay with her while attending cram school in Tokyo. With another mouth to feed, Ryou's cooking springs back to life and greatly improves. Suddenly, the middle schooler overcomes her depression and regains her confidence. As Kirin hails from a household that does not particularly love cooking, Ryou uses this opportunity to educate her cousin on the joy of gourmet dining.
Liked Koufuku Graffiti? Then watch Dagashi Kashi 2
Episodes: 12
Aired: Jan 12, 2018 – Ongoing
In big cities, Dagashi shops have practically gone extinct, as they struggle to compete with convenience stores and chain restaurants. This trend has only recently started to make its way to the countryside, so the Shikada family have yet to give up on their sweet shop. Kokonotsu Shikada wants nothing to do with the family business and yearns to pursue a career in manga, but the arrival of Hotaru Shidare throws a wrench in his plans. Hotaru is chasing after Kokonotsu's father, as she believes he has what it takes to join her staff at a world-renowned sweet manufacturer, but Yō will only take the job if Hotaru convinces Kokonotsu to accept the family business. Dagashi Kashi's second season maintains the weird eccentricities of its predecessor but ramps up the tension by introducing a nearby convenience store. Unless Kokonotsu starts taking things seriously, Shikada Dagashi might be going out of business.
Three Major Similarities Koufuku Graffiti and Dagashi Kashi 2
1. Food For The Soul
What separates Gourmet Girls from other eating shows is that the focus is on home-cooked meals. The characters enjoy preparing their own plates before, hopefully, witnessing a positive reaction in their companions. While Dagashi Kashi is not necessarily about cooking, the Shikada Dagashi is an extension of the family. The sweets lining the shop's shelves are linked to nostalgic and personal experiences, with Kokonotsu and Yō putting their livelihoods on the line to maintain the family business. They might not be cooking the meals themselves, but every item in their catalog contains a part of their souls. Gourmet Girls teaches that food can bring people together and Dagashi Kashi offers the same with sweet shops.
2. Eating For The Future
Admittedly, Gourmet Girls dedicates most of its runtime to showing Ryou and Kirin eating their way through a number of plates. While rarely the main focus, the subplots do comment on the cast's future. What will they do after finishing school? More importantly, how can cooking and food help them during the rest of their lives? Dagashi Kashi tackles these type of questions in more depth than Gourmet Girls, as Kokonotsu is caught in between a rock and a hard place. On one hand, he respects the family business and wishes to see it return to its former glory, but writing manga is his real passion. With the second season forcing Kokonotsu to really take charge of Shikada Dagashi, the youngster quickly learns why this little candy shop is important.
3. Just The Right Amount Of Humor
Koufuku Graffiti has a few comedic interactions sprinkled throughout each episode, but these moments tend to play second-fiddle to the exaggerated eating scenes. Akira Machiko, Ryou's aunt, handles the majority of the humor, as she randomly shows up to inject a ton of energy into an episode. If Akira was one of your favorite characters, then Hotaru is a gift sent directly from the heavens. Manic but lovable, the purple-haired waifu steals every single one of her scenes. While the second season reduces her screentime considerably from its predecessor, Hotaru never fails to make the most out of her appearances.
---
Liked Koufuku Graffiti? Then watch Ramen Daisuki Koizumi-san (Ms. Koizumi Loves Ramen Noodles)
Episodes: 12
Aired: Jan 4, 2018 – Mar 22, 2018
At one point during Ramen Daisuki Koizumi-san, the gang visits a trendy restaurant that has a simple mantra stamped on its wall - "No Ramen, No Life." This four-word sentence encapsulates Koizumi's very reason for being, as the pretty blonde high schooler dedicates every moment of her free time to ramen. If she is not eating noodles, then Koizumi cannot be happy, and she has no time to waste on silly things like friendship. Koizumi's aloof behavior captures the attention of Yuu Oosawa, her energetic classmate who, after watching Koizumi eat ramen, becomes entranced by the blonde girl's beauty. Despite constantly rejecting her invitations, Koizumi ends up introducing Yuu and a couple of her friends to the delightful world of Ramen.
Three Major Similarities Koufuku Graffiti and Ramen Daisuki Koizumi-san
1. Achieving Bliss
Gourmet Girls' feasting scenes are slightly exaggerated. Kirin and Ryou cannot eat anything without achieving bliss, as their cheeks turn a bright red and they start to sweat. Shaft's anime makes eating seem intoxicating! Ramen Daisuki Koizumi-san offers exactly the same thing, except with ramen always serving as the instigator. Koizumi-san goes from one restaurant to another and there is never an instant when she does not enjoy slurping noodles. The art styles for these scenes are so reminiscent of Gourmet Girls' moments of ecstasy, they could easily pass for the same show.
2. Discovering Friendship At The Bottom Of A Bowl
Eating is an activity that can easily be enjoyed alone, but there are benefits of going to a restaurant as part of a group. Gourmet Girls' Ryou only improves her cooking once there is another mouth to feed, and her food helps build a lasting friendship with her second cousin. Koizumi-san loves to eat alone. She never interacts with any of her classmates, preferring to spend all of her time sitting at a ramen shop. Talking is something that could ruin her experience. While this might be her initial thought process, Koizumi slowly starts to appreciate Yuu's company and realizes that she is not the only one who adores ramen. Accompanied by the hilarious Misa Nakamura and the responsible Jun Takahashi, the four schoolgirls form a bond over their mutual love for noodle soup.
3. Episodic Storytelling
With series like Tsurezure Children and Yuuki Yuuna wa Yuusha de Aru under its belt, Studio Gokumi knows how to craft a gorgeouslooking product. Comparing any studio to Shaft is a recipe for disaster, but Ramen Daisuki Koizumi-san is easily up to the task. In terms of animation, the two series share a lot in common. The characters have gorgeous and appealing designs, with the animators adding a couple of neat touches to increase the cast's overall adorableness. When the girls sit down to eat, the studio mixes a multitude of bright colors to incorporate an almost dreamlike feel to these scenes. Honestly, they can be mesmerizing. Shaft ranks among the best anime studios in the business, but Ramen Daisuki Koizumi-san might be better looking than Koufuku Graffiti.
Final Thoughts
Koufuku Graffiti, Ramen Daisuki Koizumi-san, and Dagashi Kashi 2 are the type of anime that will make you want to learn how to cook. The former two turn the act of eating into a sensual experience, one that cannot be replaced by anything, while Dagashi Kashi offers a way for a foreigner to experience a traditional candy shop. Gourmet Girls worships Japanese cooking and these two ongoing series just want to help spread the love. We hope you enjoyed reading this article and please let us know if you've seen either one of these series. In the future, don't forget to check Honey's Anime for more articles offering great recommendations.
---