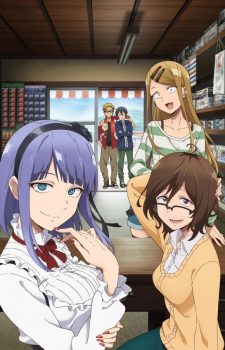 If you enjoyed anime like Dagashi Kashi, luckily, we received 2 anime that share that Japanese marketing quality of Dagashi Kashi's this season. We've got Takunomi. (Takunomi) and Ramen Daisuki Koizumi-san! While they may not be advertising dagashi, they are still marketing something very much Japanese, so hang tight while we explain to you why you might like these anime if you liked Dagashi Kashi!
About Dagashi Kashi

Episodes: 12
Aired: January 2016 - April 2016
In a countryside town away from Tokyo is a small dagashi shop owned by the Shikada family. This dagashi shop has been the Shikada family business for 9 generations, but that's going to change with the youngest member of the Shikada family, Shikada Kokonotsu, who wishes to pursue his dreams of becoming a mangaka instead. Yet with the arrival of a rather eccentric candyphile, Shidare Hotaru, things may start to change. Hotaru is determined to get Kokonotsu's father to work for her family business, the Shidare Corporation, which is a well-known sweets manufacturer. Kokonotsu's father has one condition if he's going to fulfill Hotaru's request: Hotaru must get Kokonotsu to take over the family business.
Liked Dagashi Kashi? Watch Takunomi. (Takunomi)!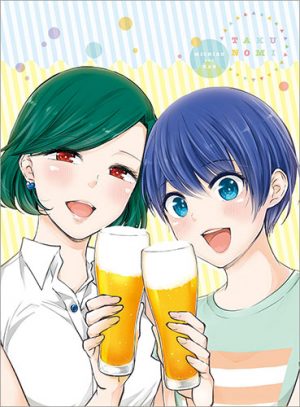 Episodes: 12
Aired: January 2018 - ?
Amatsuki Michiru is from the countryside and at the age of 20, she has just moved to Tokyo to start a new life and a new job. She's all bright-eyed and bushy tailed about the idea of moving to the city to work. Soon, Michiru arrives at her new share house where her roommates are female only with varying ages and jobs, but they all have one thing in common: drinking.
Three Major Similarities Between Dagashi Kashi and Takunomi. (Takunomi)
1. Exploring All the Specialties
One major thing that Takunomi. and Dagashi Kashi share is their exploration of all the varieties of whatever it is they are advertising. Dagashi Kashi did this with dagashi, showing treats like umaibo or various toys sold in dagashi shops. Takunomi. does this same thing with alcohol and drinking snacks. Ironically enough, Takunomi. showed umaibo like Dagashi Kashi, as well as foods like hiyayakko for drinking snacks. All sorts of drinks are shown of all specialties like when they used Suntory to make a highball or when they created a cocktail cheat sheet. Takunomi. has a very similar style to Dagashi Kashi in highlighting all the good parts of Japanese alcohol the way Dagashi Kashi does with dagashi.
2. A Step into the Culture
The same way Dagashi Kashi shows what the childhood may be like for many kids in Japan, Takunomi. shows what drinking culture is like. Takunomi. has a large emphasis on drinking and how much people choose to relieve their stress through drinking, which is actually a pretty big thing in Japan. From nomikai (drinking parties) to drinking with friends at home, Takunomi. shows every part of it including the food. Do you want to bond with someone? Prepare a favorite drink for them. Or maybe you can hop on down to an izakaya for a pub-like feel. You can even run on down to the local convenience store for a cold one. Alcohol is readily available and it's a significant part of the culture, and through Takunomi. you can get a glimpse into it.
3. Countryside Cast
While Takunomi. may be set in Tokyo, the entire cast of characters is actually from the country, much like Dagashi Kashi. You can really see the contrast between the feel of a country side cast to a city cast in Takunomi. where many of the characters have been in the city for much longer than Michiru. The other characters are stressed out and quick to unwind with a drink while Michiru is still optimistic and enthusiastic about her work, the same way Kokonotsu dreams of being a mangaka. The cast is just a bit more relaxed than those who have been in Tokyo for a long time. They have dreams, ambitions, and don't have a care for money. This makes for a great slice of life the way it does in Takunomi.
---
Liked Dagashi Kashi? Watch Ramen Daisuki Koizumi-san (Miss Koizumi Loves Ramen)!
Episodes: 12
Aired: January 2018 - ?
Koizumi is beautiful, but she prefers to keep to herself. There is one thing that she absolutely loves and no one knows this but it's ramen. Koizumi is always trying to find a great ramen restaurant. From the neighborhood ramen joint to your national ramen chain, Koizumi is going to try them all! From the experimental types of ramen to the most traditional ramen from all over Japan, Koizumi knows her ramen.
Three Major Similarities Between Dagashi Kashi and Ramen Daisuki Koizumi-san (Miss Koizumi Loves Ramen)

1. Exploring Japan Through Food
Of course, like Dagashi Kashi and Takunomi., Ramen Daisuki Koizumi-san explores Japan through food. Koizumi travels all over Tokyo in order to try all the different types of ramen that are made available in the big city the same way Hotaru eats a different dagashi in each episode. Koizumi even uses her vacation to travel around Japan to try the different ramen specialties, even going so far as hiking up a mountain for a bowl of ramen. The fact that some major chains like Tomato Ramen, Ippudo, and Ichiran are featured in Ramen Daisuki Koizumi-san shows just how authentic these ramen restaurants are, as well as how much of a marketing ploy this anime is.
2. Passionate
This is no secret but Hotaru is passionate about dagashi. She does her best to expand her knowledge as much as possible. The same can be said of Koizumi who, we mentioned, will travel all over Japan just to try a certain type of ramen. Koizumi will even go on a tirade, like Hotaru, to explain the splendor of a specific type of ramen and its history. That and she is not willing to discriminate when it comes to ramen as we've seen her sitting in instant ramen bars or going to the convenience store in order to make ramen with all of the things the convenience store provides. She can even pack it away, eating multiple bowls in one sitting or moving from restaurant to restaurant on a food crawl. The fact that Koizumi even feels rather passionate about not stealing someone's experience by saving a spot in line for a ramen restaurant also says a lot about how she much ramen means to her. It's more than obvious that when it comes to all things ramen, Koizumi is as passionate as Hotaru is when it comes to dagashi. Let's not forget that there's Yuu, who has a passion for Koizumi.
3. Episodic and centered around the explanations
As far the layout of the show goes, Ramen Daisuki Koizumi (as well as Takunomi.) follows a rather episodic approach much like the second season of Dagashi Kashi. Each episode has some short section that is supposed to be plot, then it goes on to Koizumi eating ramen and explaining the splendor of whatever ramen she is consuming. After that, usually the episode is over. No episode has any real influence on any other episode except for rather minor details. This is the same as Dagashi Kashi 2nd season that is episodic and mostly revolves around candy more so than the characters. It's all about the food here; who needs plot or character development?
Final Thoughts
With that folks, you have everything you need to go to Japan and have a good time! Not really, but you'll know what to eat and drink when you go to Japan. Hopefully you have some fun watching these anime as we did writing this article! If you want to see anime marketing at its finest, you'll find it here.
For those of you who are already watching these two anime, what do you think about them? What about that second season of Dagashi Kashi? Which one has you itching to visit Japan more? Please feel free to let us know all of your thoughts in the comments down below!
---