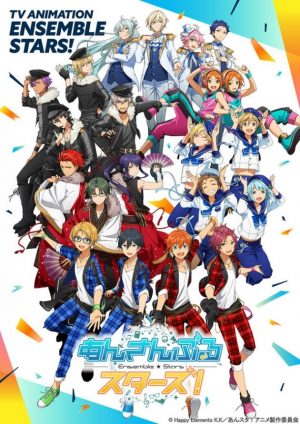 Based on the hit mobile game, Ensemble Stars! Has finally hit the TV screens as we see Anzu's story in anime form. As the series starts, she is the sole female student in Yumenosaki High School's producer course. Upon her enrollment, she finds herself becoming Trickstar's producer. Trickstar is one of the many idol groups at the competitive Yumenosaki High School and consists of four young men, Subaru, Makoto, Hokuto, and Mao. Not only does the series use the same character designs and cel-shading from the original game, but it makes use of the original voice actors and featured singers as well. So, in addition to Ensemble Stars!, what other anime out there can we recommend? Read our top 6 to find out!
Similar Anime to Ensemble Stars!
1. Uta no Prince-Sama: Maji Love 1000%

Episodes: 13
Aired: July 3, 2011 – September 24, 2011
Initially debuting as a visual novel for the PSP, Uta no Prince-Sama takes place in the unique Saotome Academy. This school is unique due to the students being up and coming idols, and with the staff being active idols as well. Haruka Nanami, a young lady raised in the countryside, enrolls with the dreams of one day becoming a composer. At this school, she is required to be a producer for one of the students who wishes to be an idol. If they win this heavily competitive system, they can win a record deal upon graduation!
The synopsis to Uta no Prince-Sama is pretty much self-explanatory with how it's similar to Ensemble Stars! Both of these series are based on games, and you have a female character who wishes to be a producer in a reverse-harem situation. In both series, it portrays how competitive the schools are in terms of selling themselves, but you also get to see how their relationships develop. Plus, you appropriately get a heavy soundtrack!
Uta no Prince-Sama: Majo Love 1000% PV
---
2. Idolish7

Episodes: 17
Aired: January 7, 2018 – May 19, 2018
Based on the hit mobile game by Bandai Namco, Idolish7 gives you the point of view of Tsugumi Takahashi, the daughter of the president of a famous idol agency. Tsunami is given the task of managing Takahashi Talent's newest boy band, Idolish7, and make them Japan's next big thing! Like Ensemble Stars!, Idolish7 gives the vantage point to a female producer/manager, however the circumstances are different. As opposed to taking place in a school for idols, it takes place within a company. While some of the characters are still in their late teens, there are some members that are already in their twenties, and you see how the age gap generates some distinguishing dynamics within the relationships.
While the designs of Ensemble Stars! gives a prettier look to its cast, Idolish7's designs have a more edgy feel to them with a much more mature approach by giving them taller bodies and sharper facial features. As for the music, while Trickstar has a much more upbeat approach with their style, Idolish7 has something that feels more intense.
Idolish7 PV
---
3. Kamigami no Asobi

Episodes: 12
Aired: April 6, 2014 – June 22, 2014
Based on the hit visual novel, Kamigami no Asobi tells the story of how Yui Kusanagi, a Miko of a Shinto Shrine, is taken to a world of god's by the recommendation of Zeus in order to teach a select number of other gods about humanity and most of all, love. There she meets deities of various mythologies such as from Greek, Roman, Norse, Egyptian and Japanese. However, only one can win her heart! Granted this goes the Isekai route in comparison to Ensemble Stars!, but please hear us out on this one.
For starters, it's about a young lady who serves something as both a "mascot" and as a maternal figure to a bunch of curious young men, aka a nice way of saying it's a reverse harem anime but with a role in mind. However, just like in Ensemble Stars!, you get to learn about the individual personalities of each character and how Yui impacts them in the same way that Anzu impacts Trickstar in a positive sense. While it may not be an idol anime, it doesn't mean that this series is free from a soundtrack featuring its characters. Some of the songs are actually image songs of the characters sung by their voice actors! So in a way, you get some of that aspect in Kamigami on Asobi as well.
Kamigami no Asobi PV
---
Any Anime Like Ensemble Stars! ?
4. Starry Sky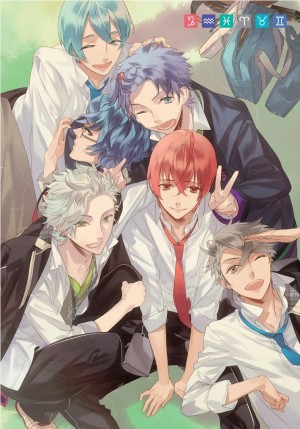 Episodes: 26
Aired: December 23, 2010 – June 16, 2011
Based on the otome game by Honeybee (no relation to Honey's Anime), Starry Sky tells the tale of Tsukiko Yahisa. Seigetsu Academy, which used to be an all-boys school, has become co-ed, and Tsukiko is its first official female student. Of course, when you're one of the very few members of the opposite sex at the school, you're bound to get A LOT of attention and that comes in the form of boys that are inspired by Western zodiac creatures!
While Starry Sky is not an idol anime akin to Ensemble Stars!, they share numerous qualities with their premises'. Both have main characters that are the first female to attend a school that were once boys schools, and it paves the way for a reverse harem scenario. However, due to the episodes being 11 minutes, it's difficult to fit the game into this series and get to know all the boys, which is it's unfortunate down point.
---
5. Bonjour Koiaji Patisserie (Bonjour Sweet Love Patisserie)

Episodes: 24
Aired: October 10, 2014 – March 20, 2015
Sayuri Haruno's dream is to one day open up her own sweets shop. In order to make her dream come true, naturally, she has to go to school in order to learn how to make the sweets she wants to sell. The school she enrolls at is the Fleurir Confectionary Academy and there, she meets a lot more boys than she could ever dream of. Putting aside the episode length, each episode averages around less than 10 minutes so you can more or less get through this series in one sitting! While this anime isn't about boys who wish to become idols, if there's anything about this series that shares anything in common with Ensemble Stars!, it's certainly about the pursuit of making your dreams come true.
Putting aside all the comedy and reverse harem hijinks, Bonjour Koiaji Pâtisserie does a great job of highlighting sweets from around the world whether they be from Europe or domestic to Japan. Through Sayuri, you get a genuine feel of what it's like to sticking to your goals regardless of the competition and as long as you can make things happen for you, that's all that matters. And putting aside the episode being 5 minutes, you get a general idea of who the characters are and how they relate to Sayuri.
Bonjour Koiaji Patisserie (Bonjour Sweet Love Patisserie) PV
---
6. Love Live! School Idol Project

Episodes: 13
Aired: January 6, 2013 – March 31, 2013
Due to the declining enrollment at Honoka Kousaka's school, it's now scheduled for demolition within three years. After being inspired by A-RISE, a school idol group, she decides to help increase enrollment at her respective school by starting her own idol group and appear in a contest known as Love Live. Unfortunately, the student council is against the idea.
While most of the anime we have listed up until this point have been reverse harem anime, or featured boy groups, Love Live!, is one anime that some could argue helped pave the way for the idol genre in a modern sense. As opposed to a young lady being the sole girl at a newly co-ed school that used to be a boys school, or being forced to being a manager of a boys group, Love Live! Obviously deals with girl groups akin to Morning Musume and AKB48. While the school Honoka goes to isn't an idol school to begin with, like the cast of Trickstar, Muse (the name of Honoka's idol group) also has to deal with the bureaucracy of the student council in order to gain any recognition or approval of their activities. And since Love Love! Is more about the girl groups as opposed to boys, you're getting a different style of performances with how they project their energy.
Love Live! School Idol Project PV
---
Final Thoughts
The great thing about idol anime is that they're straight forward and to the point. Granted some of the idol anime we listed are rather repetitive in nature with having reverse harems, exploiting archetypes and being based on mobile games, they each have their own distinguishing executions. Some take place in a school, some take place in an established agency, and others take place in an Isekai. Either way, despite the media glorifying the fame of what it means to be successful, each anime does a great job of also demonstrating the failure that comes along the way. You see how each group and character has to face it as it relates to how competitive the industry truly is both internally and externally. Yes, some can be repetitive, but it's the reality and showcasing that reality is what truly makes these characters down to Earth and relatable, which are the biggest qualities you could ask for from an anime.
---