También puedes leer este artículo en:Español
The bridge between individuals, threaded together by the strings of a common interests, lay way to the magic created by human connection. From the single crossing of paths, lives intertwine and water the seeds of a soon to bloom life changing journey. We taste it every day within our daily lives, and witness it through the likes of great anime such as Fuuka.
As we traversed through the tidal waves that struck both Yuu Haruna and Fuuka Akitsuki throughout their musical journey together, we got to experience the essence of human growth, and how those around them helped influence that development. Like a symphony harmonizing through the use of well placed notes, Fuuka and Yuu danced through a life of ups and downs; constantly falling in and out of tune, but ultimately ending in harmony. Without a doubt, this left us dying for more; therefore, to ensure that your calling is answered, we here at Honey's Anime are proud to present to you 6 Anime Like Fuuka.
Similar Anime to Fuuka
1. Shigatsu wa Kimi no Uso (Your Lie in April)

Episodes: 22
Aired: Oct. 2014 – Mar. 2015
Stuck in a world of perfectionism, Kousei Arima lived a life in which landing every note correctly was all that mattered. But at the passing of his mother, suddenly everything began to fall apart. Touted as the human metronome, Kousei was lauded for his piano ability; but when his mother parted, so did the ability to hear the sound of his own music; and soon, Kousei left the piano behind for good.
Now, two years later, living an average life alongside his friends; Tsubaki Sawabe, and Ryouta Watari; Kousei is far from a return back to the stage. Until one day in April, he crosses paths with violinist Kaori Miyazono. Taken away by her character, Kousei now finds himself plunging back into the world of music; but this time, perfection takes on a new meaning.
While Your Lie in April gives us a more realistic approach towards young lives intertwined with music, it does so in a way that flows very similar to that of Fuuka. With music at the heart of the plot, an underscore of friendship building and budding love help to write a magnificent story that wedges itself right into your heart. Although the more direct, ecchi aspect is missing from this piece, the on-edge story building, elegant but powerful music score, and stunning visuals put you right into your happy place much like Fuuka does. One of the major similarities that is bound to keep you hooked are its characters. Fuuka Akitsuki uses music as a lifeline to her happiness. A connection to music that Kaori also blesses the viewers with every time she lifts her violin. Fuuka proves that it's capable of bringing forth some memorable characters, and Your Lie in April takes that element to new heights. It has possibly some of the best character developments within anime, and brings each episode to life like never before.
Your Lie in April Trailer
---
2. Shoujo-tachi wa Kouya wo Mezasu (Girls Beyond the Wasteland)

Episodes: 12
Aired: Jan. 2016 – Mar. 2016
Although talented, Buntarou Hojo fails to keep his life steady in any direction. Possessing skill is only half the way towards success, and as such, Buntarou's excellent writing skills may never truly be realized. However, when classmate Sayuki Kuroda's interest is piqued by Buntarou's raw talent, she sets forth to make good use of him. Eager to get him to tag along with her bishoujo game development group, Sayuki forces Buntarou into taking a job interview. Although he assumed she was asking him out on a date at first, he nonetheless agrees and jumps on board to turn this group into a reality.
What makes Girls Beyond the Wasteland an extraordinary choice for Fuuka lovers is how it adapts the defining elements of Fuuka and develops it into a new aspiring piece. It proves that the musical aspect of Fuuka is not the only thing that makes it a great anime, but instead, everything that surrounds it. To start off, the dynamic between the male and female protagonists; Buntarou and Sayuki, feel very reminiscent of Fuuka and Yuu. Not to mention the strong desires that these characters develop to become successful. That drive, which leads them to build a group of likeminded individuals, also leads them down a very similar path of understanding one another, as well as themselves. All fed to us through the entertaining interactions between the characters. Like two butterflies with different patterns, Fuuka and Girls Beyond the Wasteland are similar in ways that make you feel right at home; but bare enough individuality to wipe away any sense of monotony. In short, there's no reason for a fan of Fuuka to pass up on Girls Beyond the Wasteland.
Girls Beyond the Wasteland Trailer
---
3. White Album 2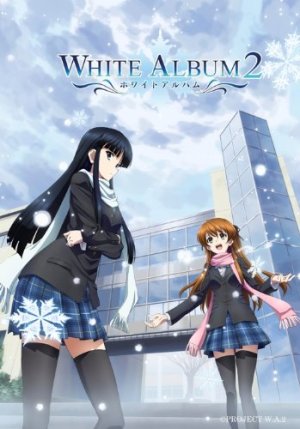 Episodes: 13
Aired: Oct. 2013 – Dec. 2013
Haruki Kitamura has one desire, and that's to perform at the school festival. But with the music club facing disbandment, that dream is slowly becoming impossible. Dancing his fingers to the song "White Album", with a guitar in hand, Haruki is met with a miracle. As his string of fate pulls tighter, his guitar playing becomes one with a beautiful voice against the backdrop of an elegant piano. Perhaps there is still hope for Haruki to accomplish his goals.
And try, try he will. Ambition is key in what makes White Album 2 such an excellent piece, and that is an echo of what we see when delving into each episode of Fuuka. The perseverance to become part of something beyond themselves is an underlying theme throughout Fuuka, and it is that same grit of character that helps develop the story of White Album 2. Set in a similar High School setting, focuses on the future, relationship building, and growth; all ring to the similar tune of Fuuka. We don't get to see the eye-popping ecchi entertainment in this series, but similarities in character, story concept, and beautiful visuals help grasp that compelling atmosphere and turn White Album 2 into a fantastic next stop in between Fuuka episodes.
---
Any Anime Like Fuuka ?
4. K-ON!

Episodes: 13
Aired: Apr. 2009 – Jun. 2009
Entering High School can be the start of many new things, and for Yui Hirasawa, that means stretching her incompetence to the limits. Captivated by a poster advertising the "Light Music Club", Yui quickly signs up despite lacking any real musical talent. Surely enough, when met face to face with club members Mio, Tsumugi, and Ritsu; they too have their minds boggled by her lack of musical capabilities. However, with the looming threat of their club being shut down, the three members convince Yui to take hold of whatever spark of talent she can, join the club, and prevent their impending disbandment. And thus starts a tale of musical malarkey and school life antics.
Yuri, right from the jump, reminds us of Yuu as she wanders into a world unknown. Music certainly isn't her forte, and the road to its adoption is a bumpy one. Littered with excitement, fun, and malarkey all the way through. Her life takes a complete 180 turn as she takes up a completely foreign skill, and sees purpose in herself through music. Just as Yuu suddenly utilizes music as a new direction in life after spending his days huddled around twitter posts. We also get to pull away from the main theme of these anime; which is music, and from time to time get to truly understand the everyday lives of these young characters. Bringing forth that bit of slice of life concept that helps each episode flow smoothly from point A to point B. If you've found yourself eager to catch each new episode of Fuuka, then K-On! will certainly become your next household favorite.
K-On! - Trailer
---
5. Nodame Cantabile

Episodes: 23
Aired: Jan. 2007 – Jun. 2007
In the life of Shinichi Chiaki, perfection means everything. A musician with unfathomable skill, Shinichi's lineage of distinguished individuals is certainly reiterated through his skills as a musician. But even someone as perfect as Shinichi has flaws; as his desire to play abroad in Europe is stunted by his fear of flying. Now in his fourth year of university, Shinichi is taken aback by the sound of a pianist. Her name is Megumi Noda, and she is everything that you would not expect from a talented pianist at first glance. Nonetheless her skills are unquestionable, and thus, catches Shinichi's attention. Surprisingly, however, he may have gotten more than he bargained for.
Even those who have extraordinary talent still need a bit of soul searching. Nothing can prepare you for the world like personal experience, and in Nodame Cantabile, much like in Fuuka, we get to tag along as the protagonist takes that first step into the real world. However, this time it's alongside Shinichi Chiaki. Both Shinichi and Yuu are characters that spend their days ignorant to what life is truly about, and at the creation of a single bond, learn that there is much more to what they've experienced within the confines of their sheltered lives. Again, we have a male/female dynamic that helps to thrust our protagonists into maturity through use of their differentiating personality traits. We also get a well-balanced story that plays on the romantic elements of a life surrounded by music. Nodame Cantabile is a piece for anime infatuates, music enthusiasts, and Fuuka lovers alike. You should jump on board and catch an episode sooner than later.
---
6. BECK (Beck: Mongolian Chop Squad)

Episodes: 26
Aired: Oct. 2004 – Mar. 2005
At 14-years-old, the world can seem very daunting and out of your reach; and for Yukio Tanaka; aka Koyuki, this disconnection plagues his everyday life. However, once he happens across guitarist Minami Ryuusuke, and is introduced to her new band BECK, his wayward life transforms into a shaky upward battle towards fame.
The struggle to become great comes in various degrees, but one thing that is similar no matter what, is the fact that this experience helps one grow. Throughout Fuuka we get to witness this inner fight, and how it shapes the lives of the various characters throughout the anime. With BECK, we get that struggle on a new horizon. The gift that BECK will provide to its viewers is the ability to see past the initial flare, and understand how much the little things count. How every laugh, shed tear, and drop of sweat will impact the lives of these band members in unimaginable ways.
In contrast to Fuuka's more rambunctious, playful story aspects; BECK traverses through the passing days of each episode in a more refreshing atmosphere. Thus, ensuring that you are left with something a little different this time around, and that your time is well spent.
Beck Trailer
---
Final Thoughts
We never know what's in store for us throughout life, but if one thing's for certain, it's that as long as you vigorously pursue what it is that you love, you will find the purpose necessary for you to keep pushing forward. Fuuka blessed us with that wonderful experience, and hopefully these six recommendations can continue where Fuuka left off. But as always, there's room for a bit more, and Honey's Anime is grateful to hear what the community has to offer. So, sing on down to the comments section below, and let the music of your voices be heard.
---