Socializing isn't easy. Hitoribocchi no Marumaru Seikatsu follows the story of Bocchi as she tries her best to overcome her fears of interacting with people in order to make new friends. This cute slice of life anime is one of the best anime that Spring 2019 has to offer. With fantastic characters and a somewhat relatable story, Hitoribocchi no Marumaru Seikatsu has plenty to enjoy. Today we are going to take a look at six anime that are similar to Hitoribocchi no Marumaru Seikatsu. Whether you enjoy the amazing characters or all of the hilarious jokes, we've got an anime you will love.
Similar Anime to Hitoribocchi no Marumaru Seikatsu
1. Anne Happy! (Anne-Happy)

Episodes: 12
Aired: April 2016 - June 2016
Class 1-7 of Tennomifune Academy is one of the strangest classes in all of Japan. Also known as the Happiness Class, Class 1-7 is filled with students that suffer from their own personal misfortunes. Whether it is poor health, tragic love, or just being plain unlucky, each student in the class has their own issues to deal with. The goal of the class is to help each one of the students overcome find true happiness by learning to overcome their issues. Anne Happy follows the story of An Hanakoizumi and her friends Ruri as, they work hard to overcome the difficulties they face while pursuing normal and happy lives.
Anne Happy and Hitoribocchi no Marumaru Seikatsu are two very similar anime. Both anime focus on cute girls doing cute things while providing you with tons of laughs. They also have bright and colorful art styles that make them incredibly pleasing to watch. Not only do these anime have these smaller similarities, but they are also very similar when it comes to their story. Anne Happy and Hitoribocchi no Marumaru both tell stories of girls who are trying to overcome their shortcomings and better themselves.
Anne Happy PV
---
2. New Game!

Episodes: 12
Aired: July 2016 - September 2016
When she was a kid, Aoba Suzukaze fell in love with the game Fairies Story. With a love for the games art and characters, Aoba dreams of one day becoming a character designer. Now, fresh out of high school, Aoba is able to get a job at the game studio responsible for her favorite game, Eagle Jump. Not only does Aoba get to work under Kou Yagami, the character designer for Fairies Story, but she also learns that she will get to work on Fairies Story 3. New Game follows the daily lives of Aoba and her coworker.
Although New Game! doesn't share the setting or similar story set up to Hitoribocchi no Marumaru Seikatsu like all of the other entries on the list, the two anime still have a lot in common. At their core, both anime are about a group of girls that find themselves in a bunch of hilarious situations. Both anime also have fantastic characters with quirky personalities that keep every interesting. Story-wise, the anime find a nice balance between the comedy and drama to really keep you engaged and interested in what is actually happening to the characters.
New Game! PV
---
3. Hinako Note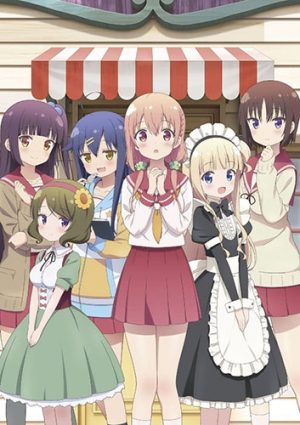 Episodes: 12
Aired: April 2017 - June 2017
Hinako Sakuragi has spent her entire life in the countryside. In order to overcome her fear of talking to people, Hinako decides to move to Tokyo and join a high school drama club. Unfortunately for her, she learns that the drama club at the high school she chose is on hiatus. Undeterred from her goal, Hinako decides to start a theatre troupe together with the girls living at her boarding house.
Hinako Note and Hitoribocchi no Marumaru Seikatsu have very similar setups. Both anime start with a girl that sets out to conquer their fears of interacting with others. Although Hinako and Boochi don't share much more in common, they both go on similar journeys over the course of their respective stories. Both anime also have no shortage of comedy that is centered around the quirky personalities of the characters
Hinako Note PV
---
Any Anime Like Hitoribocchi no Marumaru Seikatsu ?
4. Comic Girls

Episodes: 12
Aired: April 2018 - June 2018
Kaoruko Moeta is a high schooler and a manga creator, who writes under the pen name Chaos. Recently, her manga hasn't been doing so well and has been coming in at the bottom of reader surveys. In order to boost her confidence, Kaoruko's editor suggests that she move into a dormitory that houses other young female manga creators. Along with her new roommates Koizuka Koyume, Irokawa Ruki, and Katsuki Tsubasa; Kaoruko strives to make her manga better than it ever was before. Now the shy and nervous Kaoruko enters a brand new world as she must learn how to not only improve her manga skills but also how to improve her social skills while dealing with all sorts of new people.
Most of the similarities between Hitoribocchi no Marumaru Seikatsu and Comic Girls comes from their characters and their relationships. While many of the characters share some personality traits, Bocchi and Kaoruko are very similar. Both characters are shy and nervous around others, but we get to see them grow as they make friends and start to really come out of their shells. With the way Boochi and Kaoruko start out, the bonds formed between them and the other characters feel very similar with just how real and significant they feel.
Comic Girls Preview
---
5. Gabriel DropOut

Episodes: 12
Aired: January 2017 - March 2017
In Heaven, angels attend school in order to learn how to properly assist humans. After graduating, the angels are sent down to earth in order to get some hands-on training. Gabriel White Tenma was once the top in her class, but after discovering the world of online gaming, everything changed. Now, instead of seeing to her duties as an angel, Gabriel spends her time playing games and lazing about. Gabriel DropOut follows the story of Gabriel, her fellow angel Raphael, and the demons Vignette and Satanichia as they go about their lives in the human world.
Gabriel DropOut and Hitoribocchi no Marumaru Seikatsu are both centered around their characters and focus on the girl's comedic school lives. While Gabriel DropOut and Hitoribocchi no Marumaru Seikatsu don't share much in terms of the story, they do share similarities in the characters. Both series give you a fantastic group of characters that you can't help but enjoy. There is so much going with the characters in both series they don't feel like your typical cute girls doing cute things anime.
Gabriel DropOut PV
---
6. Wakaba Girl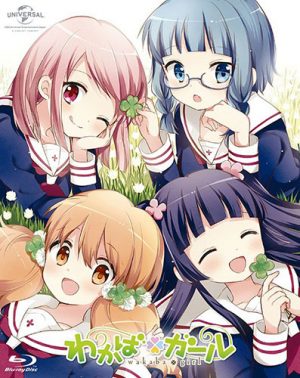 Episodes: 13
Aired: July 2015 - September 2015
Despite her rich upbringing, Wakaba Kohashi desires to be a fashionable gyaru because she admires their carefree nature. On her first day of high school, Wakaba meets a group of girls that she quickly befriends. The group consists of Moeko Tokita, Nao Mashiba, and Mao Kurokawa with each of them having their own quirky personality. Together the group girls spend their time making the most out of their high school lives.
If the light-hearted story and comedy was your favorite part of Hitoribocchi no Marumaru Seikatsu, Wakaba Girl is the perfect anime for you. Wakaba Girl captures the upbeat and happy feelings of Hitori and brings in a lot of similar comedic situations. Both anime have fun characters that find themselves in similar situations. Although Wakaba girl doesn't have anything going on besides its comedy, and it has a much shorter run time that Hitoribocchi no Marumaru Seikatsu, it features the same feel-good style that makes it a perfect anime to watch when you want to relax.
---
Final Thoughts
That is it for our list of six anime similar to Hitoribocchi no Marumaru Seikatsu. Hopefully, you found a new anime you will love and enjoy.
What is your favorite anime on the list? Are there any other anime that are similar to Hitoribocchi no Marumaru Seikatsu? Let us know in the comments.
---