Over the years, anime has spawned innumerable genres and sub-genres. From the commonly known action, comedy, or drama to the more anime-specific like isekai or reverse harem, the classifications are endless. Look deeper and you'll even find topical categories like sports, magic-girl, and even vampire anime. If there's a niche interest or activity, you can bet that there's an anime addressing it. And for today's super specific niche, we're looking at idol anime's heavyweight champion, IDOLiSH 7 (i7).
Yep, we're talking about an anime centred around a group of bishounen idols in the making and their journey to stardom. Can't see the appeal yet? We feel you, it does seem to be super specific. But even for those of us at the Honey Hive who aren't into Idol Anime, i7 is one we can't recommend enough! With IDOLiSH 7 Third Beat only episodes away from its finale, we're already missing our fav universally appealing anime about bishies, their heartwarming bonds, their lofty goals, and to be honest, their catchy tunes. Thus, we've updated our 6 Anime Like IDOLiSH 7 list so you can find your next watch ASAP too!
Similar Anime to IDOLiSH 7
1. Zombieland Saga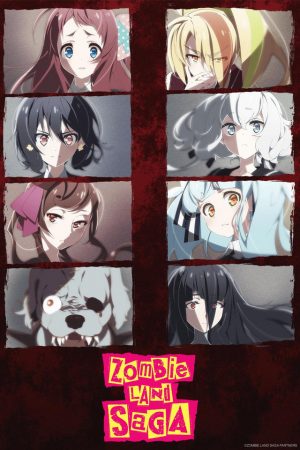 Episodes: 12
Aired: October 2018 – December 2018
On a list recommending idol anime, it's only fitting that we kick off with another idol anime! IDOLiSH 7 is an idol anime in name and subject but its story transcends into drama, comedy, slice-of-life, and iyashikei. Similarly, Zombieland Saga also transcends the genre into other categories like drama, comedy, slice-of-life… and horror? Yep, you read that right, Zombieland Saga, as its name suggests is about zombie idols. And yet, it manages to hit that same sweet spot as i7.
When Sakura Minamoto wakes up in a strange house in Saga Prefecture with a weirdo, Koutarou Tatsumi, she learns that she's quite literally dead. And apparently has been for the last decade. Koutarou reanimated her along with six other zombie girls from different eras to—wait for it—form an idol group. You know how the creepy unhinged dude when given an army of the undead tends to go for world domination? Well, our guy also has plans for world domination except, the world in question is the idol world. Meanwhile, the girls are surprisingly okay with this (since their memories are all a blur), and thus begins our absurd saga of idol group Franchouchou which needs to deal with hardcore stans and haters, their undead secret, and an unhinged manager hellbent on reviving the Saga Prefecture through his zombie girl group.
Campy and comedic, one can question how this fits in with i7, however, if you like cute, plucky characters overcoming insecurities and defying expectations to kill it (literally) on stage and some truly wholesome moments of character bonding, then Zombieland Saga should definitely be next on your list!
Zombieland Saga PV
---
2. Given

Episodes: 11
Aired: July 2019 – September 2019
IDOLiSH 7 is a unicorn. While its subject matter itself comes from a fairly saturated genre, the nuances of its story and characters make it quite unlike anything out there. Therefore, it's no surprise that i7 often attracts a non-idol stan fanbase as well. For those of you out there who enjoyed the quality story and heartwarming moments, surprisingly compelling drama, and enjoyable music, topped off with extremely aesthetically pleasing character design, Given should be a given on your watchlist.
When Mafuyu Satou runs into Ritsuka Uenoyama, Ritsu is appalled by the condition of the strings on Mafuyu's precious Gibson guitar. Meanwhile, Mafuyu is pleasantly surprised by his knowledge of guitars, which he himself lacks. One thing leads to another and Ritsu finds himself grudgingly restringing Mafuyu's guitar and somehow (tbh Mafuyu pleaded) introduces him to his bandmates—drummer Akihiko and bassist Haruki. This impromptu jam session and his subsequent guitar lessons with Ritsu reveal Mafuyu's impressive vocals, and Ritsu—awed by Mafuyu's singing—is determined to have him join the band. And so begins a journey of self-discovery, healing, and dealing with the ghosts of the past, all with an indie rock soundtrack.
Beautiful character development, a layered narrative that's all about the journey—from personal growth to learning guitar—and characters with deepening connections as their stories unfold, Given is a moving, heartfelt anime about growing up, coming into your own, and healing with music. So if the more serious and compelling aspects of i7 caught your attention and drew you in, Given is the perfect watch for you!
Given PV
---
3. The iDOLM@STER SideM

Episodes: 13
Aired: October 2017 – December 2017
The iDOLM@STER series is one of the quintessential series of the genre out there. Centred around idols, the series highlights the ins and outs of the entertainment industry, specifically, the lifestyle and demands associated with being an idol. Set across multiple universes, the franchise illustrates a multitude of agencies and their talents. From the OG's 765 Productions' management of 13 unique idols and their demanding lives in the industry to 346 Productions from Cinderella Group scouting non-typical young ladies to be idols or the futuristic mecha setting of Xenoglossia which is still somehow an idol anime to SideM and 315 Productions' male idol project unique in its mission to only scout talents that have been working in other fields—there's an endless number of alternative iDOLM@STER universes to explore, each with its own unique twist!
While we'd like to rec the entire series, we've chosen The iDOLM@STER SideM for this list, as we felt it only appropriate to suggest at least one all-male idol group if we're giving out recommendations for i7! All of these young men have come together to fulfil a dream: to be an idol. For some it's the very first foray, for others it's a fantasy they've returned to, however, regardless of whichever anime you watch you'll find the same wholesome vibe, the same personal struggles, and the same bonds building. So if the heartwarming relationships between the men of i7 are what drew you in, check out SideM!
Honestly, besides SideM, The iDOLM@STER universe is overflowing with stories that'll fill you with warm fuzzies just like i7, so you're guaranteed to enjoy pretty much anything from this multiverse! And with the range of options out there, you're sure to find a niche within the idol niche!
The iDOLM@STER SideM Official Trailer
---
Any Anime Like IDOLiSH 7 ?
4. Skip Beat!

Episodes: 25
Aired: October 2008 – March 2009
The entertainment industry is rough. The boys from IDOLiSH 7, Re:Vale, and most recently TRIGGER can attest to that. And so can Kyouko Mogami. When her no-good boyfriend has the audacity to dump her after mooching off her while he makes it as a singer, Kyouko Mogami doesn't tuck tail and run. Rather, she embraces the idea of revenge (she was Yamato before Yamato was Yamato). Kyouko is convinced that becoming famous and surpassing ex-bf Sho is the only way to make him regret casting her aside, so she decides to become an actress. Easier said than done. However, we at Honey's Anime love revenge stories, and this one is gold. Believe it or not, Kyouko actually manages to make something of herself through support from a worn-out manager, a healthy rivalry with a fellow new talent, and the spartan guidance of an established senpai. It's all about that hustle and just like with the boys of i7, it all pays off.
While music may not be as central in this anime, the core elements that we loved from i7 are all present. The light-hearted hilarity, the OTT showbiz shenanigans, the professional rivalries, the struggle to make it in such a competitive environment, the frustration and heart-wrenching setbacks, the guidance from established seniors, and finally the satisfaction when unwavering efforts begin to bear fruit—i7 and Skip Beat! literally, echo each even though they're years apart. So if you loved i7, but could do without all the music, Skip Beat! will be the perfect fit for you!
---
5. Love Live! School Idol Project

Episodes: 13
Aired: January 2016 – March 2013
Every idol journey begins with a dream. A dream dreamt by an ordinary someone whose talent, determination, and efforts make them extraordinary. That and a penchant for music and dance. The Love Live! series is about such individuals. Across the Love Live! franchise, you'll find spirited young ladies trying to make a name for themselves through the Love Live competition—a competition held between school idol groups. All of our lovable idol groups in the making are school students who form idol clubs as extracurricular activities. The whole shebang of becoming an idol from writing songs, performing, choreography, costume-making, and promotion… All the challenges of being both an idol and an idol's managerial team are taken on by these girls for a chance to compete in Love Live. And since participation is contingent on popularity, the stakes are just as high as they would be in the actual entertainment industry. Especially since winning Love Live means being afforded legendary status.
Whether it's Honoka from School Idol Project who wants to save her school from shutting down by creating a school idol group, or Chika from Sunshine!! who aspires to shine just like the former Love Live winners, or Kanon from Superstar who starts a school idol group after her stage fright forces her to enter the general curriculum instead of the music program; the Love Live! world is filled to the brim with endearing characters each aspiring to make a mark in the idol world. If you truly enjoyed the friendship and camaraderie amongst the idols of IDOLiSH 7, and enjoy the balance between the showbiz and lighter slice-of-life moments highlighted in the anime, then the Love Live! series is definitely worth checking out! After all, with the musical performances, cute dance moves, and happy-go-lucky vibes there's no doubt that you'd find something to enjoy across the four unique stories within the series!
Love Live! School Idol Project Official Trailer
---
6. Free! (Free!— Iwatobi Swim Club)

Episodes: 12
Aired: July 2013 - September 2013
Hot dudes and a spunky score. If that's what hooked you into IDOLiSH 7, then Free! should be your next binge. While not even remotely related to the idol world (it's not even set in Tokyo), Free! surprisingly shares a lot in common with i7. First and foremost being the splendid cast of ridiculously attractive bishounen. One could argue that Free! ups the game with all the shirtlessness involved since we are talking about a swimming sports anime. That and the spunky score are just the tips of the iceberg. Male bonding, fiery (yet friendly-ish) rivalries, lofty ambitions, and some downright hilarious comedy, Free! is literally i7 if the i7 boys started a swim club (and with how Momo's athletics club is going, who knows?).
After winning a medley relay in elementary school, Haruka Nanase, Makoto Tachibana, Nagisa Hazuki, and Rin Matsuoka all went their separate ways, until they happened to cross paths again in high school. With our boys' love for water (especially the practically amphibious Haru), the Iwatobi Swim Club was established minus one key factor: Rin, no longer the idealistic kid, has no interest in associating with his former teammates beyond beating Haru in competition. After their bitter reunion, rivalries ignite as does teenage angst, and things seem to be coming to a head for the Iwatobi boys and Rin.
Rivalries? Check. Hard work? Check. Undying ambitions? Check. Unbreakable bonds and connections among teammates? Check. A great score you'll be humming along to? Check. A+ comedy? Check. The similarities are endless! If you like everything about i7 and are okay with subbing out musical performances for intense competitive swimming montages then check out Free! It even has a cute and spunky female manager, just like Tsumugi!
Free! PV
---
Final Thoughts
And that's a wrap on our list! So many idol anime out there, but none hit quite the same as IDOLiSH 7! However, if you're hoping to find elements of what endeared the anime to your heart or quality stories that evoke the same feelings (or even glimpses of your fav voice actors once more tbh), then check out any of the anime from our list! We guarantee you won't be disappointed.
Did you love IDOLiSH 7? What show would you recommend for a fan? Did we miss anything on our list? Let us know in the comments below!
---
---
What's better than bishounen idol groups? Nothing, we say! It's hard not to be dazzled by the bright colors, beautiful boys, and starry lights that shine the idol stages. That's where our love for IDOLiSH7 comes in, easily snatching up the hearts of fangirls worldwide. The songs are catchy, the characters are sweet, and there's generally a concert or debut goal looming on the horizon. There's a lot of shoujo shenanigan troupes going on and the way each character deals with the conflict is endearing, if not hilarious. Some male idol anime have their roots in an otome game, as they can have heavy reverse harem aspects to their plot. Otherwise, they are original stories with music and shoujo genres.
Generally, the genre consists of boys with brightly colored hairstyles and exaggerated personality types, each with their own reason for wanting to become an idol. That's what IDOLiSH7 is, but it sure takes the front stage in its genre. If you'd like to know 6 anime like IDOLiSH7, read on, because we've got some fantastic picks for you!
Similar Anime to IDOLiSH7
1. The iDOLM@STER SideM

Episodes: 13
Aired: October 2017 – December 2017
Starting with the newest and freshest series, the popular iDOLM@STER franchise comes out with an all-male group that'll blow your idol socks off! 315 Production is a new agency that gathers would-be idols that are actually in other professions such as lawyers and surgeons. Aside from the fact these guys spent years in school to acquire their highly skilled professions, they find they love being idols instead. And boy, do we do, too! You'll definitely find your husbando here, but more than likely you'll find multiple!
The iDOLM@STER franchise isn't long-running for no reason. There is substance to this series that you won't find in other idol anime. Its characters have depth despite the fact that this series has the largest idol group in our pickings. Like IDOLiSH7, you fall head over heels for these male idol characters that woo you with their pop-centric singing! If you like IDOLiSH7's character designs, definitely check this series out because they have a very similar vibe going on.
PV anime "The Idolmaster: SideM"
---
2. B-Project: Kodou*Ambitious

Episodes: 12
Aired: July 2016 – September 2016
Kodou*Ambitious is the anime adaptation of the game B-Project and it brings to life the male idol otome game that is its origin game! Tsubasa is thrown headfirst into managing the idol unit B-PROJECT, which is made up of three idol groups Kitakore, Thrive, and MooNs. If you're looking for a clear-cut reverse harem idol series where the main purpose is to show you stellar performances, clashing personalities, and the relationship between female manager and many beautiful men, this is a must watch. Tsubasa tackles the obstacles that come with managing multiple idols groups and reaps the rewards of seeing them perform.
This series really shines a light on what we love about the genre and that may be in part due to IDOLiSH7's and B-Project's initial beginnings starting in game form. The male idol genre really makes for amazing visual novels and rhythm games, but the fact these were special enough to be brought to anime form makes us all giddy! If you enjoyed IDOLiSH7, you'll equally love B-Project because it delivers a similar package in a beautiful new box, possibly with upgraded hairstyles!
B-Project: Kodou*Ambitious Ending
---
3. Tsukiuta. The Animation

Episodes: 13
Aired: July 2016 – September 2016
If you're more of a fan of the character aspect and not reverse harem romance, you'll enjoy this relaxed series. It has a galaxy theme, with the two idol groups called Six Gravity and Procellarum, dressed in constellation themed wear. All members live in the same dorm and each episode focuses on a specific person, relating to their personal struggles as well as keeping things light and humorous.
It's an easy going, light-hearted series that focuses on character relationships and interactions, with everyone's hearts connecting on the stage and off. The character interpersonal relationships are similar to IDOLiSH7, but if you wanted to forgo the female manager reverse harem scenario, then you'll enjoy this series! The songs in both series are lively and upbeat, but if you wanted a slight edge of visual kei Tsukiuta is your show! A really good series to unwind after a long day!
Tsukiuta. The Animation Trailer
---
Any Anime Like IDOLiSH7?
4. Starmyu

Episodes: 12
Aired: October 2015 – December 2015
Starmyu is just as much in the school genre as it is the music genre. It's about the road to becoming an idol, with five students trying to enter an elite music class called Star Frame Class in Ayanagi Academy's musical department. The class is taught by the top group within the school, Kaou-kai, and is incredibly hard to get into. Only the best may enter and one day one of the members sees their earnest efforts.
This series is a more mature take on the genre, with serious goals and a toned down art style. Which is not to say it doesn't deliver good laughs frequently! The students are determined to work hard and be the best idols they can be, finding out through the series what that actually means, much like IDOLiSH7. There's a lot of personal growth and unique music that gives you something new to look forward to.
Starmyu Official PV B
---
5. Magic-Kyun! Renaissance

Episodes: 13
Aired: October 2016 – December 2016
Now if you do like the romance in male idol anime, you'll enjoy Magic-Kyun! Renaissance. Only this series adds something that no other series in this list has; magic! Yes, that's right, magic, idols, and romance! In a high school where the Magical Arts are taught, there's a new student named Kohana who joins the planning committee for their school's famous cultural festival. Six boys join her and everyone plans on making Hoshinomori Summer Festa a huge success, as well as vying to be named her prince during the festival.
Immediately you'll see this series is bright, colorful, and extremely bishoujo influenced just like IDOLiSH7, except this series has magic to boot! Both have the reverse harem element as well and both series take the cake for exceptionally dramatic male characters. It's as if someone upped the saturation in IDOLiSH7 and threw them in a magical world where there are golden ballrooms and schools for magic! What more could you ask for?? This is a great series whether you're partial to the male idol genre or not!
Magic-Kyun! Renaissance English Trailer
---
6. Uta no☆Prince-sama

Episodes: 13
Aired: July 2011 – September 2011
Uta no Prince-sama is like the Naruto of the male idol genre world. Everyone knows about it even if they've never seen it! And for good reason too, it's has a good blend of comedy, reverse harem, school life, and the basics of the passion that drives idols! Haruka Nanami is an aspiring composer who enrolls in Saotome Academy, a performing arts school. There she meets six boys who could not be any different, but end up forming a group because they want Haruka to be their composer. Haruka herself is driven by the desire to write for a certain idol, one who happens to be closer than she knows.
This series and IDOLiSH7 are prime examples of the male idol genre and are well-received. They have memorable scenes, well-composed songs, characters who have a depth that not every series will offer, and a storyline that just makes you go, "Aww!" sometimes. Of course, the very handsome, colorful boys that we love cannot be overlooked. Uta no Prince-sama also has more seasons, if you can't get enough!
Uta no Prince-sama: Maji Love 1000% PV
---
Final Thoughts
The male idol genre is large for such a specific niche, so if you really enjoyed IDOLiSH7, you're in luck! If the songs aren't enough to catch you, the character designs sure are! If you aren't too starry-eyed after watching all those trailers, please let us know if there's any series that you would've loved to see on this list! We can never get enough of that male idol genre!
---