Nothing like a slice of life anime to put you in a relaxing mood. Add some food, and you'll be in paradise. To top everything off, have the series set in a fantasy world, and it'll really feel like you're on vacation. Isekai Izakaya is the latest anime short that combines the isekai, gourmet, and slice of life genres. And although not every anime on this list will have that exact combination, we can at least recommend anime that have two out of the three. If you've been enjoying Isekai Izakaya, then you're bound to chill out to the following series.
Similar Anime to Isekai Izakaya: Koto Aitheria no Izakaya Nobu / Similar Anime to Isekai Izakaya: Japanese Food From Another World
1. Isekai Shokudou (Restaurant to Another World)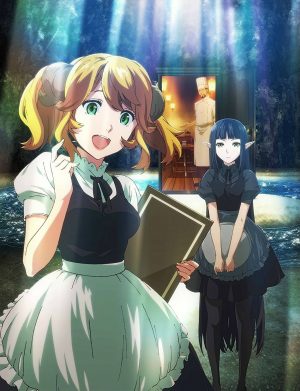 Episodes: 12
Aired: Jul 2017 to Sept 2017
Throughout the week, Nekoya is a bustling restaurant serving Japanese comfort food. Every Saturday, Nekoya is closed to our world but open to mythical creatures from another one. To the foreign beings, Nekoya is a restaurant of Western cuisine. Patrons ranging from lizardmen, to princesses, to mages and dragons all enter and exit Nekoya with big smiles. It's gotten pretty busy at Nekoya recently, so maybe the head chef, simply referred to as Tenshu, should hire a waitress from the other world.
Isekai Izakaya, Isekai Shokudou, this was a no-brainer. Only difference is, Isekai Shokudou is a full-fledged series and not a short. Isekai Shokudou has a very episodic narrative, with each episode focusing on two customers. You get to see the customers' lives back in their hometown, and how they discover the restaurant. When they arrive, Tenshu pays attention to each customer's personality and mood, then prepares them the perfect dish. It could be a dessert, drink, or a hearty meal, but no matter what, every customer returns to Nekoya.
Isekai Shokudou Trailer:
---
2. Osake wa Fuufu ni Natte kara (Love is Like A Cocktail)

Episodes: 13
Aired: Oct 2017 to Dec 2017
Had a hard day at work? Have you been overworking yourself? Or maybe you have a deadline coming up? There's nothing wrong with taking a little break and having a drink to cool your head. However, Chisato gets drunk really fast. Whenever her husband, Sora, fixes her a drink, Chisato gets drunk right away, even if the drink is alcohol-free. Luckily, Sora is here to take care of her, no matter what mood Chisato is in.
Love is Like A Cocktail is a super sweet romance anime for adults. Unfortunately, each episode is exactly 3 minutes long. On the bright side, you can finish the entire series in less than an hour. Sora stirs up a new drink for Chisato every episode. It could be a drink that helps with colds, a drink to calm your nerves, or a drink to perk you up. Then, a lemon mascot will pop up to give you the ingredients for each drink, so you can make it at home.
Love is Like A Cocktail Trailer:
---
3. Takunomi.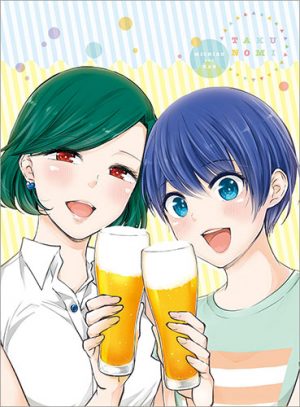 Episodes: 12
Aired: Jan 2018 to Mar 2018
20-year-old Michiru moves to an all-girls dormitory in Tokyo to start her new career. It's a little overwhelming being the new girl from the rural countryside in a huge metropolitan city. Thankfully, Michiru's housemates ease her nerves by making her a drink or two. When they're not drinking, the girls will go shopping, talk about boys, or complain about their boring jobs. Working isn't always fun, but if you have friends to hang with, the work day won't seem so bad.
Sounds a lot like Love Is Like A Cocktail, right? Another anime short that gives you a new drink recipe every episode. The episodes are about thirteen minutes long, so Takumoni will also give you recommendations on the best meals to have with your drink. With each episode, Michiru spends time with one of her housemates, so no character gets shafted. The characters bounce off of one another's personalities so well, that it'll make you want to call up your friends for a casual drinking party.
Takunomi Trailer:
---
Any Anime Like Isekai Izakaya: Koto Aitheria no Izakaya Nobu / Any Anime Like Isekai Izakaya: Japanese Food From Another World
4. Shokugeki no Soma (Food Wars: Shokugeki no Soma)

Episodes: 24
Aired: Apr 2015 to Sept 2015
Yukihira Soma is content with his life. He works at his family's diner, and is always trying to make a meal that tastes better than his father's. One day, Soma's father leaves and decides to close down the restaurant. Soma's father sends his son to Totsuki, a culinary arts academy that he graduated from. Totsuki's graduation rate is less than 10%, but if Soma's father graduated, then so can he. Soma just has to face-off against his classmates in a food war, or shokugeki, in order to survive.
Food Wars is a very unique kind of shounen; it's not a series about superpowers or fighting. Instead, you learn a lot about the culinary arts world, with each student Soma faces. Every student at Totsuki comes from a great line of chefs with their own style of cooking. Some specialize in meats, spices, or Chinese cuisine. Soma doesn't have an exact style, so he tries to beat each opponent at their own cooking game. Make sure to eat something while watching Food Wars, otherwise you'll be be craving the food on screen.
Food Wars Trailer:
---
5. Koufuku Graffiti (Gourmet Girl Graffiti)

Episodes: 12
Aired: Jan 2015 to Mar 2015
What's the best way to make new friends? For middle schooler Ryou, it's cooking delicious meals. After school, Ryou invites her friends to her house, and to indulge themselves in her food. Ryou's food is so good,it makes everyone moan!
This is a slice of life, ecchi, and gourmet anime. If you're not a fan of foodgasms, then this anime probably isn't for you, since Koufuku Graffiti characters eat food in a very erotic fashion. If that sounds boring, then maybe knowing that critically acclaimed director, Akiyuki Shinbou worked on this series. Not only that, but Koufuku Graffiti is a Studio Shaft work. Therefore, you know the foodgasm scenes will be animated beautifully. Once again, you might want to eat food while watching each episode, otherwise you'll be trying to stop yourself from licking your screen.
Gourmet Girl Graffiti Trailer:
---
6. Bartender

Episodes: 11
Aired: Oct 2006 to Dec 2006
Sasakura Ryuu is known to be the "Glass of God". Think of him as a therapist who will listen to your problems, and shakes up the perfect cocktail to heal you.
Throughout each episode, you go through a day in the life of a future patron. You get a feel for the character's personality, lifestyle, and the predicament they're in. All their worries, as well as yours, will go away once the character enters the bar. It's a relaxing atmosphere with a soothing soundtrack and tasty looking drinks. The drinks look so good, we wish Sasakura could be our own personal bartender.
---
Final Thoughts
Hopefully, you added one of these gourmet anime to your "Must Watch" list. Have you seen any of the anime we recommended? Do you have any suggestions of your own? Leave a comment and we'll get back to you as soon as we can. Till next time!
---