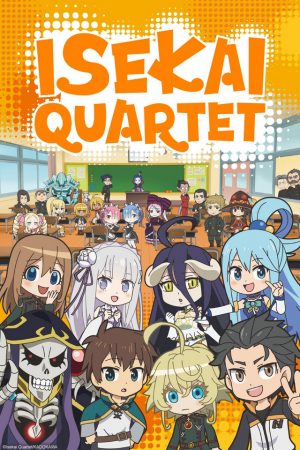 Isekai is an incredibly popular trope significant enough to be its own genre. Every year we have new Isekai titles out and 2019 is definitely no different! This time around, we're looking at Isekai Quartet, a cute-looking mashup of four different Isekai titles! Crossovers are not a particularly rare thing in anime, as there have been various overlaps between titles both canonical and non-canonical, and the general idea of bringing several different universes to one place isn't too difficult an idea to come up with. We're looking at 6 shows that bring this element to the fore, so off we go – 6 anime like Isekai Quartet!
Similar Anime to Isekai Quartet
1. Rock Lee no Seishun Full-Power Ninden (Rock Lee & His Ninja Pals)

Episodes: 51
Aired: April 2012 – March 2013
The Hidden Leaf Village is the site where many powerful shinobi carry out their missions, and it is also the home of Naruto protagonist Uzumaki Naruto. However, we're more concerned with Rock Lee, an ambitious ninja who cannot use ninjutsu but attempts to make up for his inability through sheer discipline and powerful hand-to-hand combat! Under the watchful eye of Master Guy, Lee and his teammates Tenten and Neji go on various missions with loads of adventures!
This show is a spin-off from the legendary Shōnen title, Naruto, and follows the life of the character Rock Lee, one of Naruto's early rivals. This show is a lighthearted mashup of Naruto characters and it's a fun watch if you enjoy seeing your favourite characters involved in a few gags! Much like Isekai Quartet, this series is a spin-off from a pre-existing anime title, using characters and context closely related to the parent show. Both anime also present themselves with adorable chibi versions of their respective characters!
---
2. Lupin III vs Detective Conan: The Movie

Episodes: 1 (movie)
Aired: December 2013
A crossover between the shows Lupin III and a Detective Conan, the film follows from the television special with the same name. In this film, Edogawa Conan sets out to find and apprehend the prolific thief Arsène Lupin, on suspicion of his involvement in the theft of a valuable jewel known as Cherry Sapphire.
What happens when an unstoppable force meets an immovable object? No idea, but perhaps the question can be answered in Lupin III vs Detective Conan, a crossover between the worlds of Detective Conan and Lupin III. The world's most prolific thief goes toe-to-toe with one of the most brilliant detectives on the planet. At the end of it all, we might find comfort in the idea that the answer to our question is something along the lines of brilliant synergy between anime titles. We could be wrong, though. Like Isekai Quartet, this film presents us with a cool crossover between two different anime titles and concepts.
Lupin III vs Detective Conan: The Movie Trailer
---
3. It's a Rumic World: 50th Anniversary Special Weekly Shounen Sunday

Episodes: 1 (special)
Aired: July 2008 – August 2008
It's a Rumic World: 50th Anniversary Special Weekly Shounen Sunday is a three minute short that aired from late July to early August in 2008 and it featured characters from works by the legendary author Takahashi Rumiko. The characters are brought together from Ranma ½, Urusei Yatsura and Inuyasha to introduce the 50th Anniversary Weekly Shounen Sunday "Rumic World" Museum opening which celebrates the works of Takahashi Rumiko.
This is not a full on series or film like the other titles on this list; however, it's still a significant example of a crossover between anime titles. Much like Isekai Quartet, this three minute short is a mashup of more than two different titles; however, this is with the added twist of all the shows being borne from the same brilliant mind. Authors like Takahashi are rare and thus her celebration is important and truly shows her significance to anime and manga as media.
---
Any Anime Like Isekai Quartet ?
4. Shingeki no Kyojin Chuugakkou (Attack on Titan Junior High)

Episodes: 12
Aired: October 2015 – December 2015
On his very first day of junior high, Eren Jaeger encounters a Titan and has his lunch stolen! From that day, Eren holds a deep grudge against all Titans for taking his favourite food from him and he vows to eliminate them once and for all! Alongside his adoptive sister Mikasa Ackerman and his best friend Armin Arlert, Eren journeys through the halls of Titan Junior High, participating in extracurricular activities courtesy of the Wall Cleanup Club!
A parody if you ever saw one, Attack on Titan Junior High is a lighthearted retelling of the highly popular Attack on Titan story, but with obvious differences in storytelling and animation! For one, the chibi character designs further drive the parody aspect of the series home, and it is in this that we find Attack on Titan Junior High's greatest similarity to Isekai Quartet.
Attack on Titan Junior High Trailer
---
5. Poputepipikku (Pop Team Epic)

Episodes: 12
Aired: January 2018 – March 2018
Pop Team Epic is a hilarious roller coaster featuring absurdist comedy that never fails to split sides. With two high school student protagonists, the tall and stoic Pipmi, and the short and incredibly excitable Popuko, the show parodies various genres, cycling through all sorts of moods through wacky situations and extreme hilarity that does not stop for even a moment! The point to all this chaos is simple – the show wants to become a real anime!
Pop Team Epic was a standout title in the beginning of 2018 for its comedy and straight up absurdity. Laden with unending banter and an unshakeable resolve to do, well, basically everything, the anime is an adaptation of a four-panel gag manga of the same name! Pop Team Epic and Isekai Quartet are similar in that they are both parodies with a chibi look to them that only serves to augment their hilarity.
Pop Team Epic Trailer
---
6. Carnival Phantasm

Episodes: 12 (OVA)
Aired: August 2011 – December 2011
With the possession of the Holy Grail hanging in the balance, war and bloodshed seem to be the only way to resolve this conflict between the spirits of famous heroes. Oh but it seems that there is a better way to find out who is the rightful owner of the Holy Grail and its wish-granting potential: a gameshow! Bringing together various characters from many different Fate series, parodying the characters as well as the story itself.
Much like Isekai Quartet, Carnival Phantasm is an amalgam of characters from various different shows. It is also similar to Isekai Quartet in the sense that they're both parodies of their respective parent shows. Bringing together various heroes and characters from the different Fate titles, Carnival Phantasm is a lighthearted play on the otherwise action-packed story-driven Fate franchise and is quite the fun watch indeed.
---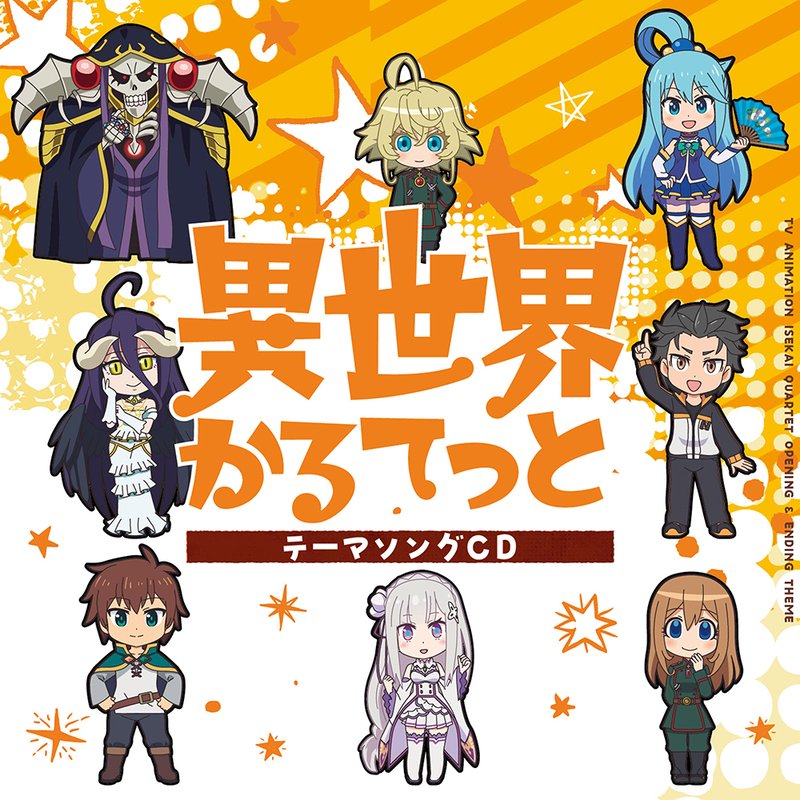 Final Thoughts
Parodies are an incredibly fun way of interacting with some of your favourite shows, especially when it is done well! The titles on this list are some really cool and lighthearted shows that can really give comedic twist to a serious storyline or character, and they show another side of the authors behind these works. It's also amazing to be able to see crossovers of different anime titles and what those combined universes can achieve. Are there any other shows like Isekai Quartet you might know about? Drop a comment below and tell us all about them!
---