También puedes leer este artículo en:Español
One of the main reasons we all love anime is its versatility. Anime comes in various forms. From everyday series to amazing movies, from merchandise to live-action adaptations, there are little to no limits for anime and the way it expresses itself. The various genres that are incorporated into anime are evolving more and more every day. So when you find an anime that shortens its length of each episode, also called anime short, you know there is a myriad of options available to choose from! We at Honey's Anime wanted to make your life a little easier and chose to compile a list of short anime series that, in our humble opinion, are the best of the best!
We used a few guidelines to help with our choices. Firstly, we wanted to choose current anime that are no less than 7 years old. This narrowed down our choices tremendously but we still had more guidelines in place. We chose anime that are not only short but have a simple plotline. Most of us would choose a short anime for the lack of time we're able to commit to a full-fledged anime. That means that we need anime that are not only short in length but also follow a pretty simple plot line yet are extremely entertaining. After all, quantity should not affect quality! Read on to find out about our updated top 10 short anime series that we found using our special guidelines!
10. Jingai-san no Yome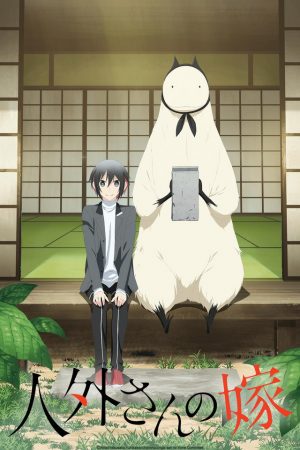 Episodes: 12
Episode Length: Length: 3 mins per episode
Air Date: October 2018 - December 2018
Have you ever wanted to get married in high school? Before you say no, what if it is to a monster? Jingai-san no Yome is the story of high school student, Tomori Kanenogi who is suddenly called into the principal's office one day only to learn that he is getting married! A mysterious fluffy creature called Kanenogi has chosen him as their wife and weirdly, Tomori accepts. And thus starts a strange married life that is quirky!
Jingai-san no Yome deserves to be on this list simply because of its elements of comedy and adorableness. The anime is short with a simple plotline yet still retaining a surprisingly deep story of how real love works in a relationship. This anime also abandons all common anime tropes making it worthwhile if you're searching for something that is different yet adorable.
---
9. Toutotsu ni Egypt Shin (Suddenly, Egyptian Gods)

Episodes: 10
Episode Length: 6 mins per episode
Air Date: December 2020 - January 2021
Welcome to the realm of the Egyptian gods, the place where we see the famous Egyptian gods from Anubis, Medjed, and Thoth living their lives freely and without any care. Join the Egyptian gods in their days of randomness and quirks, living their life one godly day at a time with absolutely no worry!
Suddenly, Egyptian Gods is a hilarious anime to watch, not to mention its sheer cuteness factor! The Egyptian gods could not look cuter if they tried and watching their daily antics and pranks is an absolute blast to watch. This anime is also educational as you learn something new about Egyptian lore, making it a good recommendation. The art style and the animation are sharp and refreshing, making it stand out from your normal anime style so don't forget to check this anime out!
---
8. Joshikausei (Joshi Kausei)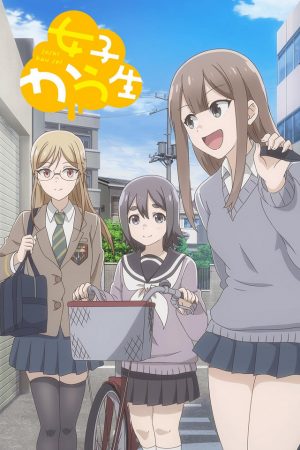 Episodes: 12
Episode Length: 3 mins per episode
Air Date: April 2019 - June 2019
Here's a cute anime for you that has no dialogue! That's right, Joshikausei is known for its take on comedy that does not rely on dialogue and a lot on its expressions. Join three high school girls, your average Momoko Futo, the cool-headed Shibumi Shirasawa, and the shy and gentle Mayumi Furui on their daily antics that take place through high school!
Joshikausei, for most people, can be a hit or a miss. But we at Honey's Anime really wanted to include this unique anime in our rankings because there's something very beautiful about this anime of random and clumsy moments. While the anime is rather known for its erotic moments of thighs and wet clothes, there is so much more to Joshikausei with its funny, goofy yet comfortable, and almost nostalgic moments.
---
7. Midara na Ao-chan wa Benkyou ga Dekinai (Ao-chan Can't Study!)

Episodes: 12
Episode Length: Length: 12 mins per episode
Air Date: April 2019 - June 2019
When Ao was in kindergarten, she would not hesitate to explain the origins of her name: "A as in apple and O as in Orgy!" Ten years later, Ao-chan has not escaped the embarrassment of that time of her life. Being a daughter of a best-selling erotic author, Ao-chan just wants to study and get far away from her father and be independent. She has no time to spend seeking boys or other immature pursuits of school life but her classmate, Kijima cannot take that hint. Pursuing her with his love, Ao-chan is plagued by impure thoughts about her classmate even though he has the purest intentions and she realizes it's all her dad's influence on her. If only Ao-chan can concentrate and study!
This one is for all the ecchi fans out there! Ao-chan Can't Study has a very unique and funny plot set in high school. The characters are simple and the plotline is not too deep. As a simple comedy anime, if you want to get caught in Ao-chan's funny thoughts, check this one out!
---
6. Poputepipikku (Pop Team Epic)
Episodes: 12
Episode Length: 12 mins per episode
Air Date: January 2018 - March 2018
Poputepipikku is the story of two high school protagonists—the short and quick to anger Popuko and her opposite, the strangely calm, Pipimi. The anime is known for its take on absurd comedy with many pop cultural references and extremely creative jokes. With parody, drama, action, and crudeness, Pop Team Epic is certainly a ride for anyone who wants to watch it.
This anime deserves to be on this list because of its unique take. It's very hard to put Pop Team Epic under one box in terms of genre and it certainly lends to its strength. The anime's random episodes do not follow a definite plotline, making it a very fun anime that one can watch at any time of the day. Another unique element about Pop Team Epic is how each episode has a 12-minute segment that is repeated twice. The repeated segment has a different voice-over, creating a different atmosphere for the anime.
---
5. Tonari no Seki-kun (Tonari no Seki-kun: The Master of Killing Time)

Episodes: 21
Episode Length: 7 mins per episode
Air Date: January 2014 - May 2014
Have you ever had a very distracting classmate who always played around with things without really listening in class? Well, Seki-kun just takes it to a whole new level with his incredible creativity. With Seki-kun and Rumi Yokoi as bench mates, all Rumi wants to do is listen in class without being distracted by her over-the-top classmate. And what's more, she's the one who always gets into trouble for being distracted!
Tonari no Seki-kun is one of a kind as we watch Seki-kun's antics with running commentary from Rumi. Needless to say, while Rumi does not like being distracted, she is still drawn to watch Seki-kun play around with many things like creating a huge domino with just school erasers, all without getting caught by their teacher! This anime is slightly older than the other anime recommendations but we at Honey's Anime thought there is something unique and nostalgic that Tonari no Seki-kun brings with its 2000-ish anime art style.
---
4. Osake wa Fuufu ni Natte kara (Love is Like a Cocktail)

Episodes: 13
Episode Length: 3 mins per episode
Air Date: October 2017 - December 2017
Love is Like a Cocktail is an anime short that involves…you guessed it, drinking and cocktails. Chisato Mizusawa is a hardworking assistant office manager who has a secret. When she drinks alcohol, her personality changes drastically from an office worker to a free-spirited cute persona. The only person who knows her secret is her husband, Sora Mizusawa, who is a bartender. To keep this a secret from her coworkers, Chisato lies to them denying her love for alcohol. But every day, when Chisato comes home tired from work, her husband lovingly dotes on her with good food and a refreshing cocktail.
Love is Like a Cocktail blends the themes of comedy, cuteness, and wholesome romance with as much ease as Sora making a cocktail for Chisato. Not only do you get a new cocktail recipe with each episode, as a bonus, the wholesome romance between Chisato and Sora tugs at your heartstrings making you feel very warm and fuzzy and this is not just from the alcohol. We warn you though, this wholesome anime might set the standard high for your significant other!
---
3. Isekai Quartet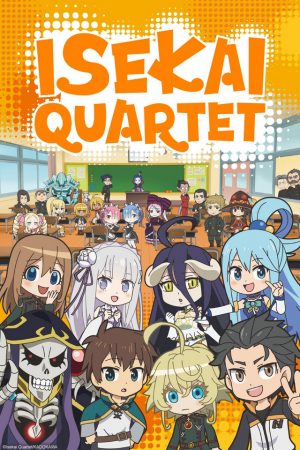 Episodes: 12
Episode Length: 12 mins per episode
Air Date: April 2019 - June 2019
It's a normal day in Kadokawa's popular worlds such as Overlord and Re:Zero and everyone is going about their normal lives. But suddenly, a big red button appears in front of them that immediately transports all the characters into a common world. With no way of escaping, the characters are forced to get along and be friends in their new classroom setting!
Isekai Quartet is known for its...well isekai characters. Not only does this anime have popular isekai favorites such as the twins Rem and Ram, but the characters are also in chibi form, making the anime extra cute. This crossover stands out successfully not because of its characters but because of the various situations that are introduced that the characters go through creating a whole lot of comedy!
---
2. Akkun to Kanojo (My Sweet Tyrant)

Episodes: 25
Episode Length: 3 mins per episode
Air Date: April 2018 - September 2018
We're nearing the top with My Sweet Tyrant! The story follows a tsundere boyfriend, cutely called Akkun by his oblivious girlfriend, Non-chan who loves him anyway. While Akkun can only insult his girlfriend in front of her, he truly loves and worships her when she is not looking! You've seen tsundere girls but now it's time for a cute tsundere boyfriend!
Akkun to Kanojo is filled with its own sweet blend of cute, adorable yet extremely silly moments of comedy that takes place in this very...unique relationship. While it might seem off-putting that Akkun insults his girlfriend, his reactions when she is not looking more than make up for it! Moreover, Non-chan is always patient with Akkun and knows that deep down, he truly loves her and this is just his weird love language! If tsundere are your thing, this is one you should definitely check out!
---
1. Tsurezure Children (Tsuredure Children)

Episodes: 12
Episode Length: 12 minutes per episode
Air Date: July 2017 - September 2017
Ahhh...the nostalgic pursuit of first love! From the anticipation of confessing your true feelings to always striking up a conversation to get closer to them, Tsurezure Children follows the lives of a group of high school students who try to get their feelings across to their loved ones. From the school's troublemaker, the tsundere, the student council president, and just simple shy and dense characters, this anime has all sorts of characters as they try to make sense of their feelings and succeed in the pursuit of young love!
And at the very top, we have Tsurezure Children! This anime is the very definition of an anime short and deserves to be at the top according to us because the storytelling style is very interesting. You can start watching Tsurezure Children at any episode and still understand what is happening. One reason we all choose anime shorts is because of the lack of commitment that is required to be immersed in a detailed plot. Tsurezure Children follows a very simple plot that still has its funny and romantic moments that will make you go "aww"! For all its nostalgic, cute and silly moments that have a bit of everything, Tsurezure Children should definitely not be missed with its balance of comedy and romance!
---
Final Thoughts
Anime rarely lets us down and short anime has its strengths set in stone as well! From your favorite character entering a new world to a simple slice of lifestyle anime that is perfectly bite-sized to watch any time you want, with little commitment, just to get a good laugh, and the unique feeling that anime gives, this list has it all! We hope you enjoyed our recommendations! Which was your favorite short anime on this list? Do you think we missed one of your favorites? Let us know in the comments below!
---
---
Do you have a few minutes to spare? There are many reasons to love short anime series. They don't require a big chunk of your schedule, they're easy to recommend to your friends as an intro to anime, and while most of them tend to be comedies and pretty random, they come in various genres!
Because we are introduced to dozens of new anime each season, today we're bringing to you an update to our previous instalment of Top 10 Short Anime Series! So get ready for some new additions to our recommendations for best anime series with short episodes!
Because there are many genres in short anime series and we all have different tastes, I have organized this list by length, starting with the anime with the longest episodes.
Let's do this!
10. Eve no Jikan [Time of Eve]

Episodes: 6
Aired: Aug. 2008 – Sep 2009
Duration: 18 mins
In a future where androids are commonplace and part of everyday life, they are treated no better than a household appliance. Rikuo is no different and has no interest in humanizing his android Sammy. That is until he finds GPS data in her archive that leads him to a café she has been frequenting where androids are treated equally as humans. This discovery piques his curiosity and leads him on a path to discovery.
Eve no Jikan is a Sci-Fi, Slice of Life ONA that makes us think about the possibility of such a future, while at the same time paralleling the existing discrimination problems in our society. Eve has a great plot, wonderful character development and the animation is beautiful. While it's a bit longer per episode than the other short anime on the list, it's well worth the extra minutes!
---
9. Detroit Metal City (Detroit Metal City: The Animated Series)

Episodes: 12
Aired: Aug. 2008 – Oct. 2008
Duration: 13 mins
Souichi Negishi is shy and reserved guy who dreams of becoming a pop star and sing about love and happiness and all those things pop stars sing about. However, as most aspiring artists, he's broke, so he ends up as a lead singer for a black metal band to pay the bills. His stage name is Krauser and when he's on stage, he's one demented, murderous, violent metalhead. Krauser and Souichi are like night and day.
DMC is a hilarious, crazy ride as we follow Souichi while he struggles to try and leave this demonic persona and become the sweet, ballad-singing pop star he truly is inside and date the sweet innocent girl he wants to date. His inner turmoil, the outrageous stage performances, and the awesome music will have you marathoning this short anime series in its entirety.
---
8. Rainbow Days [Nijiiro Days]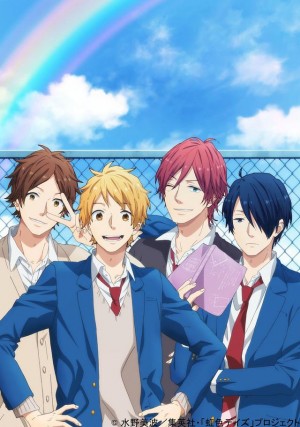 Episodes: 24
Aired: Jan. 2016 – Currently airing
Duration: 13 mins
In this short anime series we follow the everyday lives of Natsuki, Tomoya, Keiichi and Tsuyoshi; four high school boys who like to have fun, and have school life to deal with. When Natsuki falls in love with Anna, a girl at their school, cuteness and hilarity ensues as the rest of his friends butt in and Anna's best friend, Mari, tries to keep her all to herself.
Rainbow Days is a School Slice of Life Shoujo sprinkled with tropes as well as some bits of randomness here and there. You have the tsundere girl, the tough guy, a cutesy otaku couple, a budding romance between the main characters and possibly one of the best parts of the show, a nonchalant, whip-carrying dom. Though labeled as a Shoujo, Nijiiro Days can be enjoyed by all, there's something for everybody here!
---
7. Cromartie High School [Sakigake!! Cromartie Koukou]

Episodes: 26
Aired: Oct. 2003 – Mar. 2004
Duration: 12 mins.
Cromartie is known to be a rough school full of punks, delinquents and other problematic youths. Takashi Kamiyama has above average grades and is actually a regular non-violent high school boy but chooses to enroll into Cromartie. Why? He wants to change it! Luckily, the rest of the student body thinks he's the baddest of badasses in the school. Will he achieve his goals? What else does Cromartie have in store for him?
Here's another one of those really random, short anime that we love. It's a School Comedy, but far from your average one. There are giant robots, a gorilla, and even Freddie Mercury makes an appearance! Cromartie High School may be the oldest series on the list, but it's still just as entertaining as it was when it first came out.
---
6. Oshiete! Galko-chan [Please tell me! GALKO-chan]

Episodes: 12
Aired: Jan. 2016 – Mar. 2016
Duration: 7 mins.
What do high school girls talk about? Boys? Make up? The aftermath of a spicy dinner!?? Well, ask Galko and her friends! Galko is tall, blonde, super stylish and popular. Her friend Otako is the opposite; she's short, wears glasses, baggy clothes and is more of an intellectual. And then there's Ojou a rich airhead who just wants to be friends. The three cover all the topics high school girls really talk about and answer each other's burning questions in this School Comedy.
I'm going to be honest; Galko-chan is my current top favorite short anime series. I love the character design, especially for Galko and Otako, and the opening is as funny as the show itself. The topics they cover go from typical teen questions, to hilarious theories and concerns. And even though I wish it was longer, it does a great job of giving you just the right amount of funny in the 7 minutes it lasts. Boy, girl, teen or adult, I highly recommend Oshiete! Galko-chan!
---
5. Space Patrol Luluco [Uchuu Patrol Luluco]

Episodes: 13
Aired: Apr. 2016 – Currently airing
Duration: 7 mins.
Luluco is a normal middle school girl. She's average in every way. Or at least she'd like it to be that way… She lives in Ogikubo, a section of the galaxy where earthlings and extraterrestrials live together. One day, her father, a member of the space patrol, is involved in an incident and a new boy, Alpha Omega Nova, transfers into Luluco's school. Luluco is then pulled into all sorts of craziness and normalcy becomes impossible.
Coming from Trigger Studios, the people who brought us Kill la Kill, it is no surprise that the character design and pastel-y visuals are eye-catching to say the least. Space Patrol Luluco has everything in it; Comedy, School Life, Action, middle school Romance and twists and turns – figuratively and literally! This is another show you'll be wishing for more of at the end of each episode.
---
4. Hetalia Axis Powers

Episodes: 50
Aired: Jan. 2009 – Mar. 2010
Duration: 5 mins.
Hetalia re-imagines nations as people and uses this to teach us about history in this cute and hilarious little anime. It focuses on the events of World War I and World War II and follows the Axis Powers; clumsy North Italy, serious Germany and aloof Japan, as well as, gives us a look into the Allied Forces' relationships.
Hetalia is a Historical Comedy that takes you through a quick, joke-filled history lesson that showcases a fun perspective of every country's good and bad points. This short anime is also considered a Parody since it, well… parodies history! It makes fun of everyone and even Japan isn't safe. There's also a sequel, Hetalia World Series, and a movie, so there's plenty Hetalia to watch and much to learn about history!
---
3. I Can't Understand What My Husband Is Saying [Danna ga Nani o Itteiru ka Wakaranai Ken]

Episodes: 26
Aired: Oct. 2014 – Jun. 2015
Duration: 3 mins
I Can't Understand What My Husband Is Saying follows the story of office lady Kaoru and her super-otaku husband, Hajime. This unlikely couple is not only making things work despite their differences, but they're in love and happy! Even they don't seem to understand how it's all possible!
This Seinen Slice of Life is a great look into modern relationships and modern society. We get to watch the adventures of a work-from-home husband and a working wife, along with a cross-dressing doujinshi artist younger brother. Their struggles, failures and victories in life that will make you smile, feel for them and warm your heart. All in just 3 minutes!
---
2. Ojisan to Marshmallow (Ojisan and Marshmallow)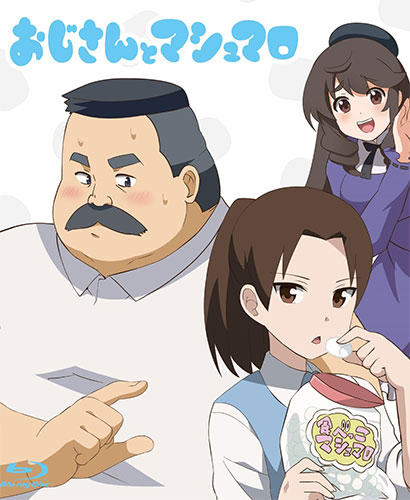 Episodes: 12
Aired: Jan. 2016 – Mar. 2016
Aired: 3 mins.
Iori Wakabayashi is a beautiful 24 year old office lady and she is madly in love with one of her co-workers, Hige Habahiro. The catch? Hige is much older than she is, overweight and very awkward. Luckily, Wakabayashi knows his weakness: Hige loves marshmallows! She uses her wit and never gives up in an adorable pursuit of her marshmallow crush.
This office Slice of Life Rom-Com is sure to make you go "dawww!" every episode. Wakabayashi's efforts to get Hige's attention are super cute, and hilarious. She uses marshmallows as bait (literally), and she spazzes out thinking about her crush when she's in her bedroom. Hige is a really sweet, oblivious guy and the contrast with Wakabayashi's serious face and bold approach will have you smiling the whole way through.
---
1. Aggressive Retsuko

Episodes: unknown
Aired: Apr. 2016 – Currently airing
Aired: 1 min.
Retsuko is a red panda who works as an office lady in a big company. Her bosses and co-workers continue shoving work and impossible tasks on her desk regardless of her plans for the night or her sweet demeanor. Her bosses are jerks and her co-workers are idiots but she is decided to stay positive and peppy. That is until after work when she goes to karaoke and lets it all out while singing death metal!
Aggressive Retsuko is a funny, identifiable and refreshing surprise from Sanrio. Not only are the characters cute (well, Retsuko is at least) but the situations are all-too-real for those with insufferable people at their jobs. The only downside to this short anime series is that the episodes are only 1 minute long! Come on Sanrio! We need more, give us our fix!!
---
Final Thoughts
With everything from Comedy, Action, Sci-Fi and Slice of Life to Romance in the office or at school, short anime series seem to be getting better and better every season. You'll definitely have something to watch on your commute, marathon in between full-length episodes of your favorite anime or something to recommend to your anime newbie friends!
Do you usually marathon short anime series? Or do you wait for each episode to come out? Let us know in the comments below!
See you next time!
Nya~!
---
---
We all love to get wrapped up in an immersive, well-crafted anime series that goes on for days. But when you're burnt out on long-running series, or just don't have time in your busy schedule to sit down for an entire episode, where do you turn when you need your daily anime fix?
The answer is as simple as it is obvious: short anime. There is a bevy of anime out there perfect for students looking for a quick break between cram sessions, or the salaryman looking for something to do on their morning commute.
The following anime prove that a show doesn't have to take up your day to hook you in and leave you hungry for more.
10. I Can't Understand What My Husband is Saying / Danna ga Nani o Itteiru ka Wakaranai Ken

Episodes: 26
Aired: October 2014 – June 2015
I Can't Understand What My Husband is Saying is about a star-crossed couple. Kaoru, a run-of-the-mill, hard-working office lady, and her awkward, blogger husband obsessed with otaku culture, Hajime. It is a slice-of-life anime about adjusting to living with the foibles of the one you love.
I Can't Understand What My Husband is Saying is a classic example of how short form anime can be home to an incredibly endearing cast of characters. Its sense of humor is perfect for anime lovers, as the jokes and conflicts at the heart of the series usually revolve around the clash between everyday Japanese culture and otaku culture. Definitely a great way to get into shorter anime, and a great place for couples to get into anime in general.
---
9. Sazae-san

Episodes: 3000+
Aired: October 1969 - Ongoing
Sazae-san is a behemoth in terms of its continued relevance in both everyday Japanese culture, and in the medium of anime. The show is a slice-of-life adaptation about the titular Sazae and her family, focusing on topical issues and family dynamic. Each episode consists of three vignettes approximately ten minutes in length.
While not the most action-packed anime out there, Sazae-san deserves attention for several reasons. First, the earnest style of the show, combined with its large, distinct cast, makes it impossible to dislike, which is demonstrated by the place it holds in the hearts of Japanese kids and adults alike. Sazae-san is also the longest running anime in the history of the medium, with over 40 years (!!!!) of episodes aired, and more on the way. It's impossible to ignore such a mammoth piece of anime history.
---
8. Sexy Commando Gaiden: Sugoi Yo!! Masaru San

Episodes: 48
Aired: January 1998 – April 1998
Sexy Commando Gaiden: Sugio Yo!! Masaru San is a story about Wakame High School's Sexy Commando Club, which practices a martial art with roots in historical Japan, and focuses less on the act of violence, but on the art of distracting your opponent to the point where there's no possible way for them to defend themselves.
As one would expect, Sexy Commando Gaiden fires on all of its extremely weird cylinders. The show feels a bit like manzai, a style of comedy with a by the books straight man to balance out the funny man. Club creator Masaru is larger than life, and his over the top antics are hilarious, while the narrator Fuumin gives the audience a window into the erotic martial art at the heart of the show. Sexy Commando's inscrutable silliness might not be for everyone, but it had me hooked from the first episode.
---
7. Detroit Metal City

Episodes: 12-episode OVA
Aired: August 2008
Detroit Metal City is an incredibly unique anime series, despite the fact that its title was obviously inspired by rock legend KISS's Detroit Rock City. It's the story of an aspiring pop artist named Soichi, who finds himself in a financial bind and ends up the lead singer of a black metal band, the titular Detroit Metal City. When on stage, he adopts the metal persona of Krauser, an axe-grinding metalhead straight out of Hell.
This series is great because its blatant parody of an already hilarious genre never comes off as mean-spirited. While the show is funny, the central conflict is about financial obligation and creative expression, and Soichi finds himself torn between his unattainable-seeming dreams and the artistic freedom he feels adopting his raunchy, immoral on-stage persona. Great for fans of metal and anime alike.
---
6. Dōjin Work

Episodes: 12
Aired: July 2007 – September 2007
Dōjin Work tells the story of down-on-her-luck college student, Najimi, who decides to try her hand at dōjin, or self-published manga, after losing her job. While success seems unattainable for her at first, she meets a group of colorful, more experienced dōjin artists to help her persevere in pursuit of her dream.
This series is great because it clocks in at about 4 minutes an episode (not counting the live-action segments at the end of each episode), making it one of the shorter short-form anime I've come across, but still packing in plenty of humor and charm from its characters, while addressing adult subject matter. It is very accessible to fans of anime and manga alike, and speaks to creative and financial struggles that come with pursuing your creative passions.
---
5. My Neighbor Seki / Tonari no Seki-kun

Episodes: 21
Aired: January 2014 – May 2015
Like others on the list, My Neighbor Seki is a short anime that takes place in the classroom. It revolves around the characters Yokoi, and the kid that sits next to her in class, the titular Seki. Despite her best attempts to concentrate in class, Seki constantly distracts her with seemingly-impossible games and projects that he keeps hidden in his desk. No matter how complex and disruptive the project, Seki always escapes the attention of the teachers.
My Neighbor Seki is a bit formulaic in terms of structure, but the chemistry between its two main characters, and the light-hearted nature of the storytelling are perfect for the shorter form. It's also a blast to see what Seki attempts to accomplish in such a short amount of time, as his projects range from plausible to downright surreal.
---
4. Rec

Episodes: 9
Aired: February 2006 – March 2006
Like other anime on this list, Rec is about an aspiring professional, in this case would-be voice actress Aka, and her relationship with a salaryman, Fumihiko, an often over-looked part of his company's marketing department. Their fates collide when a sudden fire results in cohabiting Fumihiko's apartment. Their lives become even more entwined when Fumihiko's mascot for a new product line is chosen, and Aka is hired to voice it.
Because the central premise of Rec is the complications of the burgeoning relationship between its two main characters, and the misunderstandings involved with the supporting cast, the subject matter is a bit more adult-oriented than some of the previous selections. Even so, there is plenty of fun to be had in Fumihiko and Aka's romantic game of cat and mouse, and the challenges of juggling their feelings with their professions.
---
3. Cromartie High School / Sakigake!! Kuromati Kōkō

Episodes: 26
Aired: October 2003 – March 2004
Cromartie High School is another anime about school life, but unlike previous mentions on the list, it focuses on the notoriously delinquent titular high school, and the rough spun students that inhabit it. Main character Takashi is assumed to be an even crazier badass than even the craziest badasses at Cromartie, and he has no intention of correcting their perception of him, although he would like to change the student body for the better.
This show is great because of its over the top satire of yankii (literally, Yankee) culture, Japan's answer to rude, juvenile delinquents. The show never takes itself too seriously, and the surreal nature of the events that move the plot forward means you can easily hop in and out whenever you have time for it.
---
2. Time of Eve / Eve no Jikan

Episodes: 6
Aired: August 2008 – September 2009
Time of Eve is a short anime that challenges its viewer's perception of what it means to be human. The story is set in the near-future, in a world where androids are as common and ubiquitous as smart phones are today. The main character, Rikuo, is in possession of a piano-savant android named Sammy. After noticing strange activity, coupled by a strange phrase, in her GPS log, Rikuo learns Sammy has been frequenting a café that treats androids and humans as equal.
This show is a slow burn with a lot going on in very few episodes. It is a meditation on what constitutes human "life," and often references smart sci-fi like Asimov, and his Laws of Robotics. There are many interesting conversations about subjects that are pertinent even today, with androids taking the place in issues such as equality for different genders, ethnicities, and value systems. More proof that you don't need an overly long run time to ask big questions.
---
1. Hetalia: Axis Powers

Episodes: 120+
Aired: January 2009 – June 2013
An absolute must-watch for fans of short anime and history buffs alike, Hetalia: Axis Powers is a show where countries that participated in WWII are reimaged as specific characters, and important battles and historical events are reimagined with a charming, more satirical tone.
This series is great because it features many deep cuts from historical events that occurred throughout WWII, and takes the inherently jingoistic and racist nature of war-time propaganda to create characters that, while somewhat stereotypical, are easy-to-like and feature positive and negative cultural aspects of their respective countries. With a lot going on in five minutes, and over 120 episodes to go through, Hetalia: Axis Powers will guarantee to spice up your down time when you need a quick anime fix.
---
There we have it: our top ten short anime. I hope that this sample proves that, much the same way a short story can be as entertaining, impactful, or thoughtful as a full-length novel, short anime can have characters that are just as memorable as longer shows or full-length movies, and contain themes that run the gamut from over-the-top hilarious to questioning the fundamental aspects of everyday life and human nature.
What do you think of these selections? Are there any short anime that we've neglected that deserve a spot on your personal top 10 lists? Sound off in the comments and let everyone know what they're missing.
---