We may have heard the silly question "If you were deserted on an island and could only have two things, what would they be?" The answer may come easy for some, while others are conflicted with narrowing down the best choices. Whatever the case may be, it is fascinating to hear what our friends come up with. However, in Setsuna Sanzenkai's circumstances, he didn't have a choice.Waking up on the island of Urashima, he has no recollection of how he got there but receives assistance from three adorable gals, Rinne Ohara, Karen Kurutsu, and Sara Garandou. As such, is Setsuna tempted to stay as a maid or leave and solve his mystery?
With so much fun in the sun, we at Honey's present 6 anime like Island, including such shows that feature flocks of girls, intriguing stories, and a whole lot of drama. Hopefully, these series will fall right on your watch list! Let's go!
Similar Anime to Island
1. Sakurasou no Pet na Kanojo (The Pet Girl of Sakurasou)

Episodes: 24
Aired: October 2012 – March 2013
Sakurasou no Pet na Kanojo is about a group of high school students residing at the dormitories of Suimei High. Second-year student, Sorata Kanda was kicked out from his dorm for taking in a stray cat. From this event, Sorata transferred to the notorious Sakura dorms, which house the troublesome and the misfits of Suimei High. When Sorata tries to protest his transfer, he meets Mashiro Shiina, an art student who is incredibly gifted and talented but lacks stability and structure for other components in her life. Mashiro instantly latches onto Sorata in the in the same way he nurtures his strays. Sakurasou no Pet na Kanojo follows the characters' developing relationships and emotional hardships as teens.
Sakurasou no Pet na Kanojo and Island both involve the main male characters, Sorata and Setsuna, taking care of the female characters even though they should be looking out for themselves. Our guys are very opinionated, and so are our gals, which makes their engagements all the more interesting. Each anime takes place in diverse environments, highlighting the connection between aspiration, romance, friendship, and determination.
---
2. Higurashi no Naku Koro ni (When They Cry)

Episodes: 26
Aired: April 2006 – September 2006
Higurashi no Naku Koro ni starts us off in rural Japan as the small village of Hinamizawa is on the brink of destruction to pave the way for industrialization. Opposing the new dam, the villagers gathered in protest and ultimately, construction in the village never occurred. From this moment, strange and mysterious incidents began to take place, particularly during the time of the village's annual festival. Five years later, we meet Keiichi Maebara, a new resident in Hinamizawa. As Keiichi integrates to life in the country, he quickly makes friends with Rena Ryuugu, Mion Sonozaki, Satoko Houjou, and Rika Furude. As they learn the local legends, the gang is determined to solve the riddle once and for all.
Higurashi no Naku Koro ni and Island are centered on unraveling the riddles behind Oyashiro's curse and Setsuna's memory loss. Looks are very deceiving, specifically when it comes to the seemingly innocent teenage girls Keiichi and Setsuna interact with throughout each episode. Overall, both anime provide unexpected twists and climaxes.
---
3. Trinity Seven

Episodes: 12
Aired: October 2014 – December 2014
The destruction of Arata Kasuga's town and the disappearance of its people occurred when the red sun stopped shining, and an occurrence called the "Breakdown Phenomenon." However, hope is restored when the use of the magical grimoire creates his home artificially. Investigating the phenomenon, Lilith Asami appears before Arata to further research why this artificial world is disintegrating. Instead of handing over the secrets, Arata decides to enroll Royal Biblia Academy, the secret magic school, in which six other magical users await him. Together with Lilith, these six form the Trinity Seven, the elite of the school, and embrace their talent and intelligence.
Trinity Seven and Island are two mysterious anime that make you want more. The storyline builds upon every episode, as each solution or result is met with more intrigue. Although their themes run in different directions, elements of fanservice are dispersed. The diverse characters interact with one another flawlessly, adding to the continuous action, fantasy, comedy, and romance in both Trinity Seven and Island.
---
Any Anime Like Island ?
4. To LOVE-Ru (To LOVE Ru)

Episodes: 26
Aired: April 2008 – September 2008
To LOVE Ru captures the story of Rito Yuuki, a shy 16-year-old boy who's had a major crush on Haruna Sairenji ever since junior high. Is it time for him to confess his love for her? Perhaps. However, the situation becomes complicated when one night, a mysterious, unclad girl lands right on top of Rito. Later on, we come to learn that the girl is named Lala Satalin Deviluke, the crown princess of an alien empire and a runaway. Although Lala comes from a prestigious and influential family, she is willing to settle with Rito to avoid an unwanted union. Overall, To LOVE Ru focuses on the wild and crazy shenanigans Rito experiences after Lala's arrival.
To LOVE Ru and Island start viewers off in a similar fashion: with one of our lead female MCs landing awkwardly on top of the male MC. In harem fashion, both anime contain numerous amounts of fanservice and lewd circumstances. To LOVE Ru and Island also involve amusing interaction between various cultures. Elements of sci-fi, comedy, and bright animation are also present in both.
---
5. Haiyore! Nyaruko-san (Nyaruko: Crawling With Love!)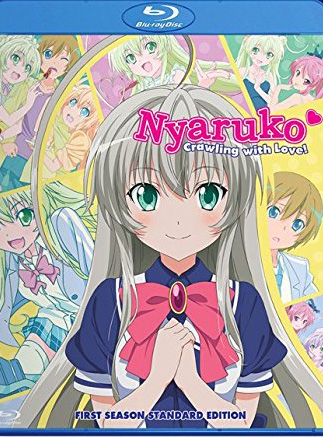 Episodes: 12
Aired: April 2012 – June 2012
Haiyore! Nyaruko-san highlights the life of Mahiro Yasaka, an average high school aged guy whose life goes topsy-turvy when he gets close to being abducted by a creature, Nightgaunt. In this time, the value of humanity is high, and Nightgaunt is intent on selling Mahiro as a slave. In the midst of this incident, another alien creature named Nyaruko saves Mahiro. As a member of a Space Defense agency, in addition to being a deity, Nyarlathotep, Nyaruko couldn't have been more suited to protect Earth from various outer space dangers and threats, as well as to demonstrate her extreme fascination with all things human. From that moment, Nyaruko falls head over heels for Mahiro. Although very cute, Mahiro does not feel the same way. Later on, two other deities, Cthuko and Hasuta, are sent to Earth also to protect Mahiro and others from being sold in the interstellar slave trade.
Haiyore! Nyaruko-san and Island are similar in that a flock of cute girls covets the main male lead. Divided into different societies, the extraterrestrials and humans in Haiyore! and the island folk and mainlanders in Island must find a way to cooperate with one another as they learn to coexist. Additionally, both anime also contain elements of sci-fi, romance, action, and fanservice.
---
6. Boku no Kanojo ga Majimesugiru Sho-bitch na Ken (My Girlfriend is a Shobitch)

Episodes: 10
Aired: October 2017 – December 2017
My Girlfriend is a Shobitch centers on the life of Haruka Shinozaki. Haruka has been interested in the class representative, Akiho Kousaka, since his first year in high school. Akiko has everything a guy could ever want, she is attractive, active, and is a hardworking student. This year, Haruka and Akiho are in the same class together. Feeling brave and confident this year, Haruka decides to confess his feelings. And, to his surprise, Akiho agrees to date him!
At first glance, Akiho is perfect, but over time, Haruka learns that she is more innocent and peculiar than he imagined. As Haruka is her first boyfriend, Akiho vows to please him in any and every way possible. Every guy's dream right? Maybe, but Haruka thinks Akiho is coming on too strong!
My Girlfriend is a Shobitch and Island genuinely have the potential to be fantastic and compelling anime, making them memorable series in recent seasons. As the first few episodes lead us to climatic mystery, we reach a plateau, giving us time to think of which direction the plot will turn. Reflecting on the "could be," scenes are filled with a countless amount of sexualization and fanservice to keep us engaged. Nonetheless, if you're looking for a simple, light and silly anime that doesn't require many complexities, My Girlfriend is a Shobitch is one we recommend that compares to Island.
---
Final Thoughts
We hope you enjoyed our recommendations for 6 anime like Island. What do you guys think? Did we leave any good ones out? What other anime similar to this one can you suggest to other readers and us? Leave your comments below! See ya!
---