Kekkai Sensen is emerging as one of the strongest series to come out of the Spring 2015 season. The plotline revolves around Leonardo Watch who recently comes to live in New York City. This isn't the same old Manhattan, however, as a breach between the Netherworld and the Earth opened years ago, filling the city with all sorts of ghastly super natural creatures who now live with the humans. Leonardo gets involved with the association called 'Libra' who fight crime in the city.
Kekkai Sensen is a fast-paced Supernatural/Action show with a good number of fight scenes, interesting setting and a large cast of characters. As expected from a Studio Bones show it features exquisite art direction and strong animation. I look forward to a new episode of Kekkai Sensen every week, and if you're a fan of the show, here's 6 others you will find out to be like Kekkai Sensen.
Similar Anime to Kekkai Sensen / Similar Anime to Blood Blockade Battlefront
1. Kyousougiga

Episodes: 10
Aired: Oct 10, 2013 to Dec 19, 2013
Kyousougiga is the story of a 'Mirror Kyoto' where humans and Youkai live together. This mirror city is protected by 3 children, Kurama, Yase and Myoue who are waiting for the return of their parents. One day, a young girl with the same name of one of the parents, Koto, with a resemblance to the trio's mother stumbles into the city looking for her own mother, causing havoc in this 'Mirror Kyoto'.
Like Kekkai Sensen, Kyousougiga has the same director, Rie Matsumoto, and there are apparent similarities early on. Both shows care a lot about the cities in which they inhabit, and both of them are quite fantastic. From NYC filled with beings that look like extras in a Star Wars movie to a Kyoto where both people and spirit live together. Both series have a lighthearted, playful tone and move at somewhat of a frenetic pace. Overall, if you've seen both series you'll notice Rie Matsumoto's influence on both.
---
2.Baccano!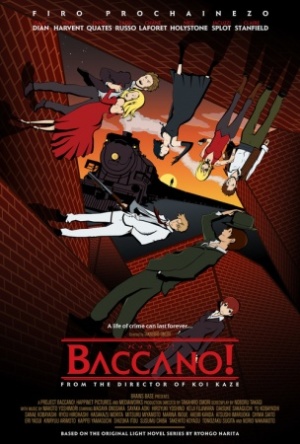 Episodes: 16
Aired: Jul 27, 2007 to Nov 2, 2007
Baccano! is a Light Novel adaptation that tells a multitude of different stories in a non-linear fashion. Set in a fictional, stylized 1930's United States, during the height of prohibition. Baccano! follows scientists looking for an Immortality Elixir, Mafioso attempting to hijack an intercontinental railroad, and other plotlines. These different threads seem unconnected at first but weave themselves into a bigger story.
Both set in the USA, the similarities don't stop there. The first thing we noticed was stylistic similarities between the two shows, especially in the OST where just like Kekkai Sensen, many early pieces in the series were Jazz. In a way, Jazz music perfectly accompanies both these shows due to the storytelling. There's a tremendous sense of Energy running in both these shows, you don't feel like there's too many down moments to be had. The fast-paced style of both shows can be confusing at first but once you get on the show's tempo you're definitely set for a good experience.
---
3. Noragami

Episodes: 12
Aired: Jan 5, 2014 to Mar 23, 2014
Noragami is an adaptation of the Manga series by Adachitoka which follows Yato, a god, but the lowest in the Japanese hierarchy of divinity. He crosses paths with a human girl Hiyori Iki, and partners with Yukine a Shinki, which is a type of spirit weapon. The trio roams around Tokyo and pursues Yato's aim of becoming a beloved, respected God. This leads them into battles with Ayakashi, malevolent spirits as well as to many interactions with other Japanese gods.
You can feel the production stamp of Studio Bones on both Kekkai Sensen and Noragami. To me the most apparent and unique similarity they have is using visuals to establish a sense of scale. Like Kekkai Sensen, Noragami as well features a lot of wide shots, even when characters are in dialogue it's not uncommon to have frames show almost an entire street. The two both feature shots of huge phantoms and ghouls, as tall as buildings floating amongst the skyscrapers. Both were effective at making you feel immersed in this otherworldly incursion into the cities they take place in. Noragami might be a bit slower than Kekkai Sensen, with a bit more mellow drama, but both shows share a supernatural setting and and have a number of comedic moments.
Noragami Trailer
---
Any Animes Like Blood Blockade Battlefront / Any Animes Like Kekkai Sensen ?
4. Soul Eater

Episodes: 51
Aired: Apr 7, 2008 to Mar 30, 2009
An animation of Atsushi Okubo's Manga Series, Soul Eater follows the trials and travails of 3 pairs of Human Weapons and their users, called 'Meisters.' The 3 pairs are trying to make a 'Death Scythe' for the master of their school who is a sort of Shinigami, more so the personification of Death itself. The 3 pairs have to collect the souls of 99 humans and 1 witch in order to achieve their goals.
Again, both Soul Eater and Kekkai Sensen are Studio Bones shows, and both are wild and rambunctious examples of an action/supernatural storyline. Kekkai Sensen might be a bit more mature, having more of a place in the Seinen demographic as opposed to Soul Eater's Shounen. However, both punctuate moments of action with lots of moments of humor and good cheer. If they're similar in tone, they're also both well designed shows with above-average animation. Just like Kekkai Sensen, Soul Eater too is sharp and stylish visually and it gives you a lot to admire episode to episode.
Soul Eater Trailer
---
5. Kyoukai No Kanata (Beyond the Boundary)

Episodes: 12
Aired: Oct 3, 2013 to Dec 19, 2013
Kyoukai no Kanata, or 'Beyond the Boundary', is an adaptation of a light novel series. It follows Akihito Kanbara who, trying to save a fellow student who he thinks is going to commit suicide. That student, Mirai Kuriyama stabs Akihito in the back with a sword made from Mirai's blood. We then discover Akihito is the child of a supernatural being called 'Youmu' and a human. Akihito agrees to help Mirai develop her skills in order to fight other Youmu.
Kyoukai no Kanata is very, very pretty. Kekkai Sensen may be more noteworthy for its exceptional backgrounds, rather than Kyoukai no Kanata which has superb animation and highly polished character designs, but both are very strong visual shows. Kyoukai no Kanata has a slice of element (It's KyoAni, after all) that Kekkai Sensen doesn't have, or at least hasn't had yet. However, if you're a fan of thus far and want to see more shows like Kekkai Sensen that fall in the Fantasy/Supernatural genre, this is a good title to consider.
Kyoukai No Kanata Trailer
---
6. Kill la Kill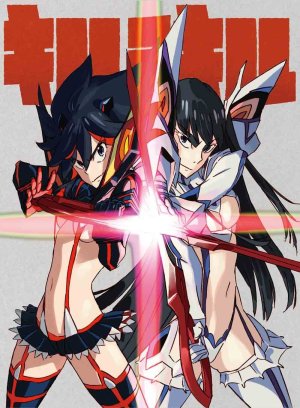 Episodes: 24
Aired: Oct 4, 2013 to Mar 28, 2014
Kill La Kill follows the story of Ryuko Matoi who transfers into Honnouji Academy, a school ruled under the Thumb of its Student Council President, Satsuki Kiryuin. Ryuko Is trying to seek out her father's killer, who she suspects is Satsuki. Ryuko seeks to upend the schools order, defeat Satsuki's cohorts and challenge Kiryuin herself in order to learn the truth about her fathers killer.
One of the striking similarities like Kekkai Sensen that Kill La Kill has, is the sense of the extraordinary becoming Mundane. Kekkai Sensen is a world where all sorts of Netherworld creatures walk about New York City, drawing the amount of surprise and attention from the residents as if they were walking around Williamsburg and seeing hipsters. Kill La Kill features an academy ruled by the Student Council President, where students are given 'goku suits' according to their abilities which both increase their power and place them into a ridged class hierarchy. Both have ridiculous premises and settings, but are fun action-orientated shows with lots of combat.
Kill La Kill Trailer
---
Well, there you have it! I think this list can definitely give you a lot to like if you're a fan of and are looking for more anime like Kekkai Sensen. Let us know what you think of it in the comments below. Do you think we missed an suggestion? Do you think another show has a strong similarity to Kekkai Sensen that you'd like to share? Feel free to sound off in the comments and let us know what you think!
---