Born as a manga by Amyuu Sakura's skilled pen in 2012, Kono Oto Tomare!'s popularity kept growing, and it received an anime adaption for the current season. The story revolves around Takezou Kurata and the Koto club - the koto is a traditional Japanese instrument. After the graduation of the senior members of the club, the Koto club risks being disbanded. As the only remaining member, Takezou needs to find other people willing to join the club. The task will prove very challenging, all the more when a new student barges into the club room arrogantly demanding to join the club.
Kono Oto Tomare! is a wonderful shounen anime, about friendship and determination! We are sure those who are watching it, are on the lookout for some other similar shows wielding the same good vibes, and that's why we created this list. Stick with us to discover six anime like Kono Oto Tomare!
Similar Anime to Kono Oto Tomare! / Similar Anime to Kono Oto Tomare!: Sounds of Life
1. Chihayafuru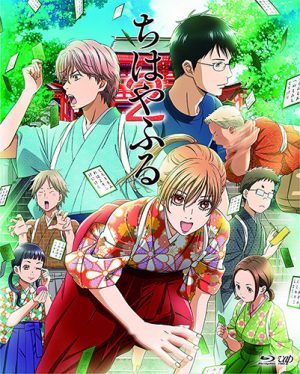 Episodes: 25
Aired: October 2011 – March 2012
Let's get the list started with Chihayafuru, whose third season is set to air starting October 2019! Chihaya Ayase is a girl who lives in the shadow of her older sister. When she meets Arata Wataya, a quiet transfer student, he introduces Chihaya to the world of karuta – a card game. Falling in love with karuta, Chihaya spends her childhood together with Arata and Taichi, playing the game, until their lives go separate ways. Years after, as a high school girl, Chihaya has one big dream: to create a karuta team and aim for a championship!
Chihayafuru and Kono Oto Tomare! both start with the same premises. In Chihayafuru, Chihaya needs to form a team in order to play karuta; in Kono Oto Tomare!, Takezou struggles to not let the Koto club disband. Both these shows revolve around traditional Japanese activities, karuta and Koto. What's more, in both of them there are three main characters: two boys, and one girl, looking for a way to make their club take off. Of course, in the process, certain feelings develop, so expect some hints of romance, or even love triangles. Consider Chihayafuru a more girly version of Kono Oto Tomare!: after all, it's a josei anime!
Chihayafuru Trailer:
---
2. Piano no Mori (Piano Forest)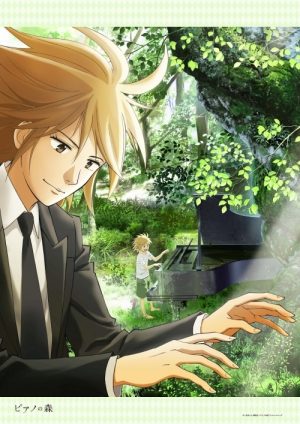 Episodes: 12
Aired: April 2018 – July 2018
Piano no Mori revolves around two boys on the polar opposites. Kai Ichinose looks like a problem child, living in a run-down neighborhood situated near the forest, and being the son of a prostitute. In spite of living in a forest, Kai has always been playing the abandoned piano situated there. Shuuei Amamiya, on the contrary, was born and raised in a prestigious family of pianists. What these two different boys share in their unconditional love for piano, thanks to whom their paths will cross...
Piano no Mori and Kono Oto Tomare! start off with different premises, yet they share some important traits. Both these shows feature a big range of characters with talents, and episode by episode, we also realize how much their different personalities pop up. Music is the prominent theme connecting each character, and what's more, love for music is what makes the determination of the characters show. If you are enjoying Kono Oto Tomare!, and you like shows featuring music and good vibes, Piano no Mori is what you're looking for!
Piano no Mori Preview:
---
3. 3-gatsu no Lion (March Comes in Like a Lion)

Episodes: 22
Aired: October 2016 – March 2017
At the age of 17, Rei Kiriyama is a professional Shogi player. Due to a tragic accident in which his parents and sister died, and the subsequent tension building up in his adoptive family, Rei decided to move out and live on his own. But life is hard when you're only 17, and you have to think to adult stuff, such as paying the rent, laundry, getting meals done, and in the meanwhile going to school, playing Shogi, and so on. In his darkest moment, Rei has a fated meeting with the Kuwamoto sisters, and thanks to them, he will discover once again the warm feeling of "family".
Both 3-gatsu no Lion and Kono Oto Tomare! are slice of life, drama shows, about youth, talent and the importance of bonds. The characters you get to know throughout both stories are deeply analyzed, and relatable. Even the relationships among the characters feel very realistic. Both 3-gatsu no Lion and Kono Oto Tomare! feature young boys excelling in a certain discipline, and both these shows are coming of age stories focused on the growth of the main characters. Trust us when we say that if you like Kono Oto Tomare!, you'll find 3-gatsu no Lion equally amusing.
3-gatsu no Lion Trailer:
---
Any Anime Like Kono Oto Tomare! ? / Any Anime Like Kono Oto Tomare!: Sounds of Life ?
4. Shigatsu wa Kimi no Uso (Your Lie in April)

Episodes: 22
Aired: October 2014 – March 2015
Kousei Arima is a piano prodigy, but after his mother passed away, he came to hate the sound of a piano. For two years, Kousei kept avoiding the piano, and his days turned gray as he dragged on in a colorless life together with two childhood friends. Kaori Miyazono is a violinist, and when she meets Kousei, she manages to bring him to face music once again. Their meeting will become the starting point for Kousei to rise again.
Shigatsu wa Kimi no Uso is yet another beautiful show revolving around music, exactly like Kono Oto Tomare! Both these series give music an important meaning, as it becomes the reason to make the main characters get back on their feet. Shigatsu wa Kimi no Uso and Kono Oto Tomare! perfectly mix drama, dark themes, and humor, to bring forth a wonderful plot. Even though Shigatsu wa Kimi no Uso wields a stronger romance trait, you'll like one if you're liking the other!
Shigatsu wa Kimi no Uso Trailer:
---
5. Hibike! Euphonium (Sound! Euphonium)

Episodes: 13
Aired: April 2015 – July 2015
Kumiko Oumae is an euphonist who, after an accident during the middle school band competition, hopes for a brand-new start in high school. From the first day of school, though, she is immediately surrounded by people enthusiastic about the brass band of the school. Their enthusiasm leads Kumiko to make music once again, with a goal: to qualify for the national band competition!
Hibike! Euphonium and Kono Oto Tomare! both revolve around music, and through it, the traits of each character develop. Both these shows have a school setting, and perfectly mix the teenage angst, with humor, and some funny gags. Kumiko, and her friends, exactly like Takezou and the new club members, spend their time together, working for a common goal. Through the extra-curricular school activities, they get to know each other, and create a deep bond. Just consider Hibike! Euphonium an all-female version of Kono Oto Tomare!
Hibike! Euphonium Preview:
---
6. Fuuka

Episodes: 12
Aired: January 2017 – March 2017
Let's end this list with Fuuka! Yuu Haruna just moved to Tokyo with his sisters, as their father had to transfer overseas for work. One day, when he was on his way to buy dinner, while looking at his phone, Yuu accidentally bumps into a high school girl. Due to a misunderstanding, Yuu ends up with a broken phone, and a slap on the face. It's only later on that Yuu finds out that the girl – Fuuka Akitsuki – goes to the same school he's transferring to. Fuuka is strange for a high school girl, but she's fond of music. Yuu and Fuuka get close and decide to form a band and aim for the professional world of music!
Fuuka and Kono Oto Tomare! are both shounen anime, with a school setting. The protagonists of both stories move their first steps in the world of music; they begin to interact with each other, and through competitions, and struggles, they'll understand the meaning of friendship, and the importance of bonds. Fuuka wields an ecchi trait that Kono Oto Tomare! lacks altogether, yet you'll find these shows very similar.
Fuuka Preview:
---
Final Thoughts
Fuuka puts an end to our list of six anime like Kono Oto Tomare! We tried to pick those shows sharing with it some important traits, such as the theme of friendship, the passion for music, and a solid, character-driven plot. We really hope you enjoyed the ride as much as we did, and if you are craving for something that can give off the same good vibes as Kono Oto Tomare!, we can guarantee that these six shows are what you're looking for. If you have any comments, or simply want to share your opinion, please, leave a comment below! See you next time!
---