También puedes leer este artículo en:Español
It's the fall anime season and this season, we have got a new reverse harem/bishounen anime. What is better than that? Well, if you have been paying attention, Magic-Kyun! Renaissance is the new reverse harem of the season and while it is pretty entertaining, there are only so many episodes available. What do you do when you're done with the anime or if you have to wait for the next episode of the season? The tension is palpable!
No worries, though. We at Honey's Anime have got a list of 6 anime like Magic-Kyun! Renaissance that will be sure to quench your thirst for bishounen anime, reverse harems, and adorable near romances. What could be any better for otome fans out there? Well, stay tuned because we're here to share our recommendations for you!
Similar Anime to Magic-Kyun! Renaissance
1. Kiniro no Corda: Primo Passo (La Corda D'Oro ~Primo Passo~)

Episodes: 25
Aired: October 2006 - March 2007
Hino Kahoko is part of the normal branch at her school, but there exists a music branch. The music branch students are usually the only ones to participate in the school's annual music competition, but this year, Kahoko has met a fairy who has entered her into the music competition and given her a magical violin.
Perhaps the one reverse harem that comes to mind immediately when watching Magic-Kyun! Renaissance is La Corda D'Oro ~Primo Passo~, which is the first season of La Corda D'Oro if you haven't seen it yet. The first thing you will notice is how Kahoko seems to be lacking in talent like Kohana, but she is surrounded by these talented musicians who seem to think that she's got the talent to participate. However, the boys will teach Kahoko that while she may not believe it, she has real talent hidden beneath everything.
Kahoko helps each one of the bishounen in La Corda D'Oro ~Primo Passo~, discover something within themselves they would not have otherwise found out while they help Kahoko realize there's more to her than she believes. There is no doubt that La Corda D'Oro ~Primo Passo~ is a lot like Magic-Kyun! Renaissance.
---
2. Uta no☆Prince-sama♪ Maji Love 1000%

Episodes: 13
Aired: July 2011 - September 2011
Nanami Haruka dreams of becoming a composer so that she can one day write for the idol of her dreams, Ichinose Hayato. Accomplishing this means that she must attend Saotome Academy, which is known for their performing arts studies. While Haruka is meeting all sorts of talented people at Saotome Academy, one man sticks out to her the most.
The next anime that is no doubt like Magic-Kyun! Renaissance has to be Uta no☆Prince-sama♪ Maji Love 1000%, which also has a sequel playing this season (be sure to catch up and watch it!). Much like La Corda D'Oro ~Primo Passo~, Uta no☆Prince-sama♪ Maji Love 1000% is comparable to Magic-Kyun! Renaissance due to the presence of a heroine who clearly does not see her own talent, but she finds herself surrounded by talented young men who all bring out something special that Haruka wasn't even aware existed.
Much like Magic-Kyun! Renaissance, you get to witness the changes Haruka instills in everyone's life in Uta no☆Prince-sama♪ Maji Love 1000%. She brings something special to the table, and these talented boys find that they really need her, regardless of whether they were aware of it before.
Uta no Prince-sama Maji Love 1000% Trailer
---
3. Fruits Basket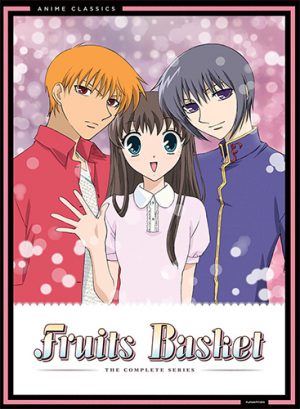 Episodes: 26
Aired: July 2001 - December 2001
Tohru was living with her grandfather after the loss of her other but when his home needed to be renovated, Tohru took to living in a tent outside. It was here where Tohru was found by her classmate Souma Yuki who invited her to stay with his family for the time being. Unfortunately, Tohru discovered the dark secret of the Souma while living there: members of the Souma family turn into animals of the Chinese zodiac when embraced by members of the opposite sex!
And now, we have Fruits Basket, which isn't really a reverse harem nor is it a bishounen anime, but it shan't be neglected! Like the others, Fruits Basket features Tohru, a girl who seems like your typical airhead, but in fact, she may be the key to healing the members of the Souma family who have been wrought with anguish since childhood. Tohru does not have talent in any way, but she has a lot of love, something that she is ready to give to anyone who needs it. Luckily, that is just what the members of the Souma family need.
However, underlying the rather lightheartedness that is Fruits Basket, there is more than meets the eye. Every character seems to have his or her own story and dark past. Whether it's love, loss, or feelings of abandonment, Tohru may be just the person to fix everything.
Fruits Basket Trailer
---
Any Anime Like Magic-Kyun! Renaissance ?
4. Starmyu

Episodes: 12
Aired: October 2015 - December 2015
Five students have been chosen to try out for the Ayanagi Academy musical department. Yuuta, Tooru, Kaito, Kakeru, and Shuu must find a way to work together and be accepted by the Star Frame Class, who will be taught my the most talented members of the musical department, but they'll need to find their balance first.
Starmyu is the only anime on this list of 6 anime like Magic-Kyun! Renaissance that isn't a reverse harem (or reverse harem-like, in Fruits Basket's case). However, do not let that deter you from watching it! Starmyu is a bishounen anime in which the viewer is able to see how the characters are all linked together and build relationships with each other, much like the characters in Magic-Kyun! Renaissance. You can see how their friendships are born and what truly brings them closer, despite all the things that go on in Starmyu. You will just have to tune in and watch Starmyu to experience it all first.
STARMYU - 01 - Act 1 (Anime Sub)
---
5. B-Project: Kodou*Ambitious

Episodes: 12
Aired: July 2016 - September 2016
Tsubasa is new to Gandala Music, but she's been given a very important job. Tsubasa has been tasked with supervising B-Project, a unit consisting of three different idol groups. As Tsubasa learns what it takes to be the manager of such an important group, she'll find out that there is more to each idol than their on-stage persona.
B-Project: Kodou*Ambitious is a reverse harem anime much like Magic-Kyun! Renaissance where the main character, Tsubasa, takes her time to get to know each one of the boys apart of B-Project. While Tsubasa does so due to her responsibilities, each one of the bishounen finds that there is something about Tsubasa that fascinates him, much like the boys in Magic-Kyun! Renaissance who discover that while Kohana does not seem all that extraordinary, there is a special quality about her beyond that of magic. While not much can be said about the rest of Magic-Kyun! Renaissance quite yet, B-Project: Kodou*Ambitious has its fair share of drama, not to mention that there is a good amount of fan service for those who just love the bishounen in bishounen anime. Check it out!
B-Project: Kodou*Ambitious Trailer
---
6. Kamigami no Asobi

Episodes: 12
Aired: April 2014 - June 2014
Kusanagi Yui finds herself whisked away to a world where she must teach a handful of young gods about humanity. They have lost their affection for humankind, but it's up to Yui to bring it back. However, should Yui fail at rehabilitating these gods, they will all be stuck in this world for eternity!
Last but certainly not least, we bring to you Kamigami no Asobi which shares a similar storytelling technique as Magic-Kyun! Renaissance. You get to explore the relationship between the main character and each of the boys as Yui tries to draw them out of their shells to build a relationship with them, much the way Kohana does in Magic-Kyun! Renaissance. They both also possess supernatural aspects which take away from most of the slice of life elements. However, Kamigami no Asobi does feature some rather interesting backstories for many of the characters, including Hades. If you want to get to know any of the characters, well, you'll have to watch and find out yourself.
---
Final Thoughts
And those are our 6 anime like Magic-Kyun! Renaissance! It is a fairly good reverse harem, do you guys not agree? What do you think about it so far? Does our list satisfy your thirst for something similar or are you looking for something else? Well, please share your thoughts on our list or feel free to share other recommendations you might have. We at Honey's Anime are here to listen and bring on the discussion!!
---