Sleepy Princess in the Demon Castle was an unexpected hit of Fall 2020. Perhaps not so unexpected, considering that taking naps has become our favorite pastime during lockdown season! Princess Syalis has become an icon for tired people of all walks of life because she unapologetically goes after what she wants most: a good nap. An anime that turns the damsel in distress trope on its head, Sleepy Princess in the Demon Castle made us love this unconventional princess that does not act according to her position, the secretly soft-hearted demons, and a genki hero with no sense of direction.
With Sleepy Princess's season complete and no news about a second one, we have picked six similar anime for you to enjoy. These are mostly comedies, some in a fantasy setting, with cute leads that just want to do their thing, chill, and enjoy life away from responsibilities, or leads who do the unexpected and don't give a damn about social position. These anime will keep you company while you relax in your comfy PJs with your favorite snack at arm's reach. Let's dig in before we...doze off...zzzzZ!
Similar Anime to Maoujou de Oyasumi / Similar Anime to Sleepy Princess in the Demon Castle
1. Tanaka-kun wa Itsumo Kedaruge (Tanaka-kun is Always Listless)

Episodes: 12
Aired: April 2016 - June 2016
Tanaka-kun had made it his life's purpose to be as listless as possible, so he sleeps peacefully away during class, and he makes minimal effort to complete only just his basic responsibilities. Tanaka's faithful companion is Ohta, a responsible guy and his mirror opposite who makes it his goal to aid Tanaka in his life of laziness. Tanaka's routine is interrupted by Miyano, who wants him to become her mentor to achieve the ultimate listlessness, almost like a Zen master.
The main premise of Tanaka-kun is Always Listless is similar to Princess Syalis' aim in life: to minimize discomfort and spend their days unperturbed. With soft colors and a focus on characters' relationships, this is a show for anime fans that prefer slice-of-life or school-setting anime. The main characters' commitment to comfort is one of the main similarities, even though Tanaka prefers depending on Ohta for most things, while Princess Syalis takes a more active approach, by going after what she needs with disastrous results.
Tanaka-kun wa Itsumo Kedaruge - Trailer
---
2. Himouto! Umaru-chan

Episodes: 12
Aired: July 2015 - September 2015
This is an obvious recommendation: Umaru is cute and princess-like in her daily life, a model student, a perfect younger sister in public, and a stylish young woman. But as soon as she gets home, she turns into a selfish brat who just wants to eat chips, drink cola, and watch her favorite anime, to her older brother's dismay. Sounds familiar? We just want to live Umaru's carefree life!
Although Umaru-chan is not preoccupied with just sleeping, she puts her own needs first, like Princess Syalis. Umaru feels obliged to present a different side of her in public, similar to how the Princess has to abide by the rules dictated by her position. Both, as soon as they get the chance, discard all pretenses and devote themselves completely to their favorite pastimes, with Umaru being an otaku and gamer, and Princess Syalis, well, finding the best spot to sleep peacefully in the dreary Demon realm.
Himouto! Umaru-chan OP
---
3. Beelzebub-jou no Okinimesu mama. (As Miss Beelzebub Likes.)

Episodes: 12
Aired: October 2018 - December 2018
Miss Beelzebub leads Pandemonium aka Hell, the darkest, most evil place imaginable...Is that true though? Hell in As Miss Beelzebub Likes is a serene, beautiful place, and the demons' headquarters are a majestic castle out of a fairytale. The demons' leader herself, Beelzebub is an attractive young woman with long blonde locks and a penchant for all things soft and fluffy. Her new assistant, Myurin, is taken aback by this revelation, but he secretly has a crush on Miss Beelzebub's girly side, so he stays by her side, despite the trouble she's giving him.
As Miss Beelzebub Likes is a more adult and sexy take on Sleepy Princess, with Miss Beelzebub often sleeping naked cuddled up with fluffy creatures, to Miyurin's shock.
She wants to be surrounded by cute, fluffy things, just like Princess Syalis is hanging out with the Demon Teddies. Hell is depicted with dreamy pastel colors, while the Demon King's castle in Sleepy Princess is also not as an unfriendly place as we would expect it to be. Demons are secretly kind and more human-like, while Princess Syalis is more demon-like, running around with giant scissors ready to take down monsters to fulfill her selfish wishes of a perfect bed! There is a narrator with a velvety voice in both anime that frames the storylines with delightful commentary.
As Miss Beelezebub Likes. OP
---
Any Anime Like Sleepy Princess in the Demon Castle / Any Anime Like Maoujou de Oyasumi ?
4. Gabriel DropOut

Episodes: 12
Aired: January 2017 - March 2017
Gabriel was a paragon of virtue in Heaven, a model student, and the most promising young angel to ever tread on Earth. Unfortunately, Gabriel has a soft spot for all things anime and gaming and she finds out that her former perfect self is not who she really is, falling into otakudom, skipping school, and hiding her true apathetic self from her superiors. Her demon classmate Vignette is her polar opposite, taking care of her and having trouble being more evil, as one would expect from a hellish creature.
Demonic and angelic roles are swapped in both anime, with Princess Syalis being more of a demon herself, chasing after her captors to cut up and turn into comfy blankets, and Gabriel being apathetic and selfish, manipulating Vignette to do her bidding. The monsters and demons in the Demon King's castle are genuinely concerned about the captive princess and it is revealed that they did capture her to put pressure on humans to accept them. Similarly, Vignette and the other demons are more timid and responsible than Gabriel and struggle to fulfill their designated roles.
Gabriel DropOut OP
---
5. Mairimashita! Iruma-kun (Welcome to Demon School! Iruma-kun)

Episodes: 23
Aired: October 2019 - March 2020
Iruma is a softie who can't say no, against his better judgment. When his neglecting parents sell him off to the demon king, Iruma decides to fulfill the contract and become his grandson! Little does he know that his new life in hell will be full of danger and challenge, as he has to strive never to be revealed as a human in his new school.
Iruma's new life might seem full of danger but he has a much better standing in hell, being taken care of by his new grandfather, acquiring social status, going to school, and making friends, while as a human he was forced to work and support his abusive parents. Iruma is responsible and fussy, quite the opposite of Princess Syalis, and he passes off as having more power than he does, being just a human boy. This is a fun comedy show set in the demon realm if you want to experience a similar setting with MCs that have swapped characteristics.
Welcome to Demon School! Iruma-kun Trailer
---
6. Yuri Kuma Arashi (Yurikuma Arashi)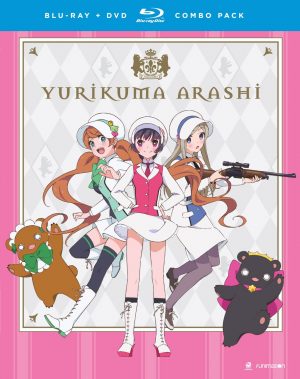 Episodes: 12
Aired: January 2015 - March 2015
An anime loaded with symbolism and yuri crushes, Yuri Kuma Arashi is full to the brim with cute girls, conflict, and...bears. Kureha Tsubaki attends an all-girls high school in the human realm and hates bears because they caused her mother's death. Yurishiro Ginko is a transfer student set on winning Kureha's heart, while her best friend Lulu Yurigashaki is escaping her former life. To top it all off, the school excludes anyone different in a strange weekly ritual. It's difficult to summarize Yuri Kuma Arashi without giving away spoilers, but trust us that this surreal adventure/shojo ai anime is worth a watch!
Lulu's background story is very similar to Princess Syalis' antagonistic relationship with the Hero, her fiance. Princess Syalis is perfectly capable of taking care of herself, but she is forced to interact with the extroverted and polar opposite Hero, who can't get a clue. Lulu used to be the center of attention and heiress to the throne until her baby brother was born. Since then, Lulu has lost her status just because she is a girl, so she decided to set impossible quests for him, hoping that he would just disappear.
The main conflict between bears and humans is similar to how demons are seen as evil in the human realm in Sleepy Princess, while they just have to defend themselves to survive. We recommend Yuri Kuma Arashi if you prefer surreal anime with beautiful animation, with main characters that dare to claim a different reality.
Yuri Kuma Arashi PV
---
Final Thoughts
Sleepy Princess in the Demon Castle kept us company this Fall with her hilarious antics, we even felt sorry for Demon King! So, there you have six anime with protagonists that turn around our preconceptions about princesses, angels, demons, or high school students… In private, we all want to relax and enjoy life! Do you think these anime capture Sleepy Princess's essence?
Once again thank you for reading, and let's take the conversation to the comments below ~
Until next time! <3
---