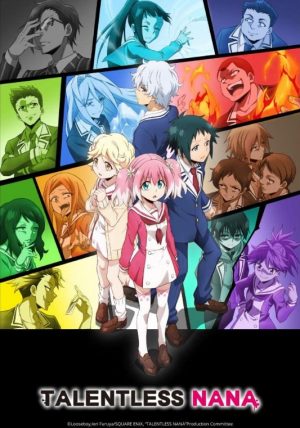 Fall 2020's underdog hit Talentless Nana is a dark deconstruction of the superhero/magical school genre, particularly lasering its sights on My Hero Academia with its art style and worldbuilding. It takes place at a school on a secluded island, where teens with genetic superpowers called Talents are trained to fight against the mysterious "enemies of humanity" – little do they know, though, that they've actually been sent to the island to be covertly killed by an undercover agent named Nana Hiiragi before they can potentially wreak havoc on the Talentless masses. Nana uses her peerless intuition and manipulation skills to take out her targets one by one, while simultaneously dodging the suspicions of the few perceptive students who have caught on to her trickery. If you've been loving Talentless Nana's special brand of high-octane thriller energy this season, then here are six more anime like it that we think you'll also enjoy!
Similar Anime to Munou na Nana / Similar Anime to Talentless Nana
1. Yakusoku no Neverland (The Promised Neverland)

Episodes: 12
Aired: January 2019 – March 2019
The Promised Neverland starts out similarly to Talentless Nana – a somewhat stereotypical set-up about an idyllic place where kids can grow together and go on adventures – complete with pulling the rug out from under you at the end of the first episode. In this case, the sickeningly sweet orphanage where our three protagonists live is actually a plantation to raise human meat for demons.
Emma, Ray, and Norman immediately start planning to escape with all of their siblings, but their highly vigilant and dangerous "Mama" won't make it easy for them. Just like Nana, they must maintain an innocent façade while playing 4-D mind chess behind the scenes to outsmart their opponents and discover more about the messed-up world they live in. It's a rollercoaster ride all the way to the end!
The Promised Neverland Trailer
---
2. Death Note

Episodes: 37
Aired: October 2006 – June 2007
If you're looking for more cat-versus-mouse crime thrillers, then Death Note is sure to be up your alley. It's one of the most iconic anime in the genre for a good reason, even though it dramatically drops off in quality partway through (in our opinion). Light is an exceptionally bright high school student who happens to find a notebook on the ground that can kill any person whose name is written within it. He initially uses it to kill only notorious criminals, but soon develops a god complex and becomes a secret mass murderer who attracts the attention of the world's most brilliant detective, L.
The rivalry between Light and L reflects that of Nana and Kyouya from Talentless Nana, being two equally matched opponents with similar personalities, but polar opposite methods and goals. Of course, Light and L are quite a bit more melodramatic (we haven't seen any potato chips in Talentless Nana... yet), but the overall dynamic is still the same.
Death Note Trailer
---
3. Boku no Hero Academia (My Hero Academia)

Episodes: 13
Aired: April 2016 – June 2016
Talentless Nana is almost explicitly a dark parody of My Hero Academia, right down to the wimpy green-haired (fake) protagonist and the brightly colored art style reminiscent of classic superhero comics. But even though My Hero Academia is primarily upbeat and portrays heroes as good for the world, it does take time to establish that not everyone likes how this society works.
The Vs. Hero Killer Arc from the second season introduces Stain, an ex-vigilante who believes that most Pro Heroes are only in it for the money and fame, so he personally eliminates these "fake heroes" himself. Other arcs explore how people with weaker powers have less agency in the world and how heavily advertising a prestigious hero school makes the students prime targets for villains, so there's really no stone left unturned here. Talentless Nana just takes the premise that one step further into Minority Report territory...
My Hero Academia Trailer
---
Any Anime Like Talentless Nana / Any Anime Like Munou na Nana?
4. Danganronpa: Kibou no Gakuen to Zetsubou no Koukousei The Animation (Danganronpa: The Animation)

Episodes: 13
Aired: July 2013 – September 2013
One student trying to covertly murder the others is exciting, so what if everyone was trying to covertly murder each other? That's the premise of Danganronpa: The Animation, where a gaggle of exceptionally talented high school students are trapped by a sadistic teddy bear and can only escape/graduate on one condition: they must each kill another student without being caught. Those who do get caught are executed in increasingly creative and disturbing ways (accentuated by bizarre paper doll style animation) until one triumphant winner remains. We wonder how long Nana could've lasted at Hope's Peak Academy...?
Danganronpa: The Animation Trailer
---
5. Yuukoku no Moriarty (Moriarty the Patriot)

Episodes: 11
Aired: October 2020 – December 2020
Ah yes, one of the most celebrated rivalries of all time – Sherlock Holmes versus William James Moriarty! This anime, which is airing in Fall 2020 alongside Talentless Nana, explores the origin story of our favorite "criminal consultant" as he tries to rid Victorian England of the corrupt class system that punishes the poor.
Holmes and Moriarty are both complex characters with their own strongly held convictions and ideologies, so it's hard to know whose side to be on during their many clashes. If you love the dynamic between Nana and Kyouya, but wish they were gorgeous anime boys instead, this is the anime for you. And don't forget to put the OP on your "anime bops" playlist!
Moriarty the Patriot Trailer
---
6. Mahou Shoujo Madoka★Magica (Puella Magi Madoka Magica)

Episodes: 12
Aired: January 2011 – April 2011
Puella Magi Madoka Magica isn't the first dark deconstruction anime by a long shot, but its creative approach to the magical girl genre certainly popularized the trend in recent years. It shows what would honestly happen if young teenage girls were gifted with magical powers and forced to slay monsters every week – they wouldn't understand the reality of their situation, would fight each other for power and resources, and would easily succumb to death or despair. Plus, whoever gave them these powers has just got to be taking advantage of their naivete to put them in such dangerous battles in the first place. It lacks the detective/criminal dynamic of Talentless Nana, but its similarly mysterious world and powerful plot twists will keep you guessing the whole way through.
Puella Magi Madoka Magica Trailer
---
Final Thoughts
Also check out Higurashi: When They Cry, Future Diary, and Kakegurui: Compulsive Gambler for even more intense tales of intrigue and deception. But are there any other anime that we've left out? What have you liked about Talentless Nana so far? Let us know in the comments, and thanks so much for reading!
---