Supernatural anime may not be the most popular genre of anime out there, but that doesn't mean that there aren't great supernatural stories coming out every year. But trust us when we say there are some incredible supernatural anime out there, and 2020 brought us even more!
Whether you're here to see if you missed any great supernatural anime in 2020; or to find where you should begin your quest to find great supernatural anime, you're in exactly the right place. So sit back and get ready to read about our choices for the Top 10 Supernatural Anime of 2020. Most supernatural anime are dark and serious, but there are a few lighter, more comedic ones too. We have both on our list, ranked based on the anime's popularity, quality, and trueness to the supernatural genre.
10. Kyokou Suiri (In/Spectre)

Episodes: 12
Aired: January 2020 - March 2020
In/Spectre takes place in a world where yokai, Japanese spirits, live alongside humans. Most yokai are benign, and their presence goes unknown to everyone. But some yokai are threatening the peace between their world and the human world, and now it's up to the "God of Wisdom" Kotoko Iwanaga to serve as the mediator between the realms. Kyokou Suiri tells the story of how Kotoko does just that, helping yokai and humans alike to solve their problems. But there is one spirit that has a plot more sinister than all the others, and it will test everything Kotoko has to keep the peace.
In/Spectre is a supernatural anime based on Japanese folklore, with yokai at the forefront of the narrative. Using Japanese supernatural lore adds authenticity to the anime, and it's fun to learn more about the supernatural side of Japanese stories. In/Spectre has a bit of romance, a bit of mystery, and a bit of action all rolled into one fun, supernatural anime.
---
9. Gleipnir

Episodes: 13
Aired: April 2020 - June 2020
Shuuichi Kagaya wants everyone to believe he is a perfectly normal high school student in Gleipnir, but he's actually hiding a big secret - he can turn into a monster. He doesn't know why, and knows very little about the world of monsters, so he would rather no one else know about his ability. He is able to keep the secret until he rescues a girl named Claire Aoki from a burning house in his monster form. Claire is able to snap a picture of Shuuichi in his monster form, using it to blackmail him into telling her more about the world of monsters. It turns out Claire is looking for her sister, who has also turned into a monster, but will Shuuichi be able to help?
Gleipnir is a monster anime, which is how it has made our supernatural list. It's not as dark as some of the others, making it a great watch if you are interested in the supernatural but don't want anything too scary or violent. In fact, Gleipnir is also an ecchi! It combines supernatural elements with a mystery plot, keeping you hungry for the next episode- and has some good character development too. If you like ecchi anime, this is the supernatural one for you.
---
8. Hanyou no Yashahime: Sengoku Otogizoushi (Yashahime: Princess Half-Demon)

Episodes: 13+
Aired: October 2020 - Ongoing
Yashahime: Princess Half-Demon begins in feudal Japan with two half-demon sisters, Towa and Setsuna. But their happiness together is short-lived with Towa falls through a magical portal at only four years old and is transported to modern Japan. Fast forward ten years into the future, and Towa is doing her best to live a normal life. That is, until she suddenly has three unexpected visitors from feudal Japan: a bounty hunter named Moroha, a demon, and her sister Setsuna who has become a demon slayer. The issue is, Setsuna has no memory of Towa at all! Towa, Setsuna, and Moroha are able to defeat the demon at hand, and then begin a journey to try to restore Setsuna's memories.
Yashahime: Princess Half-Demon has a few different supernatural elements. First and foremost, it's a demon anime - the main characters are half-demons, and there are other demons in the story as well. It also has time travel, and it's cool to see both feudal and modern Japan and how they are linked. And it has some great fight scenes with supernatural elements, too! Yashahime: Princess Half-Demon is another more light-hearted supernatural anime, with plenty of laughs along the way, and more on the fantasy side of the supernatural genre than the horror side. Oh, and did we mention it's a spin-off from Inuyasha?
---
7. The God of High School

Episodes: 13
Aired: July 2020 - September 2020
The God of High School is about a contest to find the greatest fighter amongst all high school students in Korea. There are no rules for how competitors want to fight, and the grand prize is one wish for whatever that person desires. Enter Mo-Ri Jin, a taekwondo expert who is excited by the prospect of the difficult fights ahead of him. But there is more to the contest than meets the eye. Mo-Ri and his friends are about to find out exactly what being the champion in the tournament really means, because it's more than just another show of strength.
The God of High School is not your typical supernatural anime; it doesn't have demons, ghosts, and monsters. But it does have some great superpowers and fight scenes. The characters are powerful, the animation and music are fantastic, and the story is one that will keep you hooked wanting to find out more. One part supernatural, one part sci-fi, and one part comedy, The God of High School is a martial arts anime unlike anything else you have ever watched. Mixing together supernatural powers with martial arts prowess has never looked this cool.
---
6. Tsugu Tsugumomo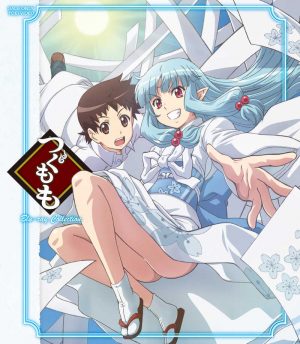 Episodes: 12
Aired: April 2020 - June 2020
Tsugu Tsugumomo centres on Kazuya Kagami, a seemingly ordinary boy who is actually a "taboo child," meaning that supernatural entities are drawn to him. Because of this power, the God of the Land, Kukuri, has bid Kazuya become an exorcist to try to defeat the evil forces threatening the world. Along his journey, Kazuya discovers a plot to destroy Kukuri himself! As he tries to stop this tragedy from taking place, more and more beautiful but dangerous supernatural girls are drawn to Kazuya's side - some as allies, and others as enemies. Can he survive long enough to save the God of the Land?
Tsugu Tsugumomo has "supernatural" written all over it. The core of the plot is that Kazuya attracts supernatural entities. Once he becomes an exorcist, he gains supernatural powers of his own to fight them. There are plenty of supernatural girls thrown in for good measure, too - if you hadn't already guessed from the summary, Tsugu Tsugumomo is also an ecchi. And it's quite funny! Well, in a dark, sadistic kind of way. If you're intrigued by how these supernatural, ecchi girls fit into the mix and create an anime that is dark on one hand and hilarious on the other, you have to check out Tsugu Tsugumomo.
---
5. Munou na Nana (Talentless Nana)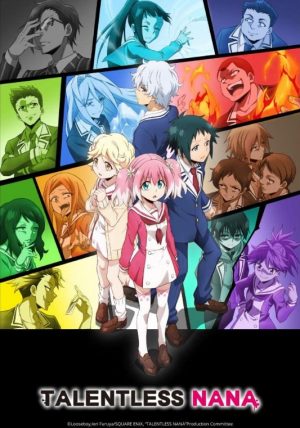 Episodes: 13
Aired: October 2020 - December 2020
Talentless Nana is set in a world where terrible creatures suddenly appeared, dubbed the "enemies of humanity." That was fifty years ago, and ever since, teenagers with supernatural powers called "Talents" have been studying at a secluded school to sharpen their powers in hopes that they can rid the world of these monsters. Somehow, Nanao Nakajima has also arrived at this school, but there's a big difference between him and the other students - he has no Talent. That definitely makes his life difficult, but doesn't stop him from trying his best to still complete his training. Things seem to be getting better, but then mysterious disappearances begin to take place in the school… Can the Talentless Nanao do something?
Talentless Nana is an exciting anime with a lot of superpowers and supernatural fights. The enemies are both monsters and humans with supernatural powers. The plot of talentless Nana is intriguing and mysterious, taking viewers on a psychological thrill ride as the reality behind the disappearances slowly reveals itself. And you had better believe that it won't be an answer grounded in reality. It'll keep you guessing until the very end, and enjoying some cool fight scenes along the way.
---
4. Mahouka Koukou no Rettousei: Raihousha-hen (The Irregular at Magic High School: Visitor Arc)

Episodes: 13
Aired: October 2020 - December 2020
The Irregular at Magic High School: Visitor Arc is the sequel to The Irregular at Magic High School. This time, the story focuses on an exchange student named Angelina Kudou Shields, who arrives in Japan from the USNA. But around the same time that Angelina arrives, many magicians in Japan begin to turn up dead, their bodies drained of blood. It's up to Tatsuya Shiba and his sister Miyuki to discover the identity of this "vampire" if they want to save the magicians in Japan!
The Irregular at Magic High School is a story about dark magic, and the mystery behind a vampire lands it squarely in the supernatural genre. It's a good mystery story with a bit of romance and a lot of action, so if you're looking for a supernatural anime with a school setting and a dark secret, The Irregular at Magic High School is the one for you. If you're really intrigued, be sure to watch the first season first so you understand the world well!
---
3. Jibaku Shounen Hanako-kun (Toilet-Bound Hanako-kun)

Episodes: 12
Aired: January 2020 - March 2020
One of the most famous urban legends in Japanese schools is about Hanako-san, a spirit that haunts the bathrooms of the school. Toilet-Bound Hanako-kun takes that urban legend and runs with it. The rumour says that anyone who can summon Hanako-san will be granted one wish. Nene Yashiro wants to find love and tries her luck at summoning the spirit - only to discover that Hanako-san is actually a boy! Now Nene has become Hanako's assistant, and has to help him maintain the balance between the supernatural world and the mortal one.
One of the best things about Toilet-Bound Hanako-kun is that it's based on a real and well-known urban legend in Japan. If you already know the legend, it's fun to see how this anime turns it on its head with its own twist. And even if you don't know the original Hanako-san story, Toilet-Bound Hanako-kun can introduce you - though understand that it has taken many creative liberties in this retelling. It's a story about the fine line between humans and the supernatural, and keeps things light-hearted and fun rather than dark and scary. Get ready for a crazy plunge into the supernatural that will definitely have you laughing and enjoying the antics of Nene and Hanako.
---
2. Enen no Shouboutai: Ni no Shou (Fire Force Season 2)

Episodes: 24
Aired: July 2020 - December 2020
Fire Force Season 2 takes a mystifying real concept - spontaneous human combustion - and gives it a supernatural twist. In Fire Force, people who experience spontaneous human combustion become fiery creatures known as Infernals. These Infernals are such a threat that a special task force has been created to fight them and discover the cause, the Special Fire Force. The Special Fire Force is made up of people known as pyrokinetics, who can control their flames while retaining their humanity, unlike the Infernals. One such pyrokinetic, Shinra Kusakabe, wants to become a great hero in the Special Fire Force. Too bad he has to not only conquer the Infernal threat, but also deal with the issues and divisions within the Force itself.
Fire Force Season 2 is a great supernatural anime because it takes a concept that is already considered by many to be a supernatural occurrence and gives it a story. Spontaneous human combustion is by no means a popular topic, so Fire Force Season 2 is bringing something new to the genre with its story. There are a lot of mysteries going on within Fire Force as well, from shadowy groups to abnormal Infernals and more, which keep the viewer hooked and wanting to watch the next episode. Plus, being a pyrokinetic is a pretty cool supernatural ability!
---
1. Jujutsu Kaisen

Episodes: 24
Aired: October 2020 - Ongoing
Yuuji Itadori is a high schooler with a unique interest in the occult in Jujutsu Kaisen. He spends most of his time in the Occult Club's classroom at school, or with his bedridden grandfather in the hospital. That is, until he encounters a cursed item, the finger of a demon called Sukuna Ryoumen. Unfortunately, that demon is better known as the King of Curses, and now Yuuji has been thrust headfirst into the world of curses whether he likes it or not. Because he can see these curses, which are manifestations of human negativity, along with the threat they pose he has to begin a path to become a Jujutsu Sorcerer. Bye bye normal high school and normal life - hello Tokyo Metropolitan Jujutsu Technical High School!
Jujutsu Kaisen holds the top spot on our list of the Top 10 Supernatural Anime of 2020 for a reason. It's full of the occult, and the story of the manifestations of these curses is a unique one. Yuuji, the main character, also develops supernatural powers to fight these curses - and spends much of his time at a school dedicated to fighting the occult and developing these supernatural powers! Jujutsu Kaisen is dark - it blends the supernatural genre with two of its best complimentary genres, demons and horror, beautifully. If you're looking for an exciting, dark supernatural anime with good character designs and an intriguing story, look no further than Jujutsu Kaisen.
---
Final Thoughts
Monsters, demons, superpowers, magic, yokai and more! Supernatural anime dives until the unexplained, unexpected, and mysterious to bring us really great stories. Some of them are spooky and leave you thinking, others are funny to bring light to otherwise dark subject material, and some are just plain cool. If you like mysteries and adventure, supernatural anime is for you. We hope our list of the Top 10 Supernatural Anime in 2020 has helped you find at least one new anime to enjoy!
Did you watch any of these supernatural anime yourself? Are there any you missed that you're going to watch now? Did we miss one that you think should have been on our list? Would you have ranked these anime in a different order? Let us hear all your thoughts in the comments below!
---