También puedes leer este artículo en:Español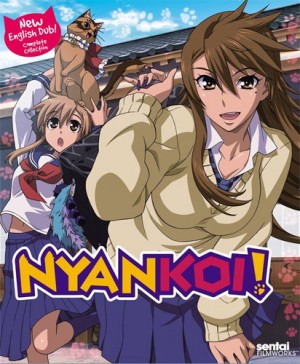 In the eyes of every crazed cat lady (or guy), we find it a 'purr-fect' dream come true to be able to understand the complex mind and mannerisms of our feline companions. We can finally grasp the answers to such questions as: "why and how is it necessary to sleep 16-20 hours a day?" or "why do cats purr?" and most importantly, "why do cats react so strangely to catnip?"
Partly to discover these 'paw-some' truths, we watch the irony of this fantasy in Nyan Koi!, where Junpei Kousaka becomes afflicted with this 'claw-ful' "curse" and must now deal with this condition, all the while being allergic to cats! MEE-YOWZERS! Having to face the unusual consequences to his actions, we at Honey's would like to share with you 6 anime like Nyan Koi! We will observe many peculiar challenges from each selected anime, leaving viewers litter-ally wondering "are you 'kitten me'?!"
Similar Anime to Nyan Koi!
1. Haiyore! Nyaruko-san (Nyaruko: Crawling With Love!)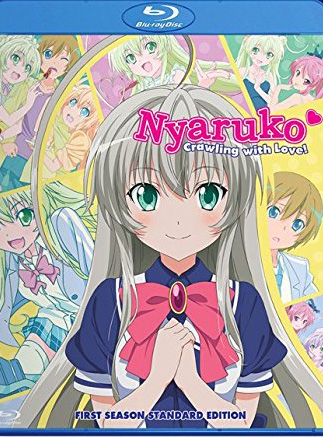 Episodes: 12
Aired: April 2012 – June 2012
Haiyore! Nyaruko-san contains elements of sci-fi, romance, action, and some mature content. The story highlights the life of Mahiro Yasaka, an average high school aged guy whose life goes topsy-turvy when he gets close to being abducted by a creature, Nightgaunt. In this time, the value of humanity is high and Nightgaunt is intent on selling Mahiro as a slave. In the midst of this incident, another alien creature named Nyaruko saves Mahiro. As a member of a Space Defense agency, in addition to being a deity, Nyarlathotep, Nyaruko couldn't have been more suited to protect Earth from various outer space dangers and threats, as well as demonstrating her extreme fascination with all things human. From that event, Nyaruko falls head over heels for Mahiro. Although very cute, Mahiro does not feel the same way about her. Later on, two other deities, Cthuko and Hasuta, are sent to Earth as well to protect Mahiro and others from being sold in the interstellar slave trade.
We find a similarity between Haiyore! Nyaruko-san and Nyan Koi!, in that the main male lead is being chased by a flock of cute cats and cat-like humans. There is also some reluctance from the guys being overwhelmed by a group of girls that is well demonstrated with bouts of comedic relief. Additionally, both anime feature characters whose genders can be mistaken, but nonetheless possess feminine qualities that are distinguishable to our main leads and the audience.
Nyaruko: Crawling with Love! First Season - Official
---
2. Mayoi Neko Overrun! 

Episodes: 13
Aired: April 2010 – June 2010
Mayoi Neko Overrun!, a slice of life comedy, tells the story of Takumi Tsuzuki, a boy who lives with his older "sister", Otome, (no relation). Takumi's daily agenda includes attending the Umenomori Private Academy with his childhood friend, Fumino Serizawa and fending off his fanatic, Chise Umenomori. After school, Takumi works at Otome's confectionery shop, "Stray Cats", until closing in the evening. From the look of things, Takumi's life seems average, nothing too exciting. Later on, things change; can we ask for better or worse? After being away for a while, Otome returns home with a runaway, Kiriya Nozomi, whose physical appearance and mannerisms remind him of a cat. As such, trying to figure out Kiriya's reasons for running away, Takumi's former normalcy is transformed into complete and sheer mayhem.
Mayoi Neko Overrun!, and Nyan Koi! both are harem-centered with the major theme focused on cats. Although we openly observe that cats are the nucleus for these anime, they both generate a more significant meaning. Mayoi Neko Overrun presents to us that regardless of where our characters come from, whether it's an orphanage or off the street, a home and friendships can be established wherever care and comfort exist, and therefore, can be built upon. Further in Nyan Koi!, it shows that cats and essentially any animal can find profound relationships in the lives of whomever they encounter.
---
3. Omamori Himari

Episodes: 12
Aired: January 2010 – March 2010
Yuuto Amakawa is your average teen, living day-to-day dealing with normal teenage problems, despite being orphaned. Aside from the matters that all young adults are dealt with, Yuuto is inflicted with a severe allergy to cats. Days go by and Yuuto learns to live life on his own. At the start of his 16th birthday, due to the sins of his ancestors, a supernatural creature attacks Yuuto. Unaware and confused, Yuuto is then saved by a mysterious cat-lady, Himari, who tells him that he descends from a line of demon-slayers. A charm that previously shielded Yuuto from supernatural threats has recently lost its power. Thus, Himari makes it known that she is there to be Yuuto's guardian, protecting him from various gorgeous foes that intend to harm him.
Yuuto from Omamori Himari and Junpei from Nyan Koi are deathly allergic to cats, but unfortunately have to interact with them in order for their lives to be saved. Both anime deal with elements of the supernatural, e.g., being turned into a cat and a cat-lady protector who save lives. Both anime are also harem-based comedies, surrounded by lots of girls and cats.
Omamori Himari – Trailer
---
Any Anime Like Nyan Koi! ?
4. Hentai Ouji to Warawanai Neko. (The "Hentai" Prince and the Stony Cat)

Episodes: 12
Aired: April 2013 – June 2013
Hentai Ouji to Warawanai Neko follows Youto Yokodera, who is known for being a perverted guy, spending a majority of his time staring at girls in bikinis. As he hopes to be known for something more than this, he climbs to the top of a hill to pray to a stone cat statue that is known for granting wishes. Youto makes his way to pray and bumps into a girl named Tsukiko, who is also there for her wish to be granted. Youto and Tsukiko, to their surprise, have their wishes granted, although in the end, they are unpleased with what they initially wished for and seek to have things changed. In various twists and turns, we watch these two characters journey, along with the help of others, tackling their wishes and the outcomes of their by-products.
Hentai Ouji to Warawanai Neko and Nyan Koi have a male lead overwhelmed by a mass of girls. Statues of cats and the presence of cats exist in both anime. The young men must both find a way to lift their respective curses in order to resume their normal lifestyle. Additionally, the act of wish-granting is present, however, Junpei must grant the wishes of 100 cats versus the cat statue in Hentai Ouji, which grants Youto's wishes.
Hentai Ouji To Warawanai Neko PV
---
5. Asobi ni Iku yo! (Cat Planet Cuties)

Episodes: 12
Aired: July 2010 – September 2010
Asobi ni Iku yo! emphasizes on beautiful, feminine and voluptuous alien-cat beings. Kio Kakazu is our main character, who is a guy that doesn't really stick out of the bunch. While attending a memorial service for a distant relative, he notices Eris, a gorgeous alien-cat girl. Eris is from a race of intelligent and advanced creatures from the planet Catian, from which she has been sent to Earth in order to learn more about humans. After drinking at this memorial service, Kio finds himself in bed next to a half naked alien-cat girl and in turn, this is where the excitement begins. Additionally, there are various organizations that are extremely interested in the capture of Catian inhabitants. Kio's friends, Aoi and Manami, appear as average teenage peers, but are a few of many who hide their true intent. In a mission of peace, Eris comes to find that herself and many other Catians have become targets of government agencies and secret organizations. As such, Asobi ni Iku yo is filled with a bunch of action, romance, comedy, cute cat girls, and adult themes.
Asobi ni Iku yo! and Nyan Koi are both romantic comedies, harem, and contain mature content. These anime are good picks for viewers who enjoy cats, love stories, and constant plot twists. Although both possess cats, the style of cats portrayed differs where one strictly involves cats, and the other humanoid cat-like beings. As these average guys get sucked into the world of cats, they both demonstrate funny and interesting ways to handle their situation.
Cat Planet Cuties Trailer
---
6. Neko no Ongaeshi (The Cat Returns)

Episodes: 1
Aired: July 2002
This Studio Ghibli film follows Haru Yoshioka, who instinctively saves a cat from getting hit by a car. Unbeknownst to her, Haru happened to save not just any cat, but the prince of cats from the mystical kingdom of cats. Extending their gratitude, the cats of the kingdom give Haru many wonderful cat gifts, going as far as to extend the prince's hand in marriage. In this unlikely union, Haru seeks the help of the cat's version of the BBB to get her out of this situation, meeting the very dapper, Baron. Suddenly, the citizens of the cat kingdom kidnap Haru, all the while, the clock ticks as she herself is turning into a cat. Consequently, it is up to the Baron to save Haru and restore balance in the cat kingdom.
Neko no Ongaeshi and Nyan Koi's main characters are threatened by a community of cats which puts them in perilous danger of becoming cats themselves. Haru from Neko no Ongaeshi and Junpei from Nyan Koi both have the ability to communicate and understand cats. In contrast, their reasons for involvement differ as Junpei is placed into his situation from doing harm to a cat statue, while Haru is praised and thanked for saving the cat prince's life.
The Cat Returns Trailer
---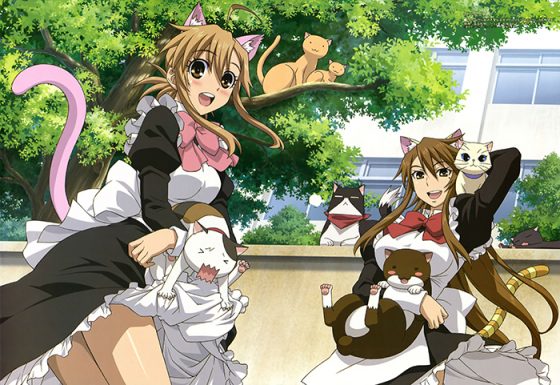 Final Thoughts
That concludes Honey's Recommendations for 6 Anime Like Nyan Koi!. We're absolutely paw-sitive that you will enjoy these anime (if you have not already!) Whether you are a cat fan or not, these choices are definitely some to check off of your "to watch" list.
In comparing these suggestions, we know there are other anime similar to Nyan Koi!. Let us know what we've missed and what you would suggest to us and other readers! Leave your comments below, right meow!