También puedes leer este artículo en:Español
Nothing feels more gratifying than to spend your time with people who bring out the best in you. Every morning feels like heaven, while the late nights are just another adventure waiting to happen. Every friend is like a piece to your puzzle, and we all need to make sure to find the ones that fit. Luffy finds supreme happiness in the company of other like minded people, who just share a love for adventure. We thought it would be great to share with you, six anime like One Piece that we thought would really take you on a wild ride once you tuned in. Every encounter could turn out to be a new friend or a villain, every battle will strengthen you to push forward for more. It's these types of journeys that bring us a sense of joy. If you'd like to check out the previous article on six anime like One Piece, be sure to scroll down below to see in all its glory.
Similar Anime to One Piece
1. Seven Deadly Sins

Episodes: 24
Aired: October 5, 2014 - March 29, 2015
Meliodas and his team of knights were framed for destroying the empire, while the true identity of the suspect remains unknown. To earn the trust and love of their beloved kingdom, Meliodas must reunite with his squad in order to reveal who the true enemy is, and to put an end to the evil trickery this unknown character is about to unleash to the world. Many of the seven knights have either been exiled or sealed away, so with the help of Elizabeth along with the hilarious Hawk to lead the way, the journey to put an end to this terror begins.
Luffy and Meliodas have such a happy-go-lucky attitude that it's hard to dislike them. We all dream of one day having the opportunity to live a life that is free of turmoil, and just be surrounded by the warm hearts of our friends and loved ones. Nothing speaks freedom more than following your heart and caring less for what the mediocre think, and just pursuing what you feel is best in your soul. A lot of people will call you names, and try to pull you away from your vision, but it's those that continue to hold onto their passion that truly soar to greater heights. Luffy and Meliodas are definitely very stubborn and somewhat narrow minded, but because of their ability to focus on the one thing that brings them joy, those words are only just a compliment to their overall future of success. Throughout their wonderful adventures they come to learn more about themselves, but also establish a greater connection with the ones they admire most.
Seven Deadly Sins Trailer
---
2. Fairy Tail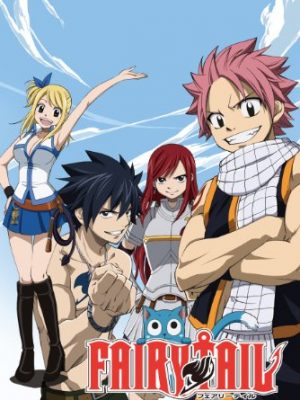 Episodes: 172
Aired: October 12, 2009 - March 30, 2013
Fairy Tail is a spectacular tale of adventure that follows Lucy and Natsu as they encounter numerous battles, while encountering new allies along the way. The two work for the legendary Fairy Tail Guild, which bring together all of the best wizards under one roof. All of their great new encounters become overshadowed however, when evil powers of malicious guilds seek out to bring down the weaker guilds that stand in their way, and the evil Wizard Zeref commanding an army out for destruction. Their lives now take a surprising turn as they must face off against uncertain events, while putting together the clues of their past and understand why the Earth has transformed into the state that it's in.
One Piece and Fairy Tail are all searching for that inner clue to help reel success closer to them. Both anime remind us of the importance of forming strong relationships, and why having them in our lives can help to create a much healthier lifestyle. These shows are so fantastic that they just grab your attention so quickly, and their high energy resonates with you long after watching. These two anime don't just provide us with action and excitement, but also a personal journey to help us understand how important it is to stay focused on what you believe in, no matter what obstacles the enemy places in front of you.
Fairy Tail Trailer
---
3. Dragonball Z

Episodes: 291
Aired: April 26, 1989 - January 31, 1996
You can never leave Dragonball out of any article, since it just reaches a wide audience, and takes you on such a wild adventure. This series has spanned over three decades, and thanks to Toriyama , it has seen countless series upgrades over its time with the now recent Dragonball Super taking over. We choose anime that not only represents the genre it belongs to, but how it resonates within the hearts and souls of everyone. We watch as Goku and his group of friends race across the galaxy to fight off sinister enemies, with a plot to destroy the universe. Every character represented in Dragonball Z has their own list of characteristics , ranging from the fierce and determined Vegeta, to the more light hearted and jubilant Goku. We all can relate to these characters in one way or another, which is what captures the purity of what this anime defines: sheer drive and passion. So let us hop right into why we feel Dragonball Z deserves to be on our six anime list.
One Piece and Dragonball Z share so much in common its as if they were soul mates. Both anime have never ending stories that just keep going on and on for ages. Every saga that we're introduced to brings us on a new everlasting journey with our favorite characters, as they travel through vast lands and encounter stronger enemies, that only motivate them more to keep going. The two anime have a goal that the protagonist must obtain, Luffy with the One Piece, and Goku with the seven dragonballs. To do so, they have to team up with old friends, while meeting ones along the way to build a unit strong enough to battle evil. You never get bored of watching because there's never an episode that you don't learn something from, and due to the overwhelming cast of characters to choose from, there's always something to learn and admire.
---
Any Anime Like One Piece?
4. Soul Eater

Episodes: 51
Aired: April 7, 2008 - March 30, 2009
The story captures the lives of chosen students, Maka, Black Star, and Death the Kid along with their demon weapons as they take on various missions to collect souls, and protect the city from the threats of the world. Each character brings a new energy to the team, with Maka only seeming to care about what's cool, the short tempered and assertive Black Star, and the inflated behaviors of Death the Kid. Their personalities paired with the demon weapons make for a fantastic experience that we recommend you check out.
Soul Eater is all about team work, and finding the right companion to seek adventures with. Their mission is to collect souls, while Luffy has a passion to obtain the revered One Piece. There's never a shortage of excitement as each member of the team has a beloved story of their own, and you're left captivated by it all. Boredom doesn't seem to exist in either story because you're so drawn in by everything that's happening, that you can't veer your eyes away for even a second. The attention to detail is remarkable despite the array of characters that are in each show. You have such a large list of characters who all have great development pertaining to how they obtained their powers, and how they contribute to the entire team. Adventure, teamwork, and a love for exploration are what make these anime so fantastic, so we hope you check them out too!
Soul Eater Trailer
---
5. Naruto

Episodes: 220
Aired: October 3, 2002 - February 8, 2007
Naruto never fails to impress the millions of anime fans out there with its action packed scenes, epic tales of hardships and triumphs, but most importantly a sense of reward. A huge demon known as the NineTails spoils the party and destroys the local village that Naruto resides in, leaving nothing but fear and emptiness within the townspeople. To put a stop to the onslaught and save what was left of the village, the fourth hokage sacrificed his own life and sealed the furious beast inside the newborn Naruto. The story continues as we follow Naruto Uzumaki, a young ninja that is constantly searching for recognition, and has dreams to become the top hokage in order to put a stop to all evil and become a strong leader for everyone.
One of the more frantic franchises out there is none other than Naruto. If there's any anime that takes you from one place to the next, and then back to where it all began, this is surely the one. Naruto takes you on countless journeys that leave you hanging on so many different occasions, that your emotions can never really find harmony. Each saga that you encounter on the show always has a different mission, which leads you down unknown territory, only to realize that you're back to where you started. It's because of this emotional roller coaster that One Piece and Naruto end up being so similar in what they try to accomplish. Of course, the two are extremely popular worldwide with manga volumes still continuing even after decades of their initial release.
---
6. Toriko

Episodes: 147
Aired: April 3, 2011 - March 30, 2014
The story begins as the International Gourmet Organization carries the most weight in the world, and is responsible for maintaining the balance of the distribution of various ingredients worldwide. One day, the young chef Komatsu is sent on a mission to locate one of the most revered gourmet huntsman in existence, Toriko, and to befriend him for a very special job. However, impressed by Toriko's skill and fiery passion, what started out as a simple mission gradually grows into a deep friendship. Combine the talents of Gourmet Hunter Toriko, who aspires to come up with the ultimate Full Course meal, and Chef Komatsu, who aspires to become a Master Chef, and the recipe for success may just be in arms reach.
Who doesn't love eating food while having the great pleasure of traveling in search for more of it? That is probably one of the best things we could ever dream of doing, since it wouldn't even feel like a job anymore. Toriko takes us on an incredible journey through the deep and dark caves, to the bright and blue skies that leave you hungry for more. Both Toriko and Luffy have such a powerful passion that is so infectious that, after you watch one episode you are full of energy to seek out your own dreams and fulfill them. The two almost always find themselves in a rut, but then manage to come out of it with an abundance of treasure and most importantly, long lasting friendships. Funny enough, the two characters made cameos on each of their shows, and it makes sense since they're under the same Jump! comics roof. This is a must watch series for those who enjoy a taste of adventure, but also a little spice of action.
---
Closing Statement
Our lives should always be showered with the company of great friends who share the same vision as you do. Only then will life serve you up a nice glass of freedom, and everyone can sit back and relax with a bowl of happiness. Teamwork and companionship play such a major part in the success of our existence, so making sure to build rapport with the right individuals is always important. We would love to leave a longer list of brilliant anime that take you on an adventure, but if you have any other anime that you feel should make the list, be sure to let us know in the comments section down below! And also follow us on twitter for the latest article updates and tweets!
As always for all of your sweet anime needs, keep it locked here on Honey's Anime.
---
---
Yo-ho, yo-ho, it's the pirates life for me!
If you've ever seen One Piece then you understand that there are very few other shows that have so much of an adventure fit for both adults and children alike.
That's one of the best things about shows like this, especially for those of us that have kids and want to introduce them to anime in a way that'll keep them captivated.
What I want to look at today are shows that we can watch with our kids that will not only entertain us both, but help them see and appreciate what stories an anime can tell that they won't find anywhere else while teaching those valuable lessons kids need to see more of in television.
Similar Anime to One Piece
1. Phi Brain: Kami no Puzzle

Episodes: 25
Aired: Oct 2, 2011 – Apr 1, 2012
Kaito Daimon is an ordinary student; except that he's so good at solving puzzles he's earned the reputation of a demon.
He soon finds himself trapped in a deadly maze called the "Philosophers Puzzle" wherein he must solve it or die (which he does, obviously). Having solved the maze he finds he's been labeled a Solver and must travel the world solving deadly puzzles left by the notorious POG group.
The wonderful world of puzzles and using your mind to solve an issue rather than the general brute force we have seen to be so prominent in today's culture is a fantastic one.
Phi Brain is one of the best shows to introduce your children to while having a blast watching it yourself, as the show goes on the puzzles get more difficult and it's always fun to try and figure them out before the end of the episode as well!
2. Captain Harlock (2013)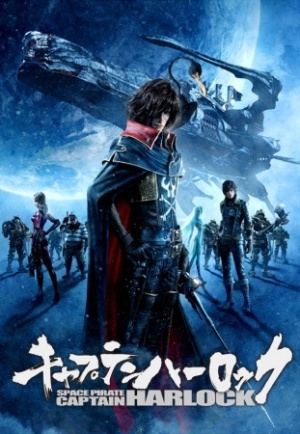 Episodes: 1
Aired: Sep 7, 2013
Who doesn't like the idea of being a pirate?
Luckily this latest CGI adaptation of the classic show Space Pirate Captain Harlock is both "shiny and exciting" enough for our children as well as loads of fun for us as well.
While it does have some very intense scenes to it there are also many lessons to be learned that we can take away from this exciting adventure of pirates in space. One of the biggest ones is environmental impact, something not only our kids need to understand but we ourselves need to fully grasp the situation at hand so we're not leaving our children a broken world to fix.
Harlock was a part of the allied forces before taking his own route one hundred years ago, claiming a special ship for his own and roaming the vastness of space as a pirate.
After a very long hundred years of pillaging and plundering the allied forces have issued a decree to assassinate the legendary pirate before whatever real goal he has can come to fruition.
I can't tell you any more about the film without ruining key plot points for you, so I won't. What I can say is that I thoroughly enjoyed this film and so did a few kids I introduced it to!
If you're looking for something flashy to keep the kids entertained while still trying to spark up the imagination, this is a perfect choice.
---
3. The Law of Ueki

Episodes: 51
Aired: Apr 4, 2005 – Mar 27, 2006
What if you were in a competition to see who could become the next God?
Well that's exactly what Kousuke Ueki has found himself in; a giant competition filled with many people with many different powers all vying to become God themselves, just like with "One Piece" where Luffy is trying to become the Pirate King.
What makes this show great for kids is the premise that Kousuke has the power to turn garbage into trees; you could say his green thumb surpasses that of anyone else!
The Law of Ueki is a very exciting and hilarious show to get into and if you like and enjoy One Piece this is on most fans suggestion list (mine is no different). The hilarity and the fighting alone make this show something special and with 51 episodes there's plenty to see for both kids and adults!
---
Any Animes Like One Piece ?
4. SKET Dance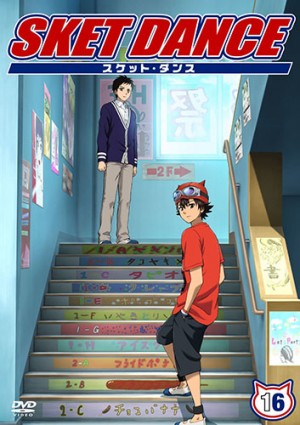 Episodes: 77
Aired: Apr 7, 2011 – Sep 27, 2012
This is one show you do not want to deprive yourself or your children from! The comedy in SKET Dance alone is worth the watch, let alone the stories and character progression and the lessons – there's just so much to it. The convenient thing about the SKET crew is that their back stories are all presented in ways that show you the importance of being a good and decent person to gain those friends that will stand by you no matter what.
Yusuke, Hime and Kazuyoshi are a group of students who made a club called the Living Assistance Club (SKET Brigade) to help other students in any way they can. From normal and obvious "help me study" tasks to some weird "find my monkey" tasks, it's a blast to sit through and every episode has a valuable take home material for any growing kid. What really sets this show apart from the rest is that it's all presented in a highly comedic way just the same way One Piece fans adore.
5. Gintama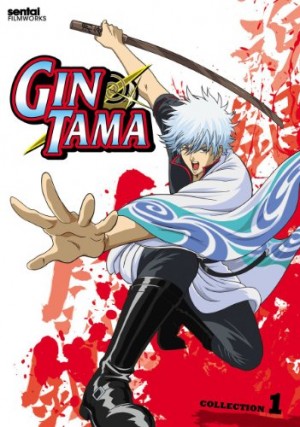 Episodes: 201
Aired: Apr 4, 2006 – Mar 25, 2010
Feudal Japan was no easy era, an era not made any easier by the massive alien invasion that took over everything! As you can imagine there are many adventures you can have fighting against the alien invaders rules for these classic samurai. Gintama and SKET Dance have a lot in common in reference to the point of the show, except while SKET has more focused on being in school and being a good person for the sake of it, Gintama is more aligned with making money to survive.
Gintoki Sakata is a samurai that doesn't want to take the route of a day job and instead goes for the freelance route. Taking money for any job he can get his hands on as long as the finances sound about right. While he does end up helping people out (just like SKET) he is still trying to make a living in this new world filled with aliens and Yakuza, E.T. business owners and regular people just trying to adjust. Plus, the comedy is something that makes this show better than just an adventure (they even made an appearance in SKET Dance at one point in time!).
6. FLCL (Fooly Cooly)

Episodes: 6
Aired: Apr. 26th, 2000 - Mar. 16th, 2001
FLCL is a short six episode anime with the centralized idea that coming into maturity isn't as cut and dry as we like to think it is. Although it is very short in terms of episode number, it's in no short supply of excitement and lessons to be learned. Out of all the anime I have seen, this one has stuck with me from my teenage years up to who I am now and I can always find time to re-watch this short lived adventure.
Naota is a boy in the 6th grade coming up to puberty – and quick. His older brother recently moved to America to play baseball and left behind a 17 year old girlfriend named Mamimi who keeps making advances to Naota. As you can imagine a boy at that age would be increasingly confused by things like this and Naota is no exception. Introduce another vixen by the name of Haruko and a little girl Ninamori (who also has a crush on him); it makes for a very interesting take on the difficulties of growing up!
---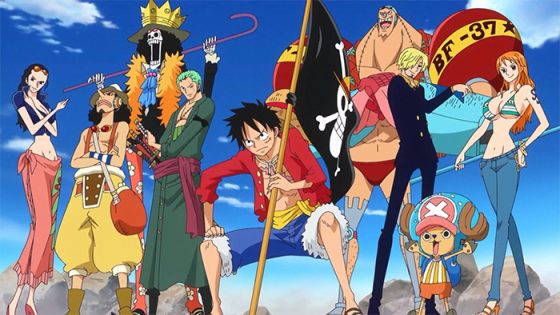 From the shows that have excitement and adventure to the shows focused on lessons, finding anime that our kids and we can all enjoy together can be a difficult task. I hope you enjoyed my choices for anime that resemble One Piece that are fun for the entire family!
by Nathaniel Loomis
---