También puedes leer este artículo en:Español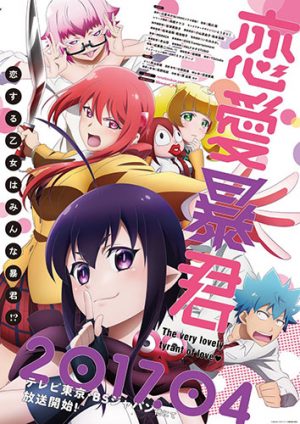 Some may say that a kiss is a powerful thing. It has the ability to take your breath away, to steal hearts, and even blossom into something super romantic. In the anime Renai Boukun, a kiss is more than just a kiss! As names are written down in the mystical "Kiss Note", the pair listed together must kiss within 24 hours or the most terrible thing will happen! Throwing around smooches may seem like an easy task, but this anime proves it to be a daunting mission. As Renai Boukun is still airing, we wanted to share with you 6 anime like it, so you can forever bask in that lovey, kissy, business! As it is written, you can't escape destiny!
Similar Anime to Renai Boukun / Similar Anime to Love Tyrant
1. Aa! Megami-sama! (Ah! My Goddess)

Episodes: 24
Aired: January 2005 – July 2005
Kiss me through the phone. Keiichi Morisato is a college-aged guy who appears to have given up on love. He's spent most of his life in solitude and has recently faced rejection by the most popular girl at school. One night, while on the phone, Keiichi accidentally dials the Goddess Help Hotline, where he is instantly connected with the Goddess, Belldandy. Belldandy tells Keiichi that she can grant his most desired wish. In disbelief, he blurts out the wish for Belldandy to remain with him forever. To his surprise, Ah!, the wish comes true.
With Ah! My Goddess and Renai Boukun, we have a supernatural force that initially brings the couples together, whether it is a book or a hotline. Progressively, both stories reveal that magic was only a helping factor in the formation of each love interests' relationship. Moreover, as the characters from both anime are thrust into this awkward coupling, they all demonstrate a positive outlook from the occasion, making the series truly enjoyable, and providing optimism for love and romance.
Aa! Megami-sama! PV
---
2. Kami nomi zo Shiru Sekai (The World God Only Knows)

Episodes: 12
Aired: October 2010 – December 2010
Keima Katsuragi is the ultimate gamer. As the self-proclaimed "God of Conquest", every waking moment is spent on games. One day, Keima receives a message, offering him a challenge he's never faced in his gaming career. As arrogant as he is, Keima accepts, later discovering that he's made a deal with a demon. After this, Keima is tasked with assisting the demon, Elsie, in capturing evil spirits that are wreaking havoc throughout the human world. To hold his title, Keima must endure this challenge by any means necessary, as a mega-gamer and for his life.
Although Keima and Seiji have two vastly different personalities, the quality that they both demonstrate is determination. When these guys are presented with a seemingly impossible challenge, combined with elements that are unfamiliar to them (harem), they are willing to step to the plate in order to prevent harm to others. Additionally, our heroines, Elsie from Kami nomi and Guri from Renai Boukun, share the same girlish, ditzy characteristic; entertainingly, making more of a mess than resolutions.
The World God Only Knows Trailer
---
3. Ore no Nounai Sentakushi ga, Gakuen Love Comedy wo Zenryoku de Jama Shiteiru (My Mental Choices are Completely Interfering With My School Romantic

Episodes: 10
Aired: October 2013 – December 2013
"You can go with this, or you can go with that." So the story of Mental Choices involves Kanade Amakusa, who is doomed to carry a little something called the "Absolute Choice" curse. Essentially, Kanade is constantly faced with several decisions to make, and of course, with each choice follows the consequence. Unfortunately, these selection events seem to happen in the most public settings, worsening his already unpopular reputation. If that wasn't enough, on one random day, a girl falls out of the sky into Kanade's path, sent to lift his curse; albeit, heightening his already complex situation. To sum it up, Mental Choices is a lively and hectic anime. So make the right choice and watch it!
It's a well-known fact that variety is the spice of life and this statement can be said about Mental Choices and Renai Boukun. Kanade and Seiji lived average, bland lives until a magical/supernatural girl dropped in. Additionally, Chocolat from Mental Choices and Guri from Renai Boukun are two adorable female leads that more or less help our guys deal with their problems and concurrently, add more to the load.
Ore no Nounai Sentakushi ga, Gakuen Love Comedy wo Zenryoku de Jama Shiteiru PV
---
Any Anime Like Love Tyrant / Any Anime Like Renai Boukun ?
4. Yamada-kun to 7-nin no Majo (Yamada-kun and the Seven Witches)

Episodes: 12
Aired: April 2015 – June 2015
A misunderstood individual, Ryuu Yamada is your average high school student, who leisurely slides through life without a care in the world. One day, Ryuu experiences a little accident with fellow student Urara Shiraishi. As the two take a tumble down the stairs, they miraculously are unharmed after falling and landing on each other, and end up in a kissing position! From this kiss, the two realize they have the ability to switch bodies, which shows overtime to be a gift and a burden. Discovery of this newfound power recruits the two into the Supernatural Studies Club, housing single member Toranosuke Miyamura. Toranosuke tells them the legend of the Seven Witches, with each witch carrying a different ability activated by a kiss. With the Supernatural Studies Club in full force, its members are on a quest to find the identities of all the witches.
In comparing Yamada-kun to Renai Boukun, both anime share a lot of similarities, such as distinguishable, detailed animation style, comedy, fan service, almost identical character archetype, and the emphasis of magic/supernatural kissing. As Ryuu from Yamada-kun and Seiji from Renai Boukun are surrounded with a throng of gals ready to plant a wet one on them, both anime provide us with a lot of thrill and excitement to look forward to.
Yamada-kun to 7-nin no Majo PV
---
5. Monster Musume no Iru Nichijou (Monster Musume: Everyday Life with Monster Girls)

Episodes: 12
Aired: July 2015 – September 2015
Monster Musume is comprised of a number of genres to include romance, comedy, harem, fantasy, and ecchi. In this story, we exist in a newly reformed Japan, as it becomes the first country to welcome non-human species into society. In an effort to increase interspecies collaboration, humans can register as hosts to integrate these non-human beings, demonstrating the way humans lead their lives. Unfortunately, due to human error, a Lamia named Miia is placed under the care of our main protagonist, Kimihito Kurusu. Living a quiet life, Kimihito's home is bombarded with Miia in the picture, as she is a beacon of hot stuff, attracting all sorts of girls/breeds. As sex is forbidden between humans and non-humans, Miia and the band of girls are hormone-filled, with no way of expressing their lustful ways. What is Kimihito to do?!
Monster Musume and Renai Boukun, both share a similar style of animation as well as character/cast pattern. Harem influenced, a diverse mixture of girls are presented to Kimihito and Seiji; although in Renai, the girls appear more physically realistic than the ones in Monster Musume. Nonetheless, both anime provide viewers with bouts of comedy, silly scenarios, and WTF moments.
Monster Musume no Iru Nichijou PV
---
6. Aishen Qiaokeli-ing… (Cupid's Chocolate)

Episodes: 15
Aired: December 2015 – March 2016
Jiang Hao Yi is a normal high school student. He leads a simple life, a peaceful one, and wouldn't have it any other way. If his life could remain this way forever, he would be content. As such is the world of anime to bring on the dramatics, the beautiful Zitong Xia walks into his class and Jiang quickly realizes that she is there for him. She has an embarrassed look on her face, and hesitantly drops a drama bomb on him, "I have your baby." From this event, all eyes are on Jiang. As the entire school is out to get him, Jiang must fight off all this unwanted attention; from his jealous guy classmates to several ladies, who until recently have found him more desirable.
In comparison, we have two guys, Jiang and Seiji, who have flown under the radar for most of their teenage life. In what may seem like a dream come true for many, these guys have fallen into some misfortune, as a bunch of beautiful girls are throwing themselves at them, disrupting their perfectly normal lives. In order to restore their lives, the guys are dealt with having to resolve their female counterpart's issues. A seemingly simple plot line; it is however, riddled with countless twists, comedy and fanservice.
---
Final Thoughts
So, we hope you enjoy our recommendations for 6 Anime Like Renai Boukun. Of course we cannot conclude this article without mentioning Death Note (2006), as Renai Boukun is a parody based on this title, referencing a lot of terms and puns. If you haven't already, make sure to check out all of these great titles! As we know these are only a few of the many in comparison, let us know what we've missed! What other anime similar to this one can you suggest to us and other readers? Leave your comments below! See ya! XX
---