También puedes leer este artículo en:Español
Sanrio is a big conglomerate that has many, many mascots. From the most known Hello Kitty, to some others that are less known in the West, such as Pompompurin. And for a long time, it was thought that only girls could like the cute products that Sanrio makes because, well, they were cute. That's the problem that Kouta Hasegawa has had most of his life. He loves Pompompurin, but when he was younger and very open about his tastes, he ended up being bullied. So at seventeen, he's now quite adept at hiding that he likes cute things, even if that cost him his relationship with his now departed grandmother. However, when he finds a My Melody keychain that belongs to Yuu Mizumo, things start to change for him. To his surprise, Yuu has no problem admitting that he likes the cute bunny, and little by little, Kouta starts meeting other boys that have the same tastes as him.
Sanrio Danshi is one of the newest series from Studio Pierrot and Sanrio and it's the adaptation of a previous web-series that Sanrio used to promote their products. Given that it gained enough fans to warrant not one but two manga adaptations, an animated series wasn't really a surprise. After all, who doesn't like series where we get to see cute guys helping each other and being really good friends? Add a bit of comedy, a little bit of romance, and you got a winner in your hands. But once you've finished with Sanrio Danshi, what other series can you enjoy?
Similar Anime to Sanrio Danshi
1. Show by Rock!!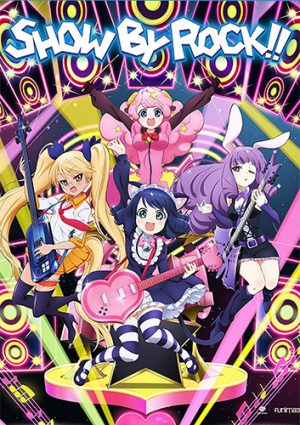 Episodes: 12
Aired: April 2015 – Jun 2015
Cyan Hijirikawa has a lot of love for music, but because she's too shy, she can't even join the music club at her school. But when she wins a guitar called Strawberry Heart, she ends up sucked into a game world and turned into a cat girl. There, with the power of Strawberry Heart, she discovers she can beat monsters. Since there's no way for her to return to the real world, she ends up joining the band Plasmagica, and little by little discovers that she has the talent not only to fulfill her dreams, but to save the world.
At first glance, the only thing that Show by Rock and Sanrio Danshi have in common is that both are franchises created by Sanrio to expand their fanbase. In the case of Show by Rock, the main interest was to reach an older demographic than usual, but they kept most of the cutesy designs. However, there are other similitudes, in particular how both Cyan and Kouta learn to be more open about their tastes and dreams, and how their friends support them and each other. This makes both series a great watch if you love to see great friendships on screen.
SHOW BY ROCK PV
---
2. Binan Koukou Chikyuu Bouei-Bu Love! (Cute High Earth Defense Club Love!)

Episodes: 12
Aired: Jan 2015 – Mar 2015
En Yufuin, Atsushi Kinugawa, Io Naruko and Ryuu Zaou are the Earth Defense Club, a school club that was formed with the premise of "We don't really want to do anything, and the name makes sure no one bothers us". That is, until the day when a pink wombat falls into En and Atsushi's bath at the local bath house owned by the family of Yumoto Hakone, a younger student at their school. Said alien insists that they must be the saviors of Earth. While En and Atsushi aren't that keen on the idea, Yumoto chases it to the clubroom and that's where the Wombat gives them all "lovracelets" to make them the true Earth Defense club.
While Cute High Earth Defense Club is a full blown parody of magical girl tropes, and Sanrio Danshi is a more subdued slice of life anime, both have a great cast of very handsome guys with very few women around. They're also a great group of friends, even if at first Yumoto doesn't fit with them due to his high energy and his honest desire to help by being one of the Love Warriors. But more importantly, it's a series that manages to defeat the stereotypes and show that guys can also enjoy some cuteness from time to time.
Cute High Earth Defense Club Love PV
---
3. Starmyu

Episodes: 12
Aired: Oct 2015 – Dec 2015
Yuuta Hoshitani has one dream: He wants to learn to dance just like a mysterious white-haired boy he once saw in the rain. He wants to be great at dancing, to be able to communicate his feelings with his movements. Because of that, he enrolls at a school that has a special music program for those whose passion is in that art. There, he meets four boys with similar ambitions, Tooru Nayuki, Kaito Tsukigami, Kakeru Tengenji and Shuu Kuga, who get selected to be in a special group with him. This is the start of not only their high school career, but also the real hardships of dedicating themselves to an art under the watchful eye of a very strict mentor, the white-haired Itsuki Ootori.
The main similarity between Starmyu and Sanrio Danshi is, of course, the group of male friends supporting each other. But more than just that, we have the general idea of following your dreams, and doing whatever it takes to be happy. It doesn't follow the angle of a more feminine hobby that some guys are embarrassed about, mostly because nowadays dance is no longer seen as just a woman's hobby, but it keeps the mutual support and great friendship the guys have. If that's your cup of tea, with many hot guys, Starmyu is a great follow up to Sanrio Danshi.
Starmyu PV
---
Any Anime Like Sanrio Danshi?
4. Free! (Free!-Iwatobi Swim Club)

Episodes: 12
Aired: Jul 2013 – Sept 2013
There's nothing Haruka Nanase loves more than water. Well, perhaps swimming, but after he won a relay race with his best friends in elementary school, he rarely gets the chance to swim at all. However, once he enters high school, his elementary school friends, Nagisa Hazuki and Makoto Tachibana, convince him to restart their school's swimming club. However, things get a bit complicated when their fourth friend, Rin Matsuoka, returns from Australia and enrolls in a different school with a better swim team, as his dream is to be an Olympic swimmer… and to beat Haruka to prove that he's the better swimmer.
Free! Is a beautiful anime for all those who love swimming, and a bit of fanservice with really cute guys. It also has a great message about how friendships evolve, something that is not very common in high school-focused anime. People change, and someone who you thought was not your friend could become a lifelong ally, and even school rivalries can be beat by the power of friendship. All of these things make Free! an amazing anime, and as you can see, it has a lot in common with the basic premise of Sanrio Danshi: trust your friends to follow your dreams.
Free!! PV
---
5. Tsuritama

Episodes: 12
Aired: Apr 2012 – Jun 2012
Yuki Sanada has never had the chance to make many friends. In fact, he is what one would call "socially awkward" because he lives with his grandmother and they move a lot. This is what makes him freeze whenever he's asked to do anything that requires public speaking. But in the last town they move to, Yuki meets Haru, a young man who claims to be an alien and who suddenly decides that he wants to be Yuki's friend. Soon, Haru enrolls Yuki to go on a fishing trip with Natsuki, another student who is also a great fisherman; and Akira, a man of mystery who tends to follow Haru around.
Although Tsuritama has a lot of supernatural elements to it, which makes it more of a sci-fi story than just a slice of life like most of the entries on this article, the core of the story is still friendship. Thanks to Haru, Natsuki and Yuki start little by little coming out of their respective shells, and they all become incredibly loyal to each other. Add to that the fact that it all starts with a somewhat unusual hobby for young people, fishing, and you get an anime that will remind you of the best parts of Sanrio Danshi without being an exact copy.
Tsuritama PV
---
6. Cheer Danshi!! (Cheer Boys!!)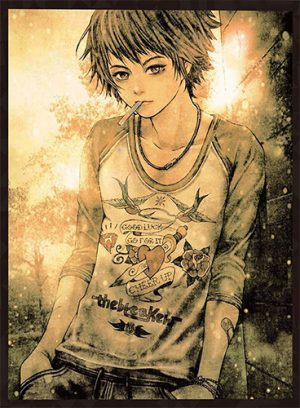 Episodes: 12
Aired: Jul 2016 – Sept 2016
Haruki Bandou knows first hand how hard is it to live up to your family's expectations. After all, he's been practicing judo all his life despite him not really liking the sport because his family owns a dojo. A shoulder injury on his first year of college gives him the opportunity to give up judo and quit the club in order to find his true calling somewhere else. However, his best friend Kazuma Hashimoto has other plans: he also quit the judo club, but with a very clear idea in mind. He wants to found the first all-male cheerleading team for Meishiin University, and he needs Haruki's help to do so. So Haruki, despite his initial fears due to cheerleading being considered a female-only sport, decides to support his friend, no matter what challenges they may face.
If what you loved about Sanrio Danshi was the challenge to established gender roles where guys can do whatever they want, even if it's considered girly, then Cheer Danshi!! is going to be a great treat for you. Not only that, it's one of the very few anime based on a real story; in particular, the cheerleading squad known as the Shockers from Waseda University. If you like cheering as a competitive sport, this anime will also be a great addition to your to watch list, and it also has enough focus on the importance of friendship to go hand in hand with Sanrio Danshi.
Cheer Danshi!! PV
---
Final Thoughts
We're entering a time in which a lot of people think tastes shouldn't be gendered. There aren't "girl activities" and "boy activities", and everyone should be happy and proud of what they like, their hobbies, and their friends. But if we're being honest, it's still not that perfect and a lot of people struggle or suffer bullying because they like things "they shouldn't". So it's always a breath of fresh air to have reminders that we can always find friends with the same tastes and see it happen at least in a world of fiction.
With that said, which one is your favorite anime of the list? And, what do you think of Sanrio Danshi? Please let us know in the comments!
---