También puedes leer este artículo en:Español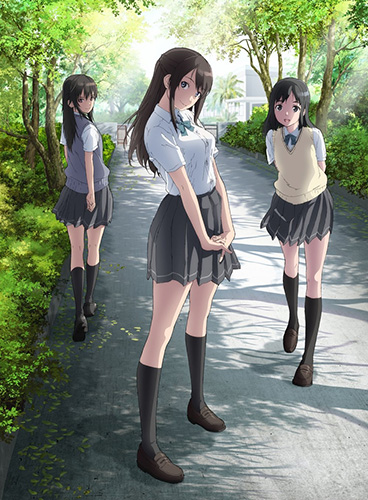 Seiren premiered this winter and we think it's wonderful. The story revolves around Shoichi Kamita, your average high school boy; the title Seiren, which means "honest" in Japanese, seems to apply to him. He has a very earnest personality to the level of naiveté, especially when it comes to girls. His inexperience with love is the set up for this romantic comedy as we watch him deal with the heroines Tooru, Kyouko, and Hikari. The best part of this program is the format; you get two watch three distinct arcs as he begins relationships with each of these girls. Now then, let's take a look at six anime that we find to be similar.
Similar Anime to Seiren
1. Amagami SS

Episodes: 25
Aired: Jul. 2010- Dec. 2010
Junichi had his heart broken two years before the story begins. He's now a second-year high school student and has no interest in dating. Junichi goes to school, hangs out with a couple of close male friends and spends his nights in the closest. No, he's not gay, he literally spends the night in his closet at home. You would too if you'd turned your closet into a planetarium. He has an encounter with one of the idols of the school, Haurka, and he finds that after spending time with her that spark of romance may be rekindled. Well, at least that's how the first arc starts.
Amagami SS could be considered the onee-chan of Seiren, created by the same production company and released seven years ago. The protagonist of Amagami SS may be very different in demeanor than the one in Seiren, but the story is told similarly. The format of following each heroine's arc is one of the key attributes that make it like Serien. The art style is also similar, to the point that it's nearly identical. We can say for those two reasons alone that this is the number one most similar to Seiren.
---
2. The World God Only Knows (Kami nomi zo Shiru Seka)

Episodes: 12
Aired: Oct. 2010- Dec. 2010
Keima is a God, at least where dating sims is concerned; he logs more hours of game play than anyone on the planet. Then he's mistaken for actually being a god by Elsie, a demon whose job it was to catch loose souls that inhabit the bodies of young girls. She contracts Keima to help her retrieve the lost souls. He needs to romance each girl and fill their heart with love to expel the loose soul.
The World God Only Knows is obviously a fantasy, which makes it different from Seiren. Keima is also extremely arrogant compared to very mild-mannered Shoichi. The two series are very similar in the way the you get to watch the protagonist woo and date several different girls in the series. We each get to choose our favorites as the series goes on and we even get to check back in on each of them in the sequel.
The World God Only Knows PV
---
3. Hatsukoi Limited

Episodes: 12
Aired: Apr. 2009- Jun. 2009
Hatsukoi Limited is a series of stories following the lives of several middle and high school girls. The focus of the story is on the girls' "first loves." We see each of the girls carefully navigate the world of love, and not always with success.
The story is similar to Seiren because each episode focuses on a different character. You get a front row seat to their love lives. The difference is that each of the girls' stories is not an induvial arc in an individual universe. Hatsukoi Limited's character stories are all interconnected and we get a peek in on them during the span of the series. It gives you a sense of completion when the show wraps up.
Hatsukoi Limited PV
---
Any Anime Like Seiren ?
4. Date A Live

Episodes: 12
Aired: Apr. 2013- Jun. 2013
The world is in danger from supernatural beings called spirits that create quakes in space and time. The quakes are caused by their emotional instability. We know we'll get grief for this statement but it gets worse: they're all teenage girls, so we're pretty much doomed. We are in luck because one man has risen to the challenge of dating these girls and keeping them happy. Shidou, with the help of the anti-spirit strike team and their team of experts, dates them, all of them.
The stories in this show aren't in arcs like Seiren and not separated into distinct universes either. Yet despite the supernatural element it is still a story of dates. Shidou courts each girl upon her arrival into our world to calm them down so they don't cause a space quake. Then he continues to provide emotional support as they live out their lives in their world. We get to watch Shidou learn about each girl and take them on dates fitting for each girl just like Seiren.
Date A Live PV
---
5. Shuffle!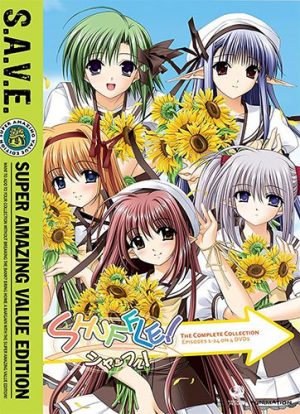 Episodes: 24
Aired: Jul. 2005- Jan. 2006
The earth is only one of many realms in existence, coexisting with the worlds of Gods and Demons. You could be walking down the street next to or going to school with a god or a demon. The world of Shuffle! is this amazing world where humans, demons and gods coexist peacefully working, living and finding love. Tsuchimi is a high school student who lives an uneventful life in the home of his female childhood friend, Kaede. The peaceful coexistence gets turned on its head when the King of the Gods and the King of the Demons move into the homes next door. Each brings his daughters, who for their own reasons are in love with Tsuchimi.
The world of Seiren may not be filled with gods and demons, but it is filled with girls in love. Tsuchimi from Shuffle! and Shoichi from Seiren are genuinely good guys, both rather naïve when it comes girls too. We get to watch them figure out the women in their lives. Shuffle! may be a harem comedy and Seiren may be a little more serious but they both ask the question what makes a good relationship? We even get the pleasant surprise of the writers of Shuffle! not pushing a heroine on us and giving all the girls a fair shot.
Shuffle! PV
---
6. Photokano

Episodes: 13
Aired: Apr. 2013- Jun. 2013
Photokano revolves around Kazuya, a high school sophomore, and his camera. He received the digital single-lens camera as a gift at the end of summer and is determined to learn how to use it and use it well. He takes the camera to school and is quickly drafted into the photography club. Unfortunately for him he realizes too late that most of the members, including one girl, are absolute pervs. He has the reputation as a good and kind boy and is often given the benefit of the doubt by the girls who allow him to take their pictures.
The camera is the ice breaker as well as the true lens as we get to meet and get to know each of the girls. We sit back watching and observing the girls as they go about their daily activities. The story is definitely ecchi with a multitude of fan service moments setting it apart from the more serious Seiren. The protagonist is the same though, a boy, who is well liked by his peers but not overly popular. We also get to know many different beauties and see multiple routes open to our protagonist, though all happening concurrently, in contrast to the arc format of Seiren.
Photokano PV
---
Final Thoughts
We are a big fan of love here at Honey's Anime. We truly enjoy these rare stories where we get to watch a relationship unfold from beginning to end, or in some cases just to the beginning letting our imaginations build our own stories of the characters' futures. Seiren truly has the makings of a classic much like Onee-chan Amagami SS and the sequel Amagami SS+. Seiren has the makings of a series that you can go back to again and again. The best part is, like Amagami SS, you can go back selectively to watch the arc of the girl you like the most as she gets her happy ending.
---