There are so many ways to communicate one's thoughts and feelings through various mediums. Linguistics, body language, and writing are things we see in our day-to-day lives and it's something that people don't really stop to think about unless it's presented right in their faces. In the anime Senryuu Shoujo, Nanako Yukishiro communicates with the Literature Club members using a type of haiku called senryuu. She and the bad boy turned good, Eiji Busujima, develop an aspiring friendship all the while showing appreciation for this distinct type of Japanese poetry. Here are some anime that share similar themes!
Similar Anime to Senryuu Shoujo
1. Tsurezure Children

Episodes: 12
Aired: July 2017 – September 2017
Tsurezure Children shares the romantic experiences of several fascinating high school students with some of them possessing the potential of forming into couples. Exposing the delicate nature of puppy love, we suffer and celebrate with these guys and gals when they learn about crushes, love, heartache, and acceptance. In this anime, we discover our characters' trials through various situations with every step along the way being bittersweet.
Tsurezure Children and Senryuu Shoujo share a lot of similarities that include romance with different couples, major character development with the main characters, guy and girl intimacy, comedic elements, and a certain realism in the way the youths interact with one another, whether it entails the journey to school, joining clubs, or gathering after school at the usual hangout. Both touching and heartwarming series, Tsurezure Children and Senryuu Shoujo tell the stories of self-discovery and navigating close encounters with the opposite sex.
Tsurezure Children PV
---
2. Gamers!

Episodes: 12
Aired: July 2017 – September 2017
Anime Gamers! follows the story of Keita Amano, an average kid who enjoys gaming. One day, Keita runs into the most popular and cutest girl in school, Karen Tendou, and is completely wowed. As a guy who games to kill time, Keita is about to be introduced to a completely fanatical side of gaming he's never seen before when Karen introduces him to school's game club. Completely wowed, Karen's fascination with Keita becomes somewhat frightening for him, but nevertheless, his uneventful life is spontaneously twisted and chaotic with Karen and the club members now a part of it!
Gamers! and Senryuu Shoujo fall right into the romance category because they center on beautiful, sentimental relationships and coming of age. The characters in both are diverse and intriguing with many likable qualities. They also share traits similar to our own experiences that we become invested in them. Viewers can't help feeling as they do, and only hope that in the end, the outcome is positive for the ones we root for. Keita and Eiji experience how the club members changed their once solitary lives. Karen and Nakano keep their male counterpart on their toes and their personalities are elements that make each story lively.
Gamers! Trailer
---
3. Netoge no Yome wa Onnanoko ja Nai to Omotta? (And You Thought There is Never a Girl Online?)

Episodes: 12
Aired: April 2016 – June 2016
Hideki "Rusian" Nishimura is an otaku deeply invested in online gaming. When he finally has the courage to propose to a girl in the game, she totally says no. To add to the trauma, the girl later reveals that she is actually a he. Yikes, catfished! From that point on, Rusian can never trust girls online ever again. Years have passed and Rusian is still gaming it up in another MMO. As a part of a guild with three other members, one of which is a girl, his past experience emerges when Ako wants to marry him. Although weary, he says "Yes." So when the guild finally schedule a meetup, Rusian is in for a surprise when they get together IRL.
Centering on Rom-com and school-aged characters, personalities and situations are similar to each other. Ako and Nanako are adorable, sweet, and kind-hearted girls paired up with guys who possess a certain sincerity and gentler side when engaged with their counterpart. There are tons of funny moments that keep the story buzzing and also gives off easy going vibes so you don't have to put too much into it.
Netoge no Yome wa Onnanoko ja Nai to Omotta? PV
---
Any Anime Like Senryuu Shoujo ?
4. GJ-bu (GJ Club)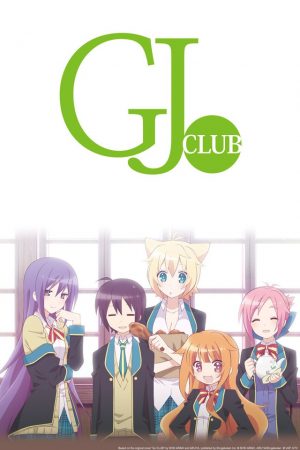 Episodes: 12
Aired: January 2013 – March 2013
The GJ club, also known as Good Job club, is one of many clubs at school. With an objective unknown and a handful of members, Shinomiya Kyouya is in for an interesting treat, as he is forced to join this club. Here, he meets club President Mao Amatsuka, Mao's younger sister Megumi, Shion Sumeragi, Kirara Berstein, and Tamaki Kannazuki. As there isn't a specific hobby or interest that brings the group together, this anime shows the various occasions that spark joy in the lives of these youngsters.
Come one, come all! Everyone is invited to join in on club activities! Being a part of a club brings likeminded individuals to spend time with each other. Hanging out in these less than popular themed clubs is something our characters in GJ-bu and Senryuu Shoujo truly enjoy. Viewers get a glimpse of everyone's distinct personality. Although the stories in both series don't have a concrete direction, we get to appreciate the simple, slice-of-life pleasures that allow us to be carefree.
---
5. Nijiiro Days (Rainbow Days)

Episodes: 24
Aired: January 2016 – June 2016
Nijiiro Days follows the lives of four students: Natsuki Hashiba, Keiichi Katakura, Tomoya Matsunaga and Tsuyoshi Naoe and their daily goings-on. We often hear the phrase, "boys will be boys", and these guys definitely fit the bill. Natsuki, Tomoya, Tsuyoshi, and Keiichi banter about their crushes. As they balance their social lives with school, Nijiiro Days is an easygoing series with various shifts of conflict between one of the boys and their female counterpart, and how they collectively try to help and uplift one another.
Nijiiro Days and Senryuu Shoujo are similar in that they are very relatable and maybe reminiscent of romantic situations in middle and high school. Both anime have characters displaying a diverse and mixed set of personalities, with couples struggling to come to terms with their true feelings. Although they differ in plot and dynamic, Nijiiro Days and Senryuu Shoujo are both fun and heartwarming series to watch
Nijiiro Days PV
---
6. Akkun to Kanojo (My Sweet Tyrant)

Episodes: 25
Aired: April 2018 – September 2018
Akkun to Kanojo is a romantic comedy following the story of childhood friends turned couple Atsuhiro "Akkun" Kagari and Non "Nontan" Katagiri. Akkun is an extremely tsundere boyfriend, harsh, cold, and often moody towards Nontan, but this is how he shows her that he cares for her. His obsessive, stalker ways go over Nontan's head, as she thinks that his actions are adorable. Akkun to Kanojo is a high school love comedy about a wonderful couple whose quirks may appear peculiar and eccentric, but are nothing less than their norm.
Akkun to Kanojo is similar to Senryuu Shoujo because it centers on a cute couple that has a unique and distinct way of communicating with one another. Looking in from the outside, people may think these lovebirds are peculiar, but how they interact with each other is what bonds them together. As both take place in a school setting, the romances in Akkun to Kanojo and Senryuu Shoujo show the sweet innocence of young love.
Akkun to Kanojo PV
---
Final Thoughts
Senryuu Shoujo
A cute and funny series
Watch these friends blossom
We hope you enjoyed our recommendations for 6 Anime Like Senryuu Shoujo. Definitely check these series out! What do you guys think? Did we leave out anything good? What other anime similar to this one can you suggest to other readers and us? Leave your comments below! See ya!
---