Slow Loop may not be rising through the popularity rankings this season – especially with Shingeki no Kyojin (Attack on Titan) and Kimetsu no Yaiba (Demon Slayer) going on full throttle – but it has us hook, line, and sinker. The cute aesthetics partnered with the relaxing and chill vibe is something we dig… or dive. It's the perfect anime series to watch after a tiring day or even in between the other fast-paced, action-packed anime. And if you like this kind of vibe as much as we did and are looking for more, here are six more anime like Slow Loop.
Similar Anime to Slow Loop
1. Shiroi Suna no Aquatope (The Aquatope on White Sand)

Episodes: 24
Aired: July 2021 - December 2021
An idol who is experiencing burnout after consecutive undesirable events hit her career, Miyazawa Fuuka stumbles upon Gama Gama Aquarium as she aimlessly wanders to calm her distraught mind. There she meets Kukuru Misakino, the granddaughter of Gama Gama's director. She learns of the aquarium's impending closure and joins Kukuru as she attempts to prevent it from happening.
The Aquatope on White Sand shares Slow Loop's slow-paced, relaxing storytelling. Both series take their time laying out what they have to offer, while also focusing on the relationships between the characters. They have a fine mixture of drama and slice of life, giving both anime a lovable but also eventful narrative. They also feature a pair of vastly different characters, an energetic one and a more mature one. Of course, both The Aquatope on White Sand and Slow Loop features the beauty of the sea and its creatures.
Shiroi Suna no Aquatope PV
---
2. Yuru Camp (Laid-Back Camp)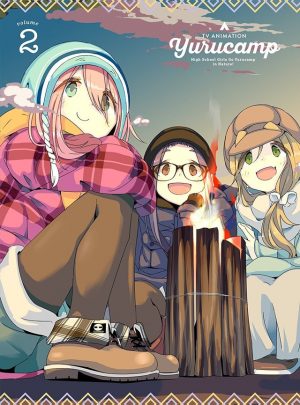 Episodes: 12
Aired: January 2018 – March 2018
Shima Rin's perfect activity is going to the base of a mountain and setting up camp. She enjoys the solitude camping provides, and she has no plans of changing her ways. That is until her fateful encounter with Kagamihara Nadeshiko. Rin is forced to take in Nadeshiko while she is camping in Mt. Fuji, and she surprisingly enjoys it. Encountering new companions, Rin discovers the fun camping can bring in a new way.
Similar to Slow Loop's Hiyori, Rin finds refuge in her favorite activity. Interestingly, both their activities include a lot of idle time, though both characters never find it boring or lackluster. They both enjoy doing it alone, but they also find a new appreciation for doing said activities with their friends. With similar cute and simple art, fans of Slow Loop will surely also fall in love with Laid-Back Camp.
Laid-Back Camp Trailer
---
3. Houkago Teibou Nisshi (Diary of Our Days at the Breakwater)

Episodes: 12
Aired: April 2020 – September 2020
Diary of Our Days at the Breakwater follows Tsurugi Hina and her family. They transfer to a small fishing town, wherein Hina is tricked into joining her school's Breakwater Club. When she joins her seniors for a fishing trip, she accidentally catches an octopus. Her senior uses this as an opportunity to make her join the club or else she won't help her. Initially against fishing, Hina slowly but surely opens up and starts appreciating the activity for what it is.
Both featuring the charm and allure of fishing, Slow Loop and Diary of Our Days at the Breakwater offers a relaxing and enjoyable watch while also educating its audiences on the basics of fishing. Similar to Hina, Slow Loop's Koharu also starts from scratch. She has zero knowledge of fishing, but she also falls more and more in love with the activity the more she does it. Best of all, both series' fun levels increase the more characters join the cast.
Houkago Teibou Nisshi PV
---
Any Anime Like Slow Loop ?
4. Yama no Susume (Encouragement of Climb)

Episodes: 12
Aired: January 2013 - March 2013
Probably what a lot of people can relate to, Yukimura Aoi's love for hiking slowly eased off after she entered high school. She's become more reserved and enjoys quiet things like arts and crafts. When she encounters her childhood friend Kuraue Hinata, who is as lively as she remembers her, her quiet life is threatened to be broken. Hinata does her best to bring back Aoi's lively self and rekindle her lost passion.
Featuring a group of young girls doing outdoorsy activities, both Encouragement of Climb and Slow Loop are relaxing to watch. While both anime offer a generally laid-back watching experience, they also include a tinge of drama to spice up the plot but not to the point of making the series too heavy for a casual watch. Best of all, viewers can pick up bits and pieces of knowledge while watching either of the two series. Now, that's a big slap to those people who keep telling us we don't get anything from watching anime!
Yama no Susume OP
---
5. Non Non Biyori

Episodes: 12
Aired: October 2013 - December 2013
Despite being set in a dull-looking countryside, Non Non Biyori is never boring thanks to its main characters. Since Asahigaoka is only a small place, it only has one school and one class. The class caters to different ages, which is where all the fun comes from. Ranging from the first-grader Miyauchi Renge to the ninth-grader Suguru, each of them has something interesting to offer.
Similar to Slow Loop, a viewer can simply put Non Non Biyori on and let the stress slip away. Other than the ruckus the characters themselves create, Non Non Biyori doesn't set up any serious problems. While Slow Loop occasionally dips into emotional territory, every episode remains generally fun and wholesome. Of course, both anime star a group of diverse young girls living their lives.
---
6. Tsuritama

Episodes: 12
Aired: April 2012 – June 2012
Sanada Yuki has to constantly be on the move because of her grandma's work. Because of that, she doesn't have much opportunity to create strong connections with same-age peers. He becomes socially awkward, but an outgoing fellow transfer student changes him. The moment they meet each other, Haru claims to be an alien and Yuki's friend. His eccentricity reaches a new height when he pairs Yuki with the fishing-obsessed Usami Natsuki and tasks them to save the world through fishing.
Tsuritama is like Slow Loop's older and wackier sibling. Both series are comedy slice of life that mainly focus on fishing. However, Tsuritama takes the comedy to an entertaining and incredible length. The fishing bit is exceptionally done during the first half of the anime, and Tsuritama at that time resembles Slow Loop more. During the latter half, however, the anime dives into the pit of weirdness headfirst. It's like watching Slow Loop if the series somehow decides to take drugs – if that is even possible. Interestingly, that is a charm in itself.
Tsuritama Trailer
---
Final Thoughts
That's our list! Slow Loop's slow-paced content is an addicting experience. Despite the lack of adrenaline rush, it still leaves us wanting for more. If you're like us in this aspect, we hope that this list has at least helped you find another series to binge-watch. If we've missed any anime you believe should be included in our recommendation list, let us know in the comment section below!
---