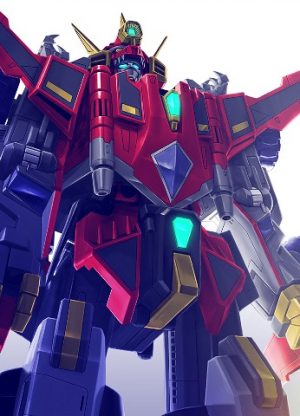 SSSS.Gridman received quite a bit of love when it released in 2018, allowing studio Trigger to easily make the decision to create a sequel in the form of SSSS.Dynazenon. As of this article, SSSS.Dynazenon is still airing but we have noticed fans of this quirky mecha series wanting other shows to watch as they wait for weekly episode releases. Luckily, we here at Honey's Anime have just the list of similar anime to SSSS.Dynazenon for you otaku out there! Whether you're looking for a more insane mecha anime or want just a bit of romance, this list will fill your desires and give you some quality anime to binge!
Similar Anime to SSSS.Dynazenon
1. Tengen Toppa Guren Lagann (Gurren Lagann)

Episodes: 27
Aired: April 2007 – September 2007
Living deep underground, Simon and Kamina have tried to make a life in the dark tunnels they call home. Kamina has always wished to explore the world above though and he gets his chance when Simon finds an odd drill key that activates a robot from the past. The two burst toward the surface and quickly meet up with a bikini wearing sniper named Yoko adding to their already odd crew of misfits. With adventure in their hearts and a desire to remove the evil of the surface, Simon, Kamina and Yoko decide to reclaim the Earth using whatever means necessary!
Mecha fans out there obviously know that Trigger is known for weird—but beautifully animated—anime but Gurren Lagann is forever their most beloved work. Even after a decade, Gurren Lagann has failed to age with a stunning animation style and some truly loveable characters that you will want to cosplay as one day just for fun! Similar to SSSS.Dynazenon, Gurren Lagann is exciting, strange and probably one of the best examples of how epic anime can be. We know many veteran otaku have no doubt seen Gurren Lagann but we know new anime viewers need to be reminded that this series is considered a classic for a reason.
Gurren Lagann Trailer
---
2. Koukyoushihen Eureka Seven (Eureka Seven)

Episodes: 50
Aired: April 2005 – April 2006
Renton Thurston is a typical teenager wishing to escape his boring town and journey into the big world outside. When the mercenary Gekkostate arrives in his seemingly peaceful town, Renton finds his chance at escaping finally upon him! Renton is unfortunately forced to give up on his dreams when his repairman grandfather begs his grandson to just live a quiet existence like he has. Renton is forced to go against his grandfather when a strange robot slams into their repair shop and the young boy discovers a strange girl named Eureka operating the mech. Now entwined with Eureka, Renton must join the Gekkostate and learn of the hidden dangers slowly consuming the world. Renton wanted an adventure but the journey he's about to take will test his 14-year old soul in ways he couldn't imagine…
Animated by legendary studio Bones, Eureka Seven is yet another mecha anime that needs little introduction. Even after 15 years, Eureka Seven continues to stay in the spotlight with sequels and movies. SSSS.Dynazenon echoes the themes found in Eureka Seven with a story that has a multitude of layers to it and some truly quality animation. Those who haven't yet checked out Eureka Seven need to correct that folly and watch it as soon as humanely possible!
---
3. Full Metal Panic!

Episodes: 24
Aired: January 2002 – June 2002
The mission seems simple enough. Sergeant Sousuke Sagara has been assigned to monitor a teenage girl named Kaname Chidori as she is considered one of the "Whispered". Sagara joins Kaname's school as a student but due to his constant military lifestyle, Sousuke knows little of how to be a normal 17-year old student. Will Sousuke keep Kaname safe from the enemy or will his bizarre ways of protection put her in more danger!?
Spawning three seasons, Full Metal Panic! has always been one of our favorite mecha comedies here at Honey's Anime. Filled with laugh out loud moments, incredible mech fights and just a tinge of romance, Full Metal Panic! is a unique anime that never failed us season after season. The current season--Full Metal Panic! Invisible Victory, reminds us of the nice fusion between comedy and serious tones like SSSS.Dynazenon but we do highly suggest to watch the original Full Metal Panic! and Full Metal Panic! The Second Raid before going straight to the last aired season! Overall though, those who love the quirkiness of SSSS.Dynazenon will no doubt fall in love with the strange fusion of genres within Full Metal Panic!
Full Metal Panic! Trailer
---
Any Anime Like SSSS.Dynazenon ?
4. Knight's & Magic

Episodes: 13
Aired: July 2017 – September 2017
Tsubasa Kurata was once your typical otaku who was obsessed with mecha. After dying in a car accident, Tsubasa bids farewell to his world and is reborn in a medieval world filled with magic, monsters, and robots! Now in a new body, Tsubasa has become Ernesti Echevarria who has magical abilities far superior to most his age. Sent to the prestigious Royal Laihalia Academy, Ernesti is about to prove that his skills and love for mechs will give him the means to be the best student and to obtain the legendary mechs known as Silhouette Knights.
Not too often do you hear isekai merging with mecha and that is why we were drawn to Knight's & Magic. Released several years ago, Knight's & Magic stole our hearts with some incredible fantasy elements that mesh perfectly with magic and fantasy, a truly rare design for anime. SSSS.Dynazenon and Knight's & Magic might be two different stories entirely but you can't deny these two shows are the purest definition of why originality makes anime just that much more enjoyable.
Knight's & Magic Trailer
---
5. Captain Earth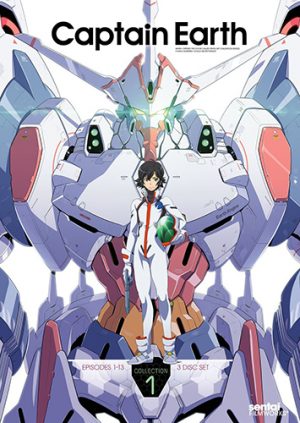 Episodes: 25
Aired: April 2014 – September 2014
Manatsu Daichi should have learned that curiosity can be quite dangerous. After spotting a rainbow-like flying saucer above, Manatsu follows the object with memories urging him forward. The rainbow-like object possibly lead to Manatsu father's death and he knows this object contains the truth. After arriving on an island, Manatsu finds an even weirder building called Earth Engine and as the alarms within him urge him onward, he soon ends up in a battle that could change the very destiny of the entire universe.
Every now and again we see some mecha anime falling into obscurity. That is why we here at Honey's Anime pride ourselves on watching every anime in existence and reminding fellow otaku of possible hidden gems! Captain Earth released in spring 2014 and we liked the mix of classic robot anime and new-age animation! Just like SSSS.Dynazenon, Captain Earth is a fun mecha anime that will keep your eyes glued to the monitor as you watch glorious robots duking it out in the stars above.
Captain Earth Trailer
---
6. Godzilla: S.P (Godzilla: Singular Point)

Episodes: 13
Aired: April 2021 – Currently Airing
Genuis researcher Mei Kamino alongside engineer Yun Arikawa are about to discover a threat below the ocean that is soon to change their lives. Together, these two strangers will need to use their wits to help prevent the world from succumbing to the new emerging threat. Will the world emerge victorious against the age old monster or will life as we all know it become a thought of the past? Welcome to an epic battle in the world of Godzilla: Singular Point!
SSSS.Dynazenon might be filled with mechs and various robots but you didn't think we forgot it has another thing many of us otaku love, kaiju! For that kaiju itch we turn you towards the currently airing Godzilla: Singular Point that released alongside SSSS.Dynazenon this spring 2021 season. As fans of all things Godzilla—seriously we have seen almost everything Godzilla—Godzilla: Singular Point called to us the minute we heard about it last year and even now we're enjoying it a lot. There have been a ton of amazing anime released this season so we understand if you missed out on Godzilla: Singular Point but now is the time to catch up and watch alongside us Godzilla fans!
Godzilla: Singular Point PV
---
Final Thoughts
Mecha anime like SSSS.Dynazenon don't come around that often and when they do, they really pump us up. We are loving everything about SSSS.Dynazenon and that if you're the same as us, you'll love the anime listed above. The various series on our 6 Anime Like SSSS.Dynazenon list will provide you with a slew of new anime to watch while SSSS.Dynazenon airs or when it wraps up later this spring 2021 season. Have you already watched any of the anime on our list? Comment with what series you've enjoyed and if we missed a good recommendation! For even more recommendation lists keep stuck to our transforming hive here at Honey's Anime!
---