También puedes leer este artículo en:Español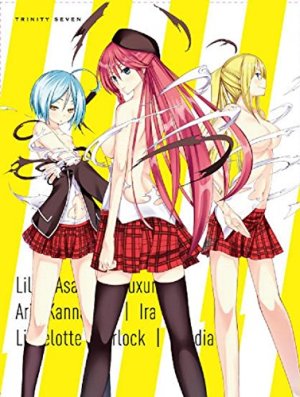 Being surrounded by attractive girls all the time sounds like a great opportunity for many, but what if there was a great danger lying ahead, and now instead of parties, it's an all out battle? What if you had the magical prowess to put an end to all of the terror that's about to unfold, with the assistance of these wonderful heroines? That sounds like a pretty successful relationship for sure! We're going to be taking a look at six anime that share similarities with Trinity Seven, and there's sure to be lots of ecchi, action, and laughs in these six awesome shows, so let's hop right in. This is an updated list. Please scroll down for the old list.
Similar Anime to Trinity Seven
1. Mahou Sensou

Episodes: 12
Aired: January 10, 2014 - March 28, 2014
Takeshi comes across a girl in distress on his way to Kendo practice, and as a true hero he does so but ends up receiving more than what he bargained for. The girl wakes up from her unconscious state, accidentally giving Takeshi the ability to perform magic powers. He soon finds out that he lives between two worlds, the one he is aware of, and the one where magicians have big ambitions to live alongside non-magicians. Along his journey he encounters other magicians that he must build relationships with in order to defeat the evil Ghost Trailers, who are magicians willing to harness their power violently and assert superiority over humanity. Now Takeshi must prevent the Second Great Magic War from taking place, while learning more about himself throughout his experiences.
Takeshi is a lot like Arata where he's thrown into a world where he must come to terms with, and along the way build relationships with other characters to ensure the world's survival. They initially have no idea what they're being introduced to, since the two have a random encounter with a girl who pretty much changed their entire state of being. Once they realize that their world is in peril, they start to take their new roles more seriously and help to prevent terror from consuming the world.
---
2. High School DxD

Episodes: 12
Aired: January 6, 2012 - March 23, 2012
The world that Issei lives in is one full of perverted fantasies, peeping on women, and dreaming of running his very own harem. Most of his plans seem to be going well when he suddenly is confronted by a girl who asks him on a date. The unfortunate side to this is that the girl is actually a fallen angel who sees the opportunity to kill Issei on the spot. Things turn around once again for Issei when he's given a second chance at life but this time under the order of Rias Gremory, a top-class devil who uses him as her servant and recruits him into the Occult Research Club. Issei must now come face to face with a world that is filled with constant danger at every turn, battling demons while enjoying the ecchi lifestyle that has become his harsh reality.
While both Issei and Arata are the victims of a relationship gone south, the two somehow end up in a position that they never intended to be in. Issei desired the harem life, but not forced upon him in such a way that he now must fight for his life. Both shows are full of ecchi moments and dirty jokes as both protagonists must realize there's no turning back, so their only option is to work alongside these well endowed females to make a change. A lot of fondling of breasts are seen throughout each show, which act as a motivator for each protagonist to perform better under extreme pressure. The two in the end live a life that initially was off putting, but now have a lot more purpose due to their attractive surroundings.
---
3. Shinmai Maou no Testament

Episodes: 12
Aired: January 8, 2015 - March 26, 2015
Main protagonist Toujo was asked by his father if he'd like a little sister in his life, which initially was his dream but not the way life had planned it out. On top of that random question which threw Toujo into a state of panic, his father then mentions he will be getting remarried. The story of Shinmai Maou no Testament follows Toujo, who now must come to face a harsh truth when he finds out the true form of his two beautiful step sisters.
As you can tell from the premise of the story, both Toujo and Arata face a similar fate in which the two must embark on a dangerous journey, and learning new responsibilities along the way. They both find themselves in a harem scenario where they're surrounded by powerful females who use their ecchi behavior to keep the boys in check. All of this course doesn't come without some comedy, as both shows despite having to deal with an evil enemy, have a lot to laugh about especially when Toujo fumbles about trying to adapt to this new world.
---
Any Anime Like Trinity Seven?
4. Yamada-kun to 7-nin no Majo (Yamada and the Seven Witches)

Episodes: 12
Aired: April 12, 2015 - June 28, 2015
Ryuu Yamada enrolls into Suzaku High School, in hopes that he can start anew and lead a productive school life where no one would know of his troublesome past. Ryuu has reverted to his old ways due to his new surroundings becoming a bore, until one day Ryuu encounters the beautiful Urara Shiraishi. A misstep causes them to fall down the stairs, ending in an accidental kiss, and the two soon discover they can switch bodies with a kiss. Coming to terms with their new power, Toranosuke, a student council officer and sole member of the Supernatural Studies Club, takes them under her wing. Soon joined by Miyabi, the group unearths the legend of the Seven Witches of Suzaku High, seven female students who have obtained different powers activated by a kiss. Their new quest is to now discover the real identities of all the witches.
Ryuu just can't seem to get a break in his life until something enters his life without warning, throwing him into a whirlwind of new experiences. Similar to Kasuga, the two find themselves dealing with 7 females who all have extraordinary powers, and must use them to extinguish evil from the world in which they live. Both introduce harem into the story with Ryuu's life focusing more on romance, while Arata deals a lot more with perversion. They both must adapt on the fly, and learn to understand the truth behind all that's happening around them, changing their perspective on life forever.
---
5. Saijaku Muhai no Bahamut

Episodes: 25
Aired: April 6, 2014 – September 21, 2014
One of the more recent harem action anime is Saijaku Muhai no Bahamut. We follow Lux, a former prince of the Arcadian Empire that was overthrown via a rebellion five years earlier. By accident, he finds himself in a female dormitory's bathing area, observes the kingdom's new princess Lisesharte in her natural state, resulting in her lashing out. After this embarrassing ordeal, she then challenges Lux to a Drag-Ride duel. Lux was labeled as the strongest Drag-Knight, but now he's known as the "undefeated weakest" Drag-Knight because he refrains from attacking in battle. After his duel with Lisesharte, Lux ends up attending the female-only academy that trains royals to be Drag-Knights.
Lux just can't seem to get himself out of trouble, always running into obstacles that he must somehow overcome. Fortunately for him, he gets to live out his life with beautiful girls in a harem style environment. Lux is picked on by all of them, but eventually must put all insults aside in order to reclaim his title as the strongest Drag-Knight. All of this course doesn't come without some ecchi to really liven things up, and so throughout the show you'll see skirts lifted, chests exposed, and a lot of moaning and groaning to keep you glued to the screen. The show definitely showcases a large handful of action to go along with all of the "sound effects" that you'll hear throughout, and it truly brings the show to life in a great way.
---
6. Strike the Blood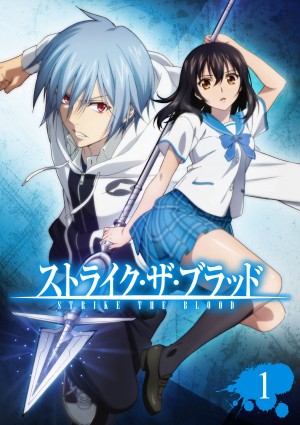 Episodes: 24
Aired: October 7, 2014 – March 31, 2015
Strike the Blood stars Kojou Akatsuki, as his life as an ordinary high school student in the Demon District of Itogami Island, comes to a halt after a fateful encounter bestows him with the superhuman abilities of a vampire. He is then catapulted into a myriad of uncertain events, and discovers that he's the fourth primogenitor, who many have said to be a legendary vampire who wields incredible power. The Lion King Organization is ordered to call upon apprentice sword-shaman, Yukina Himeragi, to survey him in fear of Koujo's destructive powers, and should he become a threat, to kill the boy immediately. The two must now form an unlikely alliance as Kojou comes to terms with his abilities and they both struggle to protect the city from various emerging chaotic forces.
Kojou is granted a power which he'd never imagined possessing in his entire life, and must now team up with hot girls to battle the forces that oppose them. Both Arata and Kojou didn't necessarily wish for these events to happen, but end up in a pleasing scenario with a bunch of powerful women as their allies to fend off evil. Whenever the two are confronted by the girls, flirtation always transpires which leads to nosebleeds or someone getting punched in the gut for their perverted behavior. Both shows offer up a great amount of humor with Kojou being the more dry of the two, while Arata just doesn't care what he says and wishes that he could see more boobs in action.
---
Conclusion
There's no telling what could happen in this world full of uncertainty. One moment you're just doing your ordinary routine job, then the next moment you're in the middle of a deadly battle with very little time to spare. Trinity Seven offers us a wonderful visual experience with a blend of action, comedy, fantasy, and some ecchi to spice things up. There are plenty of anime similar to Trinity Seven, so if you have any other anime that you feel should make the list, be sure to let us know in the comments section down below! And also follow us on twitter for the latest article updates and tweets!
For all of your sweet anime needs, keep it locked here on Honey's Anime.
---
---
If you like some ecchi, harem anime that has a pretty good use of action, magic and comedy, then you'll like the selection below. Trinity Seven is a fan favorite series released last year in the 2014 Fall anime lineup. Trinity Seven has a great story in a high school setting with exceptional use of magic, and lots of fan service.
Trinity Seven has a nice balance of violent tsundere situations, obscene jokes, and likeable female and male characters. Most would say it takes on the perverted harem idea and molds it in a new, enjoyable way.
Check out the list below if you would like to continue enjoying anime like Trinity Seven.
Similar Anime to Trinity Seven
1. Seirei Tsukai no Blade Dance (Blade Dance of the Elementalers)
Episodes: 12
Aired: Jul. 14th, 2014 - Sept. 29th, 2014
Seirei Tsukai no Blade Dance is pretty similar to Trinity Seven. Both have a main character that is considered unique as a magician, while attending a school for magic as a transferred student.
In a school for trained maidens, only a pure maiden has the privilege to make a contract with a spirit. Noble families send their members to receive an elite education in order to become a spirit contractor. This begins the life for Kamito who accidentally peeked on, Clair, while she was taking a bath and made a contract with a spirit she had her eyes on for herself.
He was just your average perverted boy, and now Kamito must take responsibility for stealing another's spirit, thus changing his destiny.
---
2. Absolute Duo

Episodes: 12
Aired: Jan. 4th, 2015 - Mar. 22nd, 2015
Absolute Duo is another very similar anime to Trinity Seven. Both of them have the same qualities of school life and magic, as well as battles and comedy infused with said action. They both have storylines that are very similar with an ecchi feel to it.
This story is about a weapon called Blaze, which is a manifestation of a human's soul. Tooru Kokonoe has acquired such a weapon realizing it wasn't what it seemed, it was a shield instead. Tooru is enrolled in a school that teaches him combat skills while being partnered with another.
Because of the Duo partner system, he is paired with a very beautiful girl with silver hair and supernatural powers. This is one of the many challenges he faces while learning the skills he needs to protect those he loves.
---
3. High School DxD

Episodes: 12
Aired: Jan. 6th, 2012 - Mar. 23rd, 2012
High School DxD is also similar in a way, the main character learns the girl he likes is not really what she seems to be. One of the main factors in the anime that is also very similar, is the main character is a pervert, and has tons of erotic references.
Following Issei Hyodo, your average perverted teen whose one wish is to date a beautiful girl as a harem. A girl later on approaches him and makes his dreams come true, although, everything suddenly takes a turn for the worse when he founds out the girl is a demon angel. He is rescued by a member of his school who claims she's the devil and his new master.
This begins his new life as he is surrounded by devils and angels who battle each other for dominance.
---
Any Animes Like Trinity Seven?
4. Mahou Sensou (Magical Warfare)

Episodes: 12
Aired: Jan. 10th, 2014 - Mar. 28th, 2014
Mahou Sensou is another similar series to Trinity Seven in terms of character design, genre, great use of magic and a romance feeling to it.
Takeshi Nanase is your ordinary high school student who has a dark past and lives a fake life with his childhood friend, Kurumi Isoshima, as a couple. All that changes when he encounters a passed out girl on the ground wearing a different uniform from his schools.
The girl, Mui Aiba, is a magician who has accidentally turned Takeshi into one and now has to find a way to coexist in the magician world, as well as, the human world.
---
5. 11 Eyes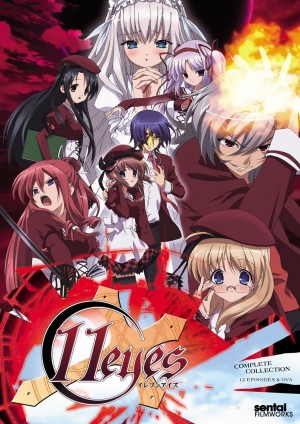 Episodes: 12
Aired: Oct. 7th, 2009 - Dec. 23rd, 2009
This anime has the same feel for the setting and the situations that occur in the series. Both atmospheres change in a way that affects the surroundings. In 11 Eyes, the Sky changes in a similar way as the Sun changes in Trinity Seven.
When the Sky turns red and the Moon goes black, monsters begin to appear roaming the streets which has Satsuki Kakeru wondering what's going on. In a strange world with his best friend, Yuka, they try to figure out why they're there and why they're the only ones around.
Feeling like it was all a dream the next day, the same occurrence happens again, leaving them in a dangerous situation where they meet four others like them. Each with some interesting characteristics about themselves, the six come together to figure out how to survive the strange world.
At the same time, six shadows appear and make things much worse for them all.
---
That does it for this segment of 6 Anime Like Trinity Seven. If you like this series, I hope you enjoy the selection above and that it continues your needs for enjoying great anime.
Is there an anime you like in the list? What other anime series do you think are similar to Trinity Seven? Let us know in the comments below.
---