HIDIVE hasn't had the best track record of anime releases as people still don't gravitate toward their services like Crunchyroll and Funimation. However, HIDIVE recently released an anime that genuinely took us by surprise in the form of Call of the Night, a vampire romance story that may sound simple but is so deep and original that we can't help but sing its praise. As Call of the Night still releases—and others still deciding to either try the HIDIVE service or not—we knew a recommendation list was necessary for this incredible series. Without further ado let us bring you 6 Anime Like Call of the Night! We promise, no sparkling vampires on this list…but we may have vampires in space…
Similar Anime to Yofukashi no Uta / Similar Anime to Call of the Night
1. Bakemonogatari

Episodes: 15
Aired: July 2009 – June 2010
Koyomi Araragi was a normal loner high school boy. That simple reality shattered when he was attacked by a vampire and then was lucky enough to be returned to human form with some side effects. Koyomi's life is anything but ordinary now, which is made even more apparent when a girl falls down a flight of stairs at his school and when he catches her, Koyomi notices she weighs less than a feather. Koyomi's rescue is Hitagi Senjougahara and he will soon learn that like him, others have fallen victim to strange incidents that he may be able to help them overcome their abnormal situations.
Bakemonogatari is a true testament that not all anime needs to follow the usual systems of the genre. Dialogue heavy with some occasional action and drama—plus some ecchi—Bakemonogatari is extremely similar to the rather unique Call of the Night series. Both stories take the vampire genre in different directions using their flavor of romance and avoidance of the eye-rolling clichés of vampire stories. Bakemonogatari has become a legendary anime series—originally a light novel series—spawning several seasons, multiple movies and so much more! That's why we can easily recommend checking out Bakemonogatari if you love Call of the Night!
Bakemonogatari Official Trailer
---
2. Vanitas no Karte (The Case Study of Vanitas)

Episodes: 12
Aired: July 2021 – September 2021
Born under a blue moon, the vampire known as Vanitas found himself hated and mocked by others like him. Wishing to get revenge, Vanitas made a powerful grimoire called the Book of Vanitas and promised all vampires who knew, that the crimson moon would face his wrath. In the distant future, Noe Archiviste has begun looking for the legendary grimoire but his journey almost lands him in danger. Noe is saved by a human named Vanitas, who just so happens to have the book that Noe has been searching for…
Vampires are just the definition of awesome. They have superpowers, can live seemingly forever, and can harness other supernatural abilities. The one element we love about Call of the Night is how it doesn't portray vampires in the way we think they're supposed to look and sound. Nazuna—the main female vampire of Call of the Night—is playful, silly, mature (occasionally), and has the ability to fly. The Case Study of Vanitas, we think, does something similar by showing a whole new side of vampires and their stunning lives and abilities. While not filled with romance and comedy like Call of the Night, The Case Study of Vanitas definitely has more supernatural themes and a truly engaging narrative that made it a pretty amazing 2021 anime series! While you wait for more Call of the Night episodes to air, try binging The Case Study of Vanitas and realize vampires aren't always the blood-sucking beings we think they are.
The Case Study of Vanitas Official Trailer
---
3. Tsuki to Laika to Nosferatu (Irina: The Vampire Cosmonaut)

Episodes: 12
Aired: October 2021 – December 2021
The United Kingdom of Arnack has always found itself competing with the Federal Republic of Zirnitra, especially, when it comes to the race for space. In the late 1950s, Zirnitra launched the first spacecraft into orbit with a live dog within and would shock the world proving space had the ability to be explored. Not wanting their competition to pull further ahead, Arnack began their own simulations and realized they could one-up their rival by launching a living being into space! However, instead of using a normal human, they decided to use a vampire as they knew these beings wouldn't be missed if killed and wouldn't cause the world to panic if things went south. Enter Lev Leps, originally meant for the first space mission, he has been tasked to watch over the vampire Irina Luminesk while the union will lead a revolution most couldn't see coming.
Space. The final fron… Yeah, let's avoid that line most of us otaku know, and just discuss how cool Irina: The Vampire Cosmonaut is. Yes, it has a vampire and yes, there are hints of romance between Irina and a human counterpart. Despite that, what makes Irina: The Vampire Cosmonaut so different and watchable—like Call of the Night—is how ambitious the anime is. We aren't in a high school setting and dealing with the trope-heavy vampire romance tale. Irina: The Vampire Cosmonaut is part semi-historical narrative mixed with intriguing dialogue, and sprinkled with wonderful visuals that put emphasis on night and space scenes. Call of the Night might surpass Irina: The Vampire Cosmonaut in various ways but we respect both series and think they are quite similar as they don't rely on ideology stemming from years of vampire works and stories. We whole heartily recommend giving Irina: The Vampire Cosmonaut a try!
---
Any Anime Like Call of the Night / Any Anime Like Yofukashi no Uta?
4. Dagashi Kashi

Episodes: 12
Aired: January 2016 – April 2016
For nearly a decade the Shikada family has run Shikada Dagashi which is known for its traditional Japanese candies. However, Kokonotsu Shikada, the son of the most recent heir to Shikada Dagashi, has little desire to keep the tradition going. Instead, Kokonotsu wishes to draw manga and thus, it seems the business may eventually disappear… Not unless Hotaru Shidare can change our manga artist's mind! This young woman has a desire to own her father's world-famous sweets company and knows Shikada Dagashi has the means of accomplishing her dream. Now tasked with making Kokonotsu agree to be the next heir for the business, these two will find their lives intermingling in ways neither one could expect.
Okay, vampires are cool but you know what's even sweeter than vampires? Candy, of course! Stepping away from the creatures of the night, our next entry on our 6 Anime Like Call of the Night list has nothing to do with vampires but does echo themes of Call of the Night, making it an easy recommendation. Dagashi Kashi is mostly comedy with candy themes but like Call of the Night, we see a lot of originality within and both series are a real treat to check out—we're done with the candy comments. Dagashi Kashi is one of our favorite food-like anime and you will love it too even if it doesn't have vampires and a focus on the night.
Dagashi Kashi Official Trailer
---
5. Kyuuketsuki Sugu Shinu (The Vampire Dies in No Time)

Episodes: 12
Aired: October 2021 – December 2021
Vampire hunting can be one of the most dangerous jobs in existence. Despite this, vampires are notorious for their unusual weaknesses but as Ronald—a vampire hunter—is about to learn, some vampires have a lot more weaknesses than normal. Draluc might be a vampire but has a plethora of weaknesses to the point Ronald beats him by…clapping his hands together. After saving a kid—who didn't need saving—and destroying Draluc's castle, Ronald ends up getting some new roommates! Can Ronald live with a very weak vampire and his pet armadillo!?
The Vampire Dies in No Time seems to be a forgotten series of 2021! We literally heard almost nobody talking about this vampire comedy and that pained us as it is a hilarious anime! Filled with funny banter and silly antics—all of which can be found in Call of the Night—The Vampire Dies In No Time is such a great vampire comedy that we wish gets a bit more recognition! Hopefully, now that we told you about it, you'll watch The Vampire Dies in No Time when you are in the need of some classic comedy most series don't do well in this modern era. By the way, don't let the super cool trailer deceive you…we promise this is a comedy.
The Vampire Dies in No Time Official Trailer
---
6. Tsukuyomi: Moon Phase (Moon Phase)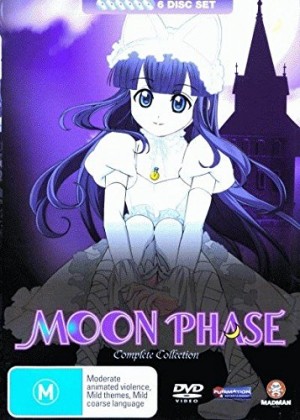 Episodes: 25
Aired: October 2004 – March 2005
Kouhei Morioka is traveling abroad in Germany in search of some photos of paranormal activity for his editor/friend Hiromi Anzai. Kouhei discovers a creepy castle and not long before he enters he runs into a small girl adorned in a white dress…something straight out of a horror movie cliché! The girl reveals herself to be Hazuki and despite looking normal—and despite her tiny fake cat ears, she is actually a vampire! Hazuki attacks Kouhei and sucks his blood only to discover he doesn't transform into a vampire! Returning home to Japan after his strange vampire encounter, Kouhei discovers Hazuki has decided to live with him and that also means she now has a slew of other vampires wondering where she went. Should be an easy roommate to deal with…right?
We went back almost 20 years for our last entry but we knew that Moon Phase needed to be mentioned! Call of the Night has some cute vampire romance themes and that makes Moon Phase a perfect recommendation as this entire show is all about cute vampire romance! Moon Phase might be a bit old animation-wise and doesn't have the most serious story, we adore the characters and romance elements of the series and know Call of the Night fans will enjoy it as well!
Moonphase Official Trailer
---
Final Thoughts
Call of the Night is incredible and we really can't deny that it could be one of our favorite anime of 2022! That being said, we understand that sometimes getting yet another subscription service may be a bit hard to manage. That's why we hope our recommendations will help you find similar anime to Call of the Night and maybe give you some time to make your decision on whether or not you want to subscribe to HIDIVE…which we don't think is a bad idea as the site does have some solid anime!
Are you currently watching Call of the Night or have other recommendations you'd like to let us know about!? Let us know in the comments below! Be sure to keep stuck to our honey-sucking hive here at Honey's Anime for even more anime recommendations and articles!
---