In the real world, having ghosts haunting our homes or our persons isn't seen as a good thing. Then you have the world of anime where being haunted by ghosts might lead to a hot ghost girl being your roommate. If this sounds like a familiar theme then you're probably watching Yuragi-sou no Yuuna-san and wishing you were like Kogarashi Fuyuzora rooming with the busty ghost girl Yuuna Yunohana. Though beyond being filled with envy—like we are here at Honey's Anime—you're also probably watching Yuragi-sou no Yuuna-san for the hilarious plot and ecchi scenes. That also means you want more shows like Yuragi-sou no Yuuna-san and luckily, we have you covered there.
Welcome, readers, to our 6 Anime Like Yuragi-sou no Yuuna-san list! Today's selection of similar recommendations focuses on harems/romances with supernatural themes. Ghost girls, magical hotties and tons of ecchi for your noses to spew out geysers of blood. Are you prepared for some wonderful anime to binge in between your days of waiting for each new episode of Yuragi-sou no Yuuna-san? Then scroll down and let's begin this not-so spooky list!
Similar Anime to Yuragi-sou no Yuuna-san / Similar Anime to Yuuna and the Haunted Hot Springs
1. Trinity Seven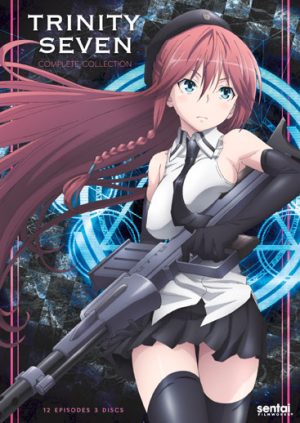 Episodes: 12
Aired: October 2014- December 2014
Arata Kasuga's world was forever changed when the sun turned dark and his hometown and all those within suddenly vanished from the Earth. Strangely enough though, Arata recreated his town after the so called "Breakdown Phenomenon" occurred and was able to enjoy life as if nothing happened. However, this new take on life isn't forever and Arata once more witnesses his life shattering causing him to enroll in a secret magical school to learn why this situation occurred in the first place. Arata will soon realize he's targeted for a multitude of reasons and will need to hope that he can harness his new powers and rely on several friends—all of whom are beautiful girls—to aid him in staying alive and keeping his world from vanishing once again.
Ninjas with magic, tons of supernatural themes and several anime cuties make for a good anime wouldn't you agree? If you do agree then we turn your attention to Trinity Seven which was released back in 2014. Trinity Seven aims at delivering a harem/action experience to the viewer and works wonders thanks to its awesome animation, cool art design and ecchi filled 12-episode run. Plus, if you do love Trinity Seven, there is even a movie that acts a pseudo sequel to enjoy while we pray a season 2 is announced one day. We highly recommend fans of Yuragi-sou no Yuuna-san to try out Trinity Seven even if there is a lack of ghost girls to enjoy.
Trinity Seven- Official Trailer
---
2. Rosario to Vampire

Episodes: 13 (season 1)
Aired: January 2008- March 2008
Due to his horrible academic strides, Tsukune Aono finds himself is a pretty bad situation, no school wants him! Thankfully, Aono's parents have a solution in the form of a school that is willing to take him even with his poor grades. While Aono thinks this should be just a normal school, he soon comes to the realization that he's quite different than his peers. Unlike himself, all who attend Youkai Academy are actually monsters hiding behind human shells. Aono must now endure being possibly maimed by these monsters and their powers and see about possibly winning over one vampire girl he runs into on day one named Moka Akashiya. Doesn't sound too difficult, right?
Are you enjoying the comedy found in Yuragi-sou no Yuuna-san and need more random supernatural laughter in your life? Then we think you might enjoy Rosario to Vampire for a solid comedy harem experience. While Rosario to Vampire might differ greatly from its more serious toned manga adaptation, this doesn't remove the enjoyment to be had and makes it quite similar to Yuragi-sou no Yuuna-san. The beauty of watching Rosario to Vampire is simple readers. Not only will you get sexy ghost girls like in Yuragi-sou no Yuuna-san, you'll also get a cute vampire girl with an alter ego, a lustful succubus and an ice princess who stalks her love!
---
3. Tasogare Otome x Amnesia (Dusk Maiden of Amnesia)

Episodes: 12
Aired: April 2012- June 2012
Every school has its fair share of myths, horror stories and urban legends that have built up from the numerous students who pass through its halls. In Seikyou Private Academy, one such legend exists in the form of a ghost that haunts its hauls called Yuuko. However, unlike the myths in other schools, Yuuko isn't a fake story but actually a real ghost who has been trapped in the school with no memories of her past and even how she died. Luckily for Yuuko though, one student named Teiichi Niiya is able to interact with her and seeks to help Yuuko learn of her amnesia driven background. However, what awaits Teiichi as begins to ebb closer to the beautiful ghost and her trauma filled past?
Now if we know our readers—which we think we do—then we're going to assume you want a series exactly like Yuragi-sou no Yuuna-san. Thankfully, Tasogare Otome x Amnesia fits that bill as it mirrors many elements seen in Yuragi-sou no Yuuna-san, minus a super powered exorcist dude like Kogarashi. Tasogare Otome x Amnesia is all about a romance between a ghost and a human as they go from strangers to friends and then to possible lovers. If we did say there were any major difference between these two ghostly tales of comedy, romance and drama it would be that Tasogare Otome x Amnesia aims to deliver a more romance heavy story that does get very emotional near its climax. You'll need tissues while watching Tasogare Otome x Amnesia and it won't be for nosebleeds…even though sometimes you might need them when Yuuko is half-naked on screen.
Dusk Maiden of Amnesia Official Trailer
---
Any Anime Like Yuuna and the Haunted Hot Springs / Any Anime Like Yuragi-sou no Yuuna-san ?
4. High School DxD

Episodes: 12 (season 1)
Aired: January 2012- March 2012
Issei Hyoudou has done what most perverts wish they could do, he's gotten himself a date with a beautiful girl who actually asked him out. Unfortunately, Issei learns his luck was a façade as this beautiful girl turns out to be a fallen angel and kills him during their date. Issei gains a second lease on life though when a girl named Rias Gremory appears and revives him making Issei into one of her servants. This event brings Issei into a world unseen by most where angels and demons fight to stay powerful in a constantly shifting war. Can Issei still grab onto his dream of having his own harem of beautiful women or will this new life bring with it more pain than joy?
High School DxD is pretty well known in the anime world for being about three things, comedy, ecchi and action. Do these three themes sound familiar to you? That's why we knew while writing our 6 Anime Like Yuragi-sou no Yuuna-san list we needed to mention High School DxD as a solid alternative anime to watch. The fourth season of High School DxD just ended too so now is a great time to start binging this wonderful series of angels and demons colliding. Just watch in moderation, we wouldn't want our readers to pass out witnessing hours of lovely anime angel/demon girls on screen every few seconds.
High School DxD Official Trailer
---
5. Monster Musume no Iru Nichijou (Monster Musume: Everyday Life with Monster Girls)

Episodes: 12
Aired: July 2015- September 2015
When his parents went overseas, Kimihito Kurusu expected peaceful days in solitude to await him. Then for reasons unknown Kurusu's home is invaded by a monster girl named Miia and she won't be the last to arrive. Kurusu discover that he has been randomly selected to participate in a program to narrow the segregation barrier between humans and monsters. This ultimately means Kurusu is going to have his solo filled days filled with girls of a non-human persuasion. Can Kurusu survive these girls who seem to love him in ways that could potentially kill him?!
We don't judge our readers for their tastes in anime girls as they come in numerous looks and styles. Though we also understand that for some guys and girls, they need their anime women to be different than the rest. Monster Musume no Iru Nichijou is the perfect anime for delivering girls like that as these women range from centaurs, mermaids, lamia and even slime creatures. Harem and ecchi filled to the max we think you might want to give Monster Musume no Iru Nichijou if you're enjoying Yuragi-sou no Yuuna-san. Maybe if we can get enough viewers to watch Monster Musume no Iru Nichijou, they will make a season 2 happen faster!
Monster Musume no Iru Nichijou Trailer
---
6. Mahou Sensei Negima!

Episodes: 26
Aired: January 2005- June 2005
Ten-year-old Negi Springfield has risen through the magical world and is almost at the level of Master Wizard despite his age. For Negi to achieve the Master Wizard title, he must pass one final test. Unfortunately, even with all of his magical skills, this final mission won't be an easy one due to its rather odd nature. Negi must become a teacher for an all-female school! Can Negi survive being the only male within a group of rather rambunctious young women who seem to adore his cute nature?!
We wrap up our 6 Anime Like Yuragi-sou no Yuuna-san with one of the silliest harem anime around, Mahou Sensei Negima! Focused on giving the viewers high school girls in various flavors—ninjas and even vampires included—Mahou Sensei Negima! is just a fun 26-episode series that we enjoyed immensely here at Honey's Anime. Plus, Mahou Sensei Negima! isn't afraid to have ecchi thrown in with girl's clothing flying off thanks to Negi's weird sneezes and magical battles that tend to leave the girl's clothing in tatters. Ready for magic that is far different than the stuff you'd find in Harry Potter? Then go check out Mahou Sensei Negima! to fulfill your anime girl and comedy needs.
---
Final Thoughts
Is dating ghosts a good idea? Far from it, to be honest. However, in anime, dating ghosts is perfectly fine—and doesn't sound crazy—so we can't argue with Kogarashi from Yuragi-sou no Yuuna-san, we'd date Yuuna ourselves if we could. Aside from the ghost dating elements though, Yuragi-sou no Yuuna-san is a fun show so far and we think our list of 6 Anime Like Yuragi-sou no Yuuna-san will intrigue you just as much as this show does with us. Have you seen any of the anime we mentioned? Let us know in the comments below and for all your ecchi supernatural anime needs be sure to keep returning to our hive here at Honey's Anime!
---