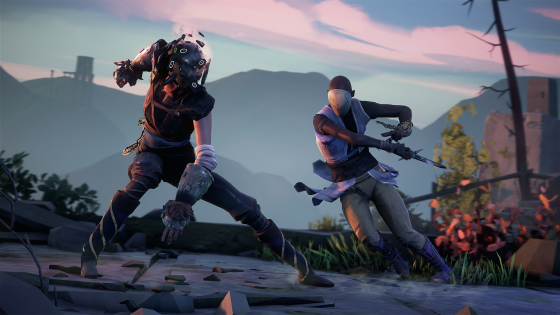 What You Need to Know:
Independent developer Sloclap and the drunken masters at Devolver Digital have announced the preorder program for the greatly anticipated online melee action game Absolver ahead of its launch on PlayStation 4 and PC August 29. We had an opportunity to take part in the closed beta of the game, and boy was it a blast to play. Absolver has all the right perks needed to give the game lasting value, especially with so many cool skills to learn!
Starting today eager combatants that preorder Absolver on PlayStation 4 or PC will receive 10 percent off the base $29.99 price, the Labyrinth Prospect mask, and Uring Priest gear set at the official Absolver website. The most ardent fans can preorder the limited small batch physical Absolver Collector's Edition from Special Reserve Games for $74.99, which includes an ultra premium, wearable Prospect mask with display stand, a 52-page The Art of Absolver book, and sticker pack in addition to a PlayStation 4 disc or PC download via Steam.
The upcoming online combat game has been hotly anticipated and has taken home numerous E3, PAX, and PSX awards since its reveal last summer. Absolver puts players behind the mask of a Prospect, who has taken a sacred vow and chosen to join the Absolvers, an elite corps of combatants fighting to maintain stability in the world. Prospects will choose a combat style, each with their own special abilities, and assemble their own custom Combat Deck to create a personal fighting system in intense, real-time combat. Choose to wander the land alone, with friends, or find a mentor to spar and learn from to become a more polished warrior. For now, check out the latest video which shows off the various weapons and powers that you'll get to choose from come release!
Source: Official Press Release
Official Trailer
Absolver - Weapons and Powers Video

---
That alpha demo we played was great wasn't it honey-chan?
Yeah it certainly was! I really loved the variety of things you could do with your character, and everything felt almost limitless. Can't wait for the final release!
---