A Familiar Routine
Episodes : 12
Genre : Comedy, Sports, School
Airing Date : October 2018 to December 2018
Studios : Doga Kobo
Anima Yell! Introduction and Story
Doga Kobo has cornered the market for "cute girls doing cute things" anime. Yuri Yuri, New Game!, Gabriel DropOut, and Mikakunin de Shinkoukei embody the genre's most endearing elements. Whether striving to be laugh-out-loud funny or injecting a touch of romance, the studio has crafted a distinct identity associated with this type of anime. Based on a 4-koma manga, Anime Yell! fits snuggly into Doga Kobo's expansive catalog. Recently graduating from middle school, Kohane Hatoya is the ultimate people pleaser. If somebody requires help, the teenager cannot resist the urge to lend a hand! Energetic but somewhat scatterbrained, Kohane has struggled to discover a special passion to call her own. One random day, Kohane stumbles across the experienced Hizume performing a cheerleading routine and it was love at first sight! Forming a cheerleading club in high school, Kohane and Hizume set out to inject a touch of joy into school life!
Why You Should Watch Anima Yell!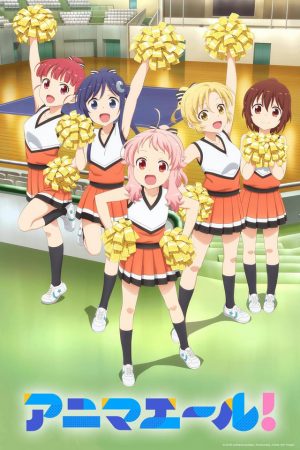 1. Kohane Hatoya Is a Delight!
As the anime's protagonist, Kohane Hatoya will make or break Anima Yell! for many viewers. The girl is an absolute dynamo! Even though she lacks experience or any distinct talent, Kohane's unflinching enthusiasm for cheering is utterly infectious. Anima Yell! is more of a comedy than a sports anime, but Kohane deserves the bulk of the credit for injecting a dose of excitement into the routines. Along with driving the story forward and inspiring other girls to join the club, Kohane shoulders most of the anime's comedic responsibilities. Ditzy to a fault, the protagonist tends to dive headfirst into situations without carefully considering the consequences; however, Kohane's actions are always driven by a desire to help others.
2. Tried and Tested
Anima Yell! sticks to the status quo. For those familiar and fond of Doga Kobo's trademark shoujo cuteness, this sports anime should hit all the correct notes. Consequently, Anima Yell! is not going to convince any non-believers. While the cast chiefly consists of amiable high schoolers with a shared passion for pom-poms, none of the girls are especially unique. On the surface, this might sound like a criticism, but that could not be further from the truth! Anima Yell! symbolizes a confident studio with a firm understanding of its target audience's preferences. Doga Kobo has perfected its formula!
3. A Relaxing Sit
As a sports anime, Anima Yell! lacks an aggressive edge. Rather than tirelessly working to take part in a marathon or sumo tournament, Kohane and friends are training for themselves. Occasionally, the club receives a request to present a routine at an event, but victory is never the point. Sports anime tend to rely on competitions to raise the stakes, but Anima Yell! is a far more relaxing experience. Doga Kobo's carefree series develops its characters through their relationships rather than arbitrary trophies. As a comedy, Anima Yell! is frequently laugh out loud funny, although someone's mileage may vary depending on whether Kohane's clumsiness is perceived as endearing or annoying.
Why You Should Skip Anima Yell!
1. A Budget Production
Doga Kobo's vibrant art style is present throughout Anima Yell!, but the animation can be somewhat stilted. While far from the ugliest release of 2018, the series is definitely not a contender for the prettiest. Besides the girls' visual designs, which are acceptable but nothing to write home about, Anima Yell! appears happy to include as little detail as possible in any of the backgrounds. At times, Kohane's squad may as well be standing on a blank piece of cardboard, there is just nothing happening around the characters. Now, in all fairness, Anima Yell!'s simplistic animation fits the story's laid-back nature; however, the anime compares poorly to the majority of the studio's other series.
2. Anima Yell! Is Not Really about Cheerleading
Anima Yell! works better as a comedy or a school-based anime than a traditional sports series. Episodes primarily revolve around the budding friendships between the characters, as the girls strive to improve their cheerleading routines. This makes for an enjoyable and lighthearted sit, but the anime tends to drop the ball as a showcase for the hobby. Putting aside a couple of scenes during the last handful of episodes, Anima Yell! seldom explores cheerleading in any depth. A great deal of time is dedicated to training, but these segments tend to diverge into silly gags and Kohane being adorable. Honestly, Doga Kobo shines the brightest while focusing on a combination of girls doing their thing; however, Anima Yell! is classified as a sports anime, therefore, the series should be examined as one.
---
Final Thoughts
Regardless of whether cheerleading floats your boat, Anima Yell! is worth a gander, especially for those who love Doga Kobo's previous projects. Packed with slapstick comedy and revolving solely around girls who cannot help but be charming, Anima Yell! is the best type of pandering! If it ain't broke, don't fix it!
Did you agree with our review? Is Anima Yell! worth watching? Please let us know in the comments below!