Do you like magic, imaginative settings, or legendary beasts like dragons and fairies? If so, you are likely a fan of fantasy, one of the most popular genres of anime! There are so many great fantasy anime coming out in the fall of 2021, including some that are silly and whimsical, and some that are emotional and gripping. If you aren't sure which anime to put on your list, here are some suggestions of popular and fun fantasy anime that just released!
5. Sekai Saikou no Ansatsusha, Isekai Kizoku ni Tensei suru (The World's Finest Assassin Gets Reincarnated in Another World as an Aristocrat)

Episodes: 12
Aired: October 2021 – December 2021
As the title suggests, The World's Finest Assassin Gets Reincarnated in Another World as an Aristocrat is an isekai anime. After an assassin meets an untimely demise at the hands of the organization that hires him, he meets a goddess who offers him reincarnation in exchange for killing a hero. Accepting the mysterious offer, the assassin is reborn as Lugh Tuatha Dé. In his new form, Lugh must learn novel assassination techniques and various other skills to accomplish his goal and fulfill the goddess's wish.
Many fans praise The World's Finest Assassin Gets Reincarnated in Another World for its fast pacing, easily digestible plot, and cool worldbuilding. The magic system is intricate with five different ranks and six attributes for spells, as well as the ability to create new spells. The only downside is that the protagonist can come off as a bit overpowered. Still, if you like isekai anime, we think you'll like The World's Finest Assassin Gets Reincarnated in Another World.
---
4. Shin no Nakama ja Nai to Yuusha no Party wo Oidasareta node, Henkyou de Slow Life suru Koto ni Shimashita (Banished from the Hero's Party, I Decided to Live a Quiet Life in the Countryside)

Episodes: 13
Aired: October – Ongoing
If you are looking for a change of pace, Banished from the Hero's Party, I Decided to Live a Quiet Life in the Countryside is a slice of life fantasy anime. The main character, Red, has been kicked out of the hero's party after poor performance. He decides to settle in the countryside and live a quiet life with Rit, a female fellow ex-adventurer. Banished from the Hero's Party effectively blends together both adventure and slice of life, which seem like opposites but actually go together quite well in this anime! There is also a lot of wholesome romance, and Red and Rit and definitely a couple anyone can root for. With a little bit of everything, it is no wonder that this anime has become so popular.
---
3. Saihate no Paladin (The Faraway Paladin)

Episodes: 12
Aired: October 2021 – Ongoing
As the second isekai anime on our list, The Faraway Paladin centers on Will, who is hit by a truck and is reborn in a ruined city. As a child, he is adopted by a cast of three supernatural creatures: a skeleton, a ghost, and a mummy. These three characters come together to train Will to adulthood, after which he will set out on his path.
The Faraway Paladin is unique from many isekai because of its unique choices in characters, choosing undead beings which many find creepy. The setting is similarly haunting, but this is not a morbid anime. The undead characters are caring instead of fearsome, and it is easy to see the parental love they harbor for Will as Will continues to live with them. Since they are actually once human, it isn't hard to connect to them and their individual struggles. In regard to production quality, fans praise the art style, the unique character designs, and the sounds that help the viewer immerse themselves in this video game-like world.
---
2. Takt Op. Destiny

Episodes: 12
Aired: October 2021 – December 2021
If you are looking for something that is set on Earth, Takt Op. Destiny is a fantasy anime that happens in the year 2047 after an invasive species called D2s fell to Earth on a meteorite and proceed to wreak havoc on the planet. The vicious aliens despite music, which causes them to become even more violent. The protagonist Takt Asahina is a piano prodigy who journeys across the perilous US to the Symphonica Headquarters in New York City along with his traveling companions despite the hazards they will face. Takt Op. Destiny has garnered much praise not only for its amazing fight scenes and the monster designs but also for the classical music pieces that accompany many of the scenes. If you are looking for an anime that is both a feast for the eyes and the ears, and you are willing to try something that is a little different due to its futuristic setting, definitely check out Takt Op. Destiny!
---
1. Ousama Ranking (Ranking of Kings)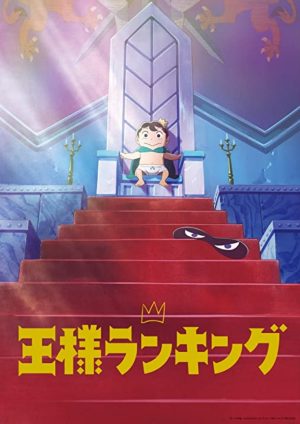 Episodes: 23
Aired: October 2021 - Ongoing
Finally, it is time for our Number 1 fantasy anime of our list: Ranking of Kings! Set in a classic fairytale-like kingdom, Ranking of Kings features Prince Bojji. Being deaf and mute, the prince is considered useless and mocked by his kingdom, but he has a strong will. He encounters a monster named Kage, an experience that would leave most children traumatized, but Prince Bojji is not scared of Kage. In fact, he begins forming a friendship with it, and it is his relationship with Kage that helps him develop his confidence and pursue his goal of becoming the best king!
As one of the best rated anime of this season, As a highly-received anime, Ranking of Kings has been praised for its charming tale of an underdog rising above his insecurities and other struggles. The anime features unique, complex, and three-dimensional characters that often surprise you with their character development past their initial introductions. No character is depicted as fully good or evil, and each character has compelling motivations behind their actions, allowing each character to feel truly human, especially with their stellar voice acting. Finally, the art style deserves a mention too. While it may not be as flashy as some of the other anime on this list, it is inspired by Disney animation and works well for the story that Ranking of Kings sets out to tell. With its emotional narrative and fleshed-out characters, it is no surprise that Ranking of Kings has won so many people to its side.
---
Final Thoughts
Thank you for reading Best Fantasy Anime of Fall 2021. We hope you found some anime to put on your list! Have you already seen some of these anime? What did you think? Do you think there is an anime that should be on this list but isn't? Tell us in the comments!
---