Whether set in ancient lands, isekai, or MMOs, fantasy anime takes us to new and exciting places! Or so we hope. Sometimes there's not much innovation and we see the same creatures, types of magic, and old-timey transportation as we've seen before. But even in the face of numerous hardships, anime companies managed to gift us some really great shows in 2020. With their creative premises and entertainment value, let's look at the top 5 best fantasy anime that started in 2020!
5. Maoujou de Oyasumi (Sleepy Princess in the Demon Castle)

Aired: October 2020 - December 2020
Few things are more frightening than a girl that needs her beauty sleep, making Princess Syalis easily one of the most terrifying creatures in the Demon Lord's castle. After being kidnapped from her kingdom by the demons hoping to force her country to surrender, Syalis takes her new living situation rather well. That is, until she realizes just how uncomfortable demon beds are. War, demons, and princesses are no strangers to fantasy anime but silly premise combined with the reversed dynamic of abductor and abductee keep you thoroughly entertained.
---
4. Ishuzoku Reviewers (Interspecies Reviewers)

Aired: January 2020 - March 2020
Don't take our word for it, take to heart the reviews of Stunk, Zel, and Crim to tell you just how great the various fantastical courtesans are. Stunk and Zel are hilariously depraved while Crim is a reluctantly horny angel. There's certainly something for everyone, provided you're not shy about sex. While clearly popular for horny value, it does offer a somewhat introspective and diverse look at sex challenges some mainstream views. Beyond its sex appeal, Ishuzoku Reviewers is also hilarious and daring and the surprises don't stop.
---
3. Hanyou no Yashahime: Sengoku Otogizoushi (Yashahime: Princess Half-Demon)

Aired: October 2020 - ongoing
Of course, the original Inuyasha fans will rejoice at seeing the next generation of half-demons but Yashahime on its own provides a lot for new fans. The same themes of time-travel, demons, priestesses, and coveted jewels are there but with new characters! The daughters of Sesshomaru and Inuyasha aren't carbon copies of their parents but you can certainly see traces of them in the little fighters. The mystery behind their missing parents and memories adds a new layer of intrigue to an otherwise familiar storyline. Epic fights sprinkled across this vast, ancient world mixing history with lore make for a grand sense of adventure!
---
2. Kami no Tou (Tower of God)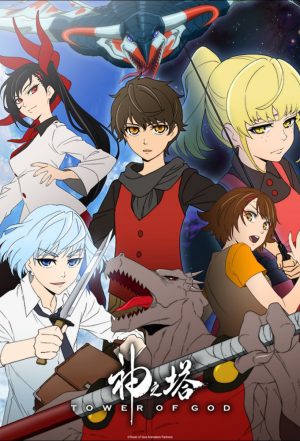 Aired: January 2020 - March 2020
While some fantasy series have the good, the bad, and the journey all laid out, Tower of God keeps you curious with every level you ascend. One's strength and intelligence are tested along with their very bonds to others. The trials themselves are often solved completely opposite to common sense and the rules don't always seem to hold. Of course, one can expect those called Irregulars not summoned to the Tower would shake things up but it makes you wonder if one can truly find their wish granted upon making it to the top as is promised.
---
1. Dorohedoro

Aired: January 2020 - March 2020
If you're expecting eloquent magicians facing off against vicious dragons in a beautiful fantasy landscape, put all those thoughts aside. Dorohedoro is a gritty, modern take on the genre that feels almost too real despite the foreign plot. Aptly named Hole is the city that poor, weak humans live and are preyed on by the all-powerful sorcerers to test their magic. Luckily for the residents of Hole, Kaiman and Nikaidou aren't afraid to viciously maul the would-be assailants hoping to one day fix Kaiman's crocodilian appearance. There's so much going on with the residents of Hole and amongst the sorcerers that is can be overwhelming even without the fast-paced, vicious battles every few minutes.
---
Final Thoughts
The unique settings or twists on classic formulas keep us eager to see what's next on the horizon for our heroes! It's the spirit of discovery, the learning of new creatures and people that ultimately lead to a better understanding of yourself. Whether you're a hardened adventurer who can still go on towards a bleak future after losing comrades or you want things funny and fluffy, we hope you enjoy these 5 best fantasy anime of 2020. Let us know in the comments which fantasy world from these you wish you lived in!
---