Flowers are blooming, animals are singing, spring has finally come – what better time to stay home, watch anime and enjoy the beautiful men of this season's Bishounen line-up?
For those of you that are a little bit confused at this point, let us give you a quick explanation. Bishounen literally means "beautiful young (men)" and is an idea found in traditional Japanese culture. In the anime universe, Bishounen shows feature especially good-looking young men (just think of Free, Vampire Knight, Amnesia, etc.). If you're already featuring a cast of anime sweethearts, might as well turn them into some eye candy, right?
Today's article goes out to everyone interested in the new Bishounen line-up of the Winter season 2017, as well as everyone loving the unique cast of K. If you have already watched the original show as well as its numerous adaptations out there, then read closely, because today we are introducing two new shows that you shouldn't let drop off your radar. Enjoy!
About K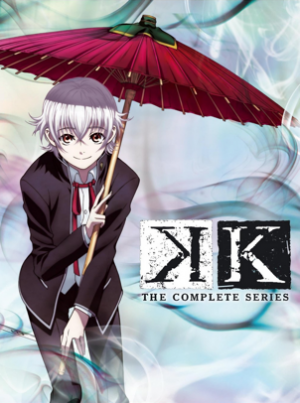 Episodes: 13
Aired: October 2012 – December 2012
Even after numerous manga, anime seasons, spin-offs, movie, and light novel releases K's fame doesn't seem to be diminishing. This universe features a myriad of characters, all living in a futuristic version of Japan that will leave you in awe. The story focuses on Yashiro Isana who seems to be a normal, rather easygoing high school student. But as it usually goes in anime, normality doesn't persist long and soon enough Yashiro is drawn into all kinds of dangers. More than just a few people are out to get him and Yashiro doesn't understand what his life has turned into. This action-filled story is combined with breathtaking sceneries and animations, which makes it easy for us to recommend this show as a definite must-watch.
Liked K? Watch Hand Shakers!
Episodes: 12
Aired: January 2017 – March 2017
Everything is about to change for young Tazuna Takatsuki. The student has enjoyed a quiet life up until now, spending most of his days in solitude and only focusing on the repair of all kinds of machines. One day, as he tries to meet an eccentric professor, he meets a mysterious girl instead. Drawn to her, he touches her hand and that's when God's voice speaks down to Tazuna and reveals that he is a "Hand Shaker". Together with his new partner, he is able to summon weapons called Nimrods and use them in fights against other Hand Shakers. An adventure they could never have imagined awaits the young couple; will they be able to survive?
Three Major Similarities Between K and Hand Shakers
1. Strong Visuals
Of course, a good show stands and falls with a good cast and storyline, and not everything that shines is gold – but you do have to agree that nice visuals can make watching a show much more enjoyable. That's what we feel you get with both K and Hand Shakers. Both shows are created by the studio GoHands, so it's not far-fetched to expect their styles to be similar. While there are some differences, the visuals of both shows are strong, expressive, and not afraid to try something new.
Hand Shakers already slaps you in the face with its unique design from the very first episode. We cannot say we haven't seen anything like this before, but we definitely haven't seen it that often. Hand Shakers seems to have a rather artistic vibe and combines eerie designs with dramatic music to create a specific mood for each scene. K, too, isn't afraid to stand out and have its own artistic touch. You either love or hate it, but we appreciate the bravery behind both shows and would recommend you to watch Hand Shakers if you are in desperate need for some new ideas.
2. Serious Stories Combined with Fanservice
Some people prefer serious storylines, others just want something nice to look at. Why not both?
At the bottom of both K and Hand Shakers lies a serious storyline. In the case of Hand Shakers, we have the sad backstory of Tazuna as well as the mystery surrounding his god-given powers. K features a storyline revolving around intrigue, murder, and rivalry. What both shows have in common is the fact that these themes are wrapped in a layer of comedy, action and – of course – fanservice. We're not saying that these shows are trying to undermine their storylines, but rather that they are catering towards viewers appreciating a good background story as well as fans who don't mind a little bit of cleavage here and there. If you feel you can enjoy either (or both!) of these elements, then give Hand Shakers a try.
3. Special Powers
Special powers never get old – at least not in the anime universe – and both K and Hand Shakers use that fact to their advantage.
K features all kinds of special powers, depending on each individual character. Some of them use their bodies and minds, others use weapons like baseball bats, swords and more. What they all have in common is that their powers are both destructive as well as amazing to look at. Seriously, no battle in K has to hide itself and sets the bar pretty high for other action shows out there. Hand Shakers, too, introduces powers of the special kind and forces its protagonist to use them in all kinds of battles. The origin of their powers might differ between K and Hand Shakers, but it should be clear to any viewer that there are clear parallels between the action scenes of the two shows. Futuristic settings and destructive powers are always a good combination, so you might want to give Hand Shakers a try.
---
Liked K? Watch Spiritpact!
Episodes: 10
Aired: January 2017 – March 2017
From an anime set in the future, we are moving on to a show featuring traditional exorcism. Based on a Chinese manga, Spiritpact (or Ling Qi) introduces you to Keika You, a young man who doesn't seem to be able to get away from bad luck. First, his parents die, then he slowly loses the good reputation of his family and finally, he ends up as a broke fortune teller working on the streets. If you are expecting things to turn around at this point, you're wrong; after one more day spent in solitude You dies in a car accident and wakes up as a spirit. Trapped between two worlds, his only way to escape eternal darkness is to assist a mysterious exorcist (or "Youmeishi") in his work. Seems like even after death You doesn't get to catch a break.
Three Major Similarities Between K and Spiritpact
1. Bishounen
You've expected it, and we're here to deliver: of course this show features Bishounen and maybe even a few hints of Shounen Ai.
While featuring good-looking young men might not have been K's main objective, you cannot deny that the main cast doesn't have to hide itself. Not only is the majority of featured characters men, but pretty much all of them are handsome in one way or another. Similarly, Spiritpact caters towards all fans who want to follow dreamy guys on their adventures. The cast isn't as diverse as the one of K, but in return, you get to know the main characters in more detail. And as we've mentioned before, there is a certain kind of chemistry going on between You and his new Youmeishi partner. It might not be explicitly stated or even a main feature of the show, but there are enough hints to let our fangirl hearts beat a little bit faster. Fans of Bishounen or BL should give Spiritpact at least a try.
2. Comedy
If Hand Shakers is a little bit too serious or gloomy for you, then you might opt for Spiritpact instead. After all, the producers of this show must have spent as much time on the action scenes as on its hilarious comedy.
K is definitely a solid action show, but that's not the only thing it has to offer. On top of action, drama, and sci-fi, you also get to laugh at the unique main cast. After several action-filled moments, there's always a chance to relax and cheer up; this balance is just one of the strong points of K. Similar things can be said of Spiritpact: action is definitely the main feature of this show, but there are also lots of simply hilarious scenes. Slapstick humor, hilarious scenes, funny facial expressions – Spiritpact has it all. So if what you're looking for is a nice action show that can also cheer you up after a long day at work or school, then we'd definitely recommend Spiritpact as your next show.
3. Fantasy Mixed with Modern Settings
Not all fantastic stories have to take place in magical countries filled with castles, dragons, knights and mythical creatures. Sometimes they take place on the streets we walk every day and that is exactly the case with today's shows.
The story of Spiritpact could take place in any random city. You are a normal person, struggling with financial problems like you and me and just trying to make it work in this world. This is what makes him a relatable character and his story so interesting to the viewers. K might have chosen a futuristic version of Japan as its setting, but its story, too, takes place in the middle of a normal metropolitan area. Both shows combine fantastic stories with modern settings and thus create unique atmospheres that make them even more enjoyable to watch. Spiritpact turns out to be a fantasy story set in the modern world and we can appreciate this mix of seemingly opposing ideas.
Final Thoughts
Did we spike your interest in any of these shows?
K, Hand Shakers, and Spiritpact have as much in common as they are different, so in case you don't enjoy one of these shows we'd still recommend you to give the other ones a try. Each one puts its own spin on the Action/Bishounen genre and remains unique in its own way. We have to admit that the three anime might be controversial (you will most likely either love or hate them), but that makes viewing them even more interesting. We are curious to hear what you think of Spiritpact and Hand Shakers. Did you enjoy them? Do you think they are similar to K? Let us know in the comment section below!
---