También puedes leer este artículo en:Español
It's here: Summer! It's time for fireworks, summer festivals, yukatas, and most importantly, for funny stuff to distract us from the fast approaching fall and winter. Recently, anime forays into the land of the hilarious have been a big hit on the airwaves. Who doesn't love a good laugh? Not only do we get a jolt of dopamine in the brain, but also all that laughing could possibly slim down that stomach for beach season! Now that you're ready to look for your perfect comedy anime match, here are the eight anime you have to choose from this season.
8. Onara Gorou

Episodes: TBA
Aired: Jul. 2016 – TBA
For the Japanese speakers in the house, yes, the title Onara Gorou does in fact mean "Fart Gorou" in English; and yes, the show is about a fart. Moving past the necessary WTF reaction you're having, Onara Gorou is also the name of a talking and self-aware fart, who is coincidentally "the most admirable of farts." Although partially admirable due to his sheer size, Onara Gorou's most admirable qualities lie in his ability to solve life's problems and give practical advice the only way a fart can: quickly, in the ephemeral minutes of his existence.
Thus, your fart jokes will only come in the short-form of five-minute episodes, probably just enough for a fart joke to be effective. Onara Gorou comes as a crowd-funded, original animation from independent creator Taniguchi Takashi, and is being produced by ILCA. Definitely quirky and unique, a talking fart might be exactly what the doctor ordered to help bring a smile to your face and provide you with all the advice you need to survive the summer blues.
Onara Gorou Episode 0
---
7. The Morose Mononokean (Fukigen na Mononokean)

Episodes: TBA
Aired: Jun. 2016 – TBA
Once again, Japanese speakers, stand up! A mononoke, just as in the Princess Mononoke variety, is a type of supernatural creature or yokai that exists in the living world. Our protagonist Ashiya Hanae finds himself stuck in the infirmary after a chance encounter with one of these yokai. With nowhere to turn, Ashiya seeks the help of the owner of a tearoom called the Mononokean. The owner, Abane Haruitsuki helps mononoke pass on to the other side, but he is terribly ill-tempered and morose. He refuses to help Ashiya unless he pays. When Ashiya doesn't have the money for Abane's help, he starts to work for Abane. What ensues is a supernatural clash of personalities in this comedy filled with cute yokai and bishounen.
Not only do the lower yokai seem to employ some Pokemon-style cuteness, the yokai world itself has its own interesting design and color palette that is generally pleasing to look at. Although Ashiya appears to have a bit of a different atmosphere from his characterization in the manga, which has gained popularity as a web comic, Abane's attitude seems like it's going to be a win for its manga fans. Stay tuned to see all of the fun Ashiya, Abane, and their yokai friends will be having this summer!
The Morose Mononokean PV 3
---
6. Bananya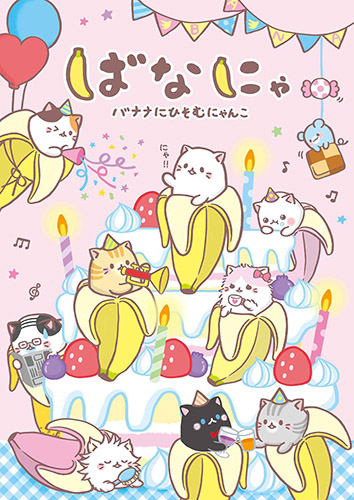 Episodes: TBA
Aired: Jul. 2016 – TBA
Bananya is a cat that hides in a banana. He's a cat in a banana. Correction: He's a devastatingly cute cat being unbelievably cute in a banana. The merchandise is already insanely popular due to Bananya's cuteness overload, and now we can also have moving picture versions of our most favorite cute cats that are inexplicably living in bananas.
Kaji Yuki, who is also giving his voice to Ashiya in The Morose Mononokean, will be performing as Bananya and few other cool cats in this short-form anime, alongside Murase Ayumu (Hinata Shoyo, Haikyuu!!). Cat interactions are pretty great, so we can only imagine the genius that can arise from cats in bananas. "So cute I could just eat him" has never been truer than now.
Bananya PV
---
5. Saiki Kusuo no Ψ Nan

Episodes: TBA
Aired: Jul. 2016 – TBA
Superhero parody fans, rejoice! Saiki Kusuo noΨ Nan is getting an anime adaptation! Based on a popular Shounen Jump manga, Saiki Kusuo noΨ Nan is about Saiki Kusuo, a young man who happens to possess a wide variety of supernatural powers, including telepathy and telekinesis. Before you start thinking that Kusuo is always, "Everything is awesome," you may be surprised to learn that the young man finds his powers to be an annoying burden. If we have the manga as guide, look forward to absurd and random super-powered situations filled with parody for fighting genre fans.
Some of you may be familiar with this character from his appearance in the fighting video game J-Stars Victory VS, where Kusuo appears as a playable character amongst other Shounen Jump protagonists, such as Kenshin Himura, Goku, and Ichigo Kurosaki. If the deadpan delivery of his fighting lines and flamboyant poses in the game give us any indication of what we are to expect in this anime, we have some good chuckles ahead of us. Otto, I mean, we will laugh a lot.
Saiki Kusuo no Psi Nan PV
---
4. Mob Psycho 100

Episodes: TBA
Aired: July 2016 – TBA
Superhero parody fans, rejoice again! Mob Psycho 100 brings you the story of a supernaturally gifted 8th grader, Kageyama Shigeo, a.k.a. "Mob." Mob has been blessed with telekinetic powers from a young age. Although he has these "psychic" abilities, Mob's still just trying to find his place in the world.
Now, you might be saying to yourself, "This character design looks familiar." Well, rejoice again and again, because this anime is adapted from a manga by ONE. Yes, the ONE who crafted One Punch Man has also created this story, in which you'll find similar humor, action, and power-packed snippets of drama. If you were dying for a new season of One Punch Man, this new and shiny anime might be just what you are looking for to deal with your OPM withdrawal. Of course there are some differences: Instead of Madhouse, BONES will be producing Mob Psycho 100, but BONES isn't one to disappoint. We dare you to watch this PV and tell us you're not hyped!
Mob Psycho 100
---
3. Binan Koukou Chikyuu Bouei-bu LOVE! LOVE! (Cute High Earth Defense Club LOVE! 2nd Season)

Episodes: TBA
Aired: July 2016 – TBA
LOVE! LOVE! This is the second season of the magical boy parody anime Binan Koukou Chikyuu Bouei-bu LOVE! If you couldn't get enough of the very detailed parody of the magical girl genre in the first season, get ready for Round 2 of magical boy wonder. The sheer seriousness in which these magical boys take their parody is enough on its own to get magical girl fans to tune in every week. If you know magical girls, you'll appreciate how these boys simultaneously make fun of and live out the magical girl fantasy.
LOVE! LOVE! is bringing in a new set of twins, Akihiko and Haruhiko, who are also idols, so get ready for some idol parodies on top of the magical jokes. Of course, be prepared for more shameless—and now seemingly incestuous—shipping cues that were splattered all over the first season. If you're planning on watching this one, be prepared not to take it too seriously, and just enjoy the ensuing WTF madness of it all. Just take it all in, all the LOVE! LOVE!
Binan Koukou Chikyuu Boueibu Love! Love! PV
---
2. Fudanshi Koukou Seikatsu

Episodes: TBA
Aired: July 2016 – TBA
So far this list has provided some pretty unique topics, and well, here comes another! Maybe you're familiar with "fujoshi," women who love BL (boys' love) and/or boy x boy pairings. Well, say hello to Sakaguchi Ryou, a straight high school boy who loves BL, and is thus a "fudanshi." What exactly is a fudanshi? Why does he love BL? What do his friends think about him? What are his favorites BL manga? Who does he ship in Free? Learn the answers to these questions, maybe, in this slice-of-life comedy centered on the high school life of a seeming rare specimen of fudanshi.
Fudanshi Koukou Seikatsu is adapted from a web-published manga of the same name. Although the on-going manga doesn't seem to have many chapters, the anime will be short-form with five-minute episodes, so you can get your fudanshi laughs in a hurry. As the anime is targeted mostly at fellow fujoshi, here's a fair warning: If you don't want anything to do with fujoshi, steer clear. If you want everything to do with fujoshi while laughing at the gates of fujoshi hell, steer directly here, and park your car.
---
1. Handa-kun

Episodes: TBA
Aired: July 2016 – TBA
Fans of Barakamon and the Handa-kun manga are throwing their hands in the air banzai-style right about now. Handa-kun is the prequel to the slice-of-life comedy Barakamon, a 2014 anime about a talented calligrapher, exiled to the rural countryside with mischievous children. Handa-kun trades the wacky rural neighbors for a unique mix of high school classmates, who admire and respect Handa-kun. Unfortunately, Handa-kun mistakes this attention for bullying. How did Handa Sei become such a cynical caliigrapher? Well, this prequel might just give you the hilarious details.
Barakamon's popularity came from its ability to balance out heartwarming moments with slice-of-life gags that we have come to know and love. We might be losing some age dynamic, but having a younger version of Handa, arguably slightly more negative, might be able to set off a good balance on its own. Handa-kun is a welcome addition to our comedy list while we continue to impatiently wait for a second season of Barakamon. Welcome back, Handa-kun!
Handa-kun PV
---
Oh yeah, summer fun time!
This season's comedy line-up has a lot of unique and new themes running around. We have a fudanshi. We have a fart. We have cat bananas, or is it banana cats? Then, we have some tried-and-true heroes coming in to get a piece of their anime pie in Saiki Kusuo, Mob Psycho 100, and our returning magical boys. Finally, we are getting some much needed Barakamon revival with a high school twist in Handa-kun. There really is something for everyone this summer. With this variety of titles, you're sure to find something you'll like. Where are you planning to get your laughs this summer?
Vote for your most anticipated anime of Summer 2016!