What You Need to Know: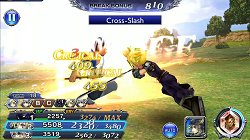 Earlier today the folks at Square Enix dropped some news about their latest mobile title, DISSIDIA FINAL FANTASY OPERA OMNIA, which is officially out NOW for iOS and Android devices.
Players can experience the world of DISSIDIA FINAL FANTASY on mobile devices by forming parties from dozens of legendary Final Fantasy heroes and villains, and battle across an extensive original storyline. The game features strategic turn-based combat and a variety of weapons to be used in battle.
As players progress through the story, Final Fantasy characters will join their party. Throughout February, special bonuses are available to all players who download and log in to the game. All that info along with the trailer can be found below!
Source: Official Press Release
Key Features
Pre-Registration Reward - Following the large number of fans who took part in the pre-registration campaign, all players who log into the game before February 28 will receive 5,000 in-game gems, a valuable in-game currency.
Login Bonus - Throughout the month of February, players can collect 300 gems each day for up to 20 days (6,000 gems total) just by logging in.
All-Stars Draw - The "All-Stars Draw" features gear for the 25 playable characters available at launch. The first summon is half-priced through February 28, and players are guaranteed one five-star rarity weapon.
Gem Specials – Special bundles are available for purchase that will provide players additional bonus gems.
Official Trailer
DISSIDIA FINAL FANTASY OPERA OMNIA

---
Now I have Dissidia for my PS4 and mobile! One for home and one on the go!
I wish both games connected somehow so that we can get some extra perks!
---