This summer season is turning out to be full of high quality shows, especially in the drama department. We are having some fascinating dramas this season, from the thrilling 91 Days and the Danganronpa sequels to the breathtaking Bananya (just kidding). But seriously, some of these shows are really impressive and full of emotions; so much in fact that they could even be compared to some of the greatest anime dramas ever, including an all-time favorite such as Clannad. If you (like so many others) are into powerful dramas that really get to your soul, such as Clannad, then you'll surely love our recommendations on this season's dramas.
About Clannad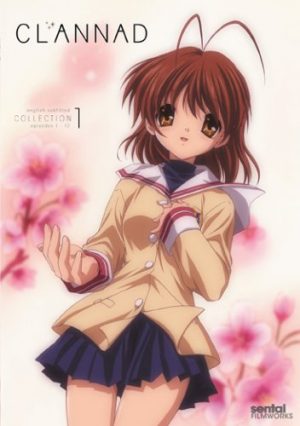 Episodes: 23
Aired: October 2007 – March 2008
Clannad has become an all-time classic and the #1 anime to watch if you feel like crying your eyes out. This is a beautiful and quite moving story about a bad boy, Tomoya Okazaki, who meets the nicest girl in school, Nagisa Furukawa, and learns to be a better man as he falls in love with her. Clannad is basically a show about cute girls doing cute things, a lot of romance, heart-breaking moments and a dash of supernatural things. Clannad is the type of show that either makes us fall in love or it makes us hate it for shattering our hearts in tiny pieces. It is indeed an emotional journey.
Liked Clannad? Watch Planetarian: Chiisana Hoshi no Yume (Planetarian: The Reverie of a Little Planet)!
Episodes: 5 (ONAs)
Aired: July 2016 – August 2016
Planetarian is set in a post-apocalyptic near future where biological wars have reduced many cities to ruins and caused an endless rain. In this dystopic future, some men known as "junkers" make their living by plundering goods from the ruins of dead cities. The main character is a nameless junker who gets into one of these ruins and takes shelter in an abandoned planetarium. There, he meets Yumemi Hoshino, a lovely robot in charge of this planetarium who hasn't seen a customer in 30 years. These two will learn a lot from each other in this little and peaceful haven isolated from the harsh reality of the outside world.
3 Major similarities
1. The Atmosphere
The first thing about Planetarian that really attracts our attention is the wistful atmosphere. It emanates a nostalgic aura of sadness and loneliness just like Clannad does. This is the kind of setting that makes us feel like the characters are numbed since they have grown tired of their realities. The junker is tired of the rain and the constant dangers of this world such as Tomoya is initially sick of the dull school life.
The pace at which both stories develop is also very slow, often leading us to think not much is actually happening, when in fact the purpose of this is to set the mood and intensify characters' relationships. Eventually, when things do happen they are freaking brutal and we end up crying like we never thought we could. It also works for the happy moments though. After all, without the bitter, the sweet isn't as sweet.
2. The Characters
At first sight the characters from Planetarian, namely a junker and a cute female robot, have little to do with high school teenagers such as those from Clannad. However, as we get to know the characters from Planetarian on a much deeper level we'll notice strong similarities with the characters of Tomoya and Nagisa. All of these characters are lost souls. They are lonely, misunderstood and they struggle to find something meaningful in life.
For instance, the drama club is to Nagisa what serving humans is to Yumemi; this is what gives their lives purpose and meaning. Besides, these two girls are so pure and inspiring that they influence their indifferent and apathetic male counterparts to become more caring men. Basically, bad boy gone soft for cute girl.
3. The Feels
Obviously, if there's one thing Clannad is famous for, then that is for constantly giving us the feels. Clannad is probably the most touching anime out there and only few can compare to it in this aspect. Luckily, Planetarian is one of these few shows, as it has the potential to make us feel, sigh and weep. Just like in Clannad, a lot of very deep and powerful subjects are discussed in Planetarian, including such as hopes, dreams and the afterlife. This makes both the characters and us meditate a lot about life (and death) and experience different epiphanies leading to self-growth and to a lot of crying.
---
Liked Clannad? Watch Orange!
Episodes: 13
Aired: July 2016 – September 2016
Orange is essentially similar to Clannad in the sense that they're both wonderful school dramas with a lot of romance that will make you cry like a baby. Orange is about a group of friends who remain close even after 10 years. However, one of the girls on this group, Naho Takamiya, has many regrets in her life, so she writes to her 16 year old self to make things right. Orange is a brilliant and most touching story about not taking things for granted, making the most out of life and never saying "what if".
3 Major similarities
1. The Romance
Clannad is certainly one of the first shows that come to our minds when we think about romance. Clannad portrays love and relationships in such a dramatic and pure way that it makes us fall in love too. If you're one of those people who were really into the romantic part of the show and you spent most episodes desperately shouting "okay, now kiss already!" at the screen, then you're going to love the romance in Orange as well.
The relationships in Orange are super cute yet more realistic than in Clannad. You'll find love triangles, jealousy, platonic love and impossible love. Orange will take you through a romantic journey which can be everything but perfect. There will be bumps along the way as well as many tears, but one thing is certain; you will fall deeply in love with these kids.
2. High School Life
On a more superficial level, Orange is quite similar to Clannad since it portrays the lives of high school teenagers. This makes the main characters much more realistic, relatable and easier to empathize with, which is one of the main reasons why Orange can make us cry so easily. Orange shows a relatively more cheerful and carefree high school lifestyle than Clannad, although bitter conflicts are still the main concern of both shows. If you're into high school shows about friendship, love and teenagers dealing with their difficult lives (because no one's life is easy at that stage), then you'll love Orange just as much as Clannad if not more (we know, bold statement; just give it a try!).
3. The Tragic Drama
Finally, what makes Clannad THE drama anime are those tragic moments that bring you down to your knees asking "why, god?" while crying uncontrollably. In this aspect Orange does not only match Clannad but it can also prove to be even better. The tragic mood is conveyed from the very first episode and further exploited on the following ones. Orange's premise is straightforward tragic, yet it does provide us with a glimpse of hope, a light at the end of the tunnel to make the drama all the much more enjoyable instead of utterly insufferable. Basically, Orange is a dramatic masterpiece you can't miss.
Conclusion
Thank you guys for stopping by! We hope you find this article useful to decide which anime you'll pick up next. Both of our suggestions are awesome and high quality shows but we'd also like to know what you think of them. Have you seen Planetarian and/or Orange already? Did you enjoy them? Do you also think Clannad fans would like these shows? If so, maybe you can point out similarities between these shows that we may have missed. Let us know in the comments! ˆ_ˆ
---