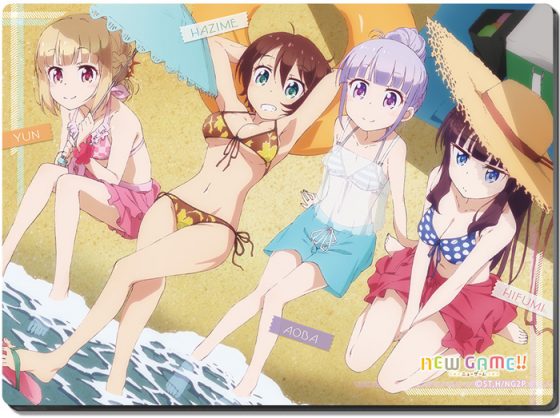 Slice-of-Life anime are stories that view cut-out sequences of events in the characters' lives. The story generally focuses on mundane experiences in school, work, and life. You most often get very little plot development. The anime will often contain multiple short vignettes or look-ins on the characters' lives, and in anime more often than not those look-ins will have a comedic element. The tag Slice-of-Life is generally used in association with multiple different genres of anime ranging from the mundane to fantasy and in some cases part of a slow build to a larger story.
Slice-of-Life: Stand-Alone

A Stand-Alone Slice-of-Life is a story where the people and events don't change or evolve and more often than not the situation is no different at the end of the series than the beginning. The overwhelming majority of these are comedies filled with senseless humor and populated with exaggerating stereotypes.
Aho-Girl

Episodes: 12
Aired: July 2017 - September 2017
Yoshiko is dumb. She might be one of the most clueless people on the planet. Yoshiko has very few talents aside from managing to score zeros on all her tests, eat more bananas than King Kong, and take more physical punishment than a champion MMA fighter. Her mother, who does love her, has given up the idea the Yoshiko will be able to take care of herself and believes that marrying her off is the best option. We now introduce you to that option: The handsome, smart, and future success, Akuru or A-kun, her childhood friend and minder. He is often forced to intervene when she gets out of hand and isn't afraid to use a karate chop to discipline her. The problem is that he's been correcting her idiocy with violence so long that is has lost its effects and it's not very long until she's back at it. The anime is filled with short segments that look in on Yoshiko and her friends as Yoshiko does things like riding a dog like a horse or dragging her best friend miles into the countryside to thank a banana farmer for his hard work. The slapstick is excellent, the wordplay is nice, and you should only lose a few brain cells at a time watching this amazing program.
Slice-of-Life: Overarching Plot

The general rule for slice-of-life is they don't have big, long, drawn-out stories. Yet some slice-of-life do have larger plots they move toward slowly. The anime can be made of multiple short stories in each episode that show some random event in the lives of the main characters. When you add enough of these up you get an abstract plot, whether it's a character finding the will to confess or keeping their beloved club from being abolished, providing the structure for the story.
To LOVE Ru

Episodes: 26
Aired: April 2008 - September 2008
Rito is in love with Haruna and has been for years. He is now 16 and ready to find the courage to confess his feelings. The shy boy's goal is quickly complicated when a naked girl with pink hair and a tail falls from the sky and lands on top of him while he's taking a bath. The girl is the runaway princess Lala Satalin Deviluke, the crown princess of the alien empire that, unbeknownst to Earth at this moment, rules the entire galaxy. She is trying to avoid a political marriage and decides by the end of the first episode to get engaged to Rito instead. The buxom princess then moves into Rito's home and transfers to his school as if the world is normal. The episodes are each made up of short vignettes that introduce additional characters and new and more preposterous and comedic situations. The whole joke of the series is that the plainest guy in the world is now engaged to the most eligible princess in the galaxy. He also continues to attract more and more girls seeking his affection as the story goes. The crazy twists in Rito's life make for a wild ride of slapstick, sexy girls, and lewd moments told in a slice-of-life way that will get you chuckling.
Slice-of-Life: Mundane (Office)

The world of being an adult is filled with mundane tasks that, once completed, lead to more mundane tasks making you feel like nothing will ever be accomplished. You will never get a look at life more slice-of-life-ey than a story about civil servants or office workers since their daily tasks meet the exact definition of mundane. The stories tend to focus on the task of the day, a conflict with a co-worker, or a night at a bar with a co-worker. They're the kinds of things that happen every day involving people all over the world.
New Game!

Episodes: 12
Aired: July 2016 - September 2016
Aoba is a gamer. Aoba is a game designer. Aoba loves a fantasy game series, Fairies Story. Upon graduation from high school, she lands her dream job at Eagle Jump, the creator of her favorite series. The first season of this adorable anime focuses on Aoba adjusting to her new life as a working adult. We watch our protagonist make sincere efforts to live up to the standards of her idol, who also happens to manage her team. The show is filled with the actions and very funny reactions of the other girls on her team, like Yun, a designer, Hifumi, who prefers to communicate through instant messages, and the company president and her cat. We also get a good look at the monotony of game design from the animation of one character to debugging all the errors that build up during design. The series is a cute comedy focused on cute girls doing cute things as they create a video game.
---
Final Thoughts

The Slice-of-Life genre is one of the most versatile in anime. You can take any kind of story and chop it into a slice-of-life story. You just need to take the stories and focus on what the lives of the characters are like daily. How do they interact? What are the ups and downs in their lives? What do they care about on a day-to-day basis? You don't even have to have an end game because each vignette is its own story. Slice-of-life is usually a breath of fresh air if you're used to watching over-hyped action or drama. You should check some out whenever you're feeling the need to just zone out or need a pick-me-up.
---