Slice of Life anime come in many different forms, from light-hearted comedies to more serious drama filled stories. When looking at Slice of Life anime, one thing is for certain; they will always have fantastic characters to go along with their stories. Today we are going to be looking at some of these characters as we look at ten of the best female leads Slice of Life anime have to offer. Let's get started.
10. Yuzu from Konohana Kitan

Episodes: 12
Air Date: October 2017 - December 2017
Yuzu is a young fox girl who has just started working at a hot springs inn called Konohanatei, Despite her lack of experience, the inn's head attendant Kiri puts Yuzu right to work. Things don't go so well at first, with Yuzu clumsiness only causing problems for everyone around her. Even after all of her mistakes, Yuzu is able to win over Kiri and her coworkers Satsuki, Natsume, and Ren thanks to her charm and determination. As she starts to fit into her role at Konohanatei, Yuzu is able to find a place where she truly belongs.
Yuzu is a cute and clumsy fox girl that you just want to see succeed in life. Yuzu may not be the most original or interesting character, but that doesn't stop her from being so likable. Despite her social flaws, Yuzu always tries her best to help people and do whatever she can to make them happy and get their approval. Thanks to her kind and hardworking attitude, Yuzu is able to win over everyone around.
---
9. Tooru From Kobayashi-san Chi no Maid Dragon (Miss Kobayashi's Dragon Maid)

Episodes: 13
Air Date: January 2017 - March 2017
As Kobayashi gets ready to set out for another normal day of work, she runs into a dragon named Tooru waiting outside her door. The dragon transforms into a fairly normal looking girl wearing a maid outfit. Although she doesn't remember, Kobayashi had drunkenly encountered Tooru the night before and offered to let her move in. Not wanting to go back on her promise, Kobayashi decides to let Tooru move in on the condition she works there as a maid.
Tooru is one of the more unique characters in a Slice of Life anime. While the anime has plenty of comedy and lighthearted moments, where Tooru really shines is with some of the darker aspects of her character. At the start of the anime, Tooru has a terrible personality and outside of Kobayashi, she has a deep seeded hatred for humans. As the story progresses, Tooru befriends a few more humans and eventually starts to warm up to some of them and overcome some of her hatred. The best part about her character is that you can understand and sympathize with all of her negative personality traits.
---
8. Hina from Hinamatsuri

Episodes: 12
Air Date: April 2018 - June 2018
Yoshifumi Nitta is an art-loving Yakuza member whose life takes a strange turn after a metal pod falls on his head. Inside the pod is a mysterious girl named Hina who has incredible powers. With Hina not revealing any info and his precious collection of expensive art on the line, Nitta becomes Hina's new guardian. While things start out roughly for the duo, Hina and Nitta soon come to understand one another as Nitta shows Hina a new side to adults she has never seen before.
Hina is a strange girl. With her psychic powers and her aloof personality, Hina is one of the more interesting characters on this list. Hina is carefree and never puts too much thought into what she is doing. Despite not being able to care for herself, Hina is quite devoted and protective of the people close to her like Nitta and her friends. On top of all that is her sad backstory about her powers being abused by all of the adults she has ever known.
---
7. Maika Sakuranomiya from Blend S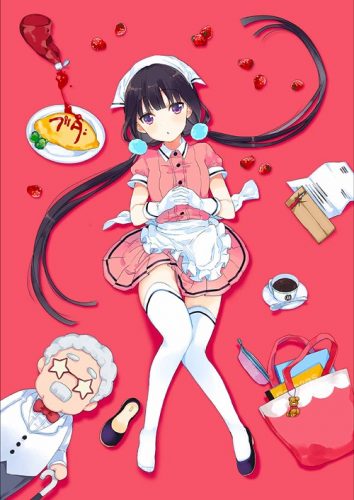 Episodes: 12
Air Date: October 2017 - December 2017
Maika Sakuranomiya, dreams of one day being able to study abroad. In order to achieve her dream, Maika has been trying to get a job to save up some money, but her unfriendly facial expressions have kept her from getting hired. One day, Maika runs into a man named Dino, who after meeting Maika offers her a job as a waitress. Each of the maids at the cafe has their own unique twist to keep guests coming in. Maika is ordered to use her face to her advantage as she becomes a sadistic waitress.
Maika is a great character that gets to turn one of her biggest imperfections into her greatest strength. Due to years of worrying about her mean looking face, Maika is finally able to put it to use at the cafe. Along with the growth she has in her character, she is also just a kind and friendly person that also has a cute and clumsy side to her. Also, even though she comes from an affluent family, Maika wants to be able to make her own money in order to make her dreams come true.
---
6. Yoshino Koharu from Sakura Quest

Episodes: 25
Air Date: April 2017 - September 2017
Ever since she graduated, Yoshino Koharu has been living in Tokyo. Unfortunately, finding a job in a big city wasn't as easy as she thought it would be. After being rejected over and over again, Yoshino gets an offer to work temporarily in the small town of Manoyama. When she arrives, Yoshino learns that her job is to bring in more tourists to the town as the Queen of Manoyama. She also learns that she will have to live in Manoyama for a whole year. Despite her initial reservations, Yoshino decides to stay and work hard in order to restore Manoyama to its former glory.
Yoshino is kind and hardworking girl. When she first learned she was going to have to stay in Manoyama for a year, Yoshino tried everything she could to get out of it, but once she decided to stay, Yoshino really gave it her all. With the town facing all kinds of problems, Yoshino puts in an incredibly large amount of work to try to bring more people to the town. Even though she had sworn to never live in a small city again and could have easily left with no repercussions, she decides to do whatever she can to save the once thriving town. Even when she isn't helping out the town directly, Yoshino is helping her friends and associates overcome the problems they are facing in their everyday lives.
---
5. Nadeshiko Kagamihara from Yuru Camp (Laid-Back Camp)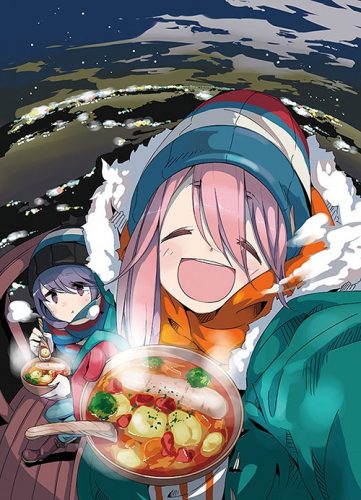 Episodes: 12
Air Date: January 2018 - March 2018
Rin Shima is a quiet girl that has a love for the outdoors and enjoys solo camping. One night while camping near Mount Fuji, Rin meets the energetic and outgoing Nadeshiko Kagamihara. After riding her bike up to see Mount Fuji, Nadeshiko fell asleep on a nearby bench. Rin invites Nadeshiko to her camp and feeds her while the two enjoy the view of the mountain. Thanks to her time with Rin, Nadeshiko develops a love for camping and decides that she wants to camp more in the future.
The upbeat and energetic Nadeshiko always tries to make the most out of any situation and never lets anything get her down. Nadeshiko is a simple girl that is all about her friends and having fun in life. After her camping incident with Rin, Nadeshiko devotes herself to camping and learns everything about it in order to have another shot at experiencing the joy and excitement she had while with Rin. Nadeshiko is an all around fun character that makes you laugh and always puts a smile on your face.
---
4. Takagi from Karakai Jouzu no Takagi-san (Teasing Master Takagi-san)

Episodes: 12
Air Date: January 2018 - March 2018
Karakai Jouzu no Takagi-san follows the story of classmates Takagi and Nishikata. Ever since they met, Takagi has loved to relentlessly tease Nishikata. Nishikata tries his best to tease her back, but all of his attempts only end up getting him teased more. Despite his constant failures, Nishikata vows to one day to finally get back at Takagi.
What makes Takagi a wonderful character is the heartwarming story of the anime and the relatability of her character. Takagi's crush on Nishikata is something that most people can relate to. Takagi doesn't just sit by and hope that Nishikata notices her, instead, she tries to get his attention through teasing. Seeing how hard she tries to get Nishikata to notice her feelings, you can't help but root for the success of her endeavors.
---
3. Mari Tamaki from Sora yori mo Tooi Basho (A Place Further Than The Universe)

Episodes: 13
Air Date: January 2018 - March 2018
Mari Tamaki has always dreamt of doing something bigger with her life, but her fears and anxieties keep her from ever making progress towards her goal. Mari's life changes forever after she finds a large sum of money that belongs to her classmate, Shirase Kobuchizawa. Shirase has been saving up money to set up an expedition to search for her mother who was lost while exploring the Antarctic. Seeing the determination and dedication of Shirase, Mari decides to join her expedition. Together with Hinata Miyake, and Yuzuki Shiraishi, the girls set out on an adventure to explore a brand new world.
Although Sora yori mo Tooi Basho has a few characters that could be considered the leading female, Mari is the most interesting of the bunch, thanks to her personality and the reason she joins the expedition in the first place. Mari starts out as somewhat meek and indecisive, as she is never able to achieve any of her grand goals. When she does finally take her steps into doing something big with her life, it is only after she meets Shirase and is able to put herself out there in order to help her friend. As her and her friends go on their expedition, Mari's kindness and support bring the girls together whenever they are struggling.
---
2. Violet Evergarden from Violet Evergarden

Episodes: 13
Air Date: January 2018 - March 2018
Ever since she was young, all Violet Evergarden has ever known is war. Violet was raised to fight and saw plenty of bloodshed during the Great War. With the war over, Violet finds herself stuck in a hospital and no longer having any purpose in her life. After a falling out with her caretakers, Violet gets a job at CH Postal Services. There she encounters an Auto Memory Doll and is instantly drawn to their work. Violet decides to take up the job of an Auto Machine Doll, allowing her to travel around the country while hearing the stories of the many people she comes across.
Unlike many of the other characters on the list, Violet comes from a much darker world and has a tragic backstory that motivates her. The best part of Violet's character is how much she develops over the course of the anime. Throughout her adventure, Violet grows both mentally and emotionally thanks to her job. As she learns about the people she encounters and hears their stories, with each episode she becomes a much more interesting character.
---
1. Aoba Suzukaze from New Game!

Episodes: 12
Air Date: July 2016 - September 2016
Aoba Suzukaze has loved the video game Fairies Story ever since she was a kid. Ever since she played the game, she has had a love for art. After graduating high school, Aoba gets a job at the game company Eagle Jump. On her first day, Aoba learns that not only will she be working under Kou Yagami, the character designer for Fairies Story, but she will also get to work on Fairies Story 3. New Game! follows the daily hijinks of Aoba and her coworkers as they experience everything that working at a game studio has to offer.
Aoba is a fantastic character and has a lot going for her. After starting her dream job Aoba goes through the ups and downs of working in the game industry. We see how she is determined and hardworking while also being upbeat and excited to do her best every day. While we usually get to see the happy and exciting things that happen to Aoba, we also get to see her overcome the many struggles she faces. Whether it is living up to Yagami's expectations, or having her art rejected time and time again, Aoba is always able to bounce back and keep moving forward.
---
Final Thoughts
That is it for our list of the top ten female leads in Slice of Life anime. Each character on this list shows just how amazing characters from Slice of Life anime are. Who is your favorite leading lady? Are there any other characters you think should be on the list? Let us know in the comments.
---