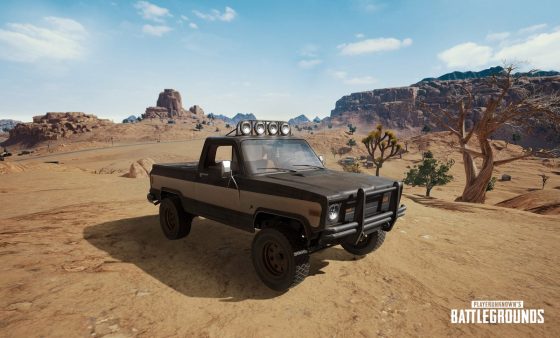 What You Need to Know:
This past week was a splendid one for fans of PlayerUnknown's Battlegrounds, as we were bestowed with a plethora of surprise announcements that got us even more excited for December 20th's full release. We saw the reveal of the weapon exclusives to Miramar such as the R45 and Sawed-Off, along with some vehicle additions such as the Aquarail. While the Aquarail will be available also in Erangel come full release, one vehicle will stay exclusive to the Miramar map and that's the Pickup Truck.

While we weren't entirely enthused about the Pickup Truck's reveal when compared to that of the Aquarail, it was certainly a great choice considering the overall look and feel of Miramar. With there being so much open and rocky terrain to travel over, having a strong all-terrain vehicle would surely help guide players to their destination safely. The Pickup Truck can hold an entire squad and has some decent control when driving over the very bumpy desert map. However it's not as fast as your more typical vehicles such as the Buggy or even the Motorbike, and so while it can certainly hold its own on the rocky terrain it can't move too quickly to get you out of a serious pinch.

One example is when we were driving down the main road at top speed and tried to make a corner, the Truck swerved out of control and ultimately it led us to hop out and go on foot. When we tried to reverse it seemed sluggish and even when revved up, it seemed to take a while for it to really shift into top gear. Mind you this is the heavier version of the two. It doesn't seem like the type of vehicle you'd want to take out for a test drive but surely, if you need to make it to the safe zone in time by traveling over bumpy roads then this one is your top pick. The smaller version of the two Pickup Trucks performed well both on and off road so if we had to decide which one to use on a more frequent basis, the compact and swift version would do the trick. To add, the engine sounds in the update are top notch so a big shoutout to the sound & engineering team for PUBG! Another small little perk we liked was the air freshner inside the Truck, and as you drove it jiggled as you hit big bumps on the road. Attention to detail!
---
The engine sounds have improved dramatically since the earlier phases of PUBG. It's like night and day now which is spectacular.
Those deafening sounds are no longer there and it makes driving around more comforting.
---