Winning in sports, games of chance and various "luck based" games is fun to dabble in reality but equally can be a bit, risky. Before you know it, a few bets or games can lead to a dozen and then you're sadly walking away from your game with less money you started with. We don't condone gambling or say not to do it here at Honey's Anime, but we do recommend watching anime centered around gambling as a better alternative for you and your wallet. That's why one show we always point folks to is Kakegurui which released in 2017. Though if you did happen to see Kakegurui, we can also recommend two shows—Dorei-ku The Animation and Lostorage Conflated WIXOSS—and not so ironically, we plan on doing that with this article. Ready for a High Stakes Spring 2018? Like Kakegurui? Watch This!
Liked Kakegurui? Watch Dorei-ku The Animation!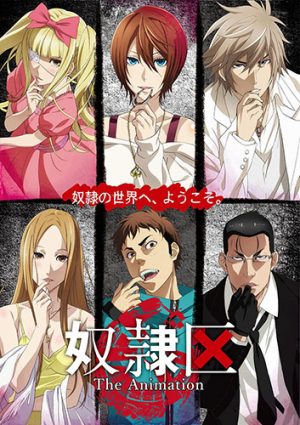 Episodes: N/A
Aired: Apr, 2018- Present
If you could control a person's action and make them into your own personal slaves, would you? Better yet, what would you make your own slave do if you had that dark power? In Dorei-ku The Animation, our story shows off a system called the SCM that allows for the user to control the another SCM holder if they can win against them in a form of competition. Follow several characters who gamble with their SCMs as they try their best to make people into their slaves in a world where losing can be quite disastrous for one and empowering for another.
Major Similarities Between Kakegurui and Dorei-ku The Animation
1. Games of Ultimate Chance
Kakegurui and Dorei-ku The Animation might have different games of chance played, but the results of said games can be quite similar. For example, Kakegurui—which focuses on high schoolers making tons of cash—shows that students who constantly lose are then treated like dogs in the eyes of the better off students. In Dorei-ku The Animation, the money is less of a factor but the enslavement system means you can control a person and make them act like an animal for your twisted pleasure. Kakegurui and Dorei-ku The Animation are focused on games of ultimate chance where you're going to want to win…
2. Suspense driven
Gambling for some is more than just winning or losing, it's the adrenaline you get from watching your fate come down to sometimes mere chance. That's why when you watch Kakegurui or Dorei-ku The Animation, you're going to be filled with suspense as you wonder who will come out on top! Any anime that keeps you glued to the screen is a good series to us here at Honey's Anime and that's why we recommend Dorei-ku The Animation if you loved Kakegurui.
---
Liked Kakegurui? Watch Lostorage Incited WIXOSS!
Episodes: 12
Aired: Oct, 2016- Dec, 2016
High schooler Homura Suzuko has found herself returning to her old town in Ikebukuro and praying that her memories of the past will rekindle themselves in the present. As Homura re-enters school, she finds that her grand memories of her friend Morikawa Chinatsu aren't realized and she struggles to fit in with the other students. In a last-ditch effort to find some common ground with the other students, Homura goes to buy a popular card game called WIXOSS. However, while WIXOSS is a game for some, others like Homura find they have been chosen to be Selectors who must play to win. Losing as a Selector means a penalty that Homura will not want to happen…
Major Similarities Between Kakegurui and Lostorage Incited WIXOSS
1. Cards Games with High Risks
Card games are meant to be fun for friends to make small gambles on or just to relax and gather together. In Kakegurui and Lostorage Incited WIXOSS, card games have a darker theme where winning is the only thing that matters. As morbid as that sounds, both shows are exciting to watch because of these similarities and you'll find yourself wondering who will win and who will undoubtedly lose.
2. Friends or Enemies
When it comes to gambling, there is no friendship when the game begins because often, a friend, one minute, might turn against you to come out on top. It's a reality that makes camaraderie in games sometimes a scary thing to stake your trust into. These are lessons learned by the characters in Kakegurui and Lostorage Incited WIXOSS. Choose your friends wisely otherwise you'll find yourself used and subject to losing a game you don't wish to lose in.
Final Thoughts
As we said, gambling isn't a bad thing if you're able to control yourself and know when to hold and when to push your luck. Though as otaku here at Honey's Anime, we prefer to save our hard-earned cash and splurge on all things anime related. That's why the shows above make for low risk as we don't lose money watching them and equally don't find ourselves enslaved by a fellow player…All jokes aside though, have you seen the shows we mentioned above yet or plan to? Comment down below to tell us as we love to hear your thoughts on all things anime. For more articles like this one don't leave our hive for too long as we continue to post even more like it curtsey of us here at Honey's Anime.
---