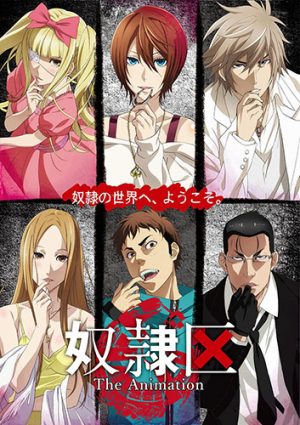 According to scholars, power is a fundamental element in human relationships in the way that energy is needed in the concept of physics or faith in religion. Having power over others, such as controlling resources that humans want, need or fear has an enormous effect on the mind, as does being under the control of others. Dominance hierarchies within humankind, attaching power and powerlessness, are an essential aspect of social relationships. Specifically, power increases confidence. In Dorei-ku The Animation, we observe competitors face each other wearing devices called Slave Control Method (SCM). Winners hold the highest advantage, while losers are forced to obey. How devious!
A fantastic Spring 2018 anime, we at Honey's present 6 anime like Dorei-ku The Animation, with such shows featuring thrills of high-stakes gaming, BDSM, and vindictiveness. Hopefully, these series will fall right into your watch list! Game on!
Similar Anime to Dorei-ku The Animation
1. No Game No Life

Episodes: 12
Aired: April 2014 – June 2014
No Game No Life follows siblings Sora and Shiro, two amazing NEETS with exceptional gaming skills. The duo is unstoppable! Behind the username "Blank," Sora and Shiro receive a peculiar email challenging them to a match. As they accept, this game is like nothing they've ever faced. Sora and Shiro are transported into another dimension where they meet the God of Games named Tet. Arriving in Disboard, the duo discovers that high-stakes gaming settles everything. Where everything is treated as a game, Sora and Shiro are in their element.
No Game No Life and Dorei-ku The Animation are both fantastic suspenseful anime that deal with gaming and high stakes wagers. Putting their lives on the line, the characters in both series are incredibly smart, utilizing both elements of strategy and wit. Although differently themed, with No Game No Life being more in the Comedy and Fantasy genre and Dorei-ku The Animation a dark drama and thriller, both display an engaging and entertaining storyline.
No Game No Life PV
---
2. Gyakkyou Burai Kaiji: Hakairoku-hen (Kaiji: Against All Rules)

Episodes: 26
Aired: April 2011 – September 2011
Gyakkyou Burai Kaiji: Hakairoku-hen or Kaiji: Against All Rules is the second season to the Kaiji saga, following the life of Kaiji Ito, a man who has an addiction to gambling, but doesn't quite have the skill for it. Piling on debt, Kaiji continues to gamble to gain back his losses. One day, Kaiji bumps into Yuuji Endou, a debt collector for the Teiai Group. Unaware of this small detail, Kaiji follows him in the hope of scoring big on a game. Kaiji later finds out Yuuji's true intentions and is royally screwed. The Teiai Group sends Kaiji to an underground labor camp where he has to earn his freedom by playing Chinchirorin. Kaiji must play this high stakes game to live life on the surface again.
Kaiji: Against All Rules and Dorei-ku The Animation are two great anime that deal with high-risk gambling. Life or death, our players wager it all, leaving viewers at the edge of their seat. Competition is fierce and the games played are attention-grabbing. Furthermore, Kaiji: Against All Rules and Dorei-ku The Animation contain dark, adult-themed scenarios, presenting the underbelly of this addictive vice, gambling.
---
3. Prison School

Episodes: 12
Aired: July 2015 – September 2015
Hachimitsu Private Academy is a prestigious all-girls boarding school, famous for its high-quality education and disciplined students. However, this is all about to change, as the school revised it's admission policy to include male students. With the new system in place, the student body has split into a ratio of two hundred girls to one boy. Kiyoshi, Gakuto, Shingo, Andre, and Jo believe these odds to be heaven sent, a dream come true! The guys set out on the ultimate task of peeping into the girls' bath, but are unsuccessful! Caught by the Underground Student Council, the boys are placed in the school's prison and punished for an entire month. Here, we observe the boys undergo the struggles of their sentencing, as well as growth in friendship and camaraderie.
Prison School and Dorei-ku The Animation are both anime that highlight the BDSM genre, where the characters participate in erotic and adult explicit activities/fetishes like bondage, domination, and submission. The storyline in Prison School and Dorei-ku The Animation centralize on a ruler and slave/prisoner relationship. The characters in both series are diverse, but many contain a sadistic quality, as well as being unapologetic and exceedingly eye-catching.
Prison School Trailer
---
Any Anime Like Dorei-ku The Animation ?
4. BTOOOM!

Episodes: 12
Aired: October 2012 – December 2012
BTOOOM! is an anime that follows the story of Ryouta Sakamoto, an unemployed 22-year-old who still lives at home with his mom. The only real achievement to his name is being Japan's top player of the online game, "Btooom!" One day, his life takes an unusual turn when Ryouta finds himself stranded on a deserted island with no recollection of how he got there. With a small green crystal embedded in his hand, he discovers that someone has recreated his pride and joy online game in real life. No resets or do-overs, the stakes of the game are life and death. Equipped with unique bombs called "BIM," players are tasked with killing participants to obtain their green crystals. These crystals signify their kills, using whatever means necessary to get off the island.
BTOOOM! and Dorei-ku The Animation are two exciting "play or die" anime that get the blood pumping. Our characters are dynamic, with dark and mysterious qualities that draw our intrigue. Mature themes such as sexual content and explicit violence are present in BTOOOM! and Dorei-ku The Animation, so fans of this genre will truly enjoy watching these series. Moreover, the complex scenarios in both anime are exciting and riveting.
BTOOOM! Trailer
---
5. Kakegurui (Kakegurui: Compulsive Gambler)

Episodes: 12
Aired: July 2017 – September 2017
Hyakkaou Private Academy is an elite, prestigious school admitting the best, brightest, and wealthiest. The institution, unlike many others, prepares its students for practical, hands-on, real-world experiences. By day, it provides students top-tier education, but at night, it transforms into a gambling den, educating kids in the art of money and power. Those who prove successful rank at the top of their class. Kakegurui introduces viewers to transfer student Yumeko Jabami. Beautiful and talented, Yumeko attempts to succeed in Hyakkaou Private Academy's entire curriculum. Unlike others, Yumeko gets a rush from gambling, taking insane risks to fuel her satisfaction.
"Losers make excuses and winners make it happen". Wicked, conniving, and intoxicating are a few words to describe both Kakegurui and Dorei-ku the Animation. Both anime are shrouded in storylines that involve intense gambling situations. As these colorful and diverse characters obsessively gamble, we notice how cruel and crazy the ante becomes. Losing isn't an option for our players in Kakegurui and Dorei-ku the Animation. The mind games and adult themes make both anime a thrilling viewing experience.
Kakegurui Trailer
---
6. Danganronpa: Kibou no Gakuen to Zetsubou no Koukousei The Animation (Danganronpa: The Animation)

Episodes: 13
Aired: July 2013 – September 2013
Danganronpa: Kibou no Gakuen to Zetsubou no Koukousei The Animation (Danganronpa: The Animation) is about a group of 15 students attending Hope's Peak Academy, a very prestigious school that requires high marks and the most talented applicants. These students are placed in a classroom with no visible exit. Present with the students is an adorable teddy bear, Monokuma, who is their administrator. As Monokuma instructs the students on how to escape, which is also the way to pass the class, the students must "off" each other one by one without being discovered.
Danganronpa and Dorei-ku The Animation both share a very similar outline of an environment involving extreme gaming. The students/contestants are placed in a position where they must "kill or be killed." With an array of colorful characters across each episode in both anime, each dangerous wager forces the players to become threatening killers in quirky and bizarre circumstances.
Danganronpa: The Animation PV
---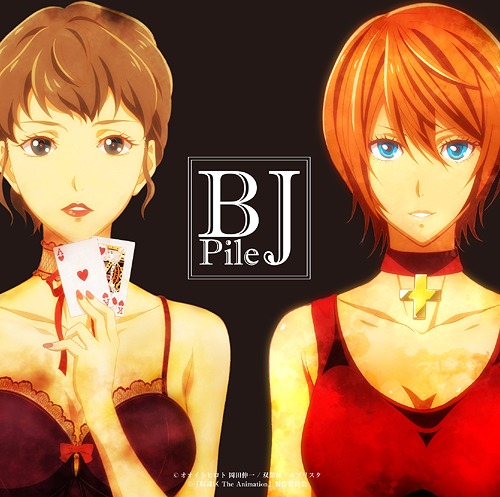 Final Thoughts
We hope you enjoyed our recommendations for 6 anime like Dorei-ku The Animation. If you haven't already, make sure to check out all of these great titles, as they are ones that will not disappoint! Even though these are only a few in comparison, let us know if we've missed any! What other anime similar to this one can you suggest to other readers and us? Leave your comments below! Later!
---